Craving a gorgeous fall in Asheville? Plan your trip with our Asheville fall foliage color forecast. Attend the best WNC fall festivals too.
Fall in Asheville, NC is literally our favorite time of the year. Many of our readers plan their trips around the Asheville fall color forecast.
Plus, you can attend the best fall festivals in Asheville and across Western North Carolina.
The leaves in the mountains and higher elevations start changing around the end of September into October.
By mid-October in Asheville, visitors can chase those leaves along breathtaking Blue Ridge Parkway (BRP) drives and hikes. Downtown Asheville sees the most color at the end of October.
Along with the infamous Asheville fall colors, the seasonal apple orchards in Hendersonville, NC open their doors.
Steaming donuts, corn mazes, and all of that deliciously spiced cider gush into visitors' fall-loving souls and tummies. Hard cider included.
Visitors and locals alike head out on gorgeous fall foliage waterfall hikes, ending their days at wineries and breweries.
The sunsets at Grove Park Inn light up Mount Pisgah, and the cooler weather beckons to the black bears.
The Asheville fall festivals – especially in Pack Square – kick off in full swing for vegans, leaf chasers, beer drinkers, and foodies.
Below, explore our autumn guides to having the best fall in Asheville, North Carolina – from locals. We'll help you beat the crowds and unwind.
Be sure to make those reservations in advance.
Meet our favorite apple orchard, spy our scary furry neighbors, and get all of the insider information from AVL residents. Let's get started.
Explore our Asheville fall bucket list with the best things to do in October.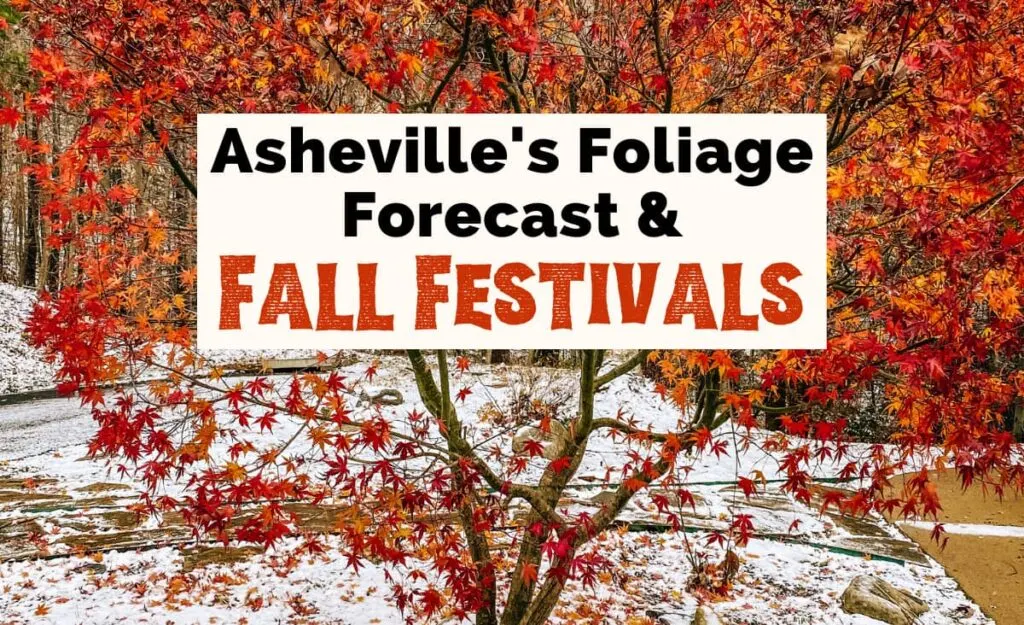 This post may contain affiliate links that earn us a commission at no extra cost to you. If you love these guides, support Uncorked Asheville here.
See our Top Places To Stay in Asheville.

Don't miss out on these Asheville properties on Booking.com, too.
Asheville Fall Color Forecast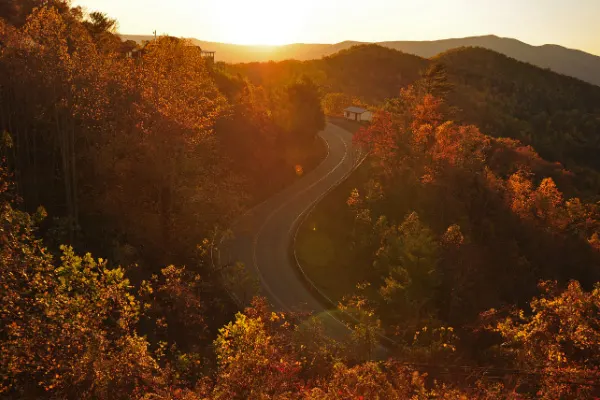 During the fall in Asheville, we receive plenty of emails asking us for weekly updates about the fall foliage. We also try to post a few pictures on our Instagram account.
We completely understand: you want to plan your trip around those gorgeous leaves and you should! The autumn foliage is breathtaking around the Blue Ridge Mountains.
While we cannot predict Mother Nature – especially with those randomly hot or chilly stretches of days that throw off the leaves – visitors can usually catch peak Asheville fall foliage around late September through October.
Sometimes, Asheville's fall runs into the first week of November, especially around the Chimney Rock area. Like our former New England home, Asheville's fall colors last for around 5-6 weeks total every year.
Near Asheville, peak season actually begins around the Graveyard Fields and Black Balsam area and works its way into the city throughout October.
Below, find a rough estimate of the Asheville Fall Color Forecast based on the previous years.
Please remember that we are not meteorologists and are just going off of our personal experiences living here. Do not come for us.
Typical Asheville Fall Foliage Forecast
Last week of September into October:
Start with those gorgeous Blue Ridge Parkway hikes.
Head toward Graveyard Fields, which will be slammed with leaf chasers.
Black Balsam and the Art Loeb Trail will start changing too. This area progressively picks up into the first few weeks of October.
Rough Ridge will see bursts of color as well.
First weeks of October: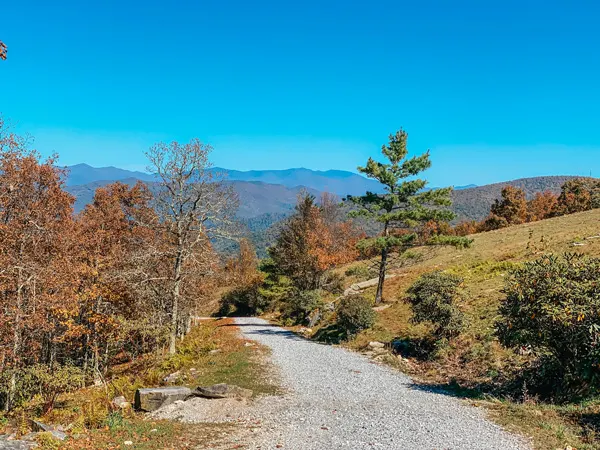 Mount Mitchell, Grandfather Mountain, and Max Patch start to see fall foliage colors. (Please remember that camping is on hold at Max Patch.)
Beech Mountain, Waterrock Knob, and Roan Mountain may also see color. Waynesville, Lake Junaluska, and Cashiers tend to peak now.
Hike Mount Pisgah & Fryingpan Tower for stellar 360-degree views. Great Smoky Mountains National Park will start seeing fall foliage, especially along its ridges.
Check out Craggy Gardens and Craggy Pinnacle north of Asheville. Catch more colors at Bearwallow Mountain and Trombatore Trails.
Last weeks of October: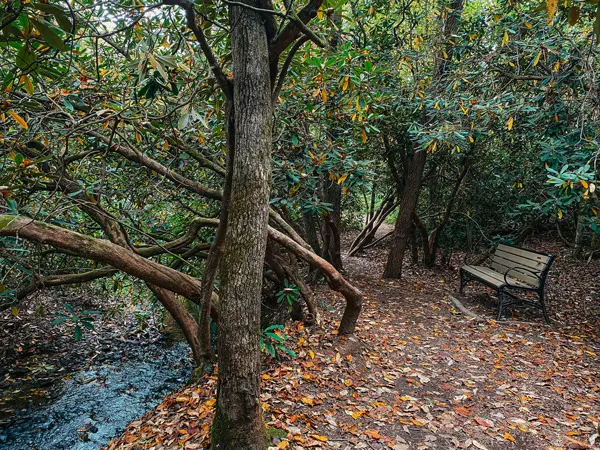 Little Switzerland, much of the Pisgah National Forest, Linville Gorge, Maggie Valley, and Cherokee will see their leaves change. Brevard and Banner Elk tend to see their best color too.
Around Pisgah in Brevard, try for Looking Glass Falls, Moore Cove Falls, and Daniel Ridge Falls.
Don't skip DuPont State Forest. Parts of Bryson City will shine.
The downtown area of Asheville, Biltmore Estate, Asheville Botanical Gardens, and The North Carolina Arboretum start seeing peak foliage.
Head over to Asheville's parks and gardens too.
Beginning of November:
Chimney Rock, Lake Lure, and the Tryon Foothills are usually the last to see leaves change colors. Marion, Rutherfordton, and Lake James round out the season.
Read more about the best lakes near Asheville – for any season.
Top Asheville Fall Festivals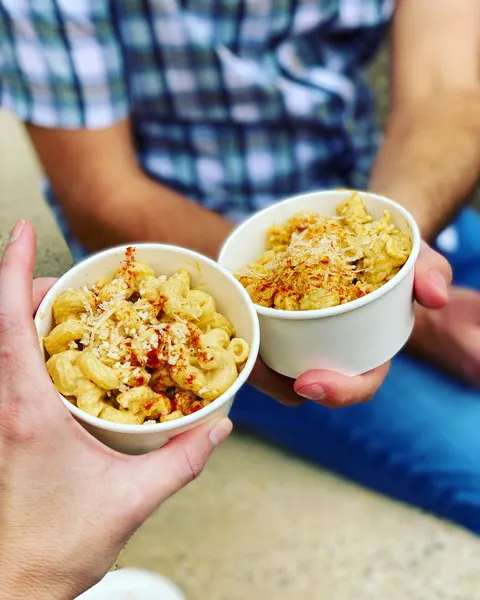 What are the best fall festivals in Asheville?
Below are just a few, and please remember to check all dates and times with the event host or venue as they are subject to change (we are updating for 2022 as we receive dates):
Asheville Chow-Chow Culinary Festival – June 23-26, August 4-7, September 8-11, 2022
Wild Goose Festival – July 13-16, 2022
Goombay Festival – September 2-4, 2022
NC Apple Festival (Hendersonville) – September 2-5, 2022
Mountain State Fair – September 9-18, 2022
Autumn at Oz at Beech Mountain – September 9-11, 16-18, & 23-25, 2022
Dirty Dancing Festival at Lake Lure – September 10, 2022
Weaverville's Art In Autumn Fest – September 17, 2022
Blue Ridge Pride Festival – September 24, 2022
Asheville Oktoberfest – Awaiting dates
Smoky Mountain Elk Fest (Maggie Valley) – September 30, 2022 – October 1, 2022
Asheville's VeganFest – October 16, 2022 (this is the new date due to weather)
Cashier's Valley Leaf Festival – October 7-9, 2022
Madison Heritage Arts Festival in Mars Hill – October 8, 2022
Waynesville Apple Harvest Festival – October 15, 2022
Lake Lure Autumn Arts & Crafts Festival – October 15 & 16, 2022
LEAF Festival – October 20-23, 2022
Maggie Valley Fall Arts & Crafts Show – September 3-4 and October 22-23, 2022
Also, be sure to check out Shakespeare in the Park performed by the Montford Park Players most Fridays through Sundays at 7:30 PM. Admission is free but donations are appreciated.
Head over to our events calendar for even more Asheville festivals and events throughout the year.
Tips To Have The Best Fall In Asheville, NC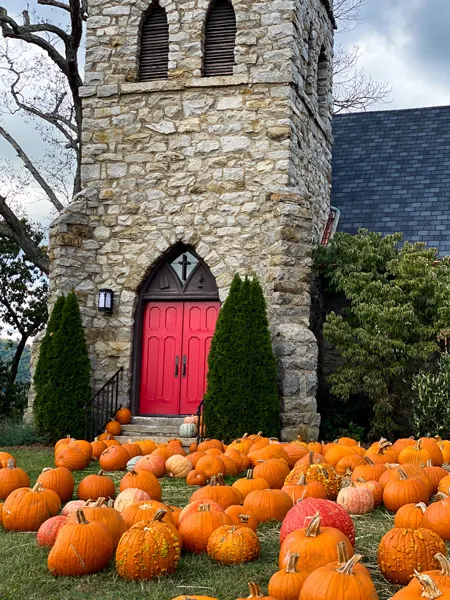 A few tips to keep you safe, prepared, happy, and healthy for fall in Asheville:
Book your Asheville fall accommodations early. October in Asheville is a part of the busiest tourist season. Restaurant and hotel reservations fill up quickly.


Arrive at your fall destination(s) early & on weekdays to beat the crowds. This includes hikes, breweries, wineries, Biltmore, and orchards. Weekends are jam-packed, especially as noon approaches.


Waterfall hikes will always be busier. Parking may be limited, and lots will quickly fill up. Sometimes you may park on the side of the road but not always. Signs will let you know – please respect and follow them. Also, exert caution around waterfalls. People have died.


The Asheville fall foliage starts much earlier in the higher elevations. Black Balsam and Graveyard Fields tend to be the first pops of color near AVL.


Make sure your camera and phone batteries are charged.


Not all locations will have restrooms and some are very basic, including pit toilets — pack extra tissue, wipes, and hand sanitizer.


If you bring any food, be prepared to take your trash with you. Please consider the wildlife as you dispose of your trash. Don't overflow bins. Leave no trace.


You might lose reception, especially in the mountains. Have a GPS map saved for driving directions as well as a picture of your trail map. We hike with a Garmin.


Not all trails are clearly marked. It's easy to get lost, especially with fallen leaves obscuring marked paths. Hike with proper hiking supplies. Think layers, extra food and water, and emergency kits.


The Blue Ridge Parkway grows extremely busy around the fall in Asheville. You'll see some wild driving, people in areas on the road where they shouldn't be, and wildlife. Drive with caution, and stay alert. Allow extra time to get to your destination. Please do not stop dead in the middle of the BRP.


Pay attention to the weather and know that the fog rolls in and out. The BRP is icy in November. You may check with the National Park Service for road and gate closures along the Blue Ridge Parkway. Gates will close for the weather as winter approaches.


Pack or wear layers if you are heading to the mountains. It might be in the 70s and sunny in Asheville but 55 and cloudy along the BRP.
Where To Stay In Asheville
Explore the best places to stay in Asheville. A few of our top suggestions:
Aloft – Downtown Asheville – Centrally located and recently renovated, enjoy a rooftop pool, a gorgeous bar, and trendy rooms.

The Omni Grove Park Inn – Treat yourself to a luxury resort in North Asheville, complete with breathtaking sunsets, terrace bars and dining, and loads of Asheville history.

Hampton Inn And Suites Asheville Biltmore Area – A budget-friendly but renovated hotel on busier Brevard Road that's perfect if you wish to stay between Biltmore Estate, Downtown Asheville, and the Blue Ridge Parkway.

Asheville Cottages – Gorgeous 1 to 3-bedroom cottages with a private deck, housing a grill and hot tub. Find luxurious heated-floor bathrooms with rain showers, a well-stocked kitchen, and the cleanest rooms in town.

Foundry Hotel – An oasis in Downtown Asheville, Foundry Hotel is a nod to AVL's industrial history. Find famous restaurant Benne on Eagle while sleeping ensconced in charm and elegance.

Country Inn & Suites by Radisson, Asheville Westgate, NC – Located off of the highway as you enter AVL, find a sleek and clean hotel at a great price.

Black Walnut B&B Inn – Designed by Biltmore's supervising architect, Richard Sharp-Smith, this 1899 inn is close to Downtown AVL and serves afternoon tea. Two rooms are pet-friendly.
Don't miss out on these Asheville properties on Booking.com, too.
Guides To Help Plan Your Asheville Fall
You May Also Enjoy:
Guide To Asheville
Waterfalls
All Hikes
Biking
Day Trips
Nearby Mountain Towns
Holidays In AVL