Are you looking for the perfect picnic areas in Asheville, NC? As locals, these are our favorite picnic spots around Asheville and Western North Carolina.
Imagine grazing with the cows on top of a mountain with 360-degree views or eating grapes while watching the birds.
What about sitting on a rock with your sweetie at a cascading waterfall while having lunch at one of the filming locations for The Last Of The Mohicans?
Or, picture having a picnic at a winery or America's largest home.
There is nothing that I love more than going on a gorgeous walk or hike around the Blue Ridge Mountains and stopping to picnic in Asheville. Asheville is full of picnic areas.
Below, encounter endless hiking trails, parks, gardens, and waterfalls perfect for picnicking with family, friends, or loved ones.
We are sharing our favorite Asheville picnic spots as locals along with the best picnic areas near Asheville, the Blue Ridge Parkway, the Great Smoky Mountains, and Western North Carolina. Let's get started!
Don't forget to check out our Ultimate Guide Of Things To Do In Asheville, NC.
This post may contain affiliate links for products and services I recommend. If you make a purchase through these links, at no additional cost to you, I will earn a small commission. Read the full disclosure here.
---
See our Top Places To Stay in Asheville.

Don't miss out on these Asheville properties on Booking.com, too.
Best Picnic Areas In Asheville, NC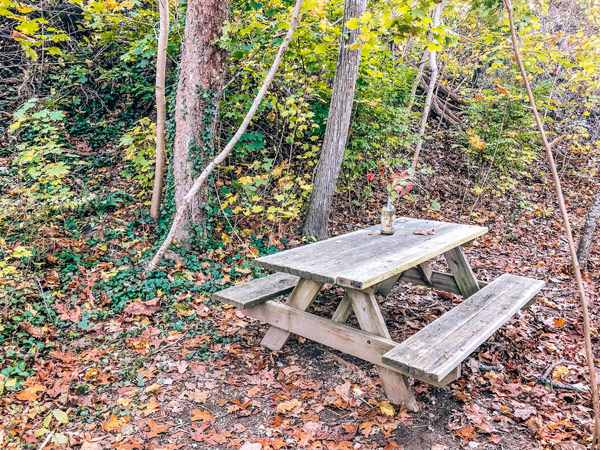 As locals, one of our favorite picnic areas in Asheville is Beaver Lake. Although privately owned, Beaver Lake is open to the public.
Beaver Lake boasts of a sweet donation-based Bird Sanctuary and a 2-mile perimeter trail. While you will need a permit for your dogs, residents will spread out along the lake with books and friends. Find reprieve from the heat in the shade of a tree or sit on a bench.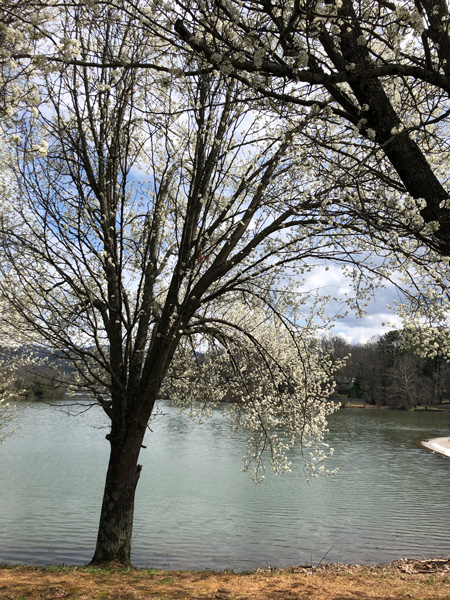 Beaver Lake is located at 1056 Merrimon Ave. Asheville, NC 28804. Find multiple parking lots at the Bird Sanctuary and around the lake. There are no restrooms here.
---
Uncorked Asheville Insider Tip: You can grab lunch to go from nearby Merrimon-located Green Sage Cafe or Cecilia's Kitchen. Don't miss The Hop Ice Cream Cafe, too.
---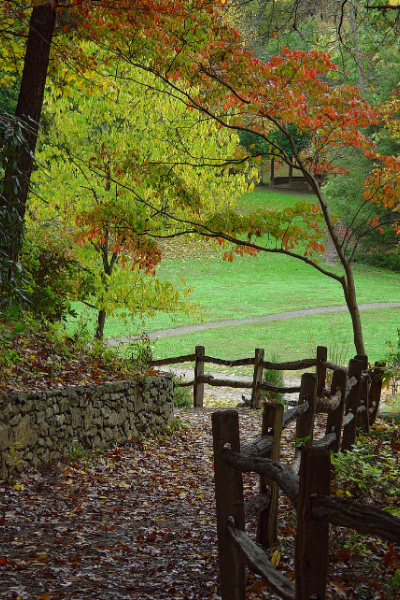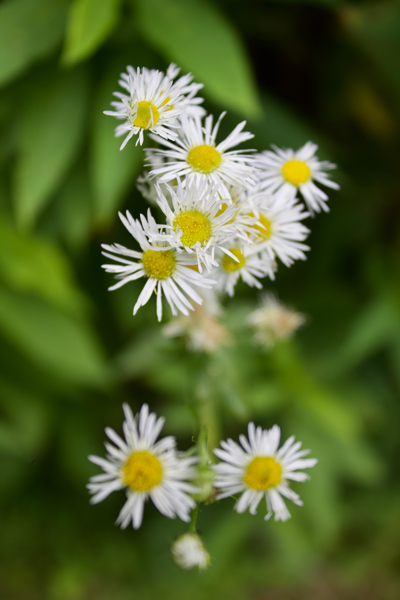 Located close to Beaver Lake in North Asheville at the UNC – Asheville campus, the Botanical Gardens At Asheville are literally designed for picnicking. Go for The Secret Garden vibes and explore a property covered with nature trails, wildflowers, and tons of open spaces to lay out your picnic blanket.
The Asheville Botanical Gardens also has a Visitor Center with restrooms. Address: 151 W T. Weaver Boulevard, Asheville, NC 28804. Check their hours and ground rules here.
---
---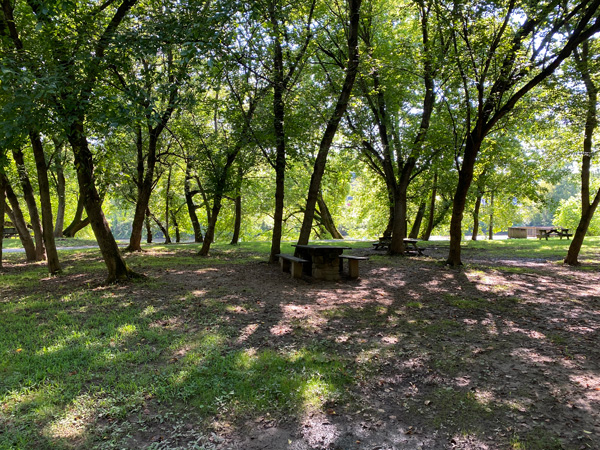 For more local Asheville picnic parks, don't miss French Broad River Park or Carrier Park. Both of these Asheville parks connect to each other via walking trails.
French Broad River Park follows the French Broad River in West Asheville. You'll find picnic tables, benches, river observation decks, public restrooms, and a gazebo. In the summer, watch as giddy tubers float down the river.
French Broad River Park is located at 508 Riverview Dr, Asheville, NC 28806 with parking lots here and at Carrier Park.
---
---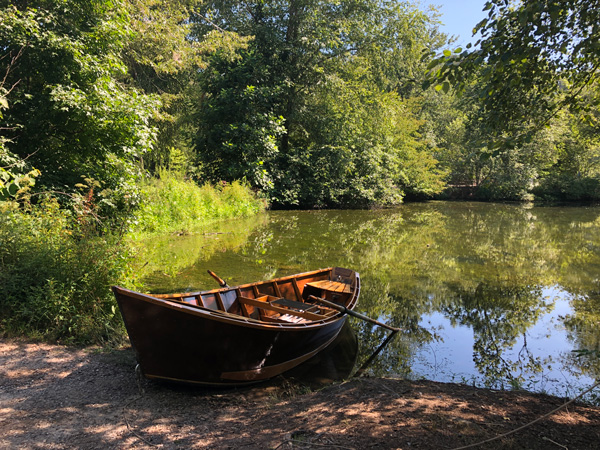 If you are looking to picnic in Asheville at one of its most iconic homes, head to Biltmore Estate. You will need a ticket to enter, and Biltmore does have designated picnic areas.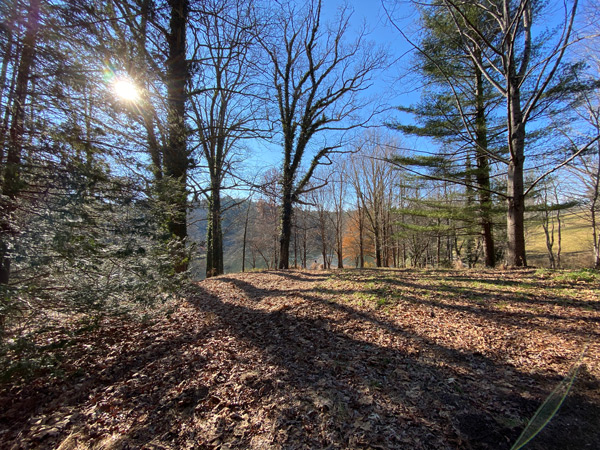 We recommend picnicking around the beautiful Lagoon with the ducks and Biltmore House in the background. For Asheville picnics, Bass Pond — with its gazebo and bridge — is also gorgeous. Next to Bass Pond, don't miss Biltmore's waterfall.
Biltmore Estate is located 1 Lodge St, Asheville, NC 28803. You can purchase tickets on Biltmore's website.
---
5. Pack Square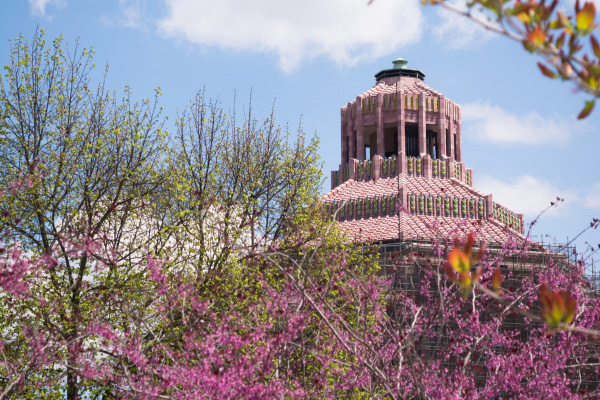 We always get sucked into the downtown Asheville restaurants versus packing a picnic. However, you may want to grab food or donuts to go from a restaurant, cafe, or food truck and head to historic Pack Square.
Pack Square is plush with green spaces, water pads, water fountains, a concert and performance stage, local sculptures, and street art. Picnic in Asheville, and then head to one of these famous Asheville breweries.
Pack Square is located at 80 Court Plaza, Asheville, NC 28801.
6. Bent Creek Experimental Forest & Lake Powhatan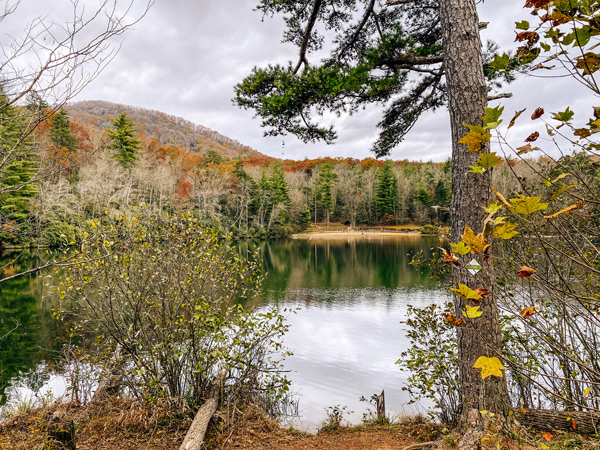 Right before The NC Arboretum, don't miss another local favorite picnic spot: Lake Powhatan. Lake Powhatan has multiple picnic areas in Asheville along with recreational facilities. This area also has some of the best mountain biking trails.
We prefer to park at the Hard Times Trailhead and walk to the scenic lake. Lake Powhatan Recreational Space & Campground is located at 375 Wesley Branch Rd, Asheville, NC 28806.
---
---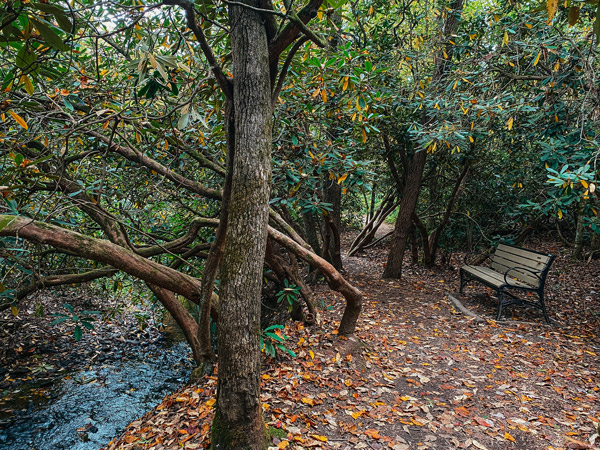 We are annual passholders to The NC Arboretum. This is the perfect spot to picnic in Asheville if you love curated gardens. You will have to pay to park here if you are not a member, but the price is well worth it.
The North Carolina Arboretum is filled with hiking, biking, and nature trails, quaint picnic areas, and gardens filled with rotating installations. While they offer food on-site, you may bring your own.
The NC Arboretum is located at 100 Frederick Law Olmsted Way Asheville, NC 28806. There are bathroom facilities here.
---
---
Gorgeous Picnic Areas Along The Blue Ridge Parkway In & Around Asheville
Blue Ridge Parkway picnic areas near Asheville are incredibly scenic and popular, too. I cannot possibly begin to name them all here, but these are our favorites.
Please know that in late fall through the winter, many parts of the Blue Ridge Parkway will close for weather. We recommend checking BRP closures on the National Park Service website here. Sometimes, Google maps will catch a gate closure, too.
You can read about the best Blue Ridge Parkway trails in NC here.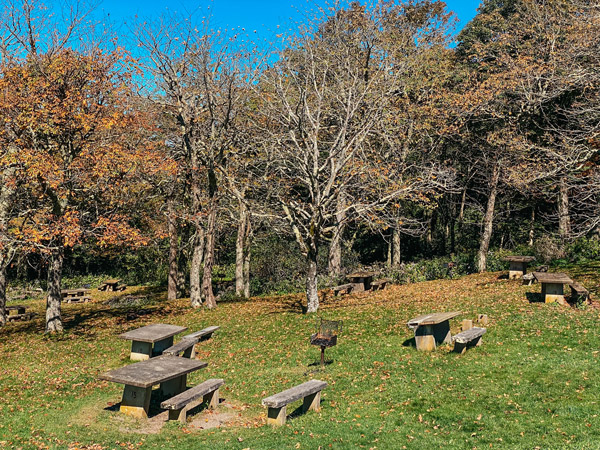 One of our absolute favorite hiking and picnic spots along the Blue Ridge Parkway near Asheville, don't miss Craggy Gardens. Craggy Gardens has a huge picnic area with tables, a restroom, and charcoal grills.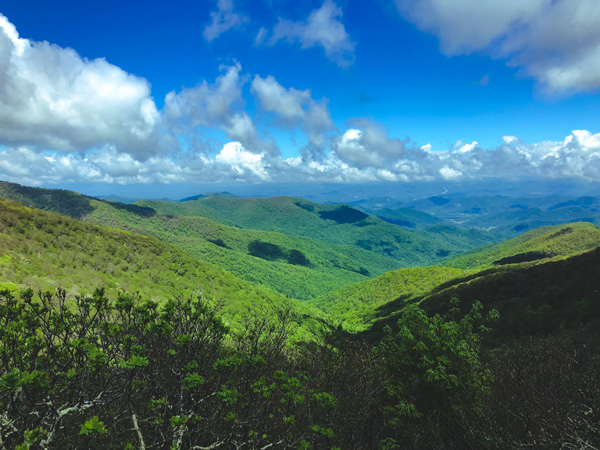 You can hike further into Craggy Gardens and relax in one of their meadows with stunning views of the mountains. Nearby, you can hike Craggy Pinnacle.
You can either park at the Craggy Gardens Picnic Area or hike in from the Craggy Gardens Visitor Center. Milepost 364.4-367.6 will help guide you around this area.
---
---
9. Mount Pisgah Picnic Area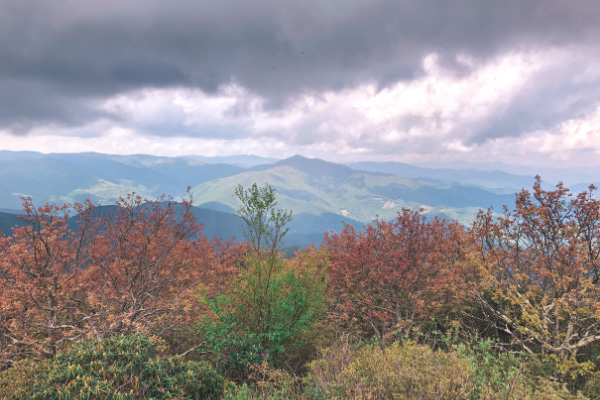 Another popular Blue Ridge Parkway picnic spot, especially in the fall, Mount Pisgah Picnic Area is across the street from the Mount Pisgah Trailhead. This picnic area is typically open from May through December, weather permitting.
Here, find picnic tables, restrooms, and grills. Having a picnic is an excellent plan before or after you hike Mount Pisgah Trail.
---
Don't miss Skinny Dips Falls, one of the most popular family swimming and picnic areas near Asheville.
---
10. Little Butt Trail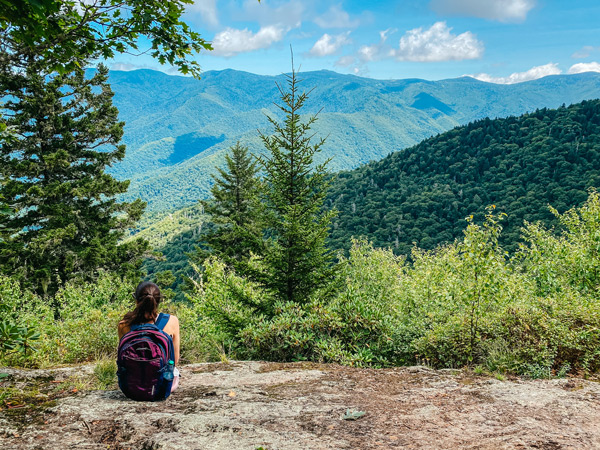 If you are looking for a hardcore hike to enjoy a private picnic near Asheville, Little Butt promises to kick your butt. Imagine lunch on a rock filled with stunning and peaceful views of the Black Mountain range.
This difficult hiking trail is about 5.1-miles roundtrip, and at one point, the endless stairs might make you question this Asheville picnic suggestion… Little Butt Trail is labeled but the rock is not.
Little Butt Trailhead is at Mile Marker 359.8 on the Blue Ridge Parkway past the Craggy area. You can park in the round loop. Parking is limited, and there are no facilities here. Read more about Little & Big Butt here.
---
---
Gorgeous Places To Picnic Near Asheville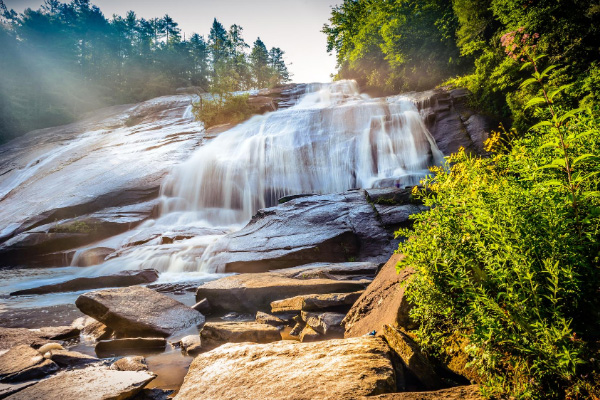 One of our absolute favorite hiking areas, DuPont State Forest is home to The Hunger Games waterfalls, Triple Falls. Don't miss their 3-waterfall hike to Hooker, Triple, and High Falls. There are picnic areas along this trek.
However, if you are looking for the perfect waterfall picnic spot near Asheville, don't miss Bridal Veil Falls. *This is Bridal Veil Falls at DuPont and not Highlands.*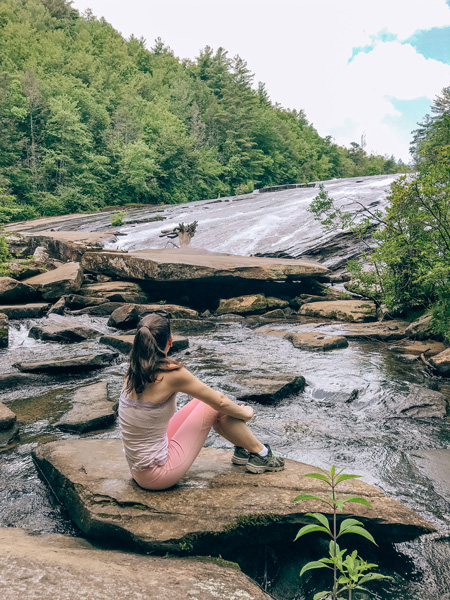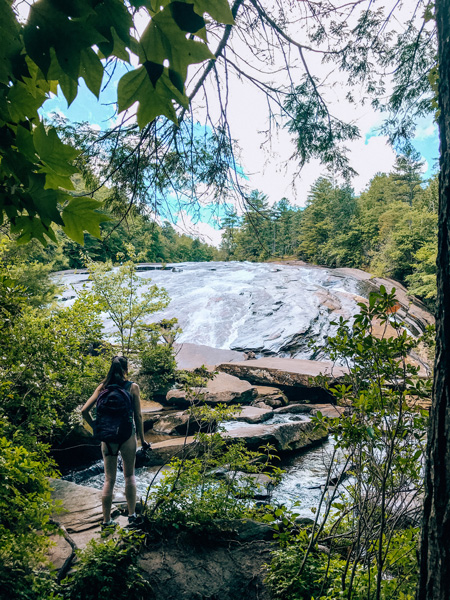 Hike 2.5-miles down an easy gravel road to a gorgeous waterfall. Pullover on a rock near the base of the falls and lunch in heaven. They filmed scenes from The Last Of The Mohicans here. This is an out-and-back hike.
If you are visiting just Bridal Veil Falls at DuPont, park at the Visitor Center, which also has restrooms. The Visitor Center address is 89 Buck Forest Rd, Cedar Mountain, NC 28718.
---
---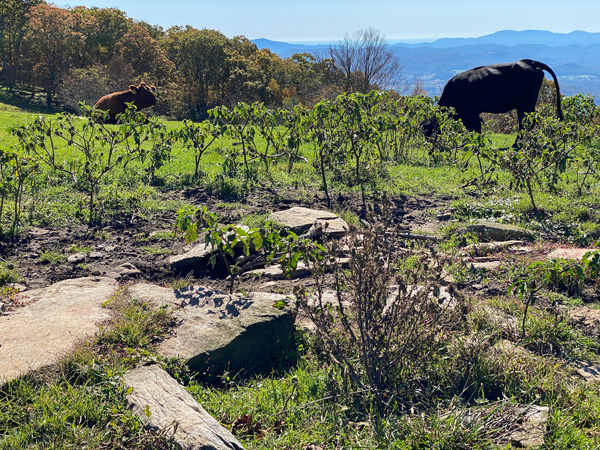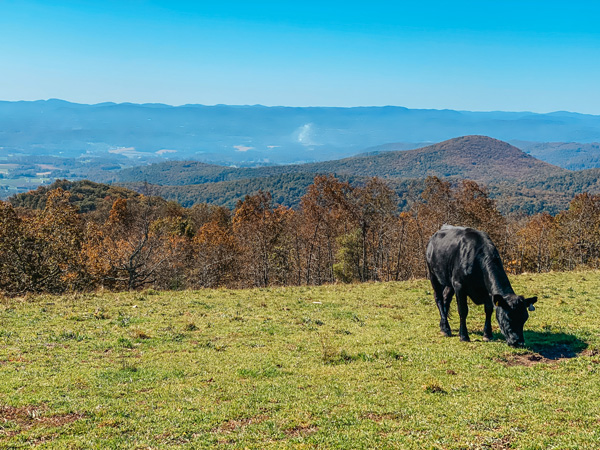 Looking for lunch or dinner with the cows? Bearwallow Mountain is a 2-mile roundtrip out-and-back near Asheville.
Visitors can either walk the easy and wide gravel access road or trek up the more moderate forest trail to a beautiful scenic meadow filled with — you guessed it — cows. Bearwallow Mountain peaks at 4,232-feet, and you can see Mt. Mitchell, the Black Mountains, Mt. Pisgah, and the Great Smoky Mountains.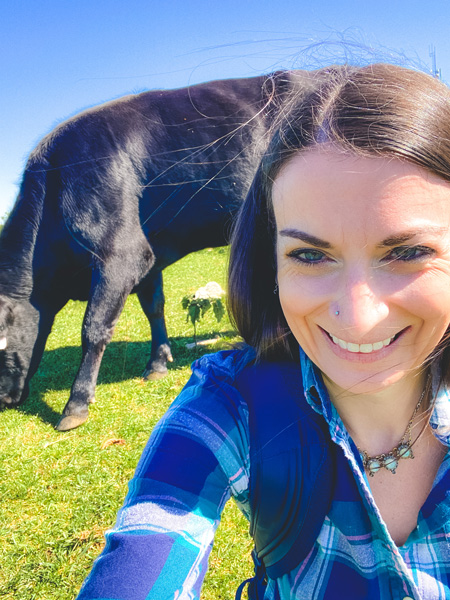 Bearwallow Mountain is an easy hike for families and is perfect for romantic Asheville picnics and sunsets. This is also a good fall and winter hike.
Bearwallow Mountain is located at 4854 Bearwallow Mountain Rd, Hendersonville, NC 28792. Park on a steep road. There are no facilities here.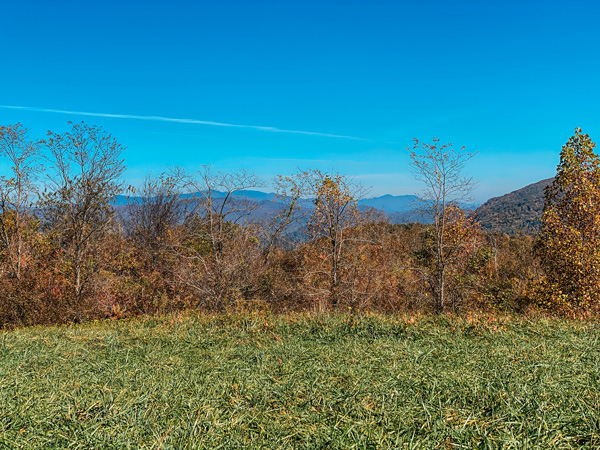 Across the street from Bearwallow Mountain, if you are looking for a more vigorous 5-mile hike that ends in a quieter pasture, you'll love having a picnic at Trombatore Trail.
Trombatore Trail follows along the Eastern Continental Divide with a 1,200-foot elevation gain and is managed by Conserving Carolina. At the top, find views of Mount Mitchell, Bearwallow Mountain, and the Hickory Nut Gorge.
Like Bearwallow Mountain, Trombatore is located at 4854 Bearwallow Mountain Rd, Hendersonville, NC 28792. You can also use this address: Trombatore Trailhead Bear Wallow Rd, Fairview, NC 28730. Park on the road. There are no facilities here.
14. Little Bearwallow Falls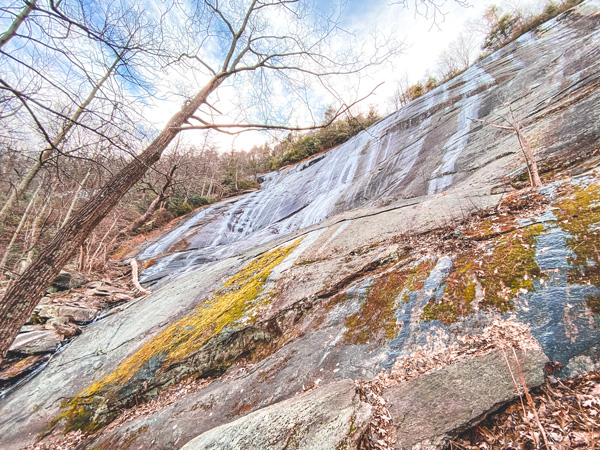 One of the best-kept picnic secrets near Asheville, we love Little Bearwallow Falls — and this Conserving Carolina trail also connects to Bearwallow Mountain.
For a short and slightly moderate one-mile hike, though, park near the Wildcat Rock Trailhead along the Gerton Highway and Upper Hickory Nut Gorge Trailhead.
In the winter, outdoor enthusiasts will ice and rock climb here. We prefer a picnic basket. The address for the Wildcat Rock Trail is 3823 Gerton Hwy, Gerton, NC 28735. There are no facilities here.
---
Uncorked Asheville Insider Tip: After hiking Wildcat Rock, head to downtown Chimney Rock for wine and tapas at Burntshirt Vineyard's Tasting Room. Then, walk across the street for craft beer at Hickory Nut Gorge Brewery.
---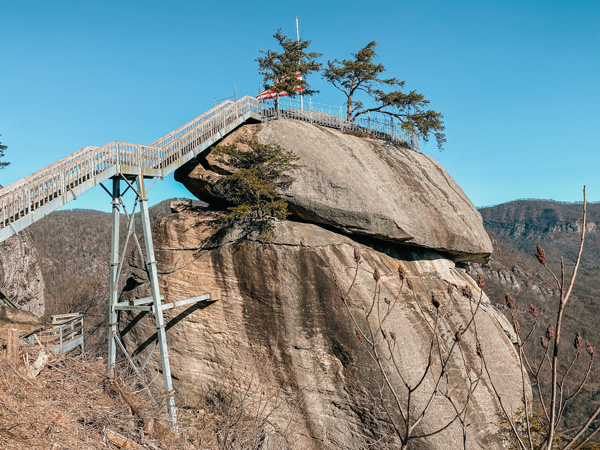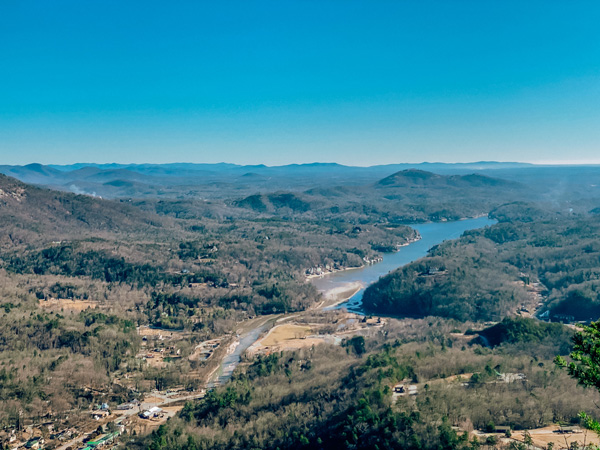 Another popular picnic spot near Asheville past Wildcat Rock, Chimney Rock is where all of the tourists go – for good reason. You will have to pay to enter the grounds.
Take the elevator up or hike Chimney Rock for incredible views, and explore a variety of hikes with fun for the entire family. We suggest grabbing a picnic table along the Hickory Nut Falls Trail. You can either purchase food on-site or bring your own.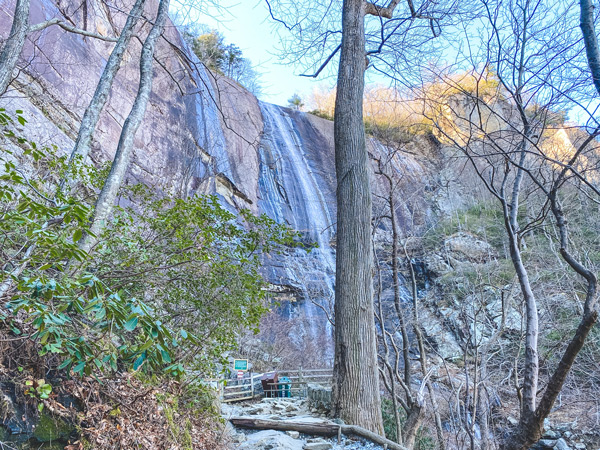 Chimney Rock is a destination and will have restrooms, cafes, and a gift shop. Chimney Rock is located at 431 Main St, Chimney Rock, NC 28720.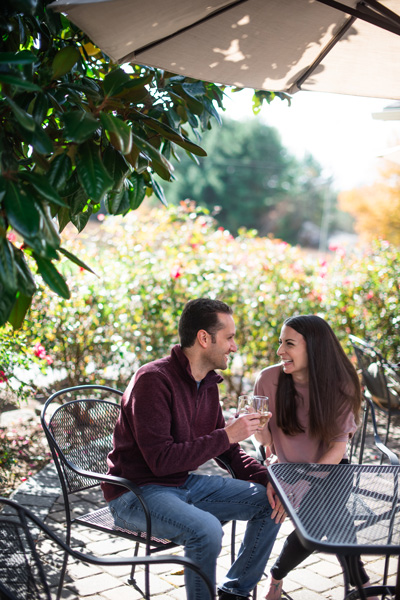 If you want to picnic with delicious wine, don't miss any of the wineries near Asheville. You will have to check each of their websites to see if you are allowed to bring outside food and beverages – some serve their own with strict rules.
We love picnicking at Burntshirt Vineyards in Hendersonville, NC. On weekends, they have a food truck, and you can order a boxed lunch in advance. We tend to order GrubHub delivery from Joey's NY Bagels.
Burntshirt Vineyards is located at 2695 Sugarloaf Rd, Hendersonville, NC 28792.
---
---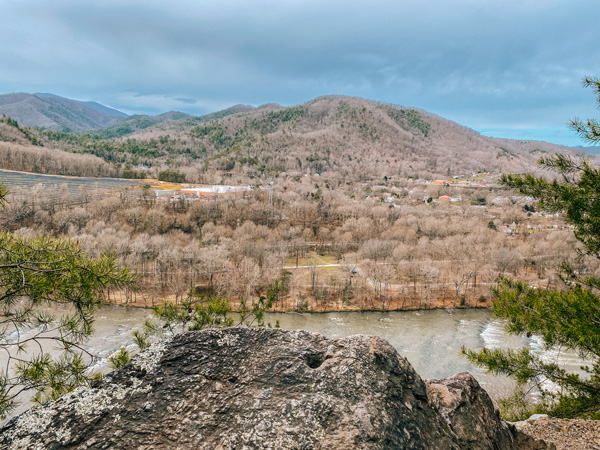 One of the prettiest but also scariest picnic spots near Asheville, don't miss Lover's Leap. Here, you'll get a bird's eye view of the Pisgah National Forest while chilling on a part of the Appalachian Trail.
The hike up is a bit strenuous, and you will dangle close to the edge of the cliffs. Once you get closer to the top, you'll find at least three rocks and overlooks perfect for a quick picnic. Just don't get too close to the edge.
Lover's Leap is located in Hot Springs, NC with multiple parking areas and a cute town. Grab all of the details for the Lover's Leap Hike here.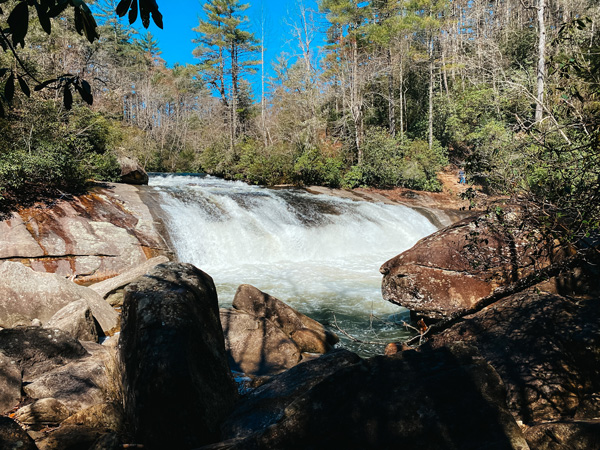 Rainbow Falls is a popular waterfall hike and picnic area near Asheville, NC located partly in Gorges State Park and the Pisgah National Forest.
You can picnic around the 150-foot waterfall, Rainbow Falls, head over to Turtleback Falls, or even trek to Hidden Falls for quieter spots. If you hike all the way to Turtleback Falls for your picnic, you will trek about 4.1 miles total on a moderate out-and-back trail.
Of course, respect all posted signs as certain areas are dangerous and off-limits. People have died around the falls.
Gorges State Park Visitor Center and the parking lots also have picnic tables. If you are interested in hiking and relaxing at Rainbow and Turtleback Falls, don't miss our complete hiking guide here.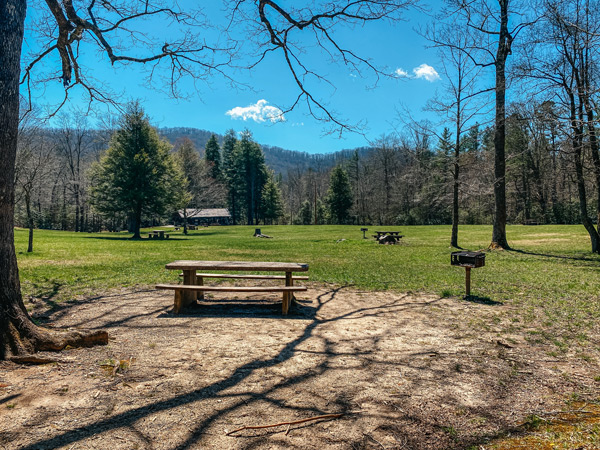 For nature lovers and chill hikers, we just love Pink Beds Trail and Picnic Area. Located in the Pisgah Forest just a few miles off of the Blue Ridge Parkway, surround yourself with blooms and butterflies.
You can start with a 5.5-mile loop hike that is mostly flat and easy. Cross bridges over serene streams and find a boardwalk over a mountain bog. Be forewarned: The trail can grow pretty mucky.
At Pink Beds, have access to a paved lot connecting you to the trailhead and a picnic area with facilities. Grab our full Pink Beds Guide here.
---
---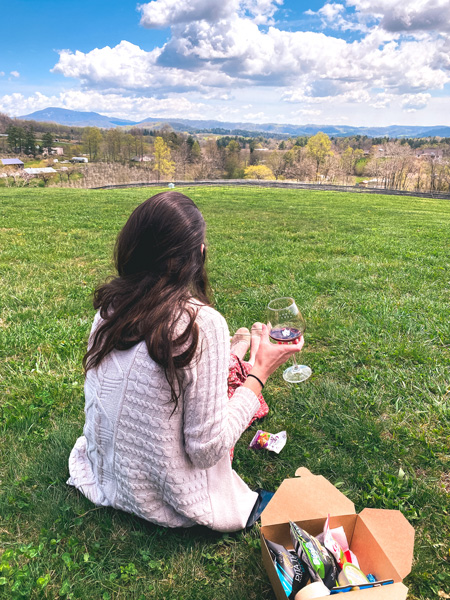 A newer 2020 Hendersonville winery, don't miss Stone Ashe Vineyards for a gorgeous picnic near Asheville.
While you cannot bring outside food into their tasting room, you are more than welcome to bring your own food for their outdoor seating areas. They also sell delicious snack boxes and charcuterie.
We love Stone Ashe Vineyards' reds like the Petit Verdot and Cab Franc. Start with an indoor wine tasting. Then, bring a picnic blanket or grab one of their Adirondack chairs for outside. With views like this, we are never leaving.
Stone Ashe Vineyards is located at 736 Green Mountain Road In Hendersonville, NC 28792.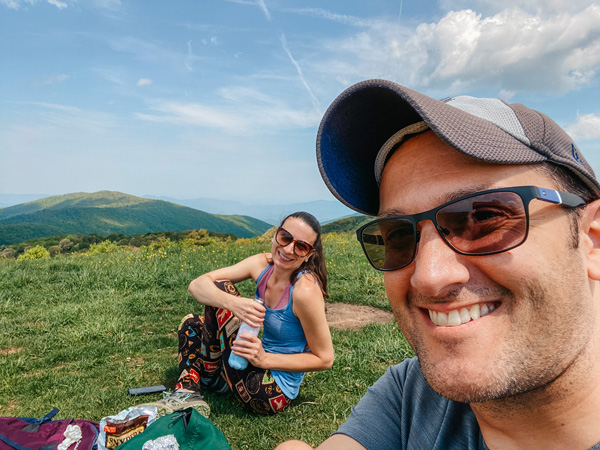 One of the most popular picnic spots near Asheville amongst hikers, Max Patch promises breathtaking mountain views. Similar to Craggy Gardens, Black Balsam, Bearwallow Mountain, and Trombatore trails, a large hill awaits you.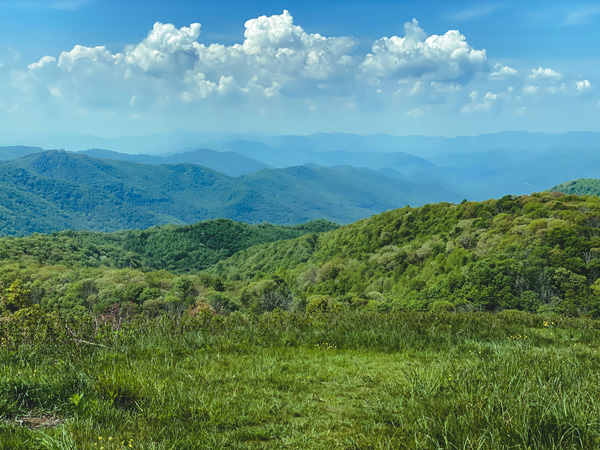 Cleared in the 19th century for grazing, Max Patch is a gorgeous bald, showcasing 360-degree views of Western North Carolina's prettiest mountain ranges. You can follow the short 1.5-mile trail along the Max Patch Loop Hike until you hit the Appalachian Trail.
From there, you'd turn up the summit for a picnic overlooking Mount Mitchell and the Great Smoky Mountains. Full disclosure that the drive up to Max Patch is a little rough on your vehicle, but the hike is easy.
You will have to take all of your trash with you. There are no facilities, and please always stay on the marked trails and in designated areas.
Save These Asheville Picnic Spots For Later
Don't Live Near Asheville? Where Can You Stay?
What are your favorite Asheville picnic areas and hidden spots?
Have you had a romantic picnic in Asheville? Where do you love to stop and eat on a hike? What are your favorite areas to picnic in and around Asheville? Let us know in the comments.
Do you love being outdoors? Don't skip these Asheville posts:
Asheville's Parks & Gardens
Best Hiking Around Asheville
Stunning WNC Waterfalls
Mountain Biking Trails For Everyone
Top Hikes Along The BRP
Never Get Bored With These Things To Do In Asheville
Uncover More Secret Gardens & Lakes
Plan A Lovely Visit To The NC Arboretum
Asheville's Botanical Gardens
Walking Beaver Lake
Asheville Hiking Spots Perfect For Picnics
Mount Pisgah Trail
Bearwallow Mountain
Trombatore Trail
Lover's Leap Loop
Rainbow Falls
Pink Beds Loop In Pisgah Forest
Big & Little Butt Trail On The BRP
Max Patch
Craggy Gardens Picnic Area