Relax and perk up at the best Hendersonville coffee shops, perfect for specialty drinks, beans, and drinks on the go.
If you love exploring Western North Carolina's mountain cities and towns, Hendersonville is worth a stop on anyone's road-tripping agenda.
A great place to live and play, Hendersonville is filled with some of the best wineries in the state, hopping breweries, and a walkable downtown Main Street.
As Asheville locals, we frequently head to Downtown Hendersonville for food, shopping, and museums. Not to mention that like Asheville, the coffee shops in Hendersonville are utterly fantastic.
After hiking DuPont's waterfalls or spending an autumn morning apple picking, head to Appalachian Coffee Company, ShareWell Coffee, or Main Street Coffee for that pick-me-up.
Black Bear Coffee Co. is our personal favorite coffee shop in Hendersonville, and then there's also The Ugly Mug and Art & Coffee Bar on 5th. As a local restaurant, Arabella makes creative lattes too.
Below, we are dishing on where to get the best coffee in Hendersonville, including pet-friendly spaces and those with vegan and gluten-free treats, outdoor seating, and non-dairy milk options.
See where digital nomads go too for those chill vibes. Let's get started!
While you are in the area, don't miss exploring Hendersonville with the most fun things to do.
This post may contain affiliate links that earn us a commission at no extra cost to you.
7 Best Hendersonville Coffee Shops
1. Black Bear Coffee Co.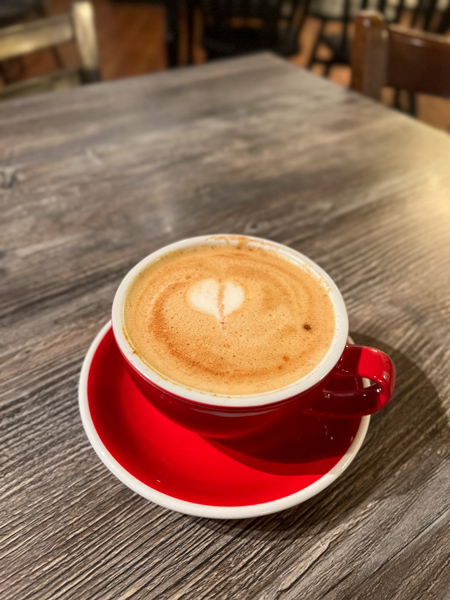 For a Main Street coffee shop in Hendersonville, Black Bear Coffee Co. is popular with both locals and travelers alike.
It's easy to see why with that gorgeous counter, outdoor and indoor space, and burlap coffee bag ceiling.
This little oasis is perfect for digital nomads and those escaping the bustle of Downtown Hendersonville (HVL). However, sit outside with your pooch to people watch too.
Black Bear Coffee Co. is a staple in the HVL community, and they've been serving up coffee since the 90s.
Black Bear sources their beans from around the globe and offers delicious specialty drinks with non-dairy milk options.
Along with cute bear merch, including mugs and shirts, grab a light bite to eat. Typically, Black Bear Coffee Co. has breakfast items – sandwiches, bagels, and muffins – and lunch handhelds like wraps.
If you are traveling with littles, Hands On! Children Museum is next door, which is filled with interactive and fun displays.
Black Bear Coffee Co. | 318 N Main St, Hendersonville, NC 28792
2. Appalachian Coffee Company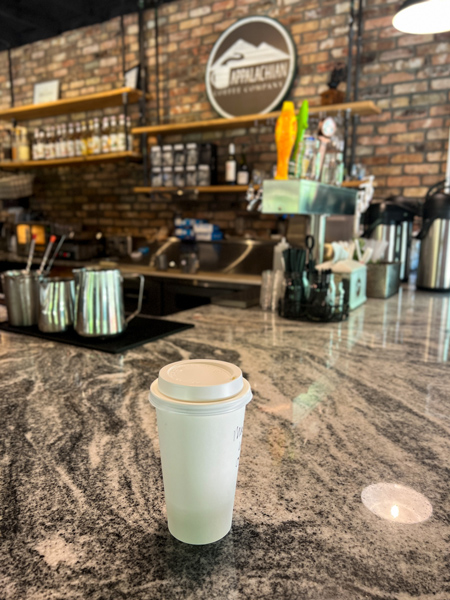 About 10 minutes from Jump off Rock and near one of our favorite Hendersonville lunch restaurants, The Book & Bee, Appalachian Coffee Company is a must.
Also one of the pet-friendly coffee shops in Hendersonville (Laurel Park) on this list, Appalachian Coffee has indoor as well as umbrella-covered outdoor seating.
While we go here for cold brews and lattes, they have all of your classic coffee beverages as well as a small local beer selection.
For pastries and food, enjoy muffins, coffees, and scones – with gluten-free and vegan options. If you are hungry for a lighter meal, order sandwich wraps, avocado toast, or breakfast croissants.
Appalachian Coffee Company also has a boutique shop selling mugs, shirts, coffee, specialty items, and stickers.
You'll catch quite a few high schoolers here as well as digital nomads. OK, and maybe an Uncorked Librarian…
Appalachian Coffee Company | 1628 5th Ave W, Laurel Park, NC 28739
3. Main Street Coffee
If you've ever been to one of our favorite breweries in Hendersonville, D9, you know that in the morning, you'll find Main Street Coffee serving up that caffeine.
At Main Street Coffee, enjoy traditional coffee drinks – mochas, lattes, and cappuccinos – along with fun specials like a sparkling espresso.
Main Street Coffee also features hot chocolate, chai, and a cold brew flight. Find their full menu (usually a picture) on their Facebook page along with event announcements.
Just keep in mind that for Hendersonville coffee shops, Main Street Coffee closes early – typically 1 PM during the weekdays and 2 PM on the weekends (but always double-check hours on their FB page).
Main Street Coffee | 425 N Main St, Hendersonville, NC 28792
4. ShareWell Coffee Co. & Roastery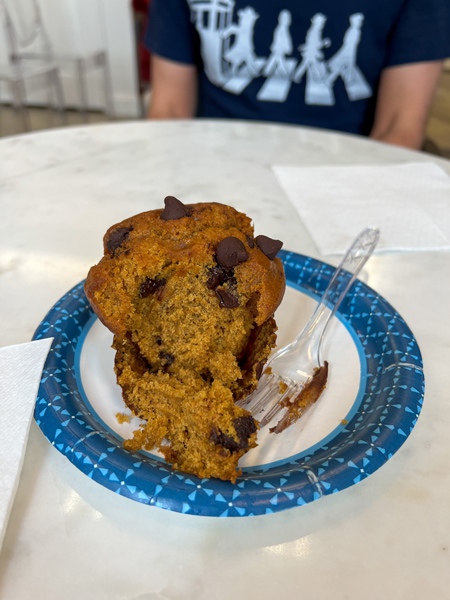 ShareWell Coffee Co. & Roastery sits on the border of Hendersonville and Flat Rock.
This is a great stop if you are doing a bibliotour of Carl Sandburg's home or are apple picking at Sky Top Orchard.
Hendersonville is famous for its seasonal apple orchards, and Sky Top is a must for those piping hot cider donuts, apple picking, bamboo forest, and corn maze.
Of course, Jeter Mountain Farms and Stepp's Hillcrest are great too.
While around since 2016, ShareWell Coffee's brick-and-mortar location is newer in town with a huge space perfect for digital nomads. Find two levels of indoor seating plus upstairs outdoor tables.
Along with specialty drinks and non-dairy milk options, choose from delicious treats, including vegan and gluten-free options. We recently annihilated a pumpkin chocolate chip muffin.
For take-home beans and coffee in Hendersonville, ShareWell is our top pick.
If for some reason you cannot make it into their Flat Rock shop, know that Wine Sage & Gourmet – our favorite wine bar in Downtown HVL – sells bags of their coffee too.
Of course, ShareWell Coffee & Roasters also sells merchandise such as shirts and mugs along with local honey and handcrafted cards.

ShareWell Coffee Co. & Roastery | 2698c Greenville Hwy, Flat Rock, NC 28731
Never Miss Another Asheville Update
---
Tired of generic Asheville travel itineraries? Experience Asheville like a local with our free Asheville Favorites checklist, including restaurants, breweries, and hiking. Plus, get local updates – including events and hidden gems – straight to your inbox. Sign up here.
5. The Ugly Mug Coffee & Tea
The Asheville Highway is full of delicious treats, and it is here you'll find The Ugly Mug – complete with a drive-thru.
For Hendersonville, NC coffee shops, enjoy a cozy & kitsch environment, friendly service, and coffee, boba, and hot chocolate.
It's a simplistic setting, making this spot perfect for coffee on the run.
Our favorite Yelp review for The Ugly Mug (from Jason M) compares The Ugly Mug to a "2010 Toyota Camry, silver." It honestly doesn't get any more descriptive than that.
We always recommend stopping at any of these Hendersonville, NC coffee shops that stay open later after an early afternoon of HVL winery hopping.
Out this way, wine taste at Saint Paul, Stone Ashe, Marked Tree, and Point Lookout.
The Ugly Mug Coffee & Tea | 2024 Asheville Hwy, Hendersonville, NC 28791
6. Art & Coffee Bar On 5th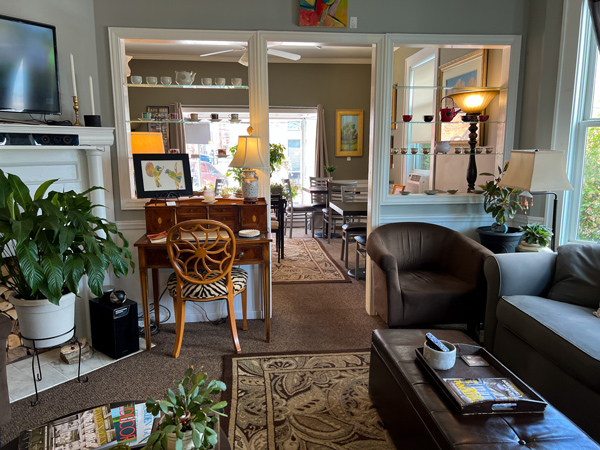 You'd almost miss Art & Coffee on 5th Street if you didn't just happen to pass by (there's a great pay lot on 5th).
Location-wise, Art & Coffee is just off the beaten path near Main Street.
This is probably the most unique coffee shop in Hendersonville, especially since you'll feel like you are entering your grandma's home – carpets, fireplace, petite rooms, decor, and all.
Head to the back for the coffee bar to order your basic coffee beverages and treats. Then, hang out in one of two rooms surrounded by low-key art.
As others have mentioned in online reviews, we didn't necessarily or recently have the friendliest service in town – but times are also rough. We get it.
Art & Coffee Bar On 5th | 118 5th Ave E, Hendersonville, NC 28792
7. Arabella Breakfast & Brunch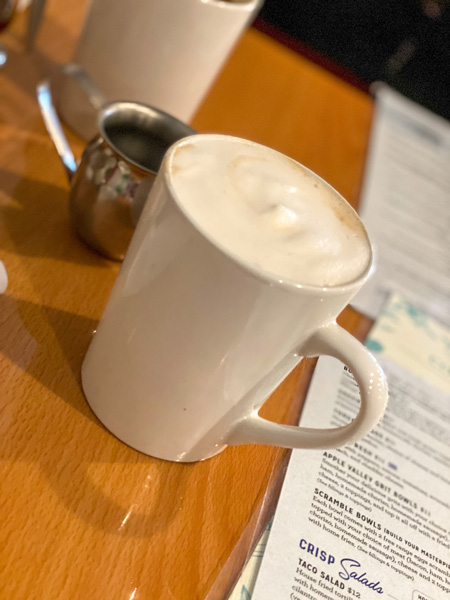 For coffee in Hendersonville – that's also a popular local breakfast, brunch, and lunch spot – we had to talk about Arabella.
When we don't mention Arabella, HVL locals come for us – as they should. Just know that Arabella isn't technically or solely a "coffee shop."
Arabella Breakfast & Brunch is a delicious cafe in a historic building with a small coffee bar that serves stellar specialty coffee drinks. We are counting it – and you'll see why.
We enjoy Arabella for their creative lattes, which come in fun, seasonal, and rotating flavors like s'mores, coconut cream pie, cinnamon bun, butter pecan, snickerdoodle, lavender, and apple crisp – just to name a few.
Arabella also features delicious tea lattes and espresso. Should we mention their handcrafted cocktails – just in case?
If you are dining at Arabella, for breakfast they serve omelets, vegan pancakes, and spicer Latin-inspired dishes. For lunch, devour burritos, sandwiches, salads, and soups.
Because this is a full and jumping Downtown HVL restaurant, Arabella grows busy and loud with cheerful locals; for digital nomads trying to get work done, this spot wouldn't be ideal.
Arabella Breakfast & Brunch | 536 N Main St, Hendersonville, NC 28792
Save The Best Hendersonville, NC Coffee Shops For Later:
Where To Stay In Hendersonville:
1898 Waverly Inn – This is an amazing historic B&B with a little library and delicious berakfast. Happy hour was our favorite here, and Mike possesses a wealth of knowledge.
The Charleston Inn – Next door to the Waverly, this quaint property is also within walking distance of downtown Hendersonville.
What is your favorite coffee shop in Hendersonville, North Carolina?
If we had to pick our absolute favorite coffee shops in Hendersonville, we'd go with Black Bear, Appalachian Coffee Company, and ShareWell Coffee Co. & Roastery.
However, we realize that you might have different favorites. Where do you love to get coffee in Hendersonville, NC? Let us know in the comments.
You may also enjoy:
Best AVL Places For Coffee
Day Trips From Asheville
More Mountain Towns
Nearby DuPont Waterfalls