Starving but don't want to go out? Why not order in food with these scrumptious Asheville takeout restaurants?
Maybe you just want to stay in and chill for the night after a long day of hiking. Or, maybe you want to rest up for your next full day of fun and don't feel like cooking or eating out at a restaurant.
What about ordering in pizza with some local craft beer for family movie night? Or, do you just have a sushi craving? Don't feel like cooking? Need that burrito? Sound familiar…
As locals, we are sharing our favorite Asheville takeout and delivery places. Find sushi, Thai, pizza, sandwiches, smoothies, BBQ, and so much more.
While we won't mention everywhere to get takeout in Asheville, we promise to showcase our top pics. Delivery in Asheville, NC never sounded so good. Let's get started!
Don't miss our Ultimate Guide To Eating In Asheville.
---
This post may contain affiliate links for products and services I recommend. If you make a purchase through these links, at no additional cost to you, I will earn a small commission. Read the full disclosure here.
---
Delivery In Asheville: Services & Apps
First, what are the best ways to get delivery in Asheville if you don't want to pick up your order? Of course, you can see if the restaurant has its own delivery service.
We are also big fans of phone apps like Takeout Central and GrubHub.
Did you know that North Carolina has its own takeout app and delivery service, Takeout Central? Just download the free app, and you'll see all of the areas and restaurants they serve, including Asheville.
Place your order in the app, add a payment method, and drop any notes for the restaurant or driver.
As a partner of Takeout Central, if you use the code uncorked, you'll be eligible for a free delivery.
Along with Takeout Central, we also use GrubHub. Sometimes they have slightly different menus — even though the restaurant is the same — and/or they service different establishments.
Within Asheville, you can also use Uber Eats, Kickback AVL, and DoorDash, but we mostly rely on Takeout Central and GrubHub for the best Asheville delivery options.
See our Top Places To Stay in Asheville.

Don't miss out on these Asheville properties on Booking.com, too.
---
Asheville Takeout And Delivery By Cuisine
Sandwiches, Smoothies, Salads, And Lighter Fare
After a morning or afternoon of hiking, it's our tradition to grab grape leaves and grinders (Remember, I'm from CT — Subs?! Grinders!? Hoogies?!) from Apollo Flame Bistro.
There are two Asheville locations – one near the outlets and Blue Ridge Parkway (BRP) and one close to Biltmore.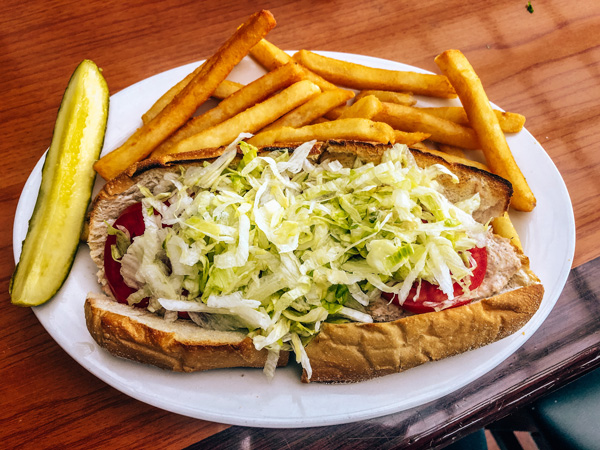 Seriously, get a tuna grinder in the oven or one with Italian meats covered in their delicious olive oil spread. These subs are great to wrap up for a picnic over at The NC Arboretum or a BRP hike.
Pisgah, Fryingpan Mountain, Skinny Dip Falls, and Graveyard Loop are all out that way. Don't miss these other fantastic AVL lunch options, too.
---
Never Miss Another Asheville Update
Are you tired of generic Asheville travel itineraries? Do you want to experience the magic of Asheville like a local?
Grab our free Asheville Favorites checklist today, including restaurants, breweries, and hiking. Plus, get local updates straight to your inbox. Sign up here.
---
Green Sage Cafe is one of the healthiest Asheville takeout options on this list. They have four different Asheville locations, and you can grab smoothies, bowls, eggs, light meals, and salads.
I love that they have tempeh for their bowls, and I always order a lactose-free smoothie. They have vegan and veggie options, too, for a great price.
Green Sage is especially perfect if you have food intolerances or allergies.
Tupelo is one of the busiest and most popular restaurants, especially their downtown cafe. Known for locally-sourced ingredients, Tupelo has southern cuisine and offers brunch all day.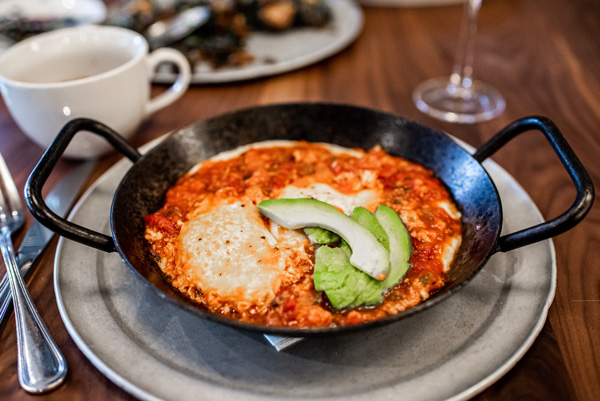 Their menu changes seasonally, and you can find regular dishes, sandwiches, skillets, salads, eggs, and bowls.
---
---
Vegan And Vegetarian Takeout
One of the first restaurants we ever ate at before moving to Asheville, we just love Laughing Seed Cafe. If you are looking for vegan, vegetarian, and gluten-free delivery and takeout in Asheville, Laughing Seed is perfect.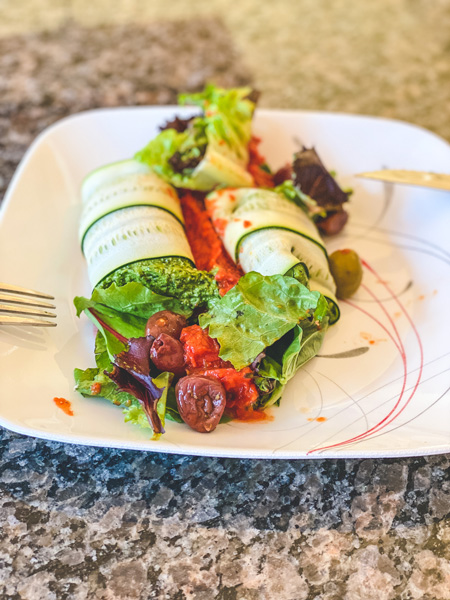 I usually order a smoothie on the run, and their veggie burger, 'Reuben,' and vegan manicotti are delicious. They are also a hip Asheville takeout location for the holidays — think pies and meals for the entire family.
Plant is one of our favorite Asheville restaurants, and they are 100% vegan. For Asheville takeout, you must order the vegan cheese plate — it's my personal favorite.
Imagine a charcuterie at home or for your picnic over at Beaver Lake or the Botanical Gardens at Asheville.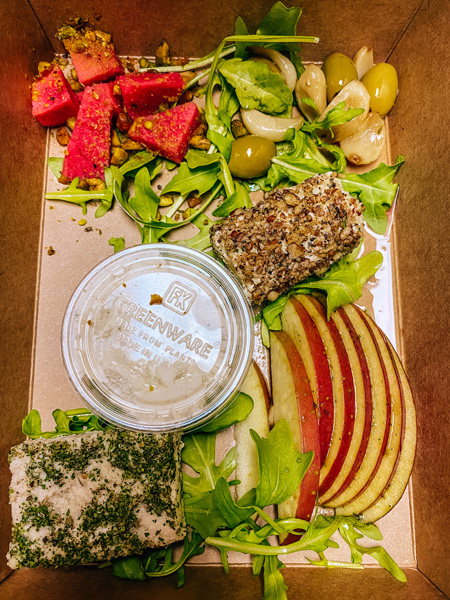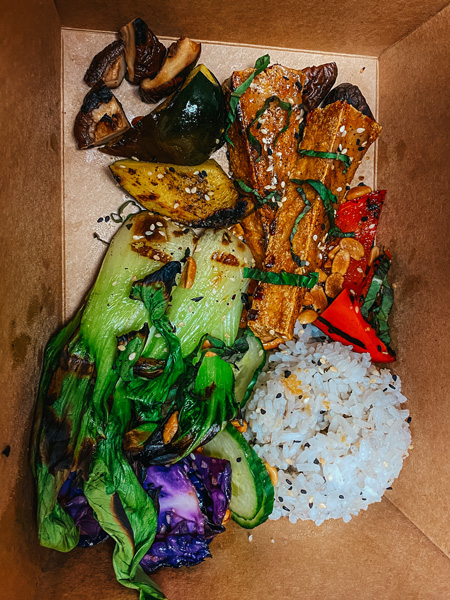 Plant has a smaller menu with tapas and small plates along with larger entrees. You cannot go wrong with anything you order. Menu items change seasonally.
---
---
Pizza Delivery In Asheville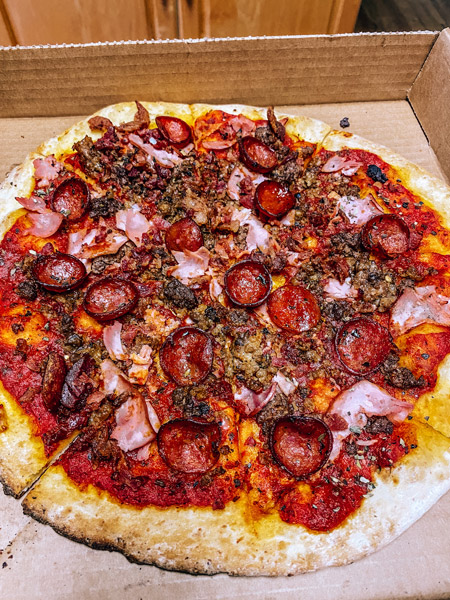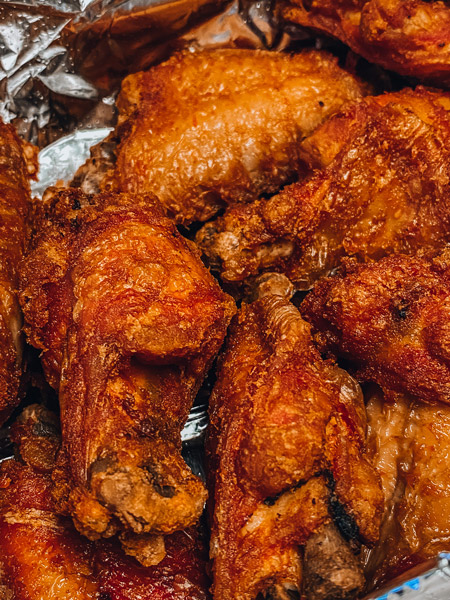 Our go-to for pizza delivery in Asheville, don't miss Asheville Pizza and Brewing. They have multiple locations across AVL. If you are vegan and/or gluten-free, they offer vegan cheese and gluten-free pizza crust.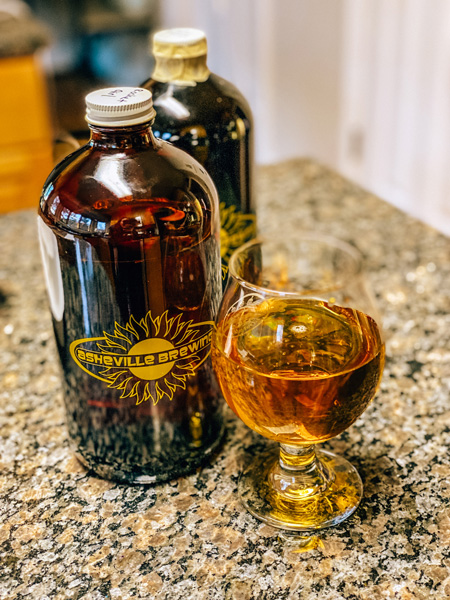 Asheville Brewing also has more bar food items like tater tots, sandwiches, and burgers. Don't miss their delicious King Kong Wings, either, perfect for game weekends.
Of course, we also have a Mellow Mushroom, which is your go-to for Asheville takeout munchies. Find meatballs, spinach and artichoke dip, and pretzels.
Mellow Mushroom also offers build-your-own salads and pizzas. They have vegan cheese and gluten-free crust.
---
---
If you love sushi, Zen is a quieter spot perfect for North Asheville takeout. Grab a fast lunch special like their two or three-roll combo with soup and salad.
For dinner, we love their wide array of specialty sushi rolls. Zen Sushi also has hibachi options, sashimi, soups, noodles, salads, and Bento boxes.
Mr. Sushi is another one of Asheville takeout addictions, especially in 2020. You can order sushi rolls, bowls, and Hibachi.
We are fans of their Salmon and Tuna Lover's Rolls, Philly Roll, and Golden Dragon Roll. Occasionally, I'll order spring and summer rolls or a sushi rice bowl.
For delivery in Asheville, so far, Mr. Sushi has been the fastest.
If you love poke bowls and sushi burritos, don't miss Yum. You can build your own burrito or bowl and choose from a ton of add-ons as well as a number of proteins with white or brown rice.
You can also build a bowl over lettuce and choose from tofu and veggies if you are a vegan or veggie.
I usually pile my bowl high with tuna, salmon, ginger dressing, purple cabbage, mango, avocado, and sweet corn. I cannot resist their fried spring rolls, either.
---
---
Asian Fusion & Chinese
If you love Asian tapas, including sushi, another one of our favorite Asheville takeout restaurants is Red Ginger. Find everything from dumplings to scallion pancakes, potstickers, yakitori, calamari, fried rice, lettuce chicken wraps, and noodles.
You have to order some form of dumpling — that's just a given. Because they serve tapas-sized portions, 2-3 items per person is ideal.
We've been meaning to order much-talked-about Asheville takeout from Blue Dream Curry House (Asian fusion & curry) and Oriental Pavilion (Chinese takeout), too.
One of our favorite places for Thai delivery in Asheville, Siam is all about the noodles and amazing appetizers. They offer soups, apps, salads, curries, stir fry, rice, and noodle dishes.
We usually 'over' order here and have food for days. I'm not complaining.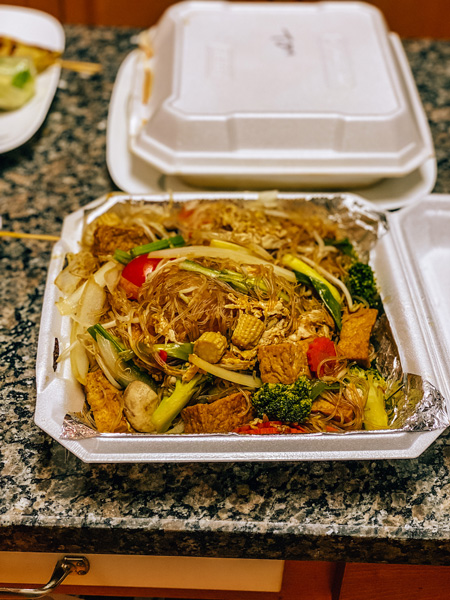 Try the tofu, chicken satay, fresh rolls, and chicken wings for starters. I love their Pad Woon Sen and Pad Z-Ew. Tom gets the Pad Thai since he is gluten-free.
Our neighbors love Thai Kitchen, and although we favor Siam just a tad more, Thai Kitchen is a solid North Asheville takeout option for all of the Thai noodles.
You can *usually* find their menu on Facebook or online — it's a little iffy. For Thai Kitchen, I go for the Pad See Ew, and Tom gets the Pad Thai.
---
---
If you are looking to warm up your insides and devour delicious and fragrant curries and sauces over rice, we love Mela for the best Indian takeout in Asheville. They also label vegan and gluten-free meals.
We love their Chicken Tikka Masala, Lamb Chettinad, and Tandoori Chicken.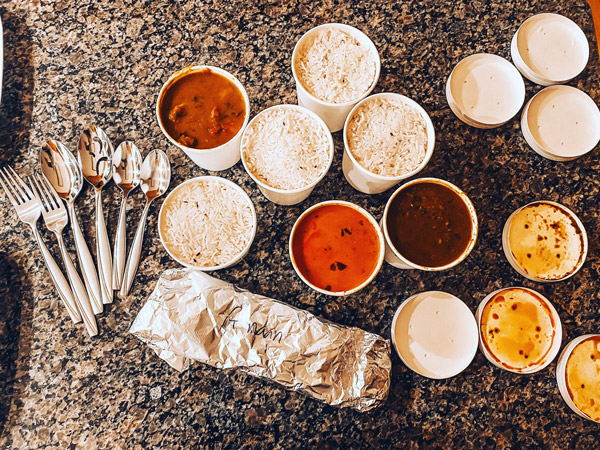 If you are looking for Indian street food takeout and delivery in downtown Asheville, don't miss Chai Pani.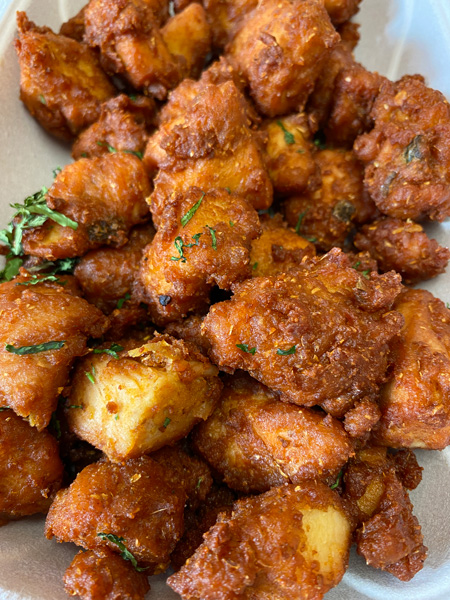 They've been featured in The New York Times, GQ Magazine, and New York Magazine. Nothing beats their okra fries.
---
---
Latin American And Caribbean
Clayton from Knox Road Tripper introduced us to Papa's & Beer, and now, we cannot stay away. With multiple locations across Asheville, this is the perfect Asheville takeout restaurant for burritos.
A family-run business, they boast of Authentic California-style Mexican cuisine. They have flautas, burritos, enchiladas, seafood, and so much more. I don't necessarily have a favorite here besides their burritos served with rice.
Papa's & Beer can make substitutions and adjust for food intolerances, too.
White Duck Taco is an extremely popular restaurant in Asheville with multiple locations. Most well-known for their cheaply priced and unique tacos, you can't go wrong.
With multiple locations, there's even a White Duck taco in the fun and crafty River Arts District (RAD).
We love getting Cecelia's Kitchen takeout in North Asheville (she has a traveling food truck, too), and then, heading over to Beaver Lake for a picnic. Cecelia's has gluten-free crepes, Cuban sandwiches, empanadas, tamales, soups, and salads.
It's a little harder if you are lactose-intolerant — like me — but sometimes, they can swap in lactose-free cheese.
Nine Mile is a vegetarian-friendly restaurant with Caribbean-inspired pasta and rice dishes. Be forewarned that to-go orders start at 3 PM and go until their dinner rush picks up. Of course, we also enjoy eating in here.
Nine Mile has a large menu key for gluten-free, vegetarian, vegan, nuts, dairy-free, honey, and dishes that they can adjust. Everything is delicious!
BBQ Asheville Takeout
If you are headed into Asheville and looking for curbside BBQ pickup, don't miss Arden BBQ-joint, Big South Kitchen. They invited us out for a gifted lunch and Behind-The-Scenes tour. Yum.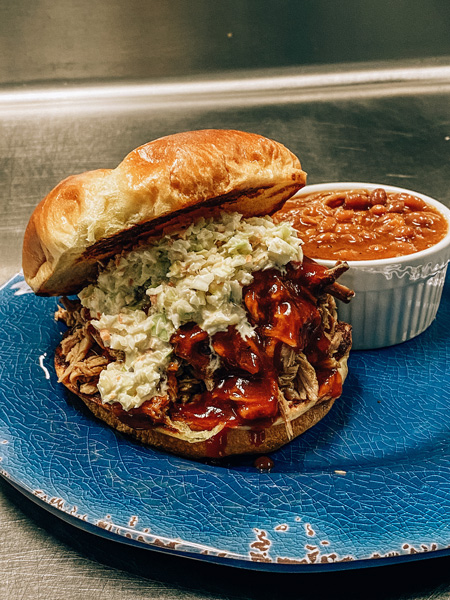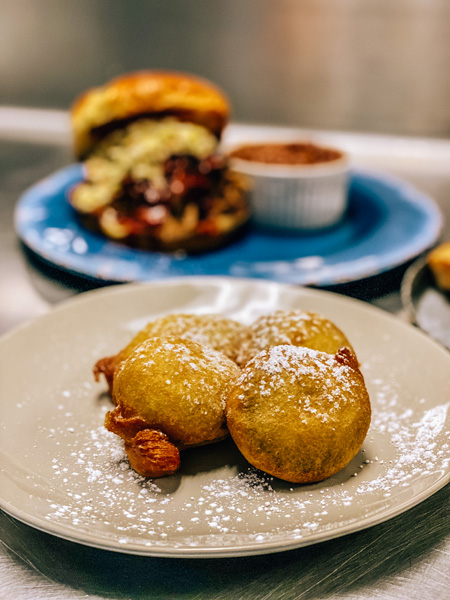 Don't miss their delicious ribs, pulled pork, and brisket. Of course, they have wings, and you have to order dessert. Deep-fried Oreos, anyone?!
You'll find plentiful Southern-inspired sides like steaming baked beans and house-made BBQ chips all sealed up with perfect packaging. They send out your bread separated in a bag, beans in a sealed container, and all of the utensils and napkins that you could need in a perforated-sealed plastic bag.
Did I mention the price? $12 for a huge sandwich and a side? Be on the lookout, Big South Kitchen is coming to Asheville soon!
---
---
Next to Catawba Brewing, you cannot miss Asheville's famous Buxton Hall. They are most well-known for their whole-hog, all-wood BBQ.
Order pizza, brisket, chicken tenders, sandwiches, cheesesteaks, and grinders.
---
---
Honorable Asheville Takeout & Delivery Mentions
While I listed the places that we love for takeout, there are many, many more. A few honorable and popular mentions include: Early Girl Eatery, Luella's Bar-B-Que, and Vinnie's.
What are your favorite places for Asheville takeout and delivery?
What restaurants do you love to order takeout from in Asheville? When do you usually order takeout? Special occasions? When you don't feel like cooking? For a picnic? Lunch on the run? A chill night with dinner in front of the TV? Let us know in the comments!
See our Top Places To Stay in Asheville.

Don't miss out on these Asheville properties on Booking.com, too.
Loving These Asheville Takeout Recs? You may also enjoy:
Complete Food & Drinks Guide To AVL
Famous Asheville Restaurants
Asheville's Best Lunch Restaurants
Best Sushi Restaurants In Asheville
Delicious Asheville Restaurants With Thai Food
Top Asheville Restaurants For Indian Cuisine
Delicious BBQ Around Asheville
Vegan And Vegetarian In AVL
Your Guide To Eating Gluten-Free In Asheville
For Dessert:
Where To Gorge on Delicious Asheville Donuts
Don't miss these things to do in Asheville, too→