Asheville Greek Festival Guide From Locals (2023)
Learn what to expect and whether or not you'll love the Asheville Greek Festival as much as we do – from locals.
Every September, the Holy Trinity Greek Orthodox Church of Asheville hosts the Asheville Greek Festival in the Historic Montford District.
The festival is a celebration of Greek culture and heritage, including delicious food and drink, lively dancing, church tours, local and Greek vendors, and more.
Even better, the festival is budget-friendly and perfect for the entire family.
And, you don't have to be of Greek descent to appreciate all that this great cultural event has to offer. In fact, it's a wonderful time to learn more.
Back in its full form from recent years, determine whether or not this terrific fall festival is for you. Get all of the must-know details to plan your visit – from Asheville residents. Let's get started!
This post may contain affiliate links that earn us a commission at no extra cost to you. If you love these guides, support Uncorked Asheville here.
Asheville Greek Festival Dates, Location, & Pricing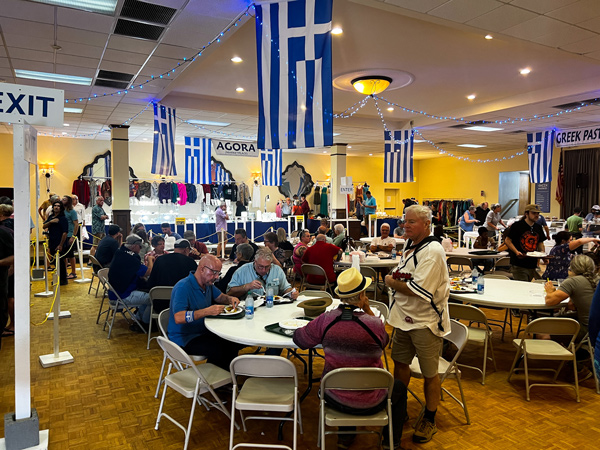 When: September; the 2023 Asheville Greek Festival took place from September 22nd and September 23rd from 11 AM to 9 PM
What: "Explore the tastes, sights, and sounds of Greece"
Where: Holy Trinity Greek Orthodox Church at 227 Cumberland Avenue, Asheville, NC 28801 (Montford neighborhood)
Cost: $3 in advance online, $5 at the door; under 12 is free (2023 prices)
Website: https://www.avlgreekfest.com/
Discover even more of the best autumn events and festivals around the greater Asheville area. We also champion the Maggie Valley Arts & Crafts Festival and Asheville VeganFest.
Greek Food & Drink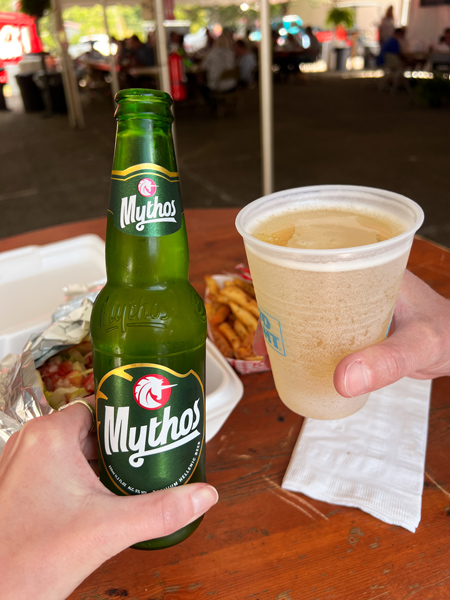 If you cannot tell by our noses (or abundance of hair), we are Italian-American, but we honeymooned in Greece and Turkey. Our mouths water for the Mediterranean flavors found in Greek cuisine.
One of the main reasons we attend the Greek Festival in Asheville is because we cannot resist all of the tempting Greek food and drink.
This is one of the best places to try those famous traditional foods and trust us, there is plenty to select from, ranging from gyros and meatballs to beer and dessert.
There are two ways to enjoy food from the Greek Festival: attend the festival in person or use the local food delivery service to have to-go containers delivered straight to your door.
Much of the menu is listed on the event website. Plus, as you enter the festival, be sure to grab a program. Inside, you will find sponsors, vendors, and events along with a complete food and drink menu.
What type of Greek food can you find at the Asheville Greek Festival? These are just a few of their delicious menu items.
Greek Meals & A La Carte Items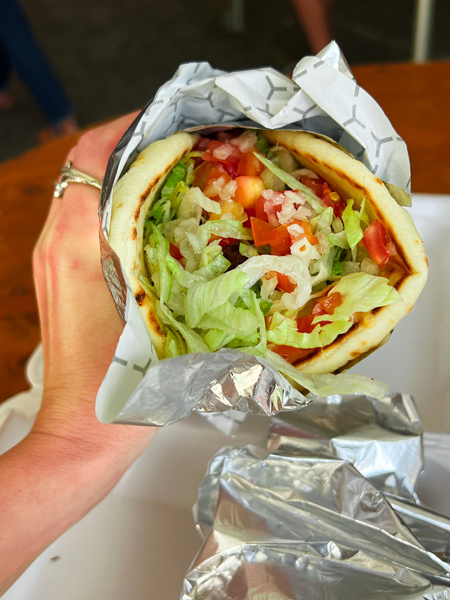 Food prices range anywhere from $2.00 (dolmades) to $20.00 (lamb). However, most dishes are around $8.00 to $10.00.
Lamb, chicken, or falafel gyros (there is an entire gyro tent)
Greek french fries
Dolmades (stuffed grape leaves)
ARNI (lamb shank)
Souvlaki (pork tenderloin)
Greek meatballs
Moussaka (fried eggplant)
Greek salad
Items are labeled for gluten-sensitive and vegan eaters. However, still exert caution here if you are incredibly sensitive or allergic (we are a part-Celiac household). Not everyone serving was fully aware of each item's ingredients. You might want to message the event coordinator in advance.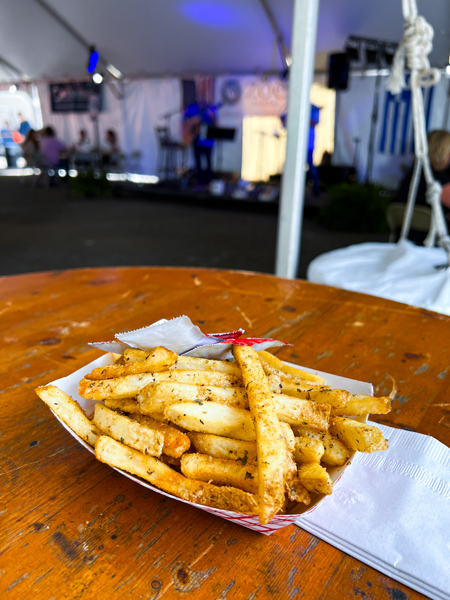 Beverages
After grabbing gyros, we headed straight to the music and dancing tent with the bar. Make sure to have your ID on you if you are purchasing alcohol.
Just a few American and Greek drinks you can enjoy:
Soft drinks
American & Greek coffee
Local & Greek beer (Greek Mythos Beer as an example)
Greek Wine (Athena Red & White are two examples)
We also did a wine tasting in the second food area, which we will talk about below in more detail.
Greek Pastries
Of course, who can resist those delectable pastries? They even have a gluten-free option from Solci di Maria.
A few treats you can find at the Greek Festival:
Baklava
Kourambiedes (butter cookies)
Almond cookies
Gluten-free lemon bar
Galaktoboureko (custard)
And, don't forget to pair your dessert with a Greek coffee.
Activities & Things To Do
There is plenty to do at the Greek Festival for families with younger children and adults. All of the activities are included in your ticket price. Be sure to check the times for all scheduled events in the program book.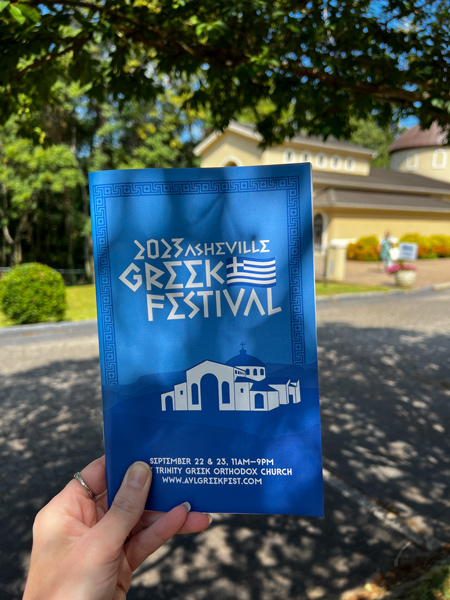 Along with dining, 5 of the best things to do at the Asheville Greek Festival include:
Watch a Greek dance
Listen to live Greek music
Take a guided tour of the church (typically offered twice each day)
Watch an iconography or cooking demonstration
Shop for local and Greek goods in the various tents and marketplaces
If you are attending the festival with children, they have multiple play areas, including the swing set and a large grassy area with games in front of the church. We also spotted face painting.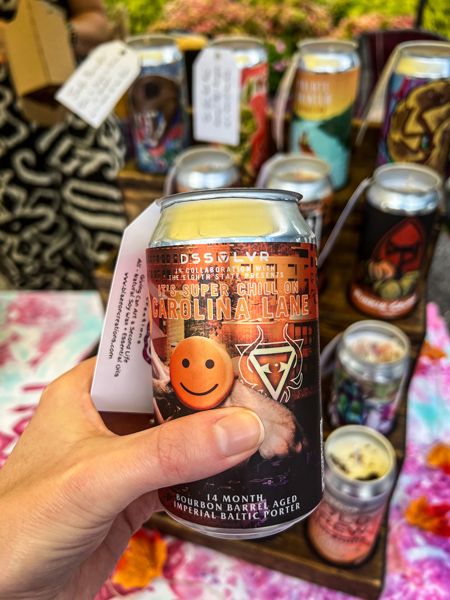 We most enjoyed the vendors, including Ariousius Winery. We tasted 5 Greek wines for $6 and left with two bottles plus Greek olive oil.
Fans of fall candles and the Asheville breweries, we bought delicious-smelling soy candles with local beer can designs from Blaze on Creations. The owner, Michele, collaborates with the local breweries.
More "Agora gift shops" sell items like honey, woodworking pieces, costume and fine jewelry, hummus, lemonade, kettle corn, and Greek goods, including religious icons, hats, and clothing. It took a lot of willpower not to buy a pound of kalamata olives.
Pros & Cons Of Attending
If you are still undecided about attending – we are, of course, huge fans of this festival – there are a few pros and cons to consider. Festivals aren't for everyone.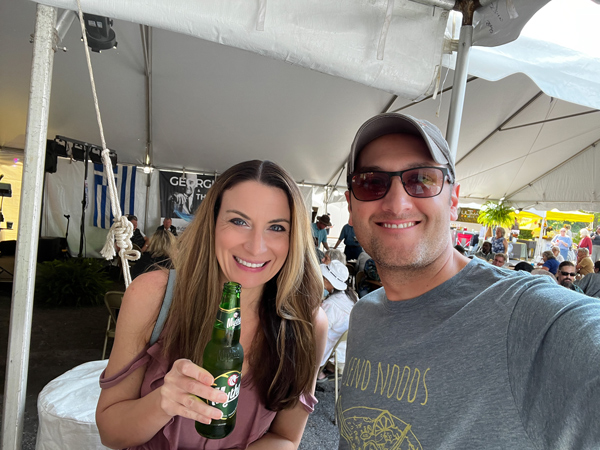 Why visit the Greek Festival in Asheville/Pros:
Family and budget-friendly
A chance to try delicious Greek food & celebrate culture and heritage
Indoor and outdoor spaces perfect for any type of Asheville fall weather
A chance to celebrate and support the local and greater Asheville community
Located in a beautiful area
One of the friendliest experiences you'll have
Fabulous local shopping
Who Might Not Enjoy The Festival/Cons:
It may grow extremely busy, especially on the weekend; we suggest Friday early afternoon
It's a little harder to eat here with severe food intolerances/allergies
For the general public, there is street parking/congested neighborhood; we park close to Montford Park and walk
As a partially immunocompromised household, a mask isn't a bad idea if you have similar health concerns. While everything is spaced out, some areas grow pretty busy.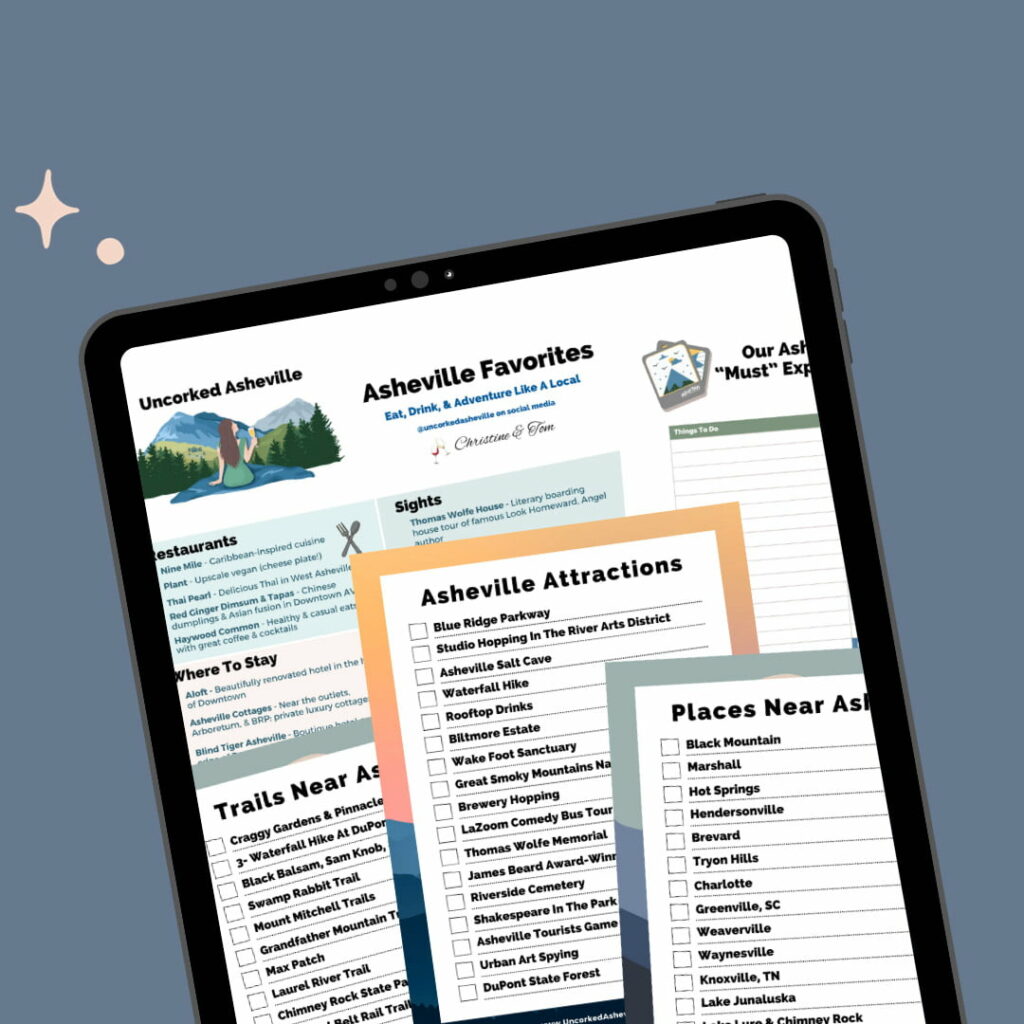 Never Miss Another Asheville Update
Experience Asheville like a local with our free attractions, dining, hiking, and day tripping guides. Get events, updates, and more straight to your inbox from Christine.
More About Historic Montford
While attending the Greek Festival in Asheville, be sure to take some extra time to appreciate the city's beautiful historic district filled with Little Free Libraries, parks, and restaurants. Montford is truly one of the best residential and local neighborhoods just minutes from Downtown Asheville.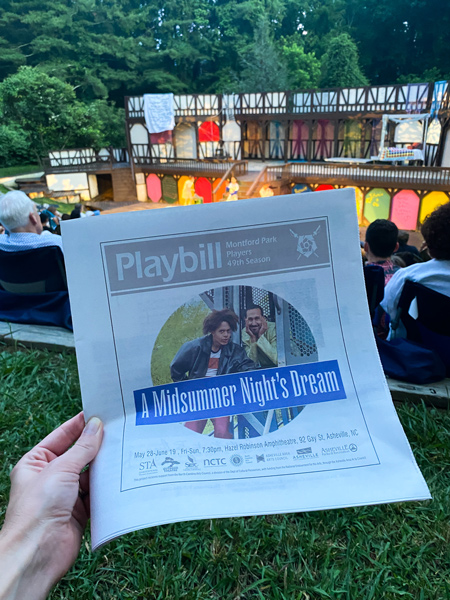 While checking out Montford Park and strolling past quaint Bed & Breakfasts, a few more places of interest closeby include:
Of course, see all that you can do in Asheville and its surrounding WNC neighbors.
Plan Your Fall In Asheville
Whether you live in Asheville or are visiting just for the Greek Festival, be sure to check out our top guides for fall planning.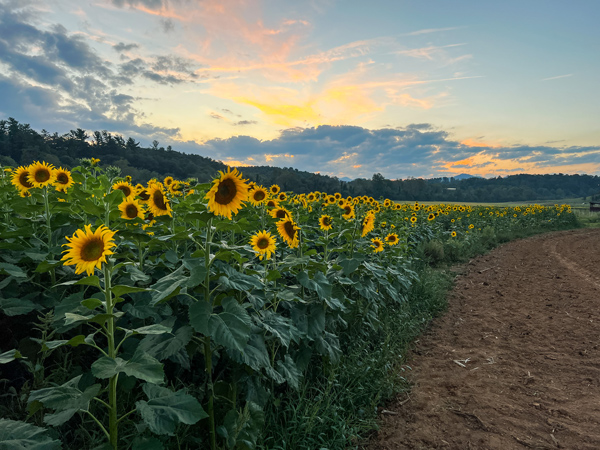 Have you attended the Asheville Greek Festival? What did you think? And more importantly, what did you eat? Let us know in the comments!
Thinking of attending next year? Save this guide for later: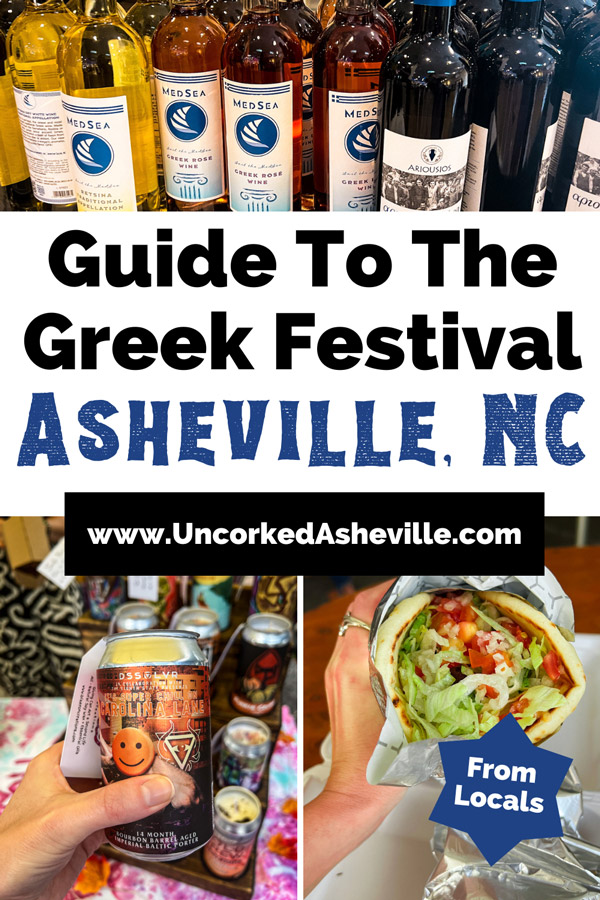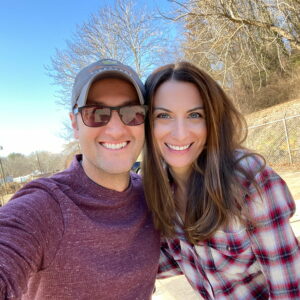 Christine (pronouns: she/her) is the owner and lead writer of Uncorked Asheville. After falling in love with those gorgeous Blue Ridge Mountains, Christine and her husband Tom decided to call Asheville, North Carolina home. When her pointy Italian nose isn't stuck in a book, Christine is adopting all of the kitties, getting lost in the forest, and drinking an ESB. She has a BA in English and History from Smith College, her MLIS from USF-Tampa, and is a former U.S. Fulbright Scholar - Indonesia. Christine also owns The Uncorked Librarian LLC with books and movies to inspire travel.