Where can you get the best charcuterie boards in Asheville, NC? The Asheville charcuterie scene is sure to have your mouth watering.
Are you craving meats, cheeses, veggies, olives, peppers, and crackers? We just love charcuterie. I'm pretty sure we demolish a charcuterie board at least once a week.
Then, add in deep and spicy wine along with locally-sourced entrées or craft cocktails and we are all set for the evening.
So, where can you find the best charcuterie in Asheville, NC? Trust us — it's not that hard.
While "best" is subjective, we have certainly eaten our fair share of Asheville charcuterie boards at wine bars, AVL's top restaurants, and even the city's breathtaking rooftop bars.
As locals and foodies, Asheville's Foodtopia scene sings to us, even with gluten and lactose-free dietary restrictions. And yes, you can find gluten-free charcuterie boards in Asheville.
Below, we are sharing just a few of our favorite spots for the best charcuterie. Encounter charcuterie with jaw-dropping sunset views and meaty boards served on the prettiest outdoor patios.
Head to some of Asheville's most famous restaurants along with fantastic spots for date night. West Asheville, River Arts District, and Downtown Asheville included.
We'd love to know your favorite Asheville charcuterie spots in the comments too. Let's get started!
*Please remember to double-check all menus for charcuterie before going. Offerings are subject to change.
Read more about Asheville's unforgettable restaurants for breakfast, lunch, and dinner.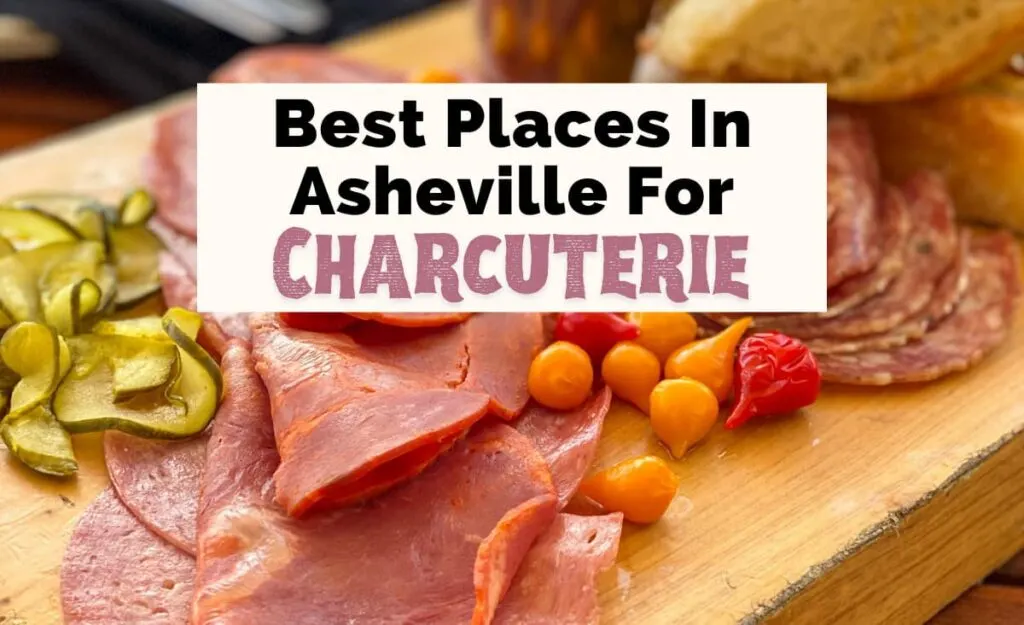 This post may contain affiliate links that earn us a commission at no extra cost to you. If you love these guides, support Uncorked Asheville here.
See our Top Places To Stay in Asheville.

Don't miss out on these Asheville properties on Booking.com, too.
7 Best Spots For Charcuterie Boards In Asheville, NC
1. The Great Hall Bar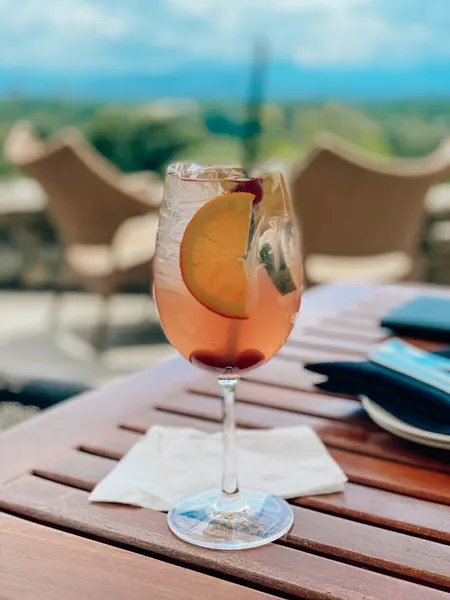 One of the best charcuterie boards in Asheville with views, head over to The Omni Grove Park Inn in North Asheville.
While we love Edison and Sunset Terrace — breathtaking 'rooftop' restaurants — The Great Hall Bar is perfect for seasonal cocktails and snacks.
Order charcuterie filled with local meats, peppers, and olives. Sit outside on the second-level terrace overlooking the Blue Ridge Mountains, Downtown Asheville, and Mount Pisgah.
Or, grab a table near the floor-to-ceiling stone fireplaces by the bar and in the reception area. The Grove Park Inn is especially cozy during an Asheville winter.
Explore even more delicious North AVL restaurants like Plant, Luella's, and Asheville Pizza & Brewing.
The Great Hall Bar at The Omni Grove Park Inn | 290 Macon Ave, Asheville, NC 28804
2. Battery Park Book Exchange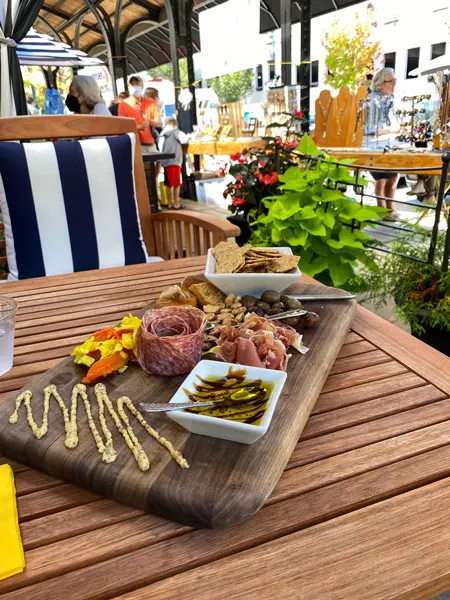 For Asheville literary travelers, Battery Park Book Exchange — located in the historic Grove Arcade — is a must.
One of AVL's coolest bookshops, peruse eclectic used books while sipping literary cocktails from the Champagne and wine bar.
Battery Park Book Exchange also serves one of the best charcuterie boards in Asheville with gluten-free options.
We especially love to sit outside on a warm day and watch the hustle and bustle of Downtown Asheville. Be sure to check out Battery Park Book Exchange's local Asheville authors section too.
Battery Park Book Exchange | 1 Page Ave #101, Asheville, NC 28801
3. The Bull & Beggar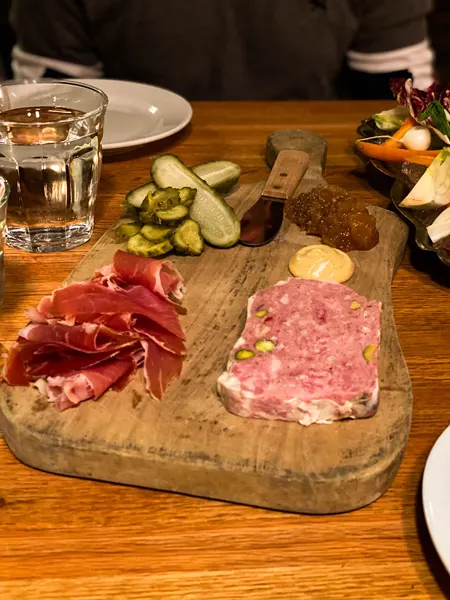 One of the most romantic high-end restaurants, The Bull & Beggar serves the classiest Asheville charcuterie board. They pair your selected and gourmet meats with a large plate of crudités.
A religious dining experience, their charcuterie board also features mustard, jam, and pickles.
Of course, The Bull & Beggar's cocktails are equally delicious. Dine here for special occasions and know that The Bull & Beggar is most fitting for meat lovers.
Afterward, grab drinks at Bottle Riot (keep reading for more information). For Asheville breweries, Wedge is right next door.
And, if you are loving all of the meats, The Bull And Beggar also has one of the best burger joints in town, Baby Bull, located just a bit further into RAD.
Pleb urban winery is also close by. Try pleb's unique orange urban wines.
The Bull & Beggar | 37 Paynes Way #007, Asheville, NC 28801
4. Leo's House Of Thirst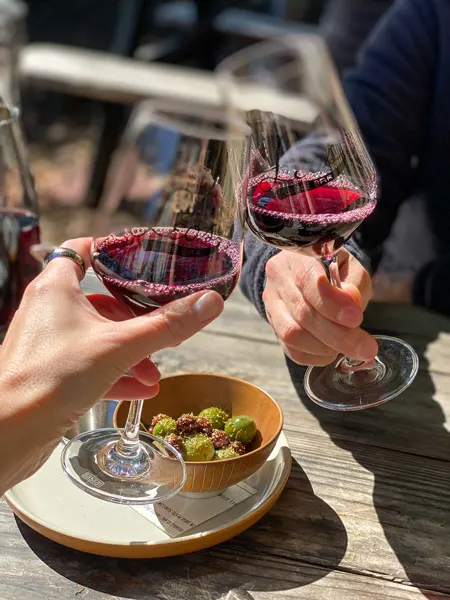 You cannot go wrong in West Asheville, and this section of the city boasts of some of the best restaurants. Newer to the area, Leo's House of Thirst is an atmospheric wine bar.
In fact, this is one of the most romantic and soul-warming places for charcuterie in Asheville.
On a gorgeous day or evening, sit outside in Leo's patio garden filled with picnic tables (and space heaters). Choose from their massive wine selection.
Leo's House Of Thirst features curated wines by the glass, half carafe, and bottle along with tapas, handhelds, mains, and appetizers.
Of course, Leo's House of Thirst offers a mouthwatering charcuterie board — and they have gluten-free crackers. Read more about dining gluten-free in AVL.
We come here for a late Sunday brunch, enjoying Leo's olives, vegan soup, and charcuterie. While touring West Asheville, don't miss all of the vibrant street art.
Leo's House Of Thirst | 1055 Haywood Rd, Asheville, NC 28806
Never Miss Another Asheville Update
---
Tired of generic Asheville travel itineraries? Experience Asheville like a local with our free Asheville Favorites checklist, including restaurants, breweries, and hiking. Plus, get local updates – including events and hidden gems – straight to your inbox. Sign up here.
5. Cúrate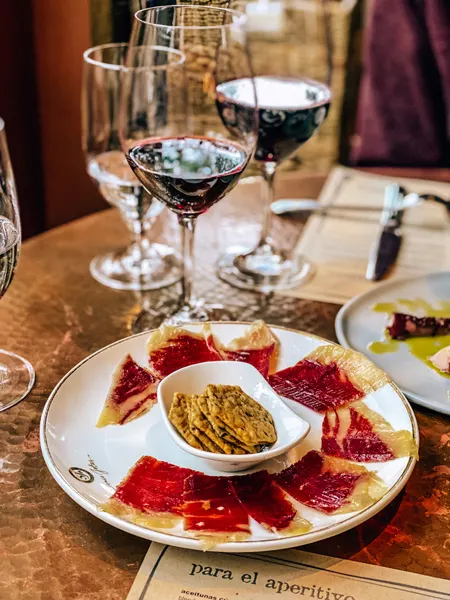 Fine dining in Asheville doesn't get any better than this. Enjoy Spanish tapas like Anthony Bourdain and Gordon Ramsay in this award-winning and famous Downtown Asheville restaurant.
Chef Katie Button and owner, Felix Meana, previously worked for José Andrés. In 2021, Wine Enthusiast named Cúrate as "one of America's 50 Wine Restaurants We Love."
Cúrate's extensive wine list showcases delicious sherry. Order Spanish tapas including the best charcuterie board in Asheville.
Most notable for charcuterie, dine on world-famous cured pork. Gluten-free crackers are available upon request. Don't forget to save room for dessert.
Cúrate labels all menu items as vegan, gluten-free, tree-nut-free, and lactose-free. Read more about vegan options across Asheville.
Cúrate | 13 Biltmore Ave, Asheville, NC 28801
6. Chestnut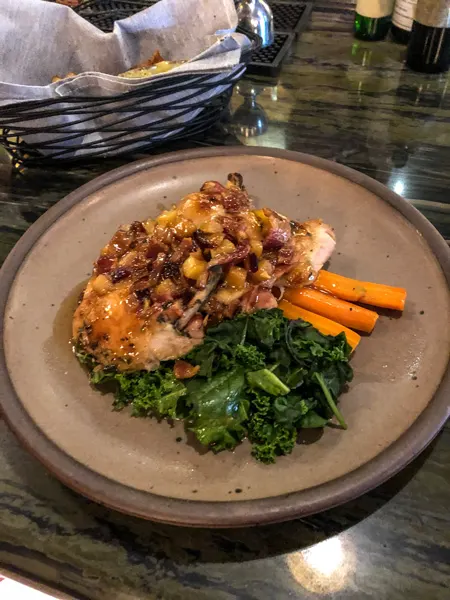 Chestnut is a popular downtown dinner restaurant for concertgoers. Located in the heart of it all, we love sitting at the bar with a craft cocktail.
For Asheville charcuterie boards, Chestnut features meats, cheeses, jam, Lusty Monk Mustard, pickled crudité, and bread.
You'll enjoy the cozy ambiance with classic dishes made from locally-sourced and fresh ingredients. Like many of the stellar Asheville restaurants, Chestnut labels gluten-free, vegan, and vegetarian items.
We recommend splitting charcuterie and an entrée.
Chestnut | 48 Biltmore Ave, Asheville, NC 28801
7. Bottle Riot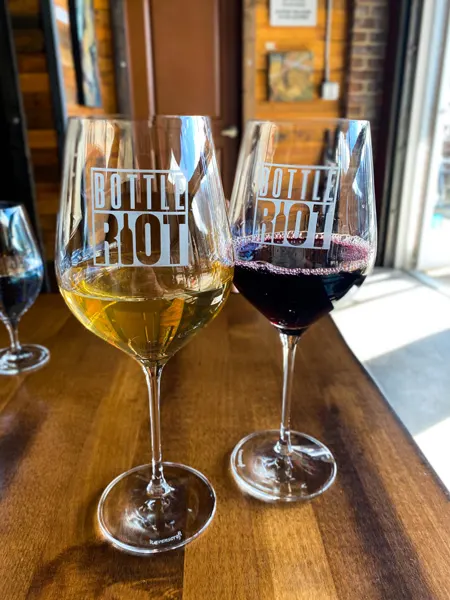 Grabbing wine in and around Asheville is one of our favorite date night ideas.
One of our favorite Asheville wine bars, Bottle Riot has an eclectic wine selection and small bites, including charcuterie.
You'll love their swanky River Arts District establishment. Unlike Downtown AVL restaurants, find a plethora of parking. The Bull And Beggar and Wedge are Bottle Riot's delicious neighbors.
Bottle Riot's outdoor patio has heaters for the winter. Their indoor wine room is funky fun with a green couch, pink chairs, a colorful bar, and seating throughout Joanna Gaines's dream space: shiplap everywhere.
Bottle Riot frequently changes their wine selections, and if you are a wine connoisseur, they offer "baller bottles."
Find red, white, orange, sparkling, and rose wines. These wine glasses are also as big as your face.
Along with wine by the glass or bottle, beer and cider lovers will also have options here.
For charcuterie, order a board for the entire table or select from a cheese or meat plate. Meat plates typically come with olives, crackers, jam, nuts, and dried fruit. You can ask for gluten-free crackers.
Bottle Riot's food menu also features olives, spreads, dips, and pâté. Lastly, keep your eyes out for their special events.
Read more about all of Asheville's terrific bars.
Bottle Riot | 37 Paynes Way #009, Asheville, NC 28801
For Places To Build Your Own At-Home Charcuterie In Asheville, Head To:
South Slope Cheese
Asheville Charcuterie Company
Dare Vegan Cheese
The Chop Shop Butchery
West Village Market & Deli
Save Your Favorite Asheville Charcuterie Boards For Later: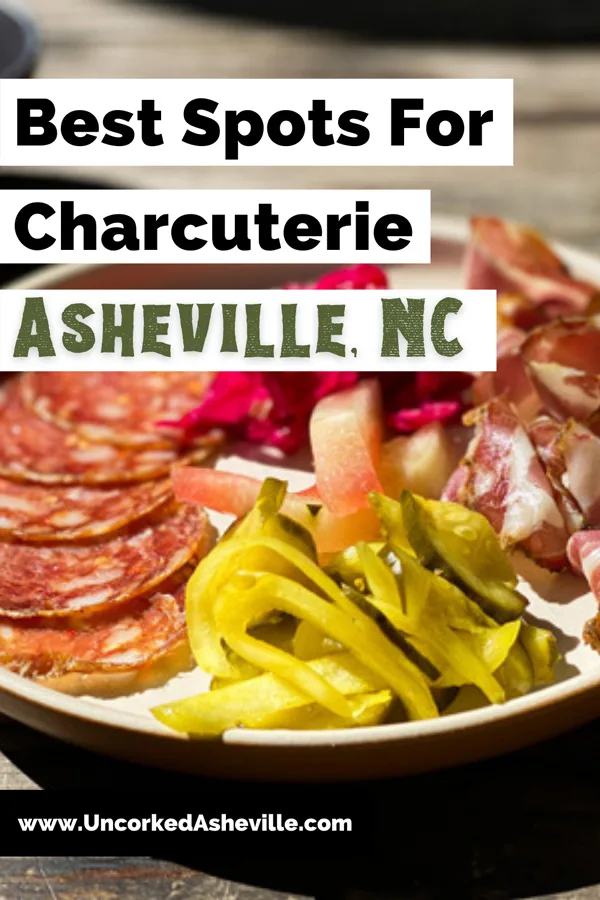 See our Top Places To Stay in Asheville.

Don't miss out on these Asheville properties on Booking.com, too.
Who do you think has the best charcuterie in Asheville, NC?
Where do you love to get a delicious charcuterie board in Asheville? What are charcuterie musts? Let us know in the comments.
What pairs well with charcuterie?
Asheville's Top Wine Bars
Decadent Dessert Spots
Asheville Chocolate Spots
Romantic Restaurants
Best AVL Wineries
Incredible Rooftop Bars
Pizza Restaurants
Or, head over to our master Asheville food and drink guide.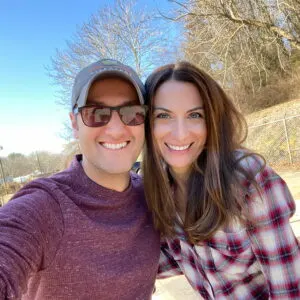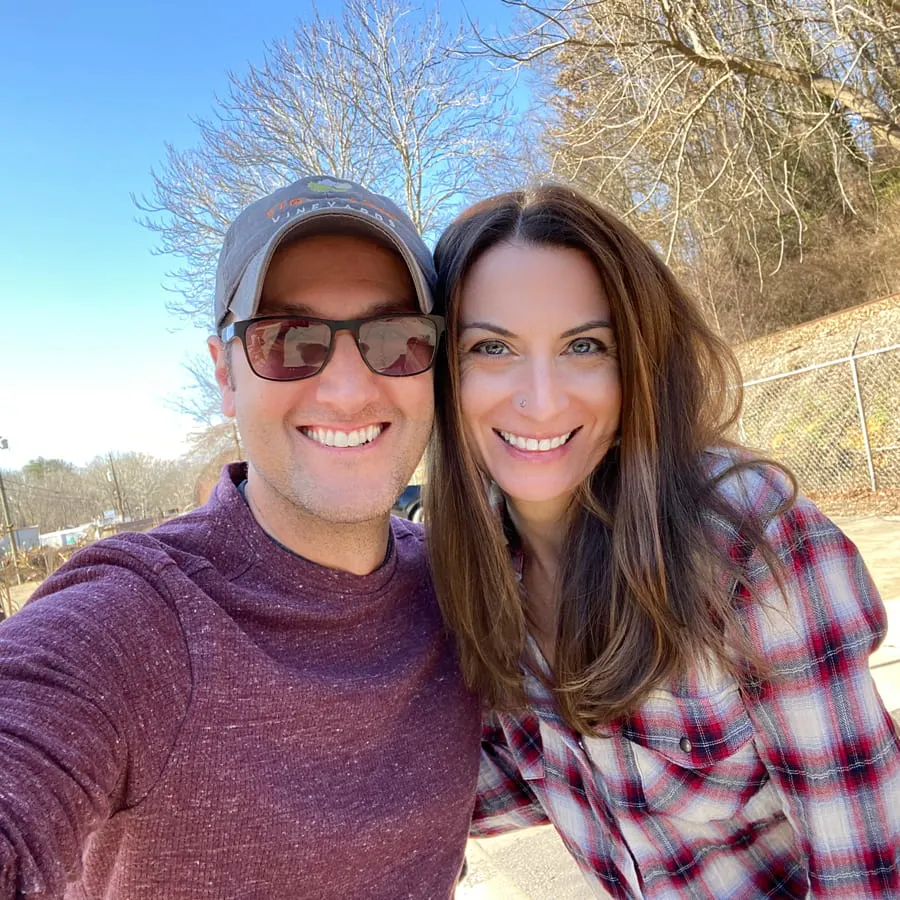 Christine (pronouns: she/her) is the owner and lead writer of Uncorked Asheville. After falling in love with those gorgeous Blue Ridge Mountains, Christine and her husband Tom decided to call Asheville, North Carolina their home. When her pointy Italian nose isn't stuck in a book, Christine is adopting all of the kitties, getting lost in the forest, and drinking an ESB.
Christine has a BA in English and History from Smith College, her MLIS from USF-Tampa, and is a former U.S. Fulbright Scholar - Indonesia. She also owns The Uncorked Librarian LLC with books and movies to inspire travel.