Uncover where to get gluten-reduced and gluten-free beer in Greenville, SC – and nearby – from a Celiac household.
The gluten-free and food intolerance-friendly scene is just one of the reasons we moved to Asheville, NC, especially as a half-Celiac, half-Ulcerative colitis household.
From experience, we search high and low for gluten-free and gluten-sensitive places to eat and drink, asking all of the important questions to keep ourselves safe, happy, and…hydrated.
While we currently haven't found a solely gluten-free brewery in Greenville, we have found plenty of options that carry wine, hard ciders and seltzer, and Ginger's Revenge – ginger beer out of Asheville.
However, there are a few gluten-reduced breweries in Greenville, and hopefully, more are on the way, including one along the popular Swamp Rabbit Trail.
Below, discover our top places to drink gluten-free and gluten-reduced beer near Greenville, including both Asheville and Hendersonville, which are under 1 hour and 20 minutes away.
These gluten-reduced beers should have less than 20 ppm of gluten – but always double-check with each respective brewery.
Of course, these are also all fantastic taprooms for everyone, and you'd never know the beer has less gluten otherwise. Let's get started!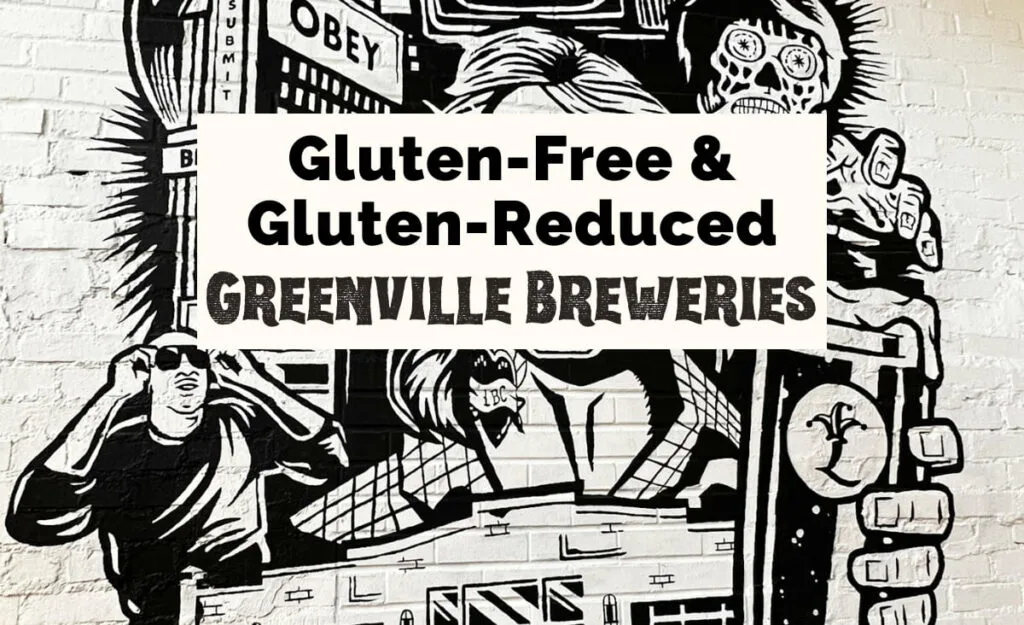 This post may contain affiliate links that earn us a commission at no extra cost to you. If you love these guides, support Uncorked Asheville here.
Gluten-Free vs Gluten-Reduced Beer
Just a quick note that gluten-free beer has no gluten in the recipe unlike gluten-reduced beer, which has gluten that is reduced with enzymes during the fermentation process.
Current industry standards state that gluten-reduced beer must contain less than 20 ppm of gluten.
More importantly, know that not everyone with Celiac disease or gluten intolerances can safely drink gluten-reduced beer.
Our household can, but your dietary requirements – including intolerances, sensitivities, and allergies – may be different than ours. These are just our personal experiences.
Please always check with your doctor or a medical professional – we consult GI doctors – and we are not health professionals.
Also, please also always check with each establishment as beers and procedures vary across breweries and are subject to change.
With that said, let's drink some gluten-reduced Greenville beer!
4 Spots For Gluten-Reduced & Gluten-Free Beer In Greenville (& Nearby)
1. Liability Brewing Co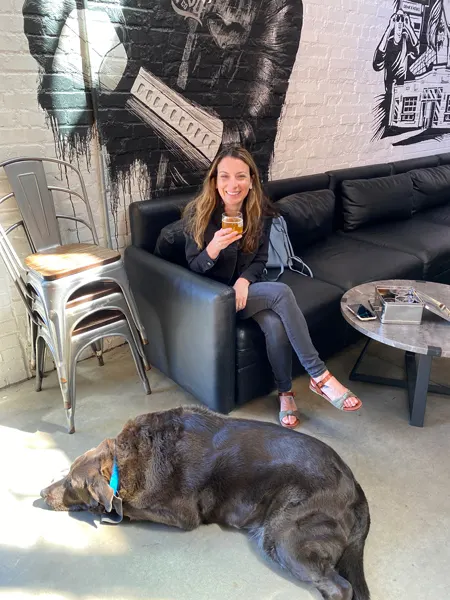 For gluten-reduced beer in Greenville, Liability Brewing is the best option. They make delicious beer and have terrific indoor and outdoor seating.
Plus, their flights come in old-school, lunch-like tin containers, and when you leave, you might just find yourself heading home to watch They Live.
You'll see why when you study one of the taproom murals… Why is that fight scene SO dang long?
Always double-check, but all of Liability's beers are gluten-reduced, using an enzyme that reduces gluten to lower than 10 ppm.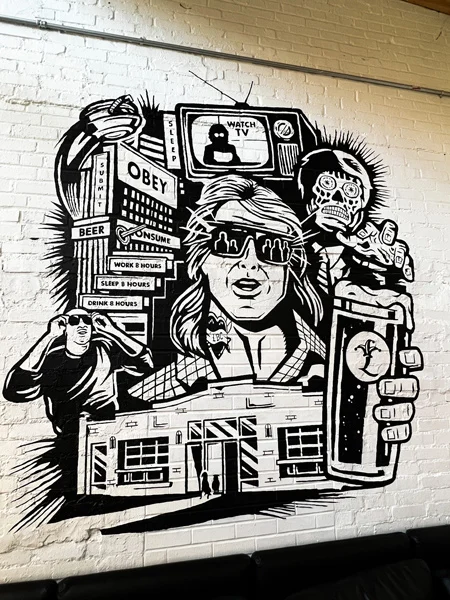 Find anything from Kolschs and Doppelbocks to IPAs, Hefeweizens, and Scotch Ales. You can bet we take a few cans home to Asheville.
For food, order from Moe's BBQ next door – they make some of our favorite Asheville BBQ too – or grab snacks on-site like chips and pretzels.
This is a kid and pet-friendly Greenville brewery that sits just outside Downtown with a parking lot.
P.S. The cool Storm Trooper wall art is a collaboration with Patterson Art Co. and Gray Taylor/WhiskersDeep. We geek out over great branding.
Liability Brewing Co | 109 W Stone Ave Suite D, Greenville, SC 29609
2. Pangaea Brewing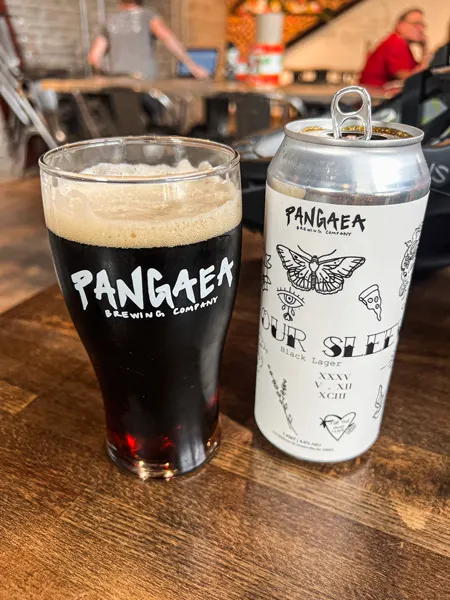 Greenville's Swamp Rabbit Trail is one of our favorite biking greenways near Asheville.
At 21+ miles and growing, there are endless stops and attractions along the way, especially between Greenville and Travelers Rest.
Imagine our surprise when we found one of the best spots for gluten-reduced beer in Greenville along the trail – with bike racks waiting for us.
While not all of Pangaea's beers are gluten-reduced, they have a few local craft cans to select from – and that's all we need. Think a Black Lager Schwarzbier…
For non-gluten-reduced beer, sip on Sours, Lagers, IPAs, Porters, Blonde, Cream, & Amber Ales, Pilsners, Belgians, Wheats, and more – it's a pretty extensive list.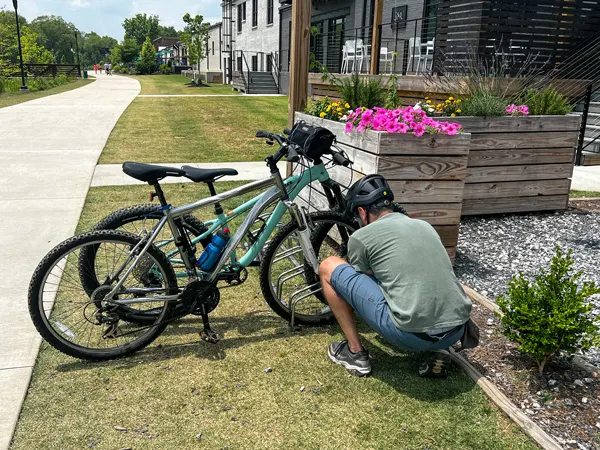 Their sister company, Black LAB Booch, makes craft sodas and kombucha too. Find a small pub grub food menu with salads, pizzas, and sharables.
Pangaea Brewing has indoor and outdoor space – with a dog-friendly patio – and a safe place to lock up your bikes.
Across the way, find Southernside Brewing Company, which sometimes might have a gluten-reduced beer – but we have yet to catch one.
Next door, enjoy The Commons, a food hall with tacos, local brews, and coffee.
Pangaea Brewing | 115 Welborn St Suite A, Greenville, SC 29601
3. Oklawaha Brewing Company (Hendersonville, NC)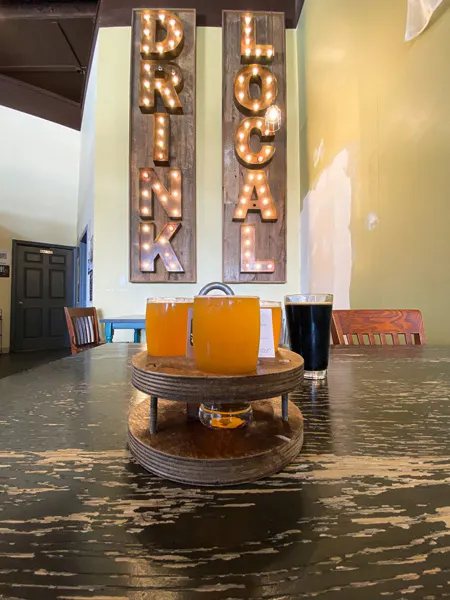 One of the best places for gluten-reduced beer near Greenville, SC is just 50 minutes away – across the North Carolina border – in Hendersonville (HVL).
HVL is a quaint but bustling area and just one of the most spectacular mountain cities near Asheville filled with great things to do, including its hopping brewery scene.
Oklawaha Brewing Company, just off Main Street, serves up some of our favorite gluten-reduced beer – and has the largest selection we've seen.
Their tap list showcases IPAs, Stouts, Kolschs, Lagers, Goses, Sours, Ambers, Seasonals, and Helles. Ask for a flight, half-pour, or pint.
For non-beer drinkers, enjoy guest ciders, hard seltzers, and non-alcoholic beers.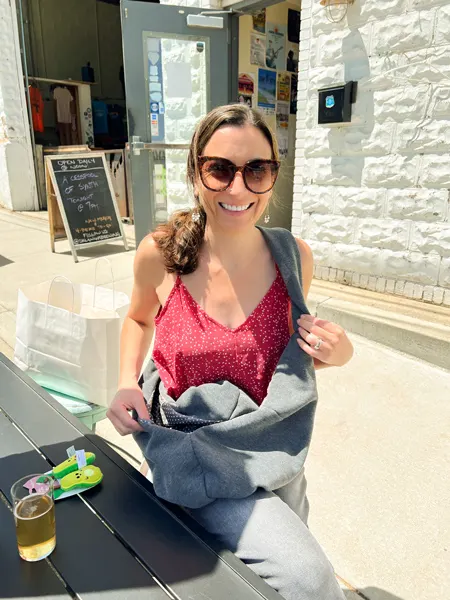 A pet-friendly brewery, sit inside or out, and on weekends and weeknights catch a game, trivia night, or live music. We suggest parking along the nearby side streets.
While here, know that Hendersonville is full of delicious restaurants, free museums, coffee shops, some of the best wineries in the state, DuPont's waterfalls, and seasonal apple orchards.
You'll also pass by the tiny village of Flat Rock, which boasts a theater and a great park.
Oklawaha Brewing Company | 147 1st Ave E, Hendersonville, NC 28792
Never Miss Another Asheville Update
---
Tired of generic Asheville travel itineraries? Experience Asheville like a local with our free Asheville Favorites checklist, including restaurants, breweries, and hiking. Plus, get local updates – including events and hidden gems – straight to your inbox. Sign up here.
4. Ginger's Revenge (Asheville, NC)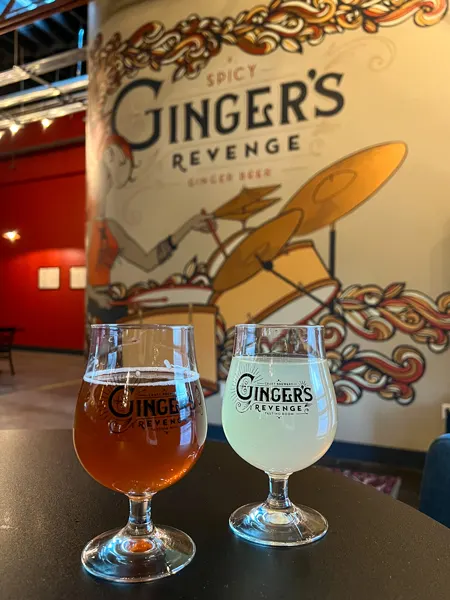 For some of the best gluten-free beer near Greenville, it's no surprise that Asheville is where it is at.
Asheville is known as "Foodtopia" for its award-winning restaurants, but it honestly should be called "Beertopia" for its happening beer scene.
With an estimated 50+ breweries in the area, you are sure to find gluten-reduced craft beer.
For completely gluten-free beer in Asheville, though, head to one of two Ginger's Revenge locations – their newer South Slope taproom or their River Arts District (RAD) brewery.
All of their ginger beers are naturally gluten-free and made with mostly organic ingredients; they also feel pretty light.
Enjoy beer flavors for all palates, including dry, sweet, spicy, and fruity. Think lime agave, hibiscus lavender, and cranberry herb.
Ginger's Revenge rotates seasonal flavors like chocolate and orange peel, vanilla and fig, passion fruit, apricot ghost pepper, and Thai chili.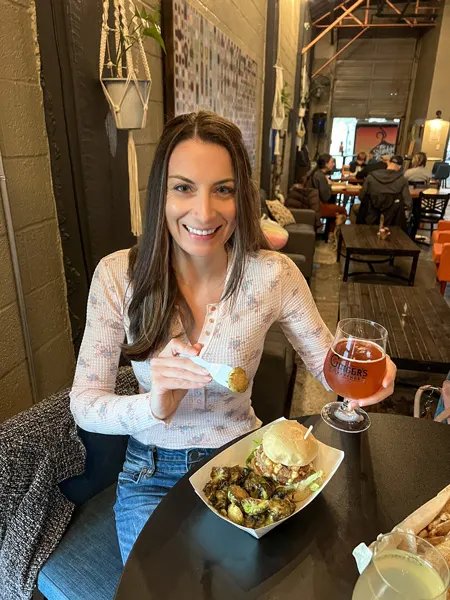 They also serve guest beer (with gluten), and their South Slope location has ginger beer cocktails. Ginger's Revenge's RAD location has live music, brewery tours, and rotating food trucks.
Afterward, explore all that Asheville has to offer – bars, music, art, and more.
Ginger's Revenge sits at the tip of the city's vibrant River Arts District, which has the best urban street art, a riverwalk, top restaurants, and artists' studios.
Plus, for gluten-free drinkers, find one of the most hipster wineries in Asheville, pleb urban winery, as well as our favorite dazzling wine bar, Bottle Riot.
More gluten-reduced Asheville breweries include 7 Clans, Cellarist, and White Labs (with GF pizza!).
Be sure to read our complete guide to enjoying gluten-free Asheville; we are pros here.
Ginger's Revenge | RAD: 829 Riverside Dr, Suite 100, Asheville, NC 28801 & South Slope/Downtown: 32 Banks Ave, Asheville, NC 28801
Save These Gluten-Reduced & Gluten-Free Breweries Near Greenville For Later: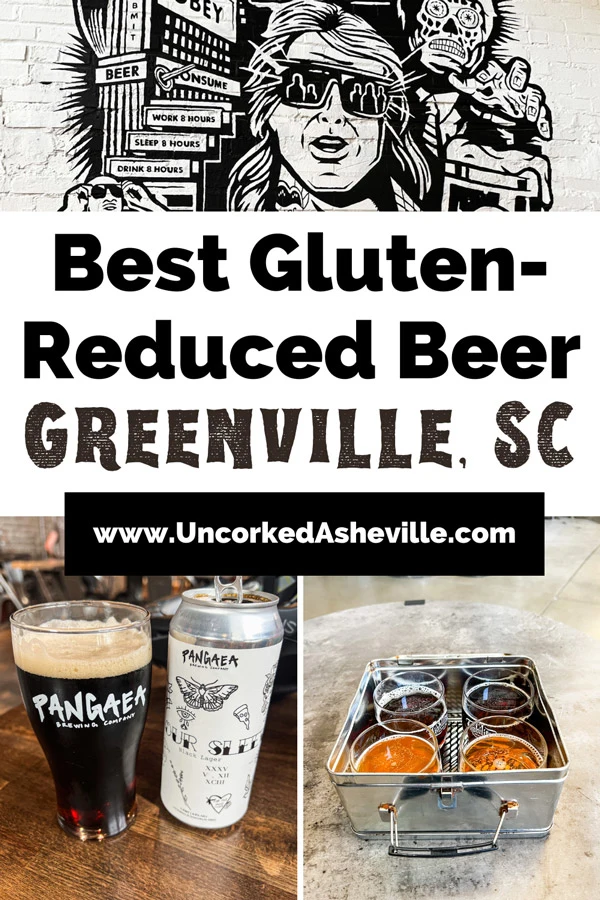 Have you found anywhere else with gluten-reduced beer in Greenville, SC?
We are always looking for more gluten-free beer in Greenville and Asheville. What are your favorite spots for gluten-reduced beer near Greenville? Let us know in the comments.
Related Articles: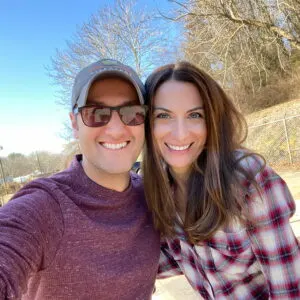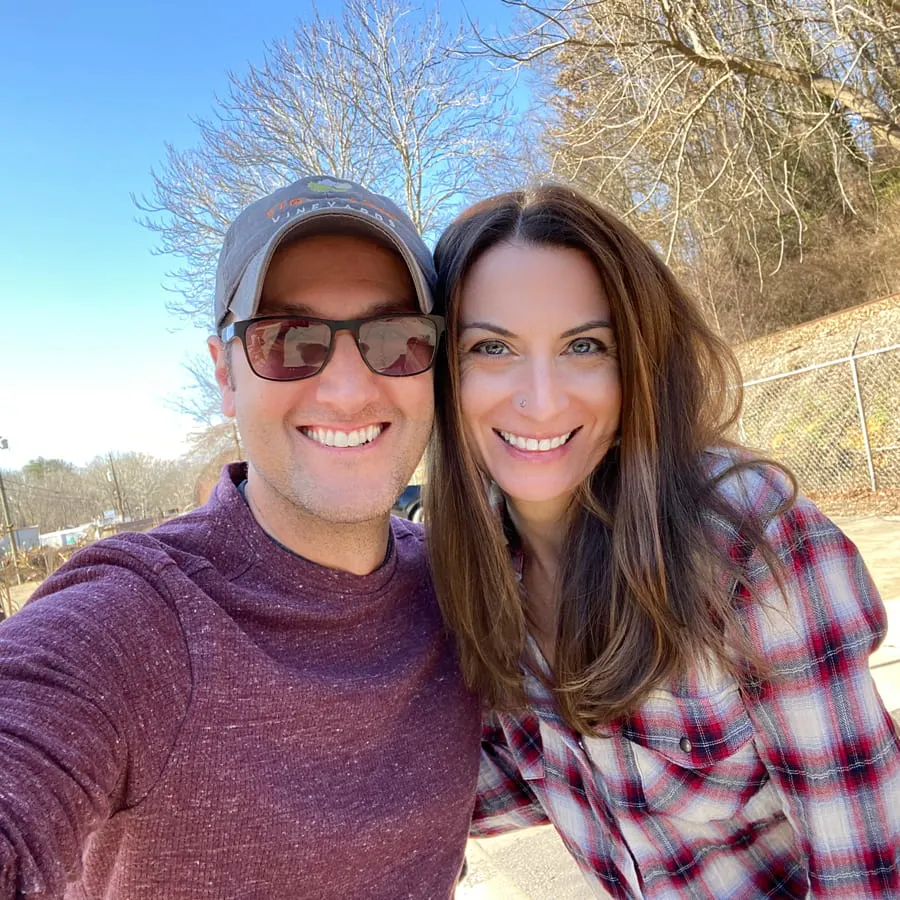 Christine (pronouns: she/her) is the owner and lead writer of Uncorked Asheville. After falling in love with those gorgeous Blue Ridge Mountains, Christine and her husband Tom decided to call Asheville, North Carolina their home. When her pointy Italian nose isn't stuck in a book, Christine is adopting all of the kitties, getting lost in the forest, and drinking an ESB.
Christine has a BA in English and History from Smith College, her MLIS from USF-Tampa, and is a former U.S. Fulbright Scholar - Indonesia. She also owns The Uncorked Librarian LLC with books and movies to inspire travel.