Are you looking for fall activities in Asheville, NC? Check out these 14 cozy bucket list items in order to experience the perfect Asheville fall.
It's no secret that we lived in Florida for the past 8 years. As a CT and MA resident for most of my life, every year the fall beckons to me. I crave the cold weather, vibrant fall foliage, and apple picking. Did you know that you cannot apple pick in FL? Oranges, sure. I guess mimosas are nice too?! Hot apple cider is my favorite, though.
Show Me The Pumpkin
When we moved to North Carolina, I knew our first Asheville fall would be ballz to the wallz with all of the autumn activities. Like the good American yuppie that I am, I NEEDED everything pumpkin. Asheville in the fall = all of the pumpkins and apples you could ever want.
Show me the cider donuts and pumpkin spice lattes. I cannot even begin to tell you how many apple crisps we have made so far. Plus, Asheville's mountains look like they are breathing in the fall with all of that angsty mist.
So what are things you can do in Asheville, NC in the fall?
Below, find fall activities in and near Asheville for tourists, leafers, and residents. Discover family-friendly things to do in Asheville as well as more adult adventures like boozy ghost tours and wine tastings.
These are my Asheville fall bucket list activities and traditions that I hope to keep growing each year.
Asheville Fall Bucket List
Sit in front of a cozy fireplace at the Omni Grove Park Inn
Pumpkin pick at a quaint popup stand
Road trip down the Blue Ridge Parkway
Walk the Biltmore gardens
Attend one of the many Asheville fall festivals
Take a haunted ghost tour on the LaZoom Bus
Head to downtown Asheville for fall beer
Get lost in a corn maze
Pick apples along apple alley
Eat a steaming hot cinnamon cider donut at Sky Top Orchard
Hike along the trails
Sip oaky wine at one of the Hendersonville wineries
Read a fall book
Become a 'leafer'
Disclosure: This site may contain affiliate links for products and services I recommend. If you make a purchase through these links, at no additional cost to you, I will earn a small commission. Read my full disclosure for more information.

Fall Activities In Asheville
1. Sit in front of a cozy fireplace at the Omni Grove Park Inn
The Omni Grove Park Inn sits on Sunset Mountain in North Asheville. Located in the lobby and next to the Great Hall Bar, check out the jaw-dropping floor-to-ceiling fireplaces. Grab a cocktail. Gently glide back and forth in one of their rocking chairs.
Literary quotes flank these massive gas fireplaces, which is fitting since F. Scott Fitzgerald once stayed here. The dark lobby opens up with windows that look out to Sunset Terrace. Of course, the wide patio lives up to its namesake. Catch a stunning and famous Grove Park Inn sunset.
Don't miss the Edison, either, which overlooks all of Asheville and its beautiful fall leaves. If you are looking for things to do and eat, snack on their outdoor terrace with one of their Halloween or fall cocktails. Try the Corpse Reviver with apple brandy.
Check out the Omni Grove Park Inn Here.
2. Pumpkin pick at a quaint popup stand
Of course, you can pumpkin pick at most of the orchards around Asheville. And yes, Ingles sells some pretty perfectly shaped pumpkins for carving that our bears would love to eat.
However, I cannot resist those side of the road pumpkin stands or even better, ones that are the epitome of fall. For weeks, we passed the Grace Episcopal Church in Asheville. Whether or not religion is your jam, the church is stunning, especially when its bright red doors contrast those orange pumpkins.
Located right before Beaverdam Road on Merrimon Ave. in North Asheville, find an array of colored pumpkins: orange, white, BLUE, and light orange. Personally, I love Dr. Seuss-like pumpkins. This Asheville fall 2019, donations benefit Consider Haiti.
Tara from Hammer and a Headband has some cute pumpkin carving ideas and free templates here.
Don't miss this scenic church and pumpkin patch here.
3. Road trip down the Blue Ridge Parkway
No Asheville fall would be complete without a drive down some part of the Blue Ridge Parkway. The Parkway is about 469 miles long and follows the ridge of the Blue Ridge Mountains.
We still have a lot of the Blue Ridge Parkway left to explore. I love the area just beyond North Asheville with the endless overlooks and Craggy Pinnacle, Garden, and Picnic areas. Be sure to check out our favorite fall leaf hikes along the Blue Ridge Parkway here.
Don't let bears and wildlife crossing the road surprise you, and please watch for bikers. If it is foggy, you might end up driving right into a cloud with limited to no views; definitely pick a clearer or sunnier day unless you have an amazing sense of humor.
We always somehow miss our mile markers, but they are truly how you find your destination on the Blue Ridge Parkway.
A few overlooks we love include:
Milepost 364.1: Craggy Dome Parking Lot; also where you can pick up the short Craggy Pinnacle hike
Milepost 364.4: Craggy Gardens Visitor Center; yes, there are real bathrooms, and you can pick up one side of the Craggy Gardens Trail
Milepost 375: Tanbark Ridge Overlook
Read More About The Blue Ridge Parkway.
4. Walk the Biltmore gardens
Fall activities in Asheville almost always include a visit to the Biltmore. And how can they not?
One of the most iconic (and largest) houses in the nation, the Biltmore is 8,000 acres of sheer beauty. We traded in our annual Disney passes for Biltmore ones.
George Vanderbilt and his wife, Edith, put their heart and soul into this home. Community-driven, the Vanderbilts gave back to Asheville in areas of forestry, agriculture, and education.
Enjoy the morning on a self-guided or audio tour of the Biltmore House. With spanning views of the forest and Deer Park, you'll love the Biltmore fall foliage. Head to the gardens designed by the one and only Frederick Law Olmsted. Have lunch in the old horse stables at the Stable Cafe and don't miss wine tasting at the winery.
If you are traveling with kids, check out these family-friendly Biltmore activities.
Visit Biltmore.
5. Attend one of the many Asheville fall festivals
Both Hendersonville and Asheville host a wide variety of fall festivals.
You'll find endless Oktoberfests, craft fairs, art fests, vintage flea markets, block parties, and Hispanic Heritage Month celebrations.
I usually check in with Romantic Asheville to see the latest events and fall activities in Asheville.
6. Take a haunted ghost tour on the LaZoom Bus
If you are looking for fall things to do in downtown Asheville, check out the wild and crazy LaZoom bus. Think about it: how many times have you spied a purple bus tearing down the streets of Asheville full of giggling and rowdy people?! That's LaZoom.
We dropped by the LaZoom headquarters not too long ago. This shit show looks literally AMAZING to me, especially as my other persona, The Uncorked Librarian.
Full disclosure: a LaZoom tour is on my to-do list. Walk into a funky, kitschy bar full of eccentric tour guides and staff before hopping on the bus.
You can purchase tickets for haunted, booze, and comedy tours. Be sure to check the age limit on each tour before you book since some are 17+. Others are family-oriented. Every night in October 2019, Lazoom has a true crimes bus tour.
Check out the craziness and fun of LaZoom.
7. Head to downtown Asheville for fall beer
For me, fall activities in Asheville have to involve some sort of beer flight tasting or mug of foamy love. I live for ambers, stouts, reds, and anything infused with spice.
I cannot even begin to keep up with the Asheville breweries and their wild Count Chocula concoctions.
Everyone has their personal favorites for the Asheville beer scene, and this beer passion gets a bit contentious. If you want to see a massive beer factory, head to Sierra Nevada for their Oktoberfest. We have yet to tour but have chilled at the bar for some grub and delicious beer. Plus, Sierra Nevada is conveniently next to the regional airport.
For local Asheville craft breweries try:
Thirsty Monk (the bottom level specializes in Belgium flights and the rooftop serves craft cocktails)
Bhramari Brewing Company
Asheville Brewing Company
Hi-Wire Brewing
Wicked Weed Brewing Company
One World Brewing
Collaboratory – new as of fall 2019
Check out Asheville Ale Trail.
Asheville, NC Hotels: Where To Stay
Hotels and B&B's tend to book up fast in Asheville during the fall. Make dinner reservations wherever you can too. A few hotels to consider that either we or our friends have stayed at include:
AC Hotel By Marriot Downtown Asheville
Hampton Inn And Suites Asheville Biltmore Area
Fun Fall Activities Near Asheville
If you are looking for family-friendly fall activities near Asheville, NC, head 35-45 minutes south to Hendersonville and Flat Rock. Both have sweet and historic downtowns, and visitors can find nearby hiking, wineries, and apple orchards.
You will never run out of things to do in the surrounding Asheville areas.
8. Get lost in a corn maze
I'm not going to lie: Growing up in Connecticut, Lyman Orchards still has the best corn maze that I've ever been to. I live for corn mazes, and I compare everything to Lyman's.
Recently, we headed to Stepp's Hillcrest Orchard and Farm to pick apples, grab some fresh salsa and jam, and get super lost in their corn maze. AND I MEAN SUPER LOST.
The 5-acre corn maze is wickedly large and confusing. You have to try it. Stepp's corn maze will take you AT LEAST 30 to 45-minutes and costs $5 for adults and $3 for children as of fall 2019.
I highly recommend peeing before you enter, making sure you are hydrated because Buncombe and Henderson counties may still be quite warm weather-wise, and taking a picture of the map on the wall for when you get desperate. There are no clues along the way, and if you go during a quiet weekday, you might be one of the only ones out there.
Of course, visitors slam all of the orchards on weekends.
Visit Stepp's Hillcrest Orchard.
9. Pick apples along 'Apple Alley'
Did you know: North Carolina is in the top 10 producers of America's apples? It's why we moved here. Well, no, not really, but I did MISS apple picking that much.
Along Highway 64 (near I-26) in Henderson County, find "Apple Alley." I think it's wine alley too, but let's talk about family-friendly fall things to do near Asheville first.
You have to go apple picking, especially with views of those gorgeous blue mountains. Personally, Fujis sing to me for apple crisps. Find Pink Ladies, Galas, Honeycrisps, and Golden Delicious to name just a few more apples out there.
10. Eat a steaming hot cinnamon cider donut at Sky Top Orchard
I've always been obsessed with fall donuts, but quite frankly, donuts make me feel like BLAH after I eat them. Still: EAT THEM, I MUST.
I also have been around the donut block, and I have to say, Sky Top makes my favorite donuts ever. Our first time there, I had no idea why literally everyone was sitting around gorging on donuts instead of playing. Now I get it:
Walk-up to their window to watch in the background as staff make fresh-out-of-the-oven donuts. Yup, staff shakes those steamy bad boys in cinnamon and sugar, and they land straight in your mout…container.
Fair warning: the donuts are beyond popular, and they do run out on weekends. Also, there is hard cider and cider slushies to wash down that clump of delicious, gooey donut. Get the ultimate sugar rush. Sky Top is officially one of my new Asheville fall traditions. I'm a living cliche.
Exclusive: Learn how to have the best Sky Top experience here.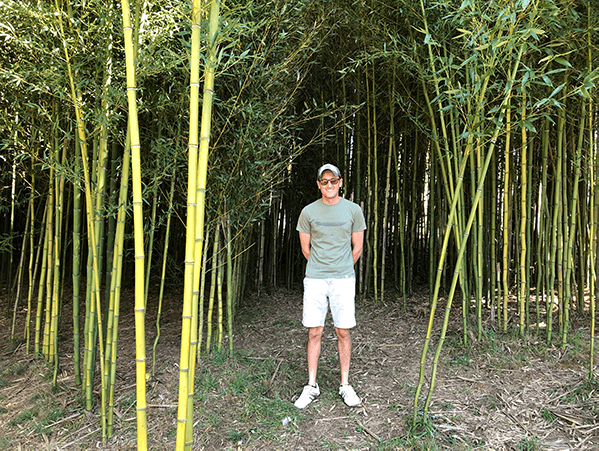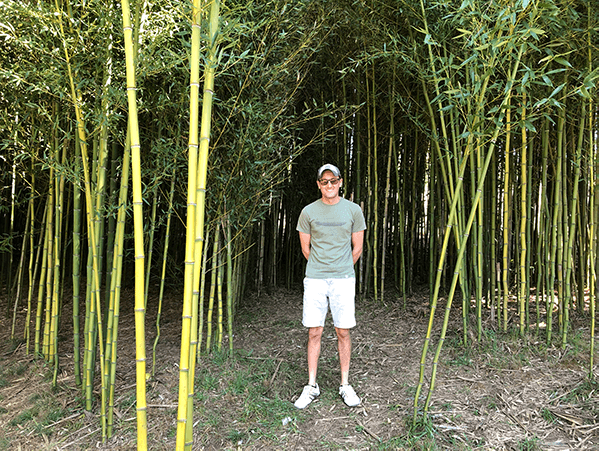 Fun Things To Do In The Fall At Sky Top:
Stroll through their bamboo forest
Feed the humping goats
Visit with the sheep, ducks, and peacocks
Play in all of the wood houses, including a giant pumpkin and apple
Grab local goodies in their store
Ride the bee train
Pick apples
Even on the weekdays, Sky Top stays pretty busy. The weekends fill with crazed orchard-goers in October and November.
Gorge on donuts at Sky Top Orchard.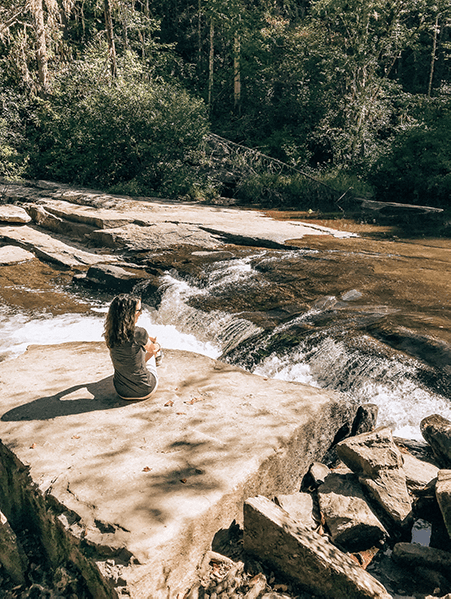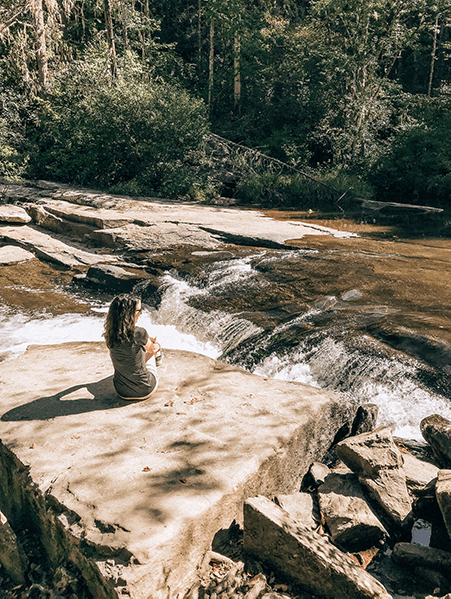 11. Hike along the trails and waterfall spy
As a boozy and literary traveler, I am obsessed with DuPont State Forest. While only showcased within a few minutes of The Hunger Games, Triple Falls is both gorgeous and famous.
Remember the scene where Katniss almost steps on Peeta's face in the falls? That's Triple Falls. Further along the forest, find Bridal Falls where Katniss cools her burning leg from the fireballs.
Park At Hooker Falls Access Area
I like to park in the Hooker Falls access area and lot–there is now an upper and lower lot with well-kept restrooms.
Cross the scenic bridge and take a short .25-mile walk to Hooker Falls. Keep going on a .5 mile moderate and rockier hike to Triple Falls. I suggest wearing good/practical sneakers versus casual flats or sandals.
You can climb up behind the larger trail for a higher view of Triple Falls with picnic tables or walk down the stairs to see the midway point of the falls.
Please don't be the jerk photographer or Instagrammer who doesn't respect the signs, nature, and rescue crews telling you not to climb over the rope to the rocks. Just sayin'.
If you walk .5 miles more, you can also catch High Falls before turning around and heading back. There are more trails, a Visitor Center, and picnic areas, but this is our favorite loop if you want to catch just the main falls.
Plan your stop at DuPont.
12. Sip oaky wine at one of the Hendersonville wineries
If you follow me anywhere else online, you know that I love my wine. Plus, if you are looking for more adult fall activities to do near Asheville, Hendersonville has two wineries for you:
Burntshirt Vineyards– Named North Carolina's winery of the year, Burntshirt has my favorite oaked Chardonnay. Burntshirt has two locations in Hendersonville and Chimney Rock. We tasted outside at the gazebo in Hendersonville. The wine bottle tree instantly stole my heart, and on the weekend, you can sit on the patio listening to the fountain and live music.
St. Paul Mountain Vineyards– Prior to moving to Asheville, we headed to St. Paul after a day at DuPont and lunch at Postero in downtown Hendersonville. St. Paul grows 14 varieties of grapes, and their tasting room stays open year-round. You can grab a glass of wine and sit on the patio overlooking the vineyards.
13. Read a fall book
Wait, what?!?! YESSSS! Whether you are a local, visitor, or snowbird, I highly recommend getting cozy and warm with a blanket and fall book in front of a fireplace during your evenings. Grab that donut, warm up that cider while dumping in butterscotch schnapps, and pick up a book.
Check out these books if you are looking to inspire your North Carolina adventures.
Or try these wickedly witchy books or steamy vampire romances.
Lastly, you might love these bear books and gifts on Uncorked Asheville.
14. Transform into a 'leafer'
Lastly, Asheville falls turn visitors and even locals into leafers. I, for one, just literally want to drive around all day looking at leaves. This pretty much makes me a leafer. Back in my Florida days, I'd fly home every October just to see the leaf-crack.
If you do nothing else this fall in Asheville, go see the leaves, even if that involves a walk outside or through a creepy cemetery.
Where To Stay Near Asheville
1898 Waverly Inn – We stayed at this amazing B&B while house hunting and loved our experience.
What You Should Know About Fall In Asheville
Weather & Foliage
Asheville Fall Weather
The weather in Asheville is a tad wild. This is the mountains, after all. One day, the sun blazes down on you and it's 90-degrees outside. The next, a cold front pushes through and you wake up to temperatures in the 40's. Asheville in October usually starts to *mildly* cool down.
Asheville days generally waiver in the 70's and 80's in September and mid-October. This fall has been unseasonably warm. For Asheville in November, expect daytime temps around 60 with cooler nights in the 40's.
I recommend layers, carrying sunscreen and bug spray, and a light jacket or fleece at the beginning of Asheville's fall season. Umbrellas are needed for the occasional shower.
North Carolina and Asheville Fall Foliage
North Carolina has varied elevations, which means that the leaves start changing at different times. Late September to early November is when Asheville starts to see the best fall foliage.
Explore Asheville has an interactive North Carolina fall foliage map 2019 to help you plan your Asheville fall visit and itinerary.
What other fall activities do you love to do in Asheville or even in your own hometown? Would you add anything else to make this Asheville Fall bucket list even bigger for 2020?
Fall in Asheville is stunning. Planning your NC trip or looking for weekend things to do? Pin it for later:
You May Also Enjoy:
Asheville Fall Hikes
Favorite Hendersonville Apple Orchards For Donuts, Cider & Corn Mazes