Craving a gorgeous fall in Asheville? Plan your trip with our Asheville fall color forecast. Attend the best fall festivals in Asheville, too.
Fall in Asheville, NC is literally our favorite time of the year. The leaves in the mountains start changing around the end of September into October.
Many of our readers plan their fall trips around the Asheville fall color forecast, which is never 100% correct or even easy to predict.
However, by mid-October in Asheville, visitors can chase those leaves on breathtaking Blue Ridge Parkway (BRP) drives and hikes.
Along with the Asheville fall foliage, the seasonal apple orchards in Hendersonville, NC open their doors.
Steaming donuts, corn mazes, and all of that deliciously spiced cider gush into your fall-loving soul and tummy. Hard cider included.
Visitors and locals alike head out on gorgeous waterfall hikes, ending their days at Asheville's wineries and breweries.
The sunsets at Grove Park Inn light up Mount Pisgah, and the cooler weather beckons to the black bears. Asheville's fall festivals kick off in full swing for vegans, leaf chasers, and foodies.
Below, explore our autumn guides to having the best Asheville fall — from locals. We'll help you beat the crowds and de-stress. Make those reservations in advance.
Meet our favorite apple orchard, and spy our scary-furry neighbors. Let's get started.
Add even more great activities to your Asheville fall bucket list here.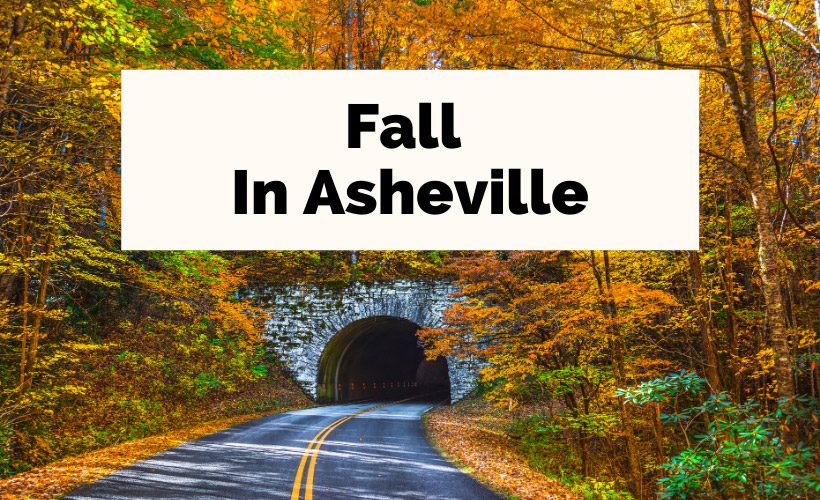 Keep reading to grab a local's guide to having a magical fall in Asheville, NC.
This post may contain affiliate links that earn us a commission at no extra cost to you.
See our Top Places To Stay in Asheville.

Don't miss out on these Asheville properties on Booking.com, too.
Asheville Fall Color Forecast 2021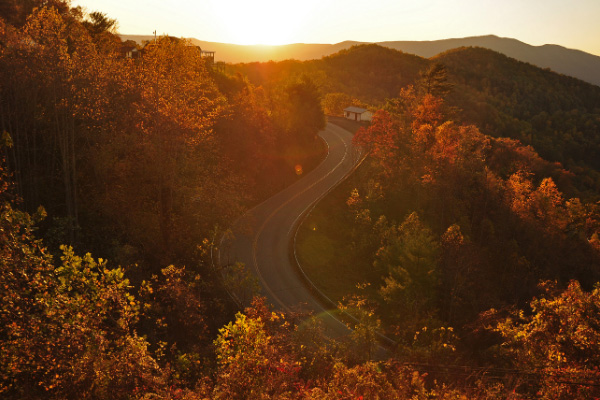 During the fall in Asheville, we receive plenty of emails asking us for weekly updates about the fall foliage colors.
We completely understand: you want to plan your Asheville vacation around those gorgeous leaves (and you should!). Asheville is truly stunning in the fall and our personal favorite season.
While we cannot predict Mother Nature — especially with those randomly hot or chilly stretch of days that throw off the leaves — visitors can usually catch Asheville's fall foliage around late September through October.
Sometimes Asheville's fall runs into the first week of November, especially around the Chimney Rock area. Like our New England home, Asheville's fall colors last for around 5-6 weeks every year.
Near Asheville, peak season begins around the Graveyard Fields and Black Balsam areas and works its way into the city throughout the autumn.
Below, find a rough estimate of the 2021 Asheville Fall Color Forecast based on the previous years. Please remember that we are not meteorologists and are just going off of our experience. Do not come for us.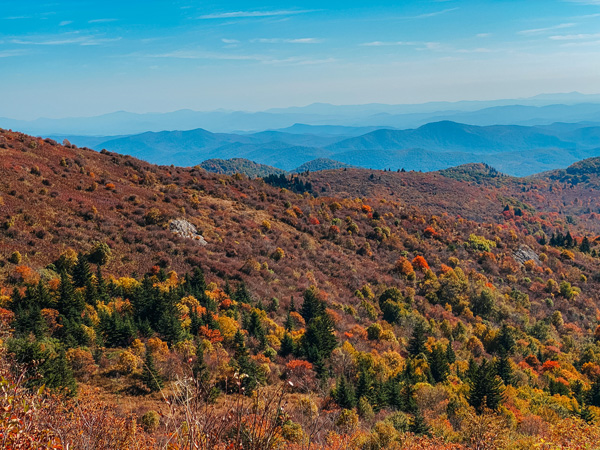 Last week of September into October: Head toward the Graveyard Fields area. Black Balsam will start changing, too. This area progressively picks up into the first weeks of October.
First weeks of October: Mount Mitchell, Grandfather Mountain, and Max Patch may start to see those colors. Please remember that you can no longer camp on Max Patch.

You can also hike Mount Pisgah & Fryingpan Tower for stellar 360-degree views. Great Smoky Mountains National Park will start seeing color, especially along its ridges.
Don't miss Craggy Gardens and Craggy Pinnacle north of Asheville. Catch more colors at Bearwallow Mountain and Trombatore Trails.
Last weeks of October: Little Switzerland, much of the Pisgah National Forest, Linville Gorge, Maggie Valley, and Cherokee will see their leaves change. Don't skip DuPont State Forest. Parts of Bryson City will shine.
Around Pisgah in Brevard, try for Looking Glass Falls, Moore Cove Falls, and Daniel Ridge Falls.

The downtown area of Asheville, Biltmore Estate, Asheville Botanical Gardens, and The North Carolina Arboretum start seeing peak foliage. Head over to Asheville's parks and gardens, too.
Beginning of November: Chimney Rock, Lake Lure, and the Tyron Footfalls are usually the last to see leaves change colors.
Never Miss Another Asheville Fall Update With Our Bi-Weekly Emails
Never Miss Another Asheville Update
---
Tired of generic Asheville travel itineraries? Are you hoping to experience the magic of Asheville like a local? Grab our free Asheville Favorites checklist, including restaurants, breweries, and hiking. Plus, get local updates – including events and hidden gems – straight to your inbox. Sign up here.
Asheville Fall Festivals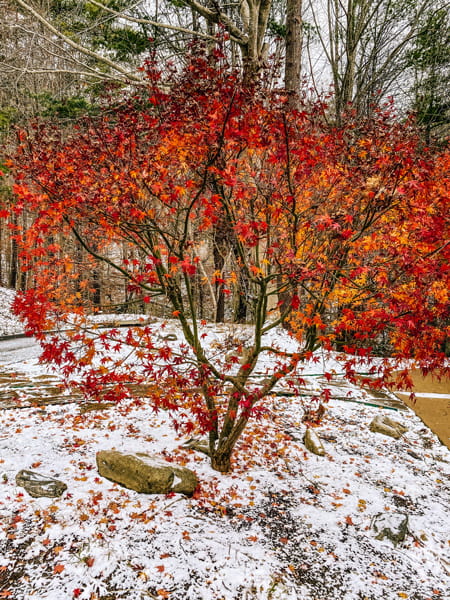 What events and fall festivals can you attend in and near Asheville? P.S. Be sure to head over to our events calendar for even more Asheville festivals and events throughout the year.
A few fall festivals in Asheville include (we are updating for 2022 as we receive dates):
Asheville Chow-Chow Culinary Festival – June 23-26, August 4-7, September 8-11, 2022
Wild Goose Festival – Now moving to July 14 -17th, 2022
Goombay Festival – September 3-5, 2021
NC Apple Festival – September 2-5, 2022
Mountain State Fair: September 9-18, 2022
WNC Bigfoot Festival – May 13-14 2022
Weaverville's Art In Autumn Fest – September 18, 2021
Dirty Dancing Festival at Lake Lure – POSTPONED this year
Blue Ridge Pride Festival in Asheville's Pack Square – September 24, 2022
French Broad River Festival: October 1 – 3, 2021
Asheville Oktoberfest – Canceled this year
Madison Heritage Arts Festival in Mars Hill: October 2, 2021
Asheville's VeganFest – October 3, 2021
Cashier's Valley Leaf Festival: October 7-9, 2022
LEAF Festival – October 20-23, 2022
Waynesville Apple Harvest Festival: October 15, 2022
Lake Lure Autumn Arts & Crafts Festival – October 16 & 17, 2021
Maggie Valley Fall Arts & Crafts Show – October 16 & 17, 2021
Don't miss 'Shakespeare in the Park' and other plays performed by the Montford Park Players most Fridays through Sundays at 7:30 PM. Admission is free but donations are appreciated.
You may also enjoy Autumn at Oz at Beech Mountain, running for three weekends in September.
Tips To Have The Best Fall In Asheville, NC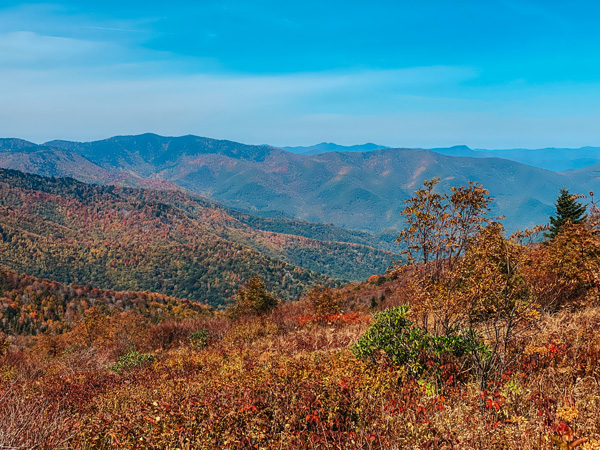 A few tips to keep you safe, prepared, happy, and healthy for fall in Asheville:
Book your Asheville fall accomodations early. October in Asheville is a part of our busiest tourist season. Restaurant and hotel reservations fill up quickly.


Arrive at your fall destination(s) early & on weekdays to beat the crowds. This includes hikes, breweries, wineries, Biltmore, and orchards. Weekends are jam packed, especially as noon approaches.


Waterfall hikes will always be busier. Parking may be limited, and lots will quickly fill up. Sometimes you may park on the side of the road but not always. Signs will let you know — please respect and follow them.


The leaves start to change in the higher elevations much earlier than the rest of Asheville. Black Balsam and Graveyard Fields tend to be the first pops of color near AVL.


Make sure your camera and phone batteries are charged. You laugh now…


Not all locations will have restrooms and some are very basic — pack extra tissue and hand sanitizer.


If you bring any food, be prepared to take your trash with you. Please consider the wildlife, too, as you dispose of your trash. Don't overflow bins.


You might lose reception, especially in the mountains. Have a GPS map saved for driving directions as well as a picture of your trail map. We hike with a Garmin.


Not all trails are clearly marked. It's easy to get lost, especially with fallen leaves obscuring marked paths. Hike with proper hiking supplies. Think layers, extra food and water, and emergency kits.


The Blue Ridge Parkway grows extremely busy around the fall in Asheville. You'll see some wild driving, people in areas on the road where they shouldn't be, and wildlife. Drive with caution, and stay alert. Allow extra time to get to your destination. Please do not stop dead in the middle of the BRP.


Pay attention to the weather and know that the fog rolls in and out. The BRP is icy in November. You can check with the National Park Service for road and gate closures along the Blue Ridge Parkway. Gates will close for weather as winter approaches.


Pack or wear layers if you are heading to the mountains. It might be in the 70s and sunny in Asheville but 55 and cloudy along the BRP.
Asheville, NC In The Fall
Headed to Asheville, NC in the fall? Grab these recommendations for the best things that you can do in the fall in Asheville. Explore breathtaking fall foliage and waterfall hikes, pick those shiny red apples, and drive along the scenic Blue Ridge Parkway.
How Else To Enjoy Your Asheville Fall
Although not geared specifically at the fall, see what else you can see and do in and around Asheville in September, October, and November.