Are you looking for things to do in the fall in Asheville, NC? Check out our Asheville fall bucket lists, hikes, and favorite apple orchards in and around Asheville, North Carolina.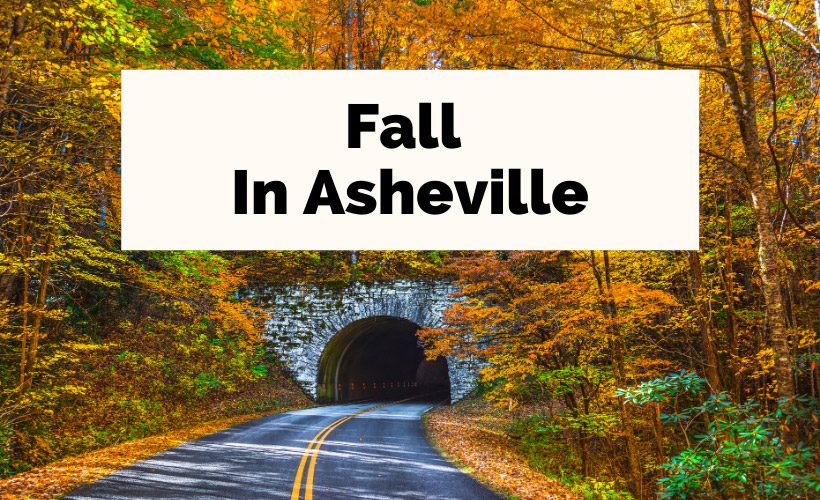 If you are headed to Asheville, NC this fall, don't miss all of our recommendations for things that you can do, including fall foliage and waterfall hikes, apple picking, and so much more!
Fall in Asheville, NC is literally our favorite time of the year. The leaves in the mountains start changing around the end of September into early October. Along with the foliage, the seasonal apple orchards in Hendersonville open their doors with steaming donuts, corn mazes, and all of that deliciously spiced cider.
Visitors and locals alike head out on gorgeous waterfall hikes, ending their days at Asheville's wineries and breweries. The sunsets at Grove Park Inn light up Mount Pisgah, and the cooler weather beckons to the black bears.
If you are looking for fall activities in Asheville, NC, we have just the set of articles and tips for you. Let's get started.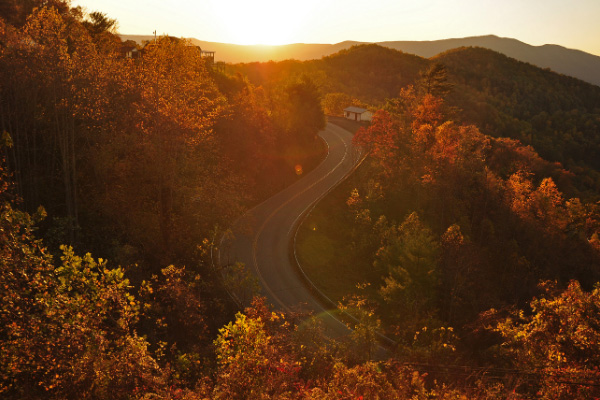 Tips To Have The Best Fall In Asheville, NC
A few tips to keep you safe, prepared, happy, and healthy for fall in Asheville:
Go early & on weekdays to fall destinations such as hikes, breweries, wineries, and orchards to beat the crowds.
Waterfall hikes will always be busier and parking lots do fill up quickly. Sometimes you may park on the side of the road but not always. Signs will let you know.
The leaves start to change in the higher elevations much earlier than the rest of Asheville.
Bring/wear a mask for bathrooms, busy areas & passing on narrow trails.
Make sure your camera battery is charged.
Not all locations will have restrooms and some are very basic — pack extra tissue and hand sanitizer.
If you bring any food, be prepared to keep your trash with you, and please think about the wildlife, too, as you dispose of it.
You might lose reception, especially in the mountains. Have a GPS map saved for your car as well as a picture of your trail map. Not all trails are clearly marked throughout.
The Blue Ridge Parkway gets very busy around the fall and you'll see some crazy driving, people in areas on the road where they shouldn't be, and wildlife. Drive with caution, and stay alert. Allow extra time to get to your destination.
Pay attention to the weather and know that the fog rolls in and out. The BRP gets icy in November. You can check with the National Park Service for road and gate closures along the Blue Ridge Parkway.
Pack or wear layers if you are heading to the mountains. It might be in the 70s and sunny in Asheville but 55 and cloudy along the BRP.
Fall In Asheville Bucket List
To get started planning your Asheville vacation, start with our ultimate Asheville fall bucket list as locals.
On this list, you'll find 14+ fall activities in and around Asheville, including where to see leaves, sunsets, and pumpkins.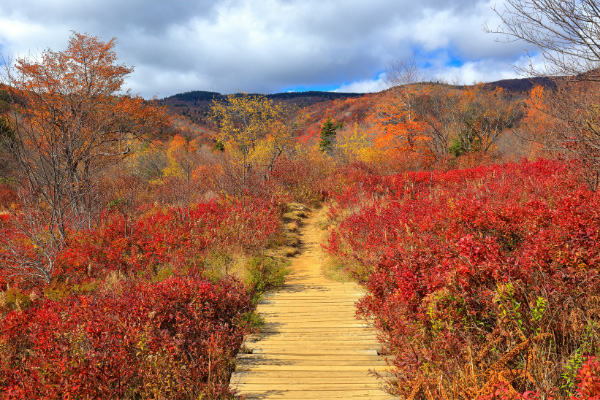 Fall Hikes In Asheville
If you are looking for fall foliage hikes in Asheville, don't miss these.
A few hikes that we recommend include Graveyard Fields, Craggy Gardens, and some of the beautiful parks and gardens in Asheville. Of course, the waterfalls around Asheville are gorgeous, too.
Apple Orchards Near Asheville
Hendersonville, also known as "Apple Alley" is home to some of the best apple orchards in North Carolina. Read about our favorite apple orchards in Hendersonville→
People always ask us which apple orchard we love the most. If you are running short on time, I'd pick one of these two:
Sky Top is pretty infamous in North Carolina. They make donuts on the spot and serve them hot and fresh. They also have a bamboo forest and humping goats.
Stepp's Hillcrest Orchard
At Stepp's Hillcrest, find gorgeous sunflowers, nearby apples to pick, and a pretty tricky corn maze. They make delicious donuts and cider, too.
Gift Guides For The Season
Lastly, if you are looking for some silly Asheville-related gifts, check out these bear-inspired gifts.
If you are visiting Asheville at the end of the fall season, don't miss our Asheville Winter Guide, too.