Enjoy the best Mills River breweries perfect for craft beer after a day of hiking and waterfall chasing in the Pisgah National Forest.
Western North Carolina is famous for its gorgeous hiking and biking trails as well as craft beer.
Think Asheville, Brevard, Transylvania County – the land of waterfalls – DuPont, and the Pisgah National Forest.
Plus, nothing beats waking up early and starting a hike before 9 or 10 AM.
Then, on the way back to Asheville from Gorges State Park and the Pisgah National Forest, pass multiple breweries in Mills River and Brevard.
And, while everyone thinks of Asheville as the beer capital of WNC, these mountain towns have equally massive and gorgeous brewing facilities and taprooms.
So, which brewery in Mills River has the best outdoor seating, most delicious food trucks, and largest draft lists?
Who serves cocktails, and where can you go if you need more gluten-free options?
As Western North Carolina and Asheville locals, we are sharing the best Mills River, NC breweries, including a famous cidery.
Find breweries near Mills River, too – Brevard's hopping taprooms are musts.
Don't forget to tell us your favorite Mills River brewery in the comments. Let's get started!
Be sure to check out the best Asheville, NC breweries that locals love.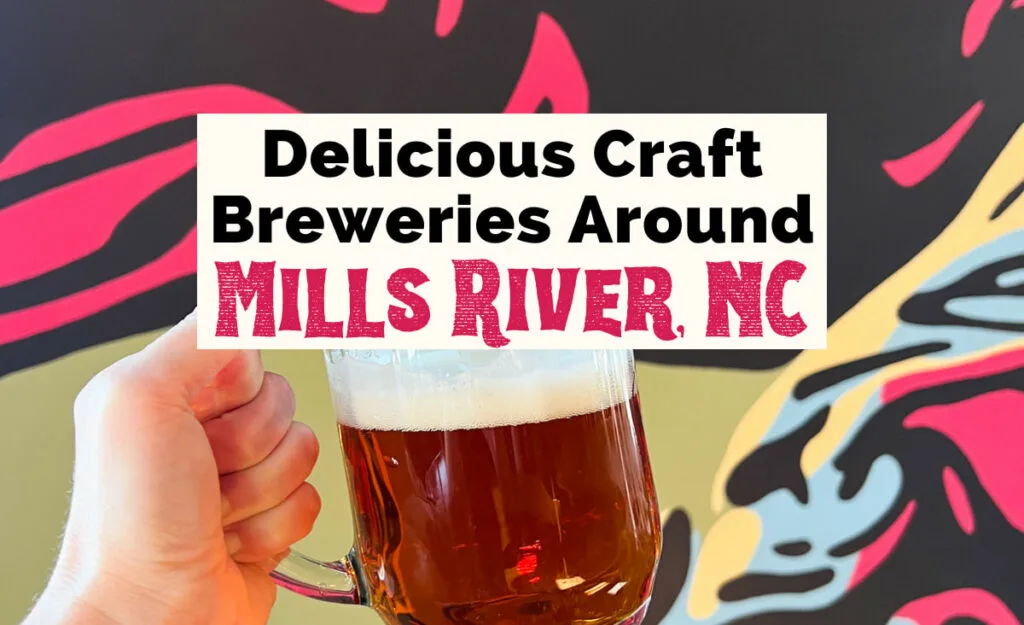 This post may contain affiliate links that earn us a commission at no extra cost to you. If you love these guides, support Uncorked Asheville here.
5 Mills River Breweries You'll Love
1. Mills River Brewing Co.
Address: 336 Banner Farm Rd., Mills River, NC 28759
Website: http://millsriverbrewingco.com/
Phone Number: (828) 483-0481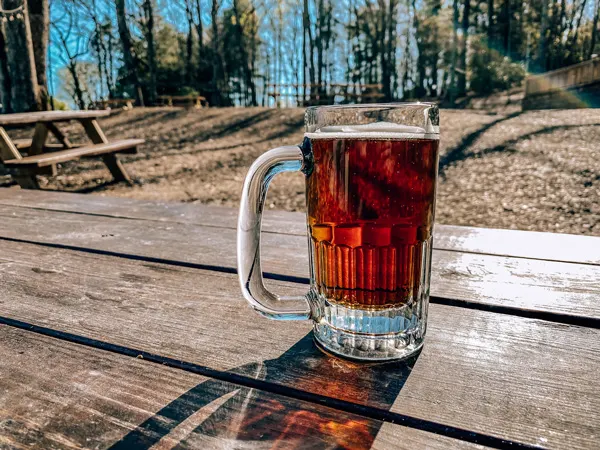 Imagine going to an adult day camp with beer. That's Mills River Brewing.
Set back on a quiet road, this Mills River brewery is perfect if you want local craft beer or a cocktail in a natural setting.
They have a full bar, and you have to head outside. Indoors is shiny and gorgeous, but outside…that's WNC mountain life.
Mills River Brewing's outdoor seating is plentiful and peaceful. With spread-out picnic tables, it feels as though you are sitting in the middle of the Pisgah National Forest.
We love their slogan, too: "All trails lead to Mills River Brewing Co."
The Mills River MRB Co. location opened in 2020. They also have an Arden taproom.
Enjoy live events, music, and Juju's Craft Cookery Food Truck. Burgers, nachos, and sandwiches!
What's on tap? IPAs, Stouts, and Ales.
Mills River Brewing Company is a pet and kid-friendly brewery.
2. Burning Blush Brewery
Address: 4891 Boylston Hwy, Mills River, NC 28759
Website: https://burningblush.com/
Phone Number: (828) 595-9859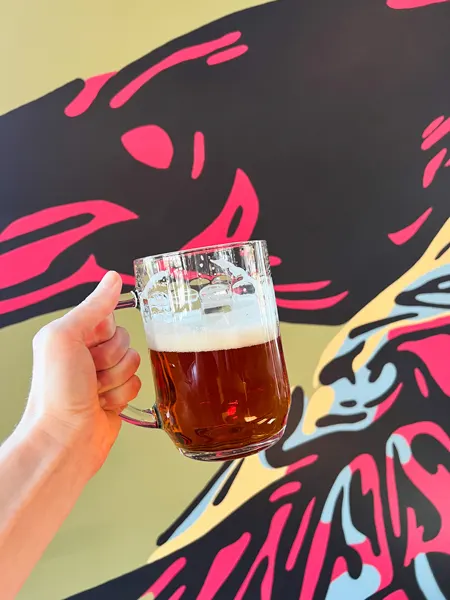 Burning Blush Brewery is another one of our top Mills River breweries.
Their convenient location along the Boylston Highway almost guarantees that you'll pass by their taproom between Asheville, Mills River, and Brevard.
Burning Blush has a huge beer list, including craft beers, ciders, wine, and ginger beer from their Mills River, Brevard, and Asheville neighbors.
A few featured beers include the Czeck Dark Lager, Helles, Belgian Tripel, Kolsch, and Altbier.
Burning Blush Brewery also hosts the best selection of rotating food trucks.
We live for German cuisine from Haus Heidelberg, which is also one of the most delicious restaurants in Hendersonville. Their food truck offers German meats as handhelds.
You might also catch Cecilia's Kitchen, Appalachian Chic, and Garage BBQ – serving up delicious BBQ – just to name a few.
Burning Blush Brewery opened in 2019, and the Victorian era clearly inspired their Gothic taproom.
Burning Blush Brewery is a pet-friendly space.
3. Sierra Nevada Brewing
Address: 100 Sierra Nevada Way, Mills River, NC 28732
Website: https://sierranevada.com/
Phone Number: (828) 708-6176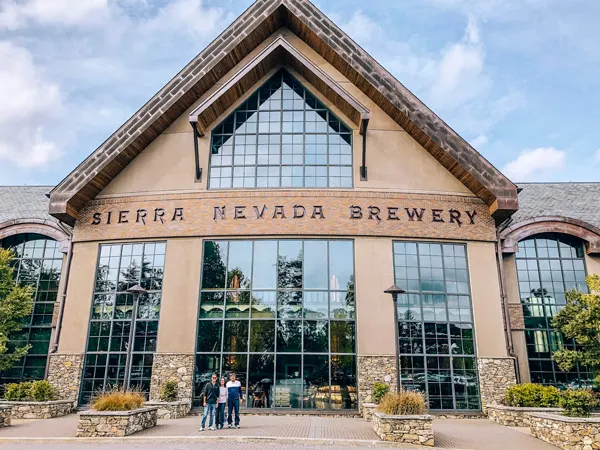 For the most famous breweries in Mills River, Sierra Nevada is massive and conveniently located next to the Asheville Regional Airport.
We tend to wait for our guests who are flying into the airport at Sierra Nevada's bar with duck fries.
Sierra Nevada has an outdoor area, indoor restaurant, and multiple bar areas to dine at as well as to try one of their renowned beers.
To us, Sierra Nevada brews tend to run a bit hoppy, and for many, their seasonal brews are a must.
If you are hungry, select from snacks like fries, wings, and pretzels. For a full meal, Sierra's menu features wood-fired pizzas, salads, burgers, and BBQ ribs.
Not to mention that Sierra Nevada is a great family-friendly restaurant. On their kids' menu, find hot dogs, burgers, grilled cheese, pizza, and Mac & Cheese.
Sierra Nevada conducts brewery tours and has a gift shop.
Just know that at Sierra Nevada in Mills River, only ADA Service Animals are allowed inside the dining areas and all other non-service dogs are allowed outside only.
Never Miss Another Asheville Update
---
Tired of generic Asheville travel itineraries? Experience Asheville like a local with our free Asheville Favorites checklist, including restaurants, breweries, and hiking. Plus, get local updates – including events and hidden gems – straight to your inbox. Sign up here.
4. Bold Rock Cidery
Mills River Address: 72 School House Rd, Mills River, NC 28759
Downtown Asheville Address: 39 N Lexington Ave, Asheville, NC 28801
Website: https://boldrock.com/visit/mills-river-cidery/
Phone Number: (828) 595-9940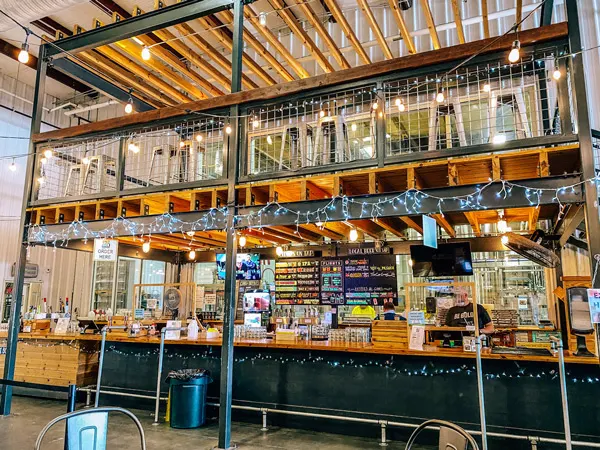 We are a Celiac household, which makes Bold Rock Cidery – opened in 2015 – one of the best Mills River brewery stops.
In fact, it's one of our favorite cideries near Asheville.
Think sangria, coffee, and even watermelon cider. Bold Rock knows how to make cider fun. They also offer canned cocktails and boozy seltzers.
Their indoor warehouse space is massive with plentiful seating. Or, head outdoors to the picnic tables set in quiet Mills River and enjoy their spacious Cider Garden.
Bold Rock hosts events, including live music, trivia nights, and game days. Their food truck, Bold Bites Mobile Kitchen, serves up delicious sandwiches and burgers.
They even have gluten-free bread, making them a great choice for our gluten-free diners.
Bold Rock Cidery is both a kid and pet-friendly brewery in Mills River.
And, newer to Downtown Asheville in the old Collaboratory building, Mills River opened a happening taproom, which includes a popular Bluegrass Sunday brunch.
Tour the delicious Downtown AVL restaurants and meet up with friends at Bold Rock.
5. Ecusta Brewing Company
Address: 451 Ecusta Rd, Brevard, NC 28712
Website: https://ecustabrewing.com/
Phone: (828) 966-2337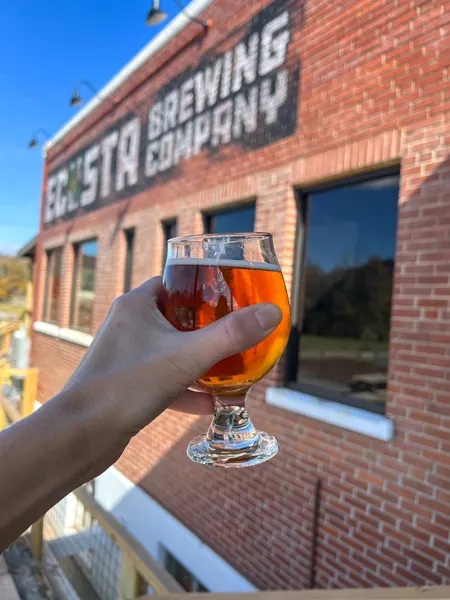 If you are looking for more breweries near Mills River, head to Brevard for Ecusta and Oskar Blues.
Ecusta Brewing Company is less than 15 minutes from Burning Blush Brewery.
In 2022, they moved down the street from their old location and now sit along the Brevard Bike Path.
Here, find a massive taproom with a 21+-only seating area, dart boards, and indoor and outdoor – covered and uncovered – seating.
Ecusta features IPAs, Sours, Porters, and Strong Ale along with wine, their neighbors' local brews, and ginger beer from Ginger's Revenge.
If you are hungry, enjoy their on-site restaurant, Gordingo's, which serves up tater tots, nachos, and chips and salsa.
Or, devour burritos, tacos, salads, and rice bowls.
Hiking, Biking, & Waterfalls Near The Mills River, NC Breweries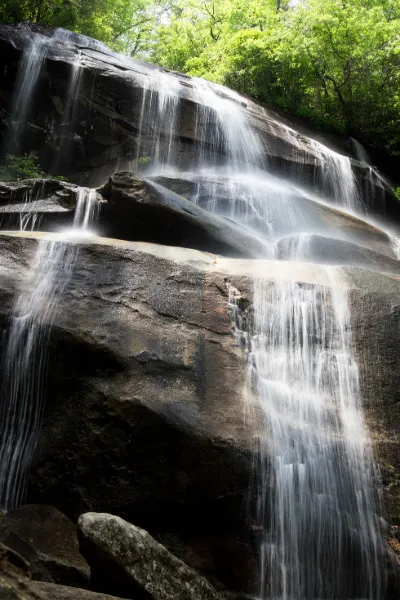 Mills River is located in Henderson County, NC.
A smaller mountain town near Asheville, you'll love the local vibes. Mills River is also near the Asheville Regional Airport (AVL), Pisgah National Forest, and Brevard.
We tend to stop by the breweries in Mills River and Brevard on the way home after one of these beautiful Asheville day trips:
Looking Glass Falls
Drive up to Looking Glass Falls in the Pisgah National Forest – or hike a trail leading to it. Discover a 60-foot waterfall that freezes in the winter.
Moore Cove Falls
An easy family hike, Moore Cove Falls is a 1.4-mile out and back that leads visitors to a 50-foot waterfall. If you are lucky, catch a rainbow around the base of the falls.
Moore Cove Falls is sandwiched between Looking Glass Falls and Sliding Glass Rock. It's one of the most popular waterfall hikes near AVL.
Daniel Ridge Loop & Falls
If you turn left instead of right for Looking Glass Falls in the Pisgah National Forest, you'll encounter Daniel Ridge Loop and Falls.
For an easy hike, pick the path straight up the falls. For a longer and more moderate hike, choose the loop.
Daniel Ridge Loop is also a popular mountain biking trail near Asheville, and we enjoy hiking here in the winter.
Rainbow, Turtleback, & Hidden Falls
A popular and highly trafficked waterfall hike in both Gorges State Park and the Pisgah National Forest, trek to 150-foot Rainbow Falls.
Catch a full rainbow as the massive waterfall spits all over you. Be prepared to get wet. Continue past Rainbow Falls for Turtleback Falls.
Pink Beds Trail
Enjoy a gorgeous picnic area after a 5.5-mile flat hike along Pink Beds Trail in the Pisgah Forest. Pink Beds Trail is part of the Cradle of Forestry, which was funded by George Vanderbilt.
This hike is perfect for nature lovers and low-key trekkers. Pink Beds sits off of the Blue Ridge Parkway.
DuPont State Forest
If you are only in Asheville for a weekend and want to see waterfalls, head to DuPont State Recreational Forest.
Here, encounter three gorgeous waterfalls in an easy-to-moderate, 3.1-mile loop.
DuPont is also a famous North Carolina filming location for both The Hunger Games and The Last of the Mohicans.
Also consider visiting Hendersonville, which is full of the best wineries near Asheville, sleek breweries, those famous apple orchards, and quite a few local and quaint coffee shops.
Can't decide on a trail? Read more about the top Asheville hiking trails for visitors and locals.
Save The Best Breweries In Mills River, NC For Later: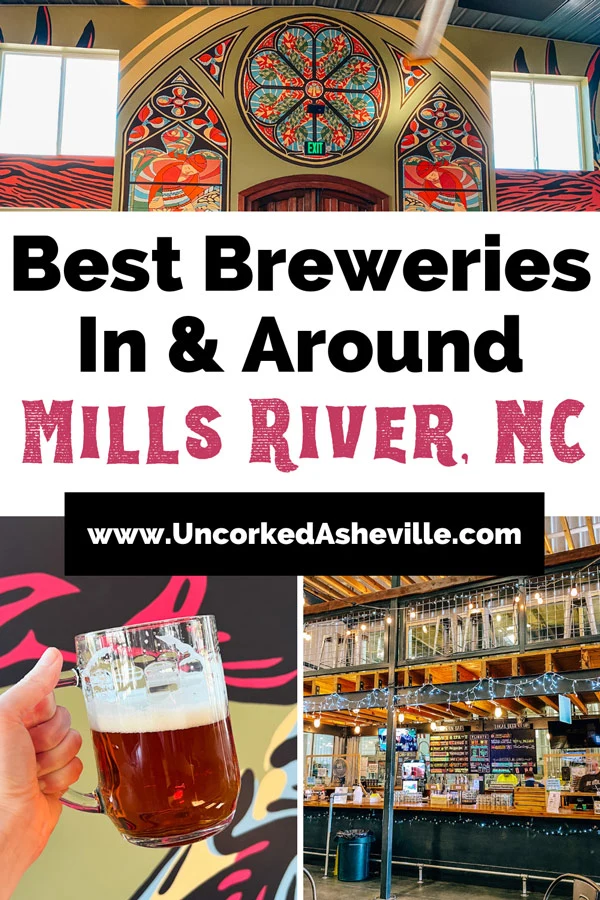 Looking for places to stay? Don't miss these inns, hotels, cottages, and cabins around Brevard, NC. Of course, you can stay in Mills River, NC, too.
Don't miss our post on where to stay in our area in Asheville, NC.
What is your favorite Mills River brewery?
If we had to pick our all-time favorite brewery in Mills River, we'd go with Burning Blush.
As a cidery, though, you cannot go wrong at Bold Rock, and Mills River Brewing is a close toss-up for that gorgeous outdoor seating area.
For breweries near Mills River, Ecusta is fantastic, and Oskar Blues makes a stellar fall Oktoberfest.
What are your favorite Mills River breweries? Where do you love to hike around Mills River, NC? Let us know in the comments.
What's Up Next For Food & More Beer?
Black Mountain's Breweries Guide
Weaverville, NC Breweries
Food & Drink Guide To Asheville
Guide Of Asheville Things To Do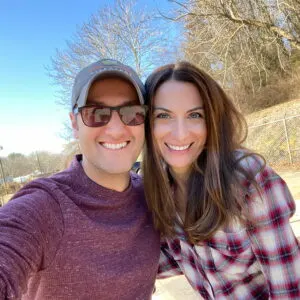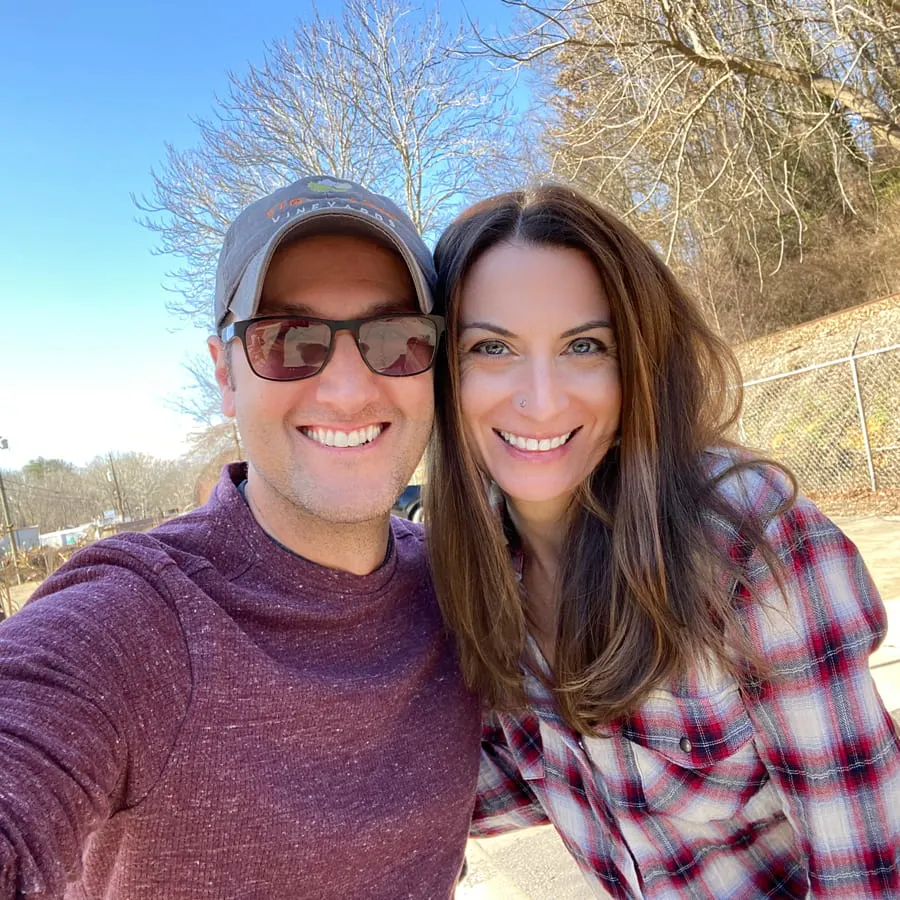 Christine (pronouns: she/her) is the owner and lead writer of Uncorked Asheville. After falling in love with those gorgeous Blue Ridge Mountains, Christine and her husband Tom decided to call Asheville, North Carolina their home. When her pointy Italian nose isn't stuck in a book, Christine is adopting all of the kitties, getting lost in the forest, and drinking an ESB.
Christine has a BA in English and History from Smith College, her MLIS from USF-Tampa, and is a former U.S. Fulbright Scholar - Indonesia. She also owns The Uncorked Librarian LLC with books and movies to inspire travel.