If you are chasing waterfalls around Asheville, don't miss Mingo Falls in Cherokee, NC. Just outside of the Great Smoky Mountains, find an easy half-mile out and back to stunning falls.
If you have a week or more to spend in Asheville, NC, we highly recommend taking a few day trips across Western North Carolina. In fact, I'd suggest the Great Smoky Mountains and Cherokee as musts for outdoor enthusiasts.
Adventurers will encounter elk, waterfalls, and hikes along with some of the best views that Mother Nature has to offer. Plus, the Smokies are one of the most popular national parks in America with 12.1 million visitors in 2020, according to the NPS.
For waterfall lovers but not necessarily experienced or even jovial hikers, you'll love Mingo Falls in Cherokee. Personally, Mingo Falls is one of our top prettiest waterfalls around Asheville.
The Mingo Falls hike is short and easy, and the reward is even better. Plus, you will find yourself near the entrance to Great Smoky Mountains National Park.
Ready to go? As Asheville locals, we'll share all that you need to know about Mingo Falls trail and hike.
Plus, we'll help you explore even more of Cherokee, Maggie Valley, and the Smokies. See where to grab a beer and guac afterward, too. Let's get started!
Don't miss all of these Beautiful Waterfalls & Their Hikes Near Asheville.
---
This post may contain affiliate links for products and services I recommend. If you make a purchase through these links, at no additional cost to you, I will earn a small commission. Read the full disclosure here.
---
Mingo Falls Quick Stats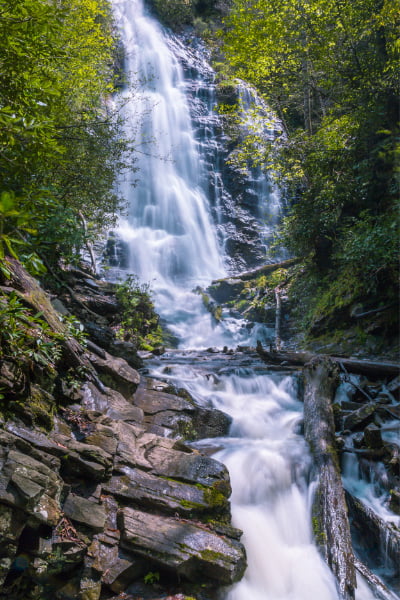 Distance From Asheville, North Carolina: 1.5 hours; 60-70 miles
Address: Mingo Falls Eastern Cherokee Reservation, Cherokee, NC 28719

Parking: Small parking lot with porta potties
Hike Difficulty: Short but lightly moderate
Length: Under .25 mile each way; also called the Pigeon Creek Trail
Duration Of Hike: Under 30 minutes, but you'll want to stop to enjoy the falls
Type Of Hike: 160 stairs; out and back; roots and rocks to climb over; the trailhead is clear but the hike is unmarked
Don't miss these inns, hotels, cottages, and cabins around Cherokee. Or, stay in our area in Asheville, NC.
Never Miss Another Asheville Update
Are you tired of generic Asheville travel itineraries? Do you want to experience the magic of Asheville like a local?
Grab our free Asheville Favorites checklist today, including restaurants, breweries, and hiking. Plus, get local updates straight to your inbox. Sign up here.
Why Hike Mingo Falls Trail In Cherokee?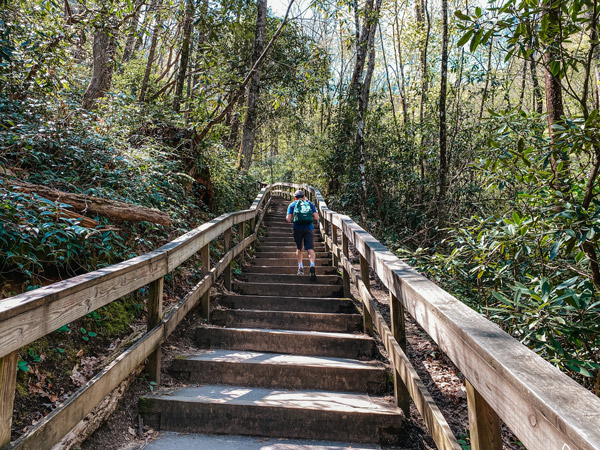 Located on the Qualla Boundary of the Cherokee Indian Reservation, visitors will encounter a stunning 120-foot waterfall. Mingo Falls is one of the tallest waterfalls in the Southern Appalachians.
Mingo Falls also sits right outside of the entrance to Great Smoky Mountains National Park near the Oconaluftee Visitor Center.
Access Mingo Falls via the Pigeon Creek Trail, but many also call this the Mingo Falls Trail or Hike. This short trail is under half a mile round trip and is an easy to moderate out-and-back. We say 'moderate' because of the 160+ stairs (we counted) and uphill hiking over rocks and roots.
When you arrive at the falls, you can take pictures from the bridge.
---
---
When Is The Best Time To Hike Mingo Falls?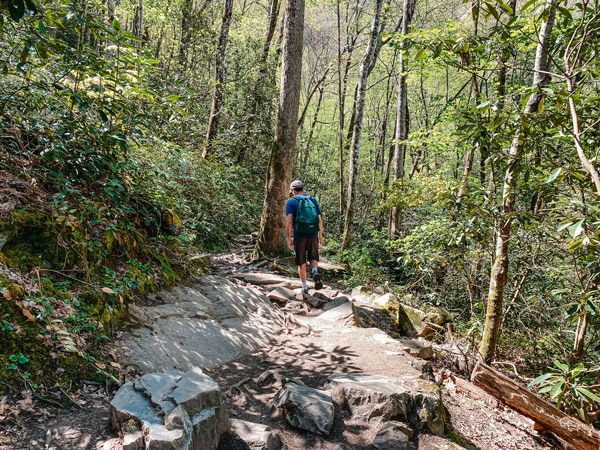 For Mingo Falls, we personally had three goals: beat the crowds and catch both the spring blooms and elk a little further down the road around the Oconaluftee River Trail and Visitor Center. Mission accomplished.
We also find that in early to mid-spring, this area starts to get busier but is not peak tourist season, yet. Of course, you want to arrive as early as possible in the morning as parking spots fill up quickly. The bridge overlooking the falls will also become inundated with travelers.
In late May to early June, you can also sign-up for the firefly viewing lottery around Elkmont. Bucket list!
Don't forget that if you are accessing certain parts of this area in the winter via the Blue Ridge Parkway, most sections of the BRP close for weather. Double-check both the BRP and Smokies for road and gate closures. The NPS is great for accurate and up-to-date information.
How Do You Get To Mingo Falls From Asheville?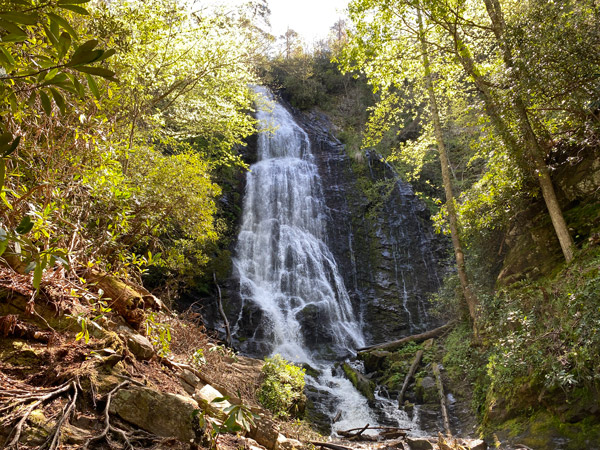 From Asheville, we prefer to take the 1-40 West and US-19 South route. You'll start on I-240 West to I-26 East. Take exit 31B for I-40 West.
Then, take exit 27 toward US-74 West. Get off at exit 103 toward Maggie Valley/Cherokee for US-19 South. You'll turn right onto State Rd 1368, and continue straight through the traffic circle onto Acquoni Road.
Turn right onto Big Cove Road. You'll pass the Mingo Falls Campground and turn right onto a bridge that leads to the lot. There is minimal signage.
Where Can You Head After The Mingo Falls Hike? What Else Is Nearby?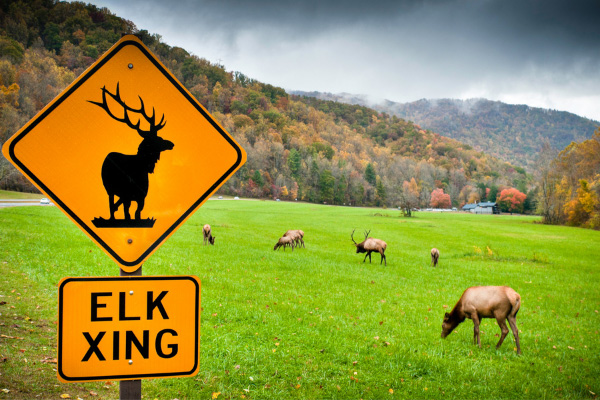 Grab Info At The Oconaluftee Visitor Center
At this entrance to Great Smoky Mountains National Park, don't miss the Oconaluftee Visitor Center. Here, you'll find facilities and restrooms along with maps, guides, and a plethora of information for things to do around the area.
You can catch a Park Ranger to answer your questions. Drop into the local gift shop if you forgot snacks or want to read some local literature.
Plus, visit the free Mountain Farm Museum and Mingus Mill. You'll see a log farmhouse, barn, and apple house. This area is perfect for younger children.
Hike The Oconaluftee River Trail
While at the Oconaluftee Visitor Center, head to the back of the building and hike the 3-mile out and back Oconaluftee River Trail. This gorgeous and flat pathway runs along the Oconaluftee River. The trail is kid and pet-friendly.
In the spring, you'll witness beautiful WNC blooms. If you are lucky, you'll also catch some elk. Just remember to keep your distance; it's the law. Read more about the Oconaluftee River Trail.
Explore The Great Smoky Mountains
We have barely begun to trek the Smokies, and we are excited to explore even more hiking trails. The Western North Carolina side of the Smokies is filled with waterfalls, fishing, camping, fireflies, and elk.
The National Park Service website can help you plan your full Smokies trip. Clingman's Dome, a popular walk with an observation tower, is about 50-minutes away. Also, don't miss this free downloadable travel guide from Visit Smokies (look at the top of the page for the download).
Discover Cherokee
Cherokee is home to the Eastern Band of Cherokee Indians, one of three federally recognized Cherokee tribes. The Reservation, or Qualla Boundary, is 57,000 acres of land kept in trust by the federal government and owned by the Eastern Band of Cherokee Indians.
Along with visiting the Great Smoky Mountains and Oconaluftee Visitor Center, you can tour the Museum of the Cherokee Indian, shop for pottery and souvenirs, or gamble at Harrah's Cherokee Hotel and Casino.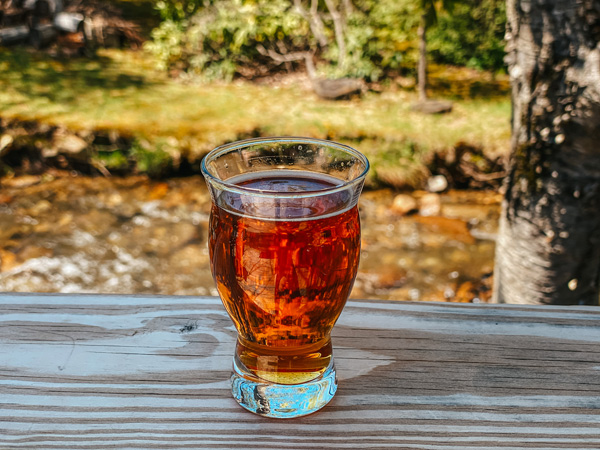 Grab A Beer In Maggie Valley
I'm always a happy sucker for finding breweries on my way home from a hike. Don't miss Bearwaters Brewing Company – Creek Side in Maggie Valley.
Grab a flight alongside a scenic creek and munch on some delicious grub like guacamole and loaded plantains. I never wanted to leave.
Soco Falls is also on your way from Cherokee to Maggie Valley.
Where To Stay Around Mingo Falls, Cherokee, & Asheville
Don't miss these inns, hotels, cottages, and cabins around Cherokee.
Of course, since we are an Asheville travel blog, don't miss our Master List Of Places To Stay In Asheville.
Save This Post For Later
Have you hiked to Mingo Falls?
Have you been to Cherokee, the Great Smoky Mountains, or Mingo Falls? What did you think, and what did you love? Where did you head afterward? Let us know in the comments.
What Should Be Your Next Outdoor Adventure?
Best Things To Do In Asheville From Locals
Our Guide To Asheville's Top Hiking Trails
Waterfall Hikes Around AVL
What's Nearby?