Don't miss Skinny Dip Falls along the Blue Ridge Parkway near Asheville, NC. Encounter the infamous dragon tree, wading pools, and gorgeous falls. As locals, we'll share what to expect and where else to explore nearby.
No, no North Carolina is not like that; YES, you need to be fully clothed for Skinny Dip Falls. Of course, bathing suits are welcome along with hiking clothes. The keyword here is "clothes."
For Asheville summer swimming holes, Skinny Dip Falls is extremely popular along with Sliding Rock.
An easy hike located about 1-hour south of Asheville along the Blue Ridge Parkway (BRP), many seek refuge here from the summer heat. Skinny Dip Falls is also a bit of a magical oasis.
Plus, if you are a waterfall chaser, you'll love this short hike filled with the sounds of gushing water. The fall foliage around this area is stunning.
So, why trek the Skinny Dip Falls Hike? When is the best time to go? What should you expect? What other must-see hiking trails and waterfalls are nearby?
As Asheville residents, we'll give you all of the details to enjoy Skinny Dip Falls while sharing more information about Mount Pisgah, Graveyard Fields, and Looking Glass Falls. We'll even tell you where to stay. Let's get started!
**Due to recent and severe flooding, Skinny Dip Falls has been damaged and no longer looks like the pictures below. The bridge has washed away, the pools are different, and the course of the falls has changed.

This article currently reflects the old Skinny Dip Falls. We've been told it is dangerous around the immediate area of the waterfalls and former wading pools.

Please exert extreme caution and/or avoid any areas affected by flooding or that look damaged — follow the advice of park professionals and check park and city websites including the NPS.

We will update this article when we can/as we await repairs/and when it is safe to do so/visit.**
Don't miss the Best Asheville Hiking Waterfalls.
---
This post may contain affiliate links for products and services I recommend. If you make a purchase through these links, at no additional cost to you, I will earn a small commission. Read the full disclosure here.
---
Quick Skinny Dip Falls, NC Stats: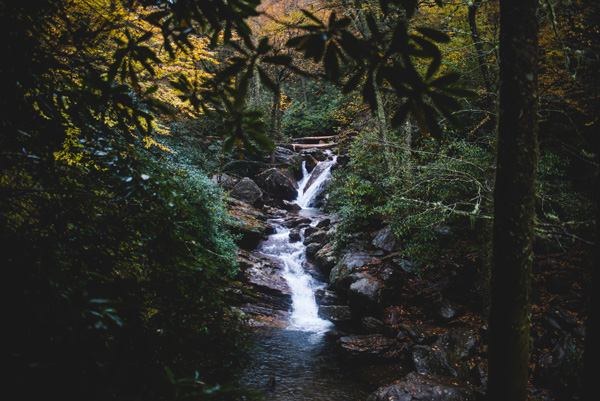 Distance From Asheville, North Carolina: 1-hour along the Blue Ridge Parkway past Mount Pisgah; About 33-miles from downtown Asheville

Address: Looking Glass Overlook at Milepost 417; this is the location for the Skinny Dip Falls Trailhead

Parking: Marked overlook parking lot and surrounding dirt lots

Hike Difficulty: Easy

Length of Skinny Dip Hike Trail: A little under 1 mile

Duration Of Hike: Under one hour

Type Of Hike: Out and back; you'll start at the white blazes for the Mountains-to-Sea Trail
Don't miss these cottages, inns, cabins, and hotels around Pisgah Forest. See where to stay in Asheville, too.
---
---
Why The Skinny Dip Falls Hike?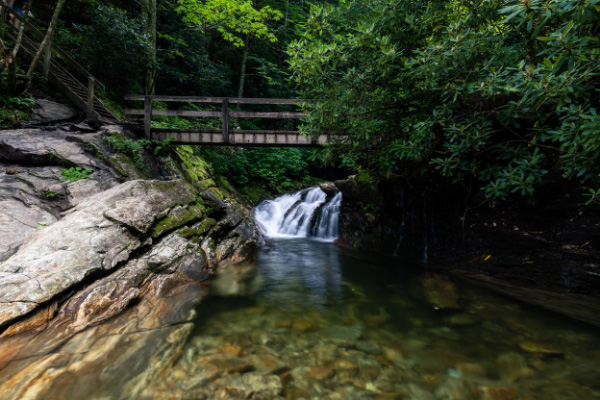 Skinny Dip Falls is known for three things: the dragon tree, cliff jumping (not recommended), and its actual waterfalls with chilly pools that you can wade in and out of. People love to spread out along the rocks and find their own private lounging area.
You can stay for hours eating, hanging out, and cooling off in the shallow waters. During a warm WNC summer, this is the place to be.
Plus, Skinny Dip Falls is perfect for families. While there are no lifeguards on duty, there are also no overly strong currents. In many spots, the water is not extremely deep. Please be careful on the slippery rocks, though.
The wide and easy hike is barely .5-miles, making the Skinny Dip Falls Trail one of the more accessible trails in the Mount Pisgah area. Mostly flat, you will walk across a dirt pathway, rocks, and forest structures/stairs.
You'll also pass the Dragon Tree. You'll recognize it the second you see it.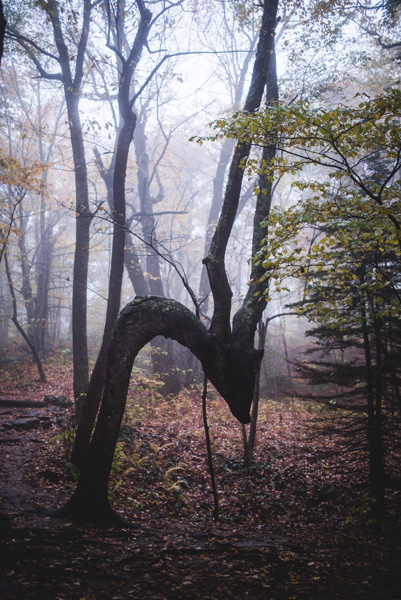 When the water is deep enough, many love the thrill of jumping off of the rock in the middle of the falls — which is usually into a 6-foot pool. Quite frankly, that's not my thing.
The Asheville tourism board and hiking pros will advise you against this for many safety reasons. You'll see the rock from the staircase and footbridge. As a buzzkill and responsible blogger, I just had to let ya know…
---
Never Miss Another Asheville Update
Are you tired of generic Asheville travel itineraries? Do you want to experience the magic of Asheville like a local?
Grab our free Asheville Favorites checklist today, including restaurants, breweries, and hiking. Plus, get local updates straight to your inbox. Sign up here.
---
When Is The Best Time To Hike Skinny Dip Falls?
Skinny Dip Falls is extremely popular in the summer. We recommend arriving early in the morning. Weekdays are much quieter. Even if the lot looks busy, there is plenty of room to spread out along the falls.
Also, keep in mind that the end of September into early November is a busy tourist season around Asheville, North Carolina.
Everyone swarms the Mount Pisgah area for those fall foliage hikes. Graveyard Fields and Black Balsam are a must.
The winter gets a little trickier along the Blue Ridge Parkway. Beware of gate closures due to icy and foggy weather.
You can check with the National Park Service (NPS) before heading out on the Blue Ridge Parkway. Find updated NPS closures here to see if the BRP gates are closed.
---
If you are looking for a large picnic area and equally easy nature walk afterwards, head to Pink Beds.
---
Where Is Skinny Dip Falls In North Carolina?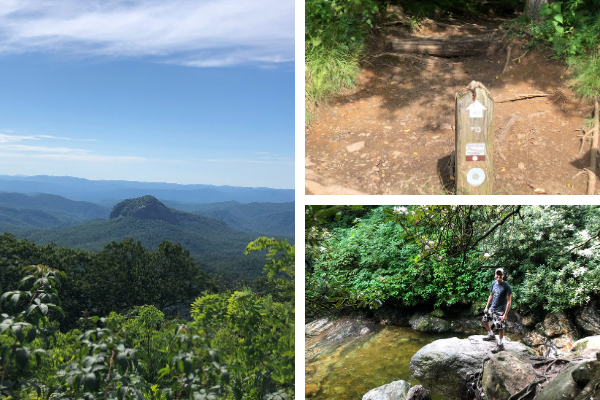 Don't forget that we are talking about Skinny Dip Falls in North Carolina (there are others around the U.S).
If you are driving from downtown Asheville, take I-240W to I-26E. Take Exit 33 and turn left, which is NC-191 toward the Blue Ridge Parkway. Turn right onto the Parkway (at The NC Arboretum).
Follow the Blue Ridge Parkway to the Looking Glass Overlook, which is Milepost 417. P.S. If you want to stop at The North Carolina Arboretum first, read this post→
You may park at the Overlook, and there is also parking around the dirt 'lots' — just don't stick out into the BRP.
If you are parked at Looking Glass Overlook, carefully cross the Blue Ridge Parkway and look for the Mountains-to-Sea white blaze trailhead.
Follow this trail and continue straight (a tad leaning left) when you see the paths split. Don't go right.
Also, be sure to check out Looking Glass Rock while you are at the Overlook. Those views are part of the Pisgah National Forest.
If You Love Skinny Dip Falls, Don't Miss These Nearby Hikes, Picnic Areas, & Waterfalls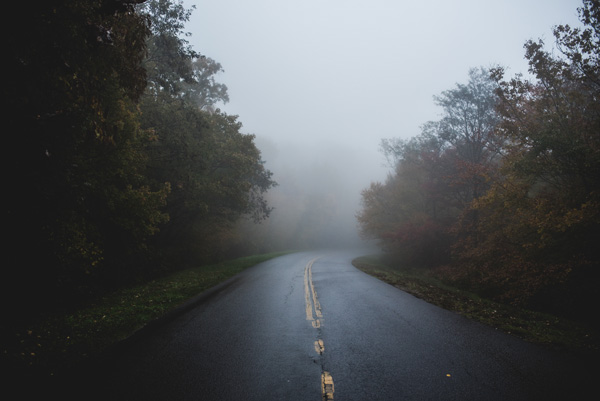 There is so much to see and do along the Blue Ridge Parkway, especially near Skinny Dip Falls. Grab our complete guide to Blue Ridge Parkway hikes in North Carolina.
If you are looking for more hikes and nature activities around Skinny Dip Falls that you can visit in the same day, here's what we recommend:
Mount Pisgah Hike & Summit
Around 8.5-miles and 16-minutes north of the Skinny Dip Falls hike, you'll approach the ever-popular Mount Pisgah area. Here, you'll find the Mount Pisgah campgrounds, Inn, restaurant, picnic area, and Country Store.
The 2.4-mile Mount Pisgah hike is perfect if you are looking for more of a challenging hiking trail with 360-degree views at the 5,721-feet summit.
This high up, you can see Fryingpan Mountain, Craggy Gardens, Mount Mitchell, and Looking Glass Rock. Read more about the Mt. Pisgah Trail→
More Mount Pisgah Trails
A few more Mt. Pisgah hiking trails that we haven't yet tried include Buck Spring Trail, Laurel Mountain Trail, Pilot Rock Trail, and Shut-In Trail.
Fryingpan Mountain Tower
About 7-miles and 11-minutes north of Skinny Dip Falls, Fryingpan Lookout Tower is an easy 1.5-mile out and back hike down FS450 — a closed gravel road.
In the spring and summer, beautiful wildflowers hug the trail until you reach the 5-story, 70-foot former fire tower.
Honestly, a bit terrifying with incredible panoramic views, climb the steel tower to spy Mount Pisgah, Cold Mountain, the Blue Ridge Parkway, Shining Rock Wilderness, and Looking Glass Rock.
The reward is worth the fright! Read more about Fryingpan Mountain Lookout Tower & Trail→
Graveyard Fields Loop & Waterfalls
Graveyard Fields Hike, Loop, and Waterfalls are a little under 2-miles west of Skinny Dip Falls along the Blue Ridge Parkway (a 3-minute drive). If you are waterfall chasing, don't miss the upper and lower falls.
You can choose from a variety of trail lengths and difficulties — some that loop and others that are out and backs. You can visit 'Lower Falls' in under a .6-mile out and back hike. There are basic restroom facilities here.
Black Balsam Knob Hike Or Sam Knob Trail
Four miles or 8-minutes west of the Skinny Dip Falls hike, you'll find another popular BRP hiking trail, Black Balsam. Known for its 360-degree wildflower-laden and mountain views, head up part of the Art Loeb Trail to Black Balsam Knob.
Don't miss Sam Knob, too. Black Balsam Knob via the Art Loeb Trail is an easy to moderate 1.5-mile hike. We like the less popular Sam Knob Trail.
Looking Glass Falls & Sliding Rock
If you are craving more waterfalls, drive about 15-miles (25-minutes) to Looking Glass Falls. You can park on the side of the Pisgah National Forest and walk right up to this giant 60-foot waterfall. In the winter, the falls gain an icy sheen; hence, the namesake.
Past Looking Glass, find ever-popular Sliding Rock. Here, you can slide down a 60-foot boulder into an eight-foot pool of water.
Moore Cove Falls
Catch a rainbow at Moore Cove Falls — right past Looking Glass Falls. This hike is about .7 miles each way. You'll cross wooden bridges on a mostly well-maintained but sometimes muddy trail. At the end of the trek, spy a 50-foot waterfall. Grab our Complete Guide To Moore Cove Falls before going.
Daniel Ridge Falls & Loop
About 35 minutes away, instead of turning for Looking Glass Falls, head the other way in the split to Daniel Ridge Falls.
You can access the 150-feet falls either in a long and moderate loop or a short and easy out and back. Read more about Daniel Ridge Falls & Loop.
Save This Post For Later:
---
Where Can You Stay Near Skinny Dip Falls?
Don't miss these cottages, inns, cabins, and hotels around Pisgah Forest. See where to stay in Asheville, too.
Aloft – Downtown Asheville – We are always fans of modern hotel brands. What can I say? If you are looking to stay in downtown Asheville, the Aloft hotel is newly renovated as of 2020 with vibrant local murals, updated rooms, and hipster public areas. They host live music, have a sleek new bar, and the patio space overlooks bustling downtown AVL, amazing for people-watching.
Pisgah Inn & Campground – We have not stayed at the Pisgah Inn (yet), but we know that people love chilling here as part of their fall tradition. Mount Pisgah has a General Store, restaurant, and campgrounds. You'll be near many of the Blue Ridge Parkway hiking trails, too.

Hampton Inn And Suites Asheville Biltmore Area – Although this hotel is on busy Brevard Road – NC-191 – across from the Asheville Outlets, it's one of our favorites before moving to Asheville. Clean, updated, and in the middle of everything, you can access downtown, Biltmore, and the Blue Ridge Parkway fairly quickly.
Have you hiked Skinny Dip Falls? Did you jump off of the rock? What are your favorite waterfall hikes in North Carolina?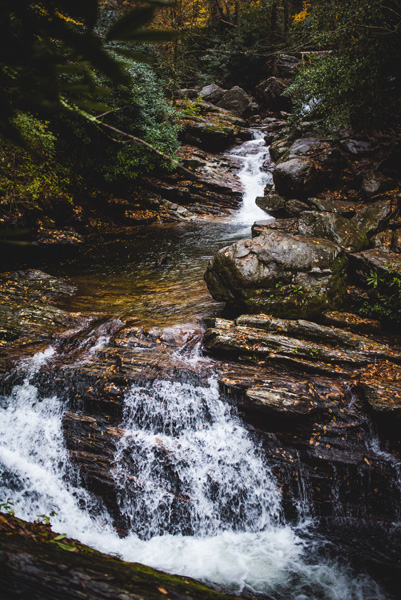 Have you been to Skinny Dip Falls and dipped into the chilly water? What are your other favorite swimming holes near Asheville, NC? Do you have any questions? Please let us know in the comments.
Asheville Hiking Posts You May Also Enjoy:
Favorite Cascading Waterfalls Near Asheville, NC
Asheville Hikes Of All Levels You'll Love
Fall Foliage Hikes For Leaf Chasers
Best North Carolina Blue Ridge Parkway Trails
More Trails Near Skinny Dip Falls & Hike
Mount Pisgah's Top Of North Carolina Summit
Terrifying Fryingpan Mountain Tower
Pink Beds Loop Trail In Cradle Of Forestry
Daniel Ridge Falls & Hike
Moore Cove Falls
Plus, Don't Miss:
50+ Asheville Things To Do Right Now
Where To Stay In Asheville
A Special Thank You To Sarah Resta Photography
Many of the pictures featured in this post are from Sarah Resta Photography.
Sarah Resta is both a local and international engagement and wedding photographer available for hire. Sarah also works with small businesses and bloggers, like The Uncorked Librarian & Uncorked Asheville.
You can find Sarah on Facebook and Instagram.

Email: [email protected]