Do you love chasing waterfalls and rainbows along the hiking trails near Asheville, NC? Don't miss Rainbow Falls in Sapphire, North Carolina.
Gorges State Park is a gorgeous and free 7,500-acre area filled with hiking trails, camping, trout fishing, mountain biking, and boating. You'll find facilities and well-maintained trails that lead to breathtaking waterfalls.
If you are headed toward Brevard, Cashiers, or Sapphire, NC, definitely consider trekking the moderate hiking trail to Rainbow Falls. You can also spy Hidden Falls and Turtleback Falls, too. Stop for a scenic picnic or sunbathe on a bench.
Like nearby Moore Cove Falls, if the weather is just right, you might catch a rainbow over the 150-foot waterfall.
Keep reading for tips and tricks for the Rainbow Falls (NC) hike along with when to go and where to park. Plus, see where to head afterward. We have quite a few favorite breweries along the way. Let's get started!
Find even more Top Waterfall Hikes Near Asheville, NC here.
---
This post may contain affiliate links for products and services I recommend. If you make a purchase through these links, at no additional cost to you, I will earn a small commission. Read the full disclosure here.
---
Rainbow Falls Quick Stats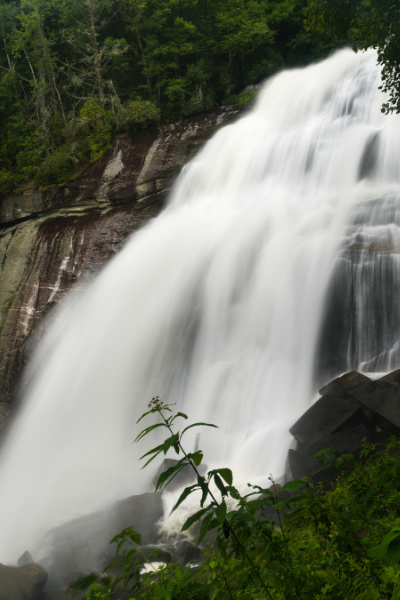 Distance From Asheville, North Carolina: 1 hours and 20 minutes; 55 miles
Address: Gorges State Park Visitor Center, 976 Grassy Ridge Rd, Sapphire, NC 28774

Parking: For the Rainbow Falls trailhead, keep driving past the Visitor Center & follow the signs for Rainbow Falls. You'll find an upper and lower lot. The lower lot is closest to the trailhead, which is marked by multiple informational boards. Parking lots can fill up.
Hike Difficulty: Moderate with light stream crossings; 800-foot elevation gain
Length: 1.5 miles to Rainbow Falls with an additional .5-miles to Turtleback Falls; about 4.1 miles round trip for both falls
Duration Of Hike: About 1.5 to 2 hours
Type Of Hike: Orange circles posted on trees; out and back
Don't miss these beautiful mountain properties in Sapphire, NC. You may also consider staying in these inns, hotels, and cabins in Cashiers or Brevard.
---
Never Miss Another Asheville Update
Are you tired of generic Asheville travel itineraries? Do you want to experience the magic of Asheville like a local?
Grab our free Asheville Favorites checklist today, including restaurants, breweries, and hiking. Plus, get local updates straight to your inbox. Sign up here.
---
Why Hike The Rainbow Falls Trail?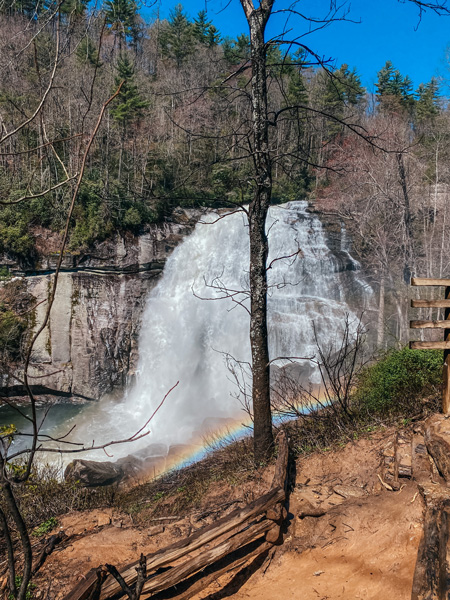 Rainbow Falls is a popular waterfall hike near Asheville, NC located partly in Gorges State Park and the Pisgah National Forest.
This gorgeous 125 to 150-foot waterfall will leave you breathless. Plus, if you are lucky, you'll catch a vibrant rainbow across the falls.
The 3-mile out and back is technically an easy trail although labeled moderate. The trail is fairly wide in the beginning, and the first half of the trail is a gradual decline.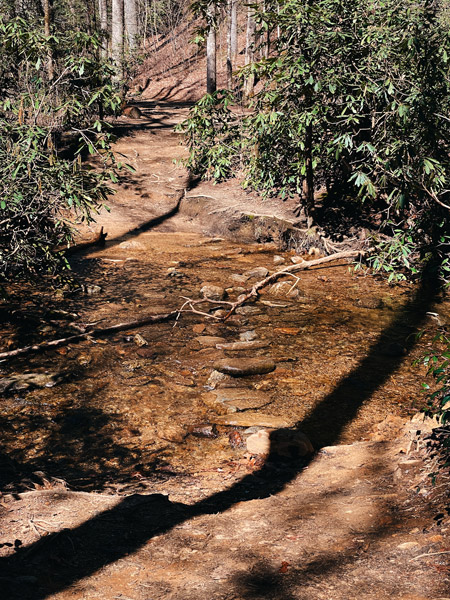 You will have to navigate multiple stream crossings via rocks and logs along with an 800-foot elevation gain and forest stairs. Dang those forest stairs! The length of the hike might get you on the way back.
We've seen many hikers with hiking poles, although we have yet to use them. Not a bad idea, though.
The trail is muddy around small streams and the falls. Your feet and socks might get wet.
Lastly, exert extreme caution around the falls and rapidly moving water. There have been multiple human and pet fatalities here. Never climb slippery rocks or above the falls, and pay close attention to all posted signs.
---
---
Hidden Falls
About .20 miles prior to Rainbow Falls, you can stop at Hidden Falls, which offers a serene pool. Hidden Falls is part of the Horsepasture River and sits slightly off the main trail. Nothing marks this trail, though.
Hidden Falls is a small waterfall with areas for picnicking and wading. As always, though, please be careful.
---
Turtleback Falls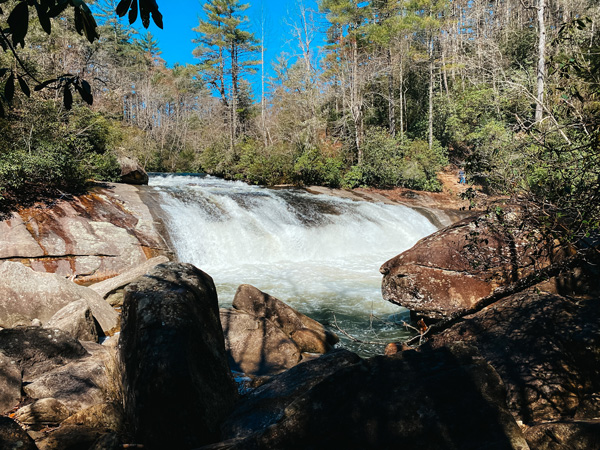 Once you arrive at Rainbow Falls, if you kept walking straight, you'd just get closer to the massive beast. This gets you out of the mist for side photos.
If you want to continue onto Turtleback Falls, though, you'd yield right in the middle of the Rainbow Falls view to stay on the trail.
Turtleback Falls is about .5 miles past Rainbow Falls, adding on another 1-mile total. You can stop along the trail for a picnic. Like Rainbow Falls, pay attention to and respect all signs. People have died here. You are also no longer allowed to wade here.
There are rocks and areas that are safe for a picnic and others that are not.
Lastly, you can continue on the trail past Turtleback Falls to Drift Falls. About .5 miles more, you can sneak a peek at the falls but not enter the area; this is private property.
---
---
When Is The Best Time To Hike Rainbow Falls?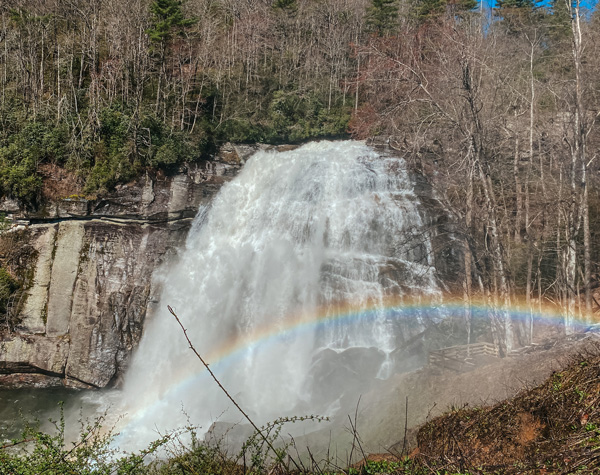 Because you are going to get a little wet if the falls are in full force, I'd recommend Rainbow Falls for the early spring to beat the crowds. The falls do settle down with less rain.
We caught a rainbow late morning into early afternoon, which I'm told is the best time to see them here. Hello, Iceland in North Carolina.
If you want to cool off on a warm summer day with some mist, though, Rainbow Falls is also a great summer destination.
Because Rainbow Falls is a highly trafficked trail, weekdays and early morning is best.
Where Is Rainbow Falls?
Rainbow Falls is about 55 miles and a little under 1.5 hours from Asheville. I can never drive as quickly as my GPS thinks on these winding mountain roads. This makes for a nice day trip.
Take 1-240 to I-26. Get off on Exit 40 and turn right onto Hwy 280. Turn onto US 64 W toward Sapphire. Turn on NC 281 S in Sapphire.
You'll see the entrance to Gorges State Park on your left. Enter the park — it's free — and pass the Visitor Center, which has facilities. The restrooms here are nice if you want to avoid to the parking lot Porta Potties.
Follow the signs for Rainbow Falls, which will bring you to the Grassy Ridge parking lot. The trailhead is where you see a series of informational boards.
We had pretty strong cell reception for most of the ride but always download offline maps just in case. We always hike with the GAIA app and our Garmin, too.
Save This Post For Later
---
---
Where Can You Head After Rainbow Falls?
DuPont State Forest Waterfalls
Located near Brevard about 40 minutes away from Gorges State Park, we just love DuPont's 3-waterfall hike: Hooker, Triple, and High Falls. Triple Falls is actually in the movie, The Hunger Games. Like Rainbow Falls, this is a popular hiking area and great for families.

You can also hike to Bridal Veil Falls at DuPont where scenes from The Last Of The Mohicans were shot. Don't miss our complete DuPont Waterfall Guide.
Grab Food & Beer In Brevard
Coming from Asheville, we have to pass through Brevard to get to Gorges State Park and parts of the Pisgah National Forest.
Brevard has a walkable historic downtown and tons of nearby breweries. A few breweries that we love — that touch other towns — relatively close to this route include Ecusta Brewing Company, Oskar Blues Brewery, and Burning Blush Brewery. Grab the complete list of Best Brevard Breweries Here.
Tour The Mills River Breweries
Similar to Brevard, Mills River is on your way back to Asheville. I highly recommend any of the Breweries And Cidery In Mills River.
Bold Rock Cidery has incredibly fun cider flavors, and the Mills River Brewery is like visiting a camp for adults with beer. Plus, their food trucks are delicious!
Hike Parts Of The Pisgah National Forest
Right on the turn for Ecusta Brewing, you'd enter the Pisgah National Forest for Looking Glass Falls, Daniel Ridge Falls, and Moore Cove Falls. You can trek beautiful waterfall hikes here, varying in lengths and difficulty.
Where To Stay Around Rainbow Falls Or Asheville
Be sure to check out these beautiful mountain properties in Sapphire, NC. You may also consider staying in these inns, hotels, and cabins in Cashiers or Brevard.
Of course, since we are an Asheville travel blog, don't miss our Master List Of Places To Stay In Asheville.
Have you hiked Rainbow Falls? Did you see a rainbow?
Have you been to Rainbow Falls in North Carolina? What did you think? What other hiking trails and waterfalls do you enjoy in Western North Carolina? Let us know in the comments
Where You Can Head Next
Don't miss these things to do in Asheville, NC
Ultimate Asheville Hiking Guide
Gorgeous Waterfalls To Visit

Where To Stay In Asheville, NC
More Nearby Waterfall Hikes & Rainbows To Chase
Moore Cove Falls
Dupont State Forest: The Hunger Games Waterfalls
Daniel Ridge Falls