Don't miss DuPont State Forest for its waterfall hikes and trails, including DuPont's famous three waterfall hike. Explore Triple, High, and Hooker Falls.
DuPont State Recreational Forest, also known as DuPont Forest or DuPont State Forest, is 10,473-acres of sheer heaven. Discover wildlife, hiking trails, and of course, waterfalls.
DuPont is actually pretty famous, too. Did you know DuPont is a filming location for both The Hunger Games and The Last of the Mohicans movies?
What we love most, though, includes Dupont State Forest's waterfall trails.
Visitors can explore 7-miles+ of moderately easy and well-cleared pathways in one hike. Trek Hooker Falls, Triple Falls, High Falls, and Bridal Veil Falls in one day.
DuPont is also perfect for families with young children and even older hikers.
You don't have to be an experienced hiker to walk the trails. There are enough people hiking around to feel comfortable.
Plus, there are beautiful picnic areas along the way. Think babbling streams and rivers.
Below, we are sharing our favorite DuPont Forest waterfall hikes.
Then, see where to stay and visit after DuPont, including delicious wineries, apple orchards with cinnamon cider donuts, and a chocolate factory.
P.S. Hendersonville is the best city to tour and grab food after hiking DuPont, in our humble opinion.
So, let us help you plan the best DuPont State Forest day trip from Asheville. Let's get started!
If you love waterfalls, don't skip our Massive Guide To Asheville's Breathtaking Waterfall Hikes.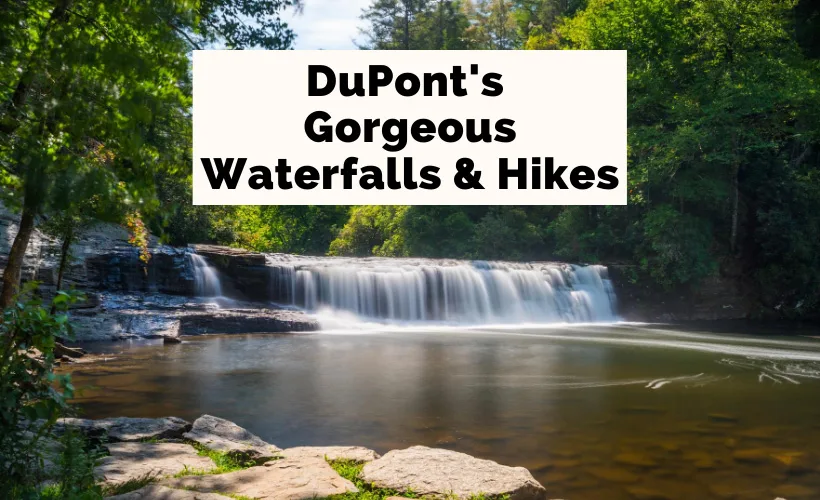 This post may contain affiliate links that earn us a commission at no extra cost to you. If you love these guides, support Uncorked Asheville here.
See our Top Places To Stay in Asheville.

Don't miss out on these Asheville properties on Booking.com, too.
Where Is DuPont State Forest?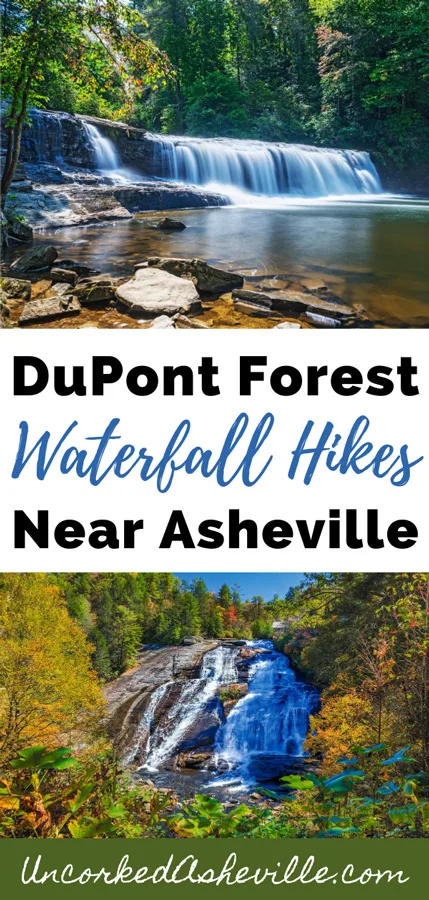 DuPont State Forest is located about 40 miles and 50 minutes from downtown Asheville in Henderson and Transylvania counties (between Brevard and Hendersonville).
The complete address is 1300 Stanton Road Cedar Mountain, NC 28718, and you can visit their website here.
From Asheville, you will take I-26 East to Exit 40. There are a series of twists and turns that will bring you down 280 to U.S. 64.
You can either type "Hooker Falls Access Area" or "DuPont State Recreational Forest Visitor Center" into GPS.
The first will bring you closer to Hooker and Triple Falls while the second will place you near High Falls and Bridal Veil Falls.
Of course, there are other areas and lots, but these are our go-to ones as locals.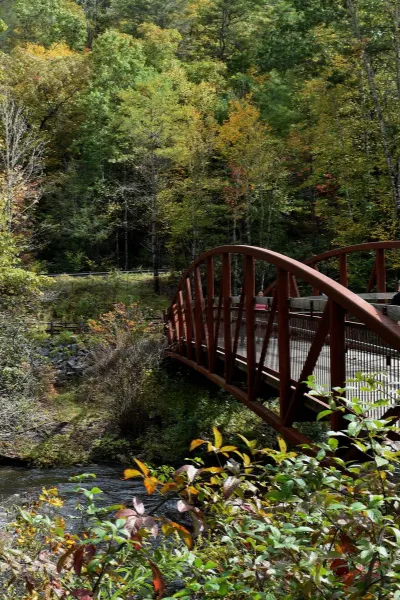 Find parking and hiking maps and waterfall trails here. Please know that your cellphone reception may cut out at any point.
We definitely recommend downloading and saving all maps in advance, including how to enter and leave the area. Even we get turned around without our GPS, sometimes.
Explore all of Asheville's hiking trails, including DuPont.
What Type Of Facilities Can You Expect at DuPont Forest?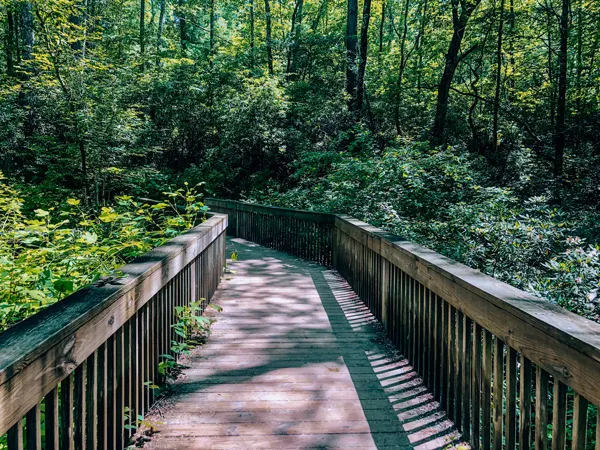 Visiting DuPont is free, including parking. Please know that if the parking lots fill up, you cannot park along the road. Signs along the streets will remind you of this.
Many of the parking lots have restrooms and water fountains including the Hooker Falls Access Area and the DuPont State Forest Visitor Center (sometimes referred to as High Falls Access Area).
There are picnic areas throughout the grounds, including in front of Triple Falls, and at the Visitor Center. For a small fee, you can also reserve a picnic shelter rental.
Don't forget to properly take care of your trash to protect wildlife such as coyotes and black bears. They do live there.
Dogs on leashes are allowed in most areas.
When Should You Go To DuPont?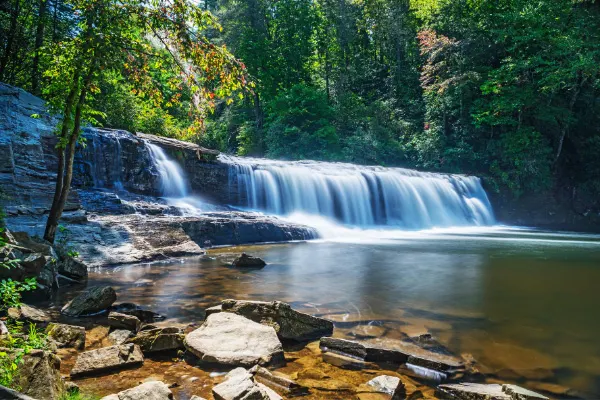 DuPont Forest is accessible all year and is open from 5 AM to 10 PM. Signs around the trails will let you know if anything is closed due to weather, downed trees, or maintenance.
This area is one of the most popular near Asheville and Hendersonville for horseback riding, waterfall trail hiking, mountain biking, and picnics.
We always try to go as early as possible in the morning, especially since the parking lots will fill up. Weekdays are less crowded than weekends.
DuPont is especially great if you are looking for kid-friendly things to do around Asheville.
Our Favorite Dupont State Forest Waterfalls & Hikes
Hooker Falls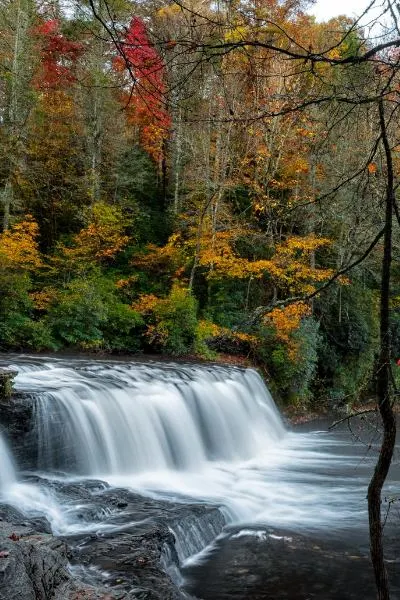 Hooker Falls is the easiest and shortest waterfall to get to at DuPont State Forest. This is one of the best waterfall hikes if you have littles.
If Hooker or Triple Falls are one of the main waterfalls on your itinerary, you'll want to park in the upper-level lot at DuPont Forest known as the Hooker Falls Access Area.
From this parking lot, Hooker Falls is about a .25-mile hike. Super short and easy. This parking lot also has restrooms and water fountains.
The fourth waterfall on the Little River, Hooker Falls is 12 feet high. Visitors can hang out on the rocks or take a dip in the huge pool at the bottom of the falls.
Hooker Falls is a safer location at DuPont for swimming because there is no current.
Of course, please read all of the posted signs in case the rules change. Always exert caution around any of the falls.
The waterfalls are known to be dangerous with faster moving water, slippery rocks, and steep falls. There have been accidental deaths throughout the park – not to sound grim.
Triple Falls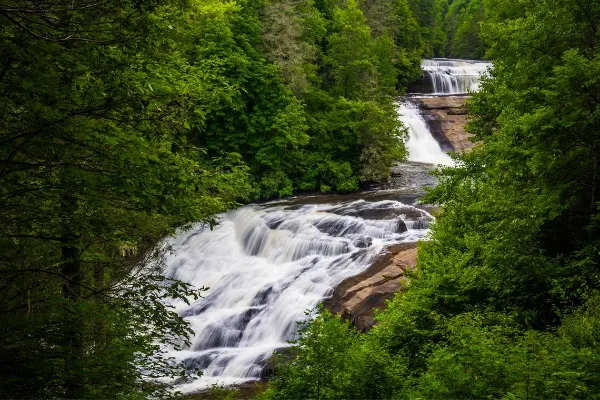 One of my all-time favorite waterfalls, Triple Falls is where part of the filming for The Hunger Games took place. In fact, we call them "The Hunger Games Waterfalls."
To access Triple Falls, you can park at either the Visitor Center or Hooker Falls Access Area.
We tend to park at Hooker Falls as the Visitor Center sees much more traffic early on and parking gets iffy.
Triple Falls is the third waterfall on the Little River. And, you guessed it: is a three-tiered, 120-foot waterfall.
You can see the falls from afar, walk up close to them, or view them via the additional picnic areas slightly above the main trail.
If you walk past the picnic area, you can climb down the stairs to see the middle of the falls.
Once down the stairs, you will be able to partially walk on a rock to see the falls, but they are roped off as there have been accidents.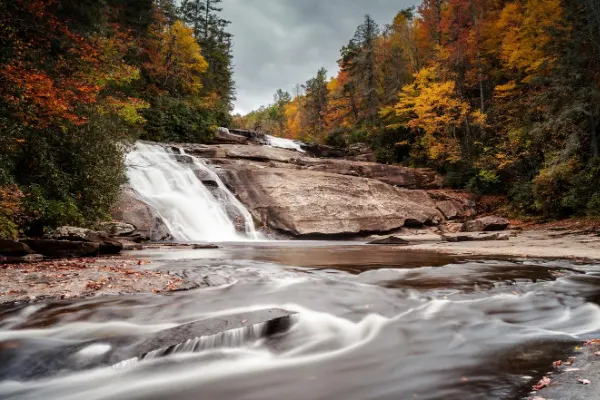 Triple Falls is a more moderate DuPont State Forest waterfall hike as it is gravely and rocky. You have to go both up and down a steep hill, which is slippery and sometimes hard to catch your footing.
The High Falls waterfall hike is not necessarily strenuous, though.
P.S. For more Hunger Games filming locations, head to Henry River Mill Village – an NC ghost town – which was used for District 12.
Read more about the top movies filmed in NC and their locations.
High Falls At DuPont State Forest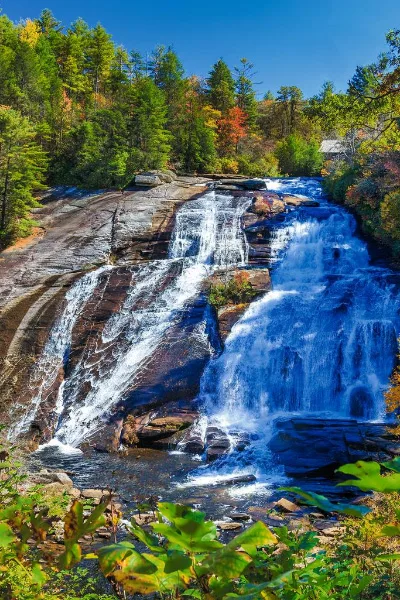 There are many "High Falls" in North Carolina so don't forget that we are talking about High Falls in DuPont.
When you continue hiking past Triple Falls for around another half-mile, you'll find yourself across from High Falls.
You'll also see a covered bridge above High Falls, which you can walk following another one of DuPont's hiking trails.
High Falls is 150-feet. The High Falls Trail is also a part of the 2-mile loop that includes Triple Falls.
This loop will take you through a gentle hike further into the woods – away from the crowds and waterfalls for a bit.
The hike to High Falls, like Triple Falls, is considered moderate. It's not that hard or tiresome, though.
Bridal Veil Falls at DuPont (Not Highlands)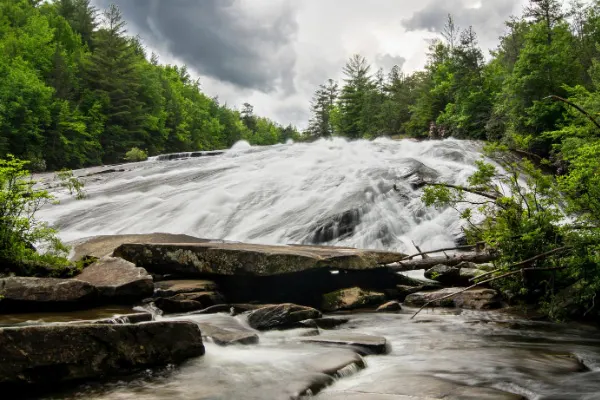 We also love Bridal Veil Falls, especially for a picnic. Like Triple Falls, Bridal Veil Falls is another filming location for The Hunger Games. The Last of the Mohicans was also filmed here.
Know that there are two Bridal Veil Falls in North Carolina. The other falls are located in the Nantahala National Forest in Highlands and the road passes under them.
What is special about Bridal Veil is that you can first view the falls at a station from far away. As you begin to hike closer, you can hear the cascading water.
At the base, there is a narrow trail and dry rocks to hang out on. To me, Bridal Veil Falls at DuPont is one of the most peaceful spots.
How We Access Bridal Veil Falls
There are multiple ways that you can approach and hike to Bridal Veil Falls: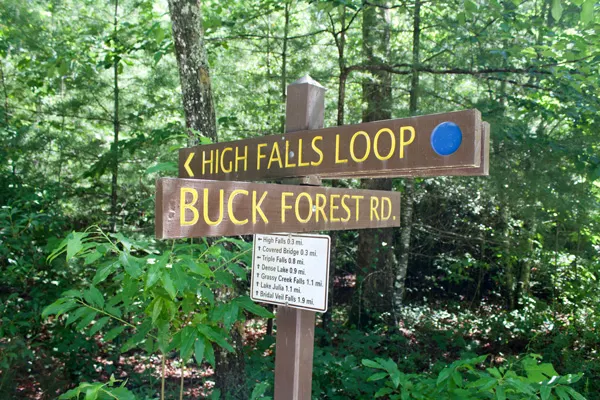 The Longer Bridal Veil Falls Hike (7+-Mile Loop)
You can access Bridal Veil Falls by parking at the Hooker Falls Access Area and hiking all four DuPont waterfalls, including Hooker Falls, Triple Falls, and High Falls.
You'll follow the High Falls Trail up to the covered bridge. Here, follow the Covered Bridge Trail, which takes you to Buck Forest Road.
Turn right onto Conservation Road and follow the signs for Bridal Veil Falls. Conservation Road and Buck Forest Road are also popular mountain biking spots.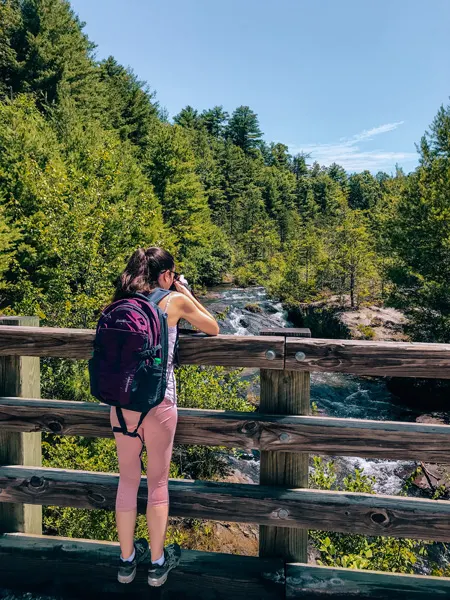 The Shorter Bridal Veils Falls Waterfall Hike (4.4 Miles)
Another way to access Bridal Veil Falls, you can park at the Visitor Center. Pick up the Covered Bridge Trail and keep going towards Conversation Road.
You'll turn right and see the Bridal Veil Falls/Road sign. Walk the 2.2-miles each way seeing the top of High Falls, parts of Lake Julia, and Bridal Veil Falls.
This is a very easy and casual walk along bridges and gravel roads.
You may also park at Fawn Lake, which we haven't done yet. It's a tad further away.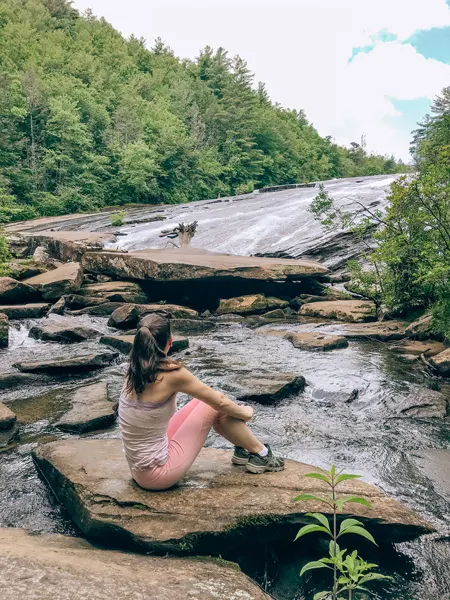 More DuPont Trails & Hikes
A few of the DuPont State Forest hikes and trails on our to-do list include:
Cedar Rock Mountain – A 4.5-mile loop hike
DuPont State Forest Hidden Lakes – A moderate 4-mile trail
Wintergreen Falls DuPont – A three-mile waterfall hike
Stone Mountain – 2.4 miles road trip
I'll definitely update you on all of the pertinent details when we hike these.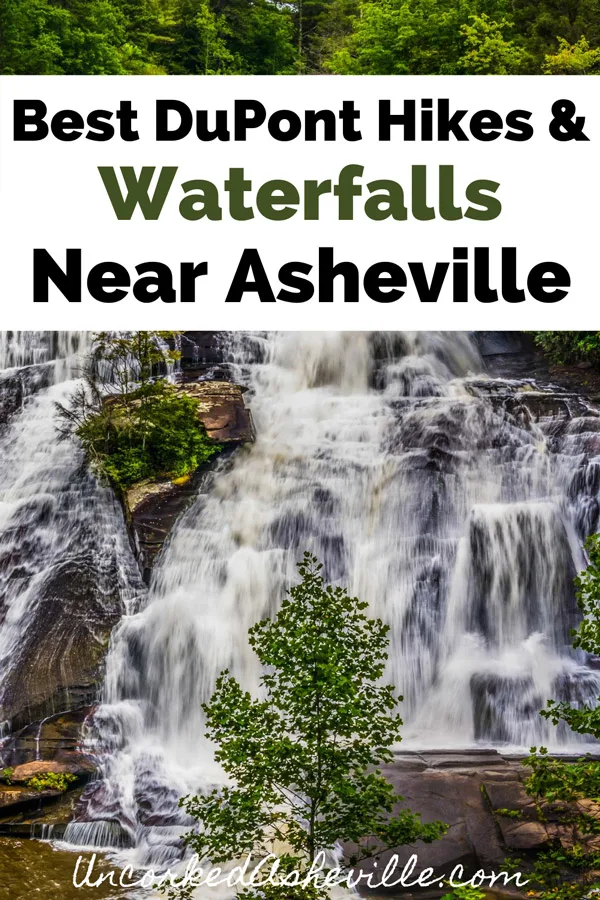 What Should You Pack For DuPont State Recreational Forest?
Although none of DuPont State Forest's waterfalls and their hikes are too intense, you can always pack the basics including a bathing suit, sunscreen, an extra layer of clothing, and bug spray.
We also usually carry:
Hiking Backpack – I hike with an Eddie Bauer backpack that I love. It's lightweight and breathable. Plus, I carry more stuff when it gets colder and bring along the professional camera.
Trekking Poles/Walking Sticks – We see a lot of families with trekking poles or some type of lightweight walking sticks at DuPont State Forest. This isn't a bad idea if you are visiting Hooker, Triple, and High Falls.
Stainless Steel Water Bottle – We don't use water bladders…yet. I like my stainless steel water bottle since it holds the temperature, doesn't perspire, and contains no harmful by-products.
First Aid Kit – I would either make your own First Aid Kit or bring one — even if it's compact. You just never know if you will trip or cut yourself on a rock.
Where Can You Stay Overnight Near DuPont State Forest?
DuPont State Forest is close to one of our favorite places: Hendersonville! Hendersonville is a city located about 22-miles south of Asheville and is full of restaurants, shops, and places to stay.
Our Hendersonville Accommodation Pick:
When we first came to Asheville to house hunt, we stayed at the 1898 Waverly Inn Bed and Breakfast. We loved their social happy hour and friendly hosts. Plus, you can walk into downtown Hendersonville.
If you are looking for Asheville-based hotels:
Aloft – Downtown Asheville *This Aloft is newly renovated. We also work with this hotel for our other website, The Uncorked Librarian.
Hampton Inn And Suites Asheville Biltmore Area *We stayed at this Hampton Inn before we moved to Asheville, NC. It's across from the Asheville Outlets, and they are a great central location between DuPont State Forest and Biltmore as well as downtown Asheville.
See our Top Places To Stay in Asheville.

Don't miss out on these Asheville properties on Booking.com, too.
What Else Can You Visit Nearby DuPont?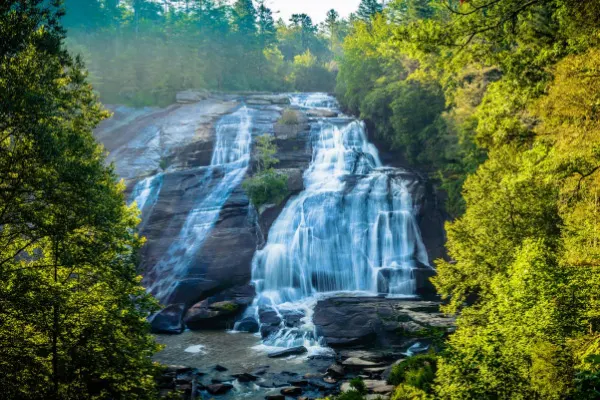 Visit The Hendersonville Wineries
We actively seek out wine tasting – and the Hendersonville wineries make for a great day trip near AVL.
Hendersonville and its surrounding areas have a ton of wineries. Maybe you've heard of Sawyer Springs Vineyards and Stone Ashe Vineyards?
What about Saint Paul Mountain Vineyards and Point Lookout? Point Lookout also offers mead tastings.
Uncover the best Hendersonville wineries here.
Explore Flat Rock, NC
Around 25 minutes away, along with Hendersonville, dip into the village of Flat Rock, another great mountain town near AVL.
Stroll or picnic at The Park At Flat Rock and hike the Glassy Mountain Trail at the Carl Sandburg Home, which is a National Historic Site.
Grab delicious Thai food at Boon Choo, and wine taste at Marked Tree Vineyards.
If It's The Fall, Check Out The Apple Orchards
Grab a cinnamon cider donut, pick some apples, or get lost in a bamboo forest along 'Apple Alley.' A few orchards to check out include:
Sky Top Orchard
Stepp's Hillcrest Orchard
Don't miss our Apple Orchards Guide.
Shop & Dine In Downtown Hendersonville
We enjoy exploring downtown Hendersonville.
Find a chocolate factory, vintage shops, a pinball machine museum, local beer, tons of coffee shops, cafes, and some of the best restaurants in Hendersonville.
Hendersonville's breweries are just as good as Asheville's too. Don't miss Oklawaha, D9, and Appalachian Brewing Company.
Grab A Brew In Brevard Or Mills River
We just love the breweries around Brevard for an after-hike craft beer or cider. If you need to pick one, try Oskar Blues Brewery or Ecusta. Grab the complete Brevard brewery list here.
Right outside of Brevard, Mills River has some pretty famous breweries & a cidery, too. Think Bold Rock and Sierra Nevada. We just love the Mills River Brewery.
Have you been to DuPont State Forest? What are your favorite Asheville hikes, waterfalls, and state parks/forests?
Have you ever visited Dupont State Forest? What are your favorite Dupont waterfall hikes? Do you have any questions? Please let us know in the comments.
If You Love Waterfalls & Hiking Don't Miss These Posts:
30+ Not-To-Miss Hikes In Asheville By Difficulty Level
Best Waterfall Hikes Near Asheville, NC
Asheville Bike Trails To Get Outside
Incredible Winter Hikes Near AVL
Sensational WNC & Asheville Picnic Spots
Even More Waterfalls:
Douglas Falls: Asheville's More Hidden Waterfall
Skinny Dip Falls
Moore Cove Falls – For The Whole Family
Rainbow Falls
Daniel Ridge Falls
Other Nearby Hikes:
Pink Beds Loop
Still Looking For Things To Do? Head Here:
50+ Best Things To Do In Asheville
Fantastically Fun Things To Do In Hendersonville
Delicious Hendersonville Restaurants To Try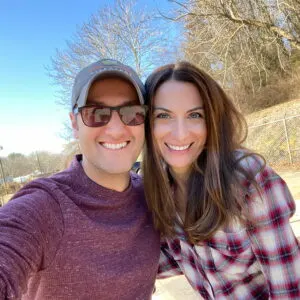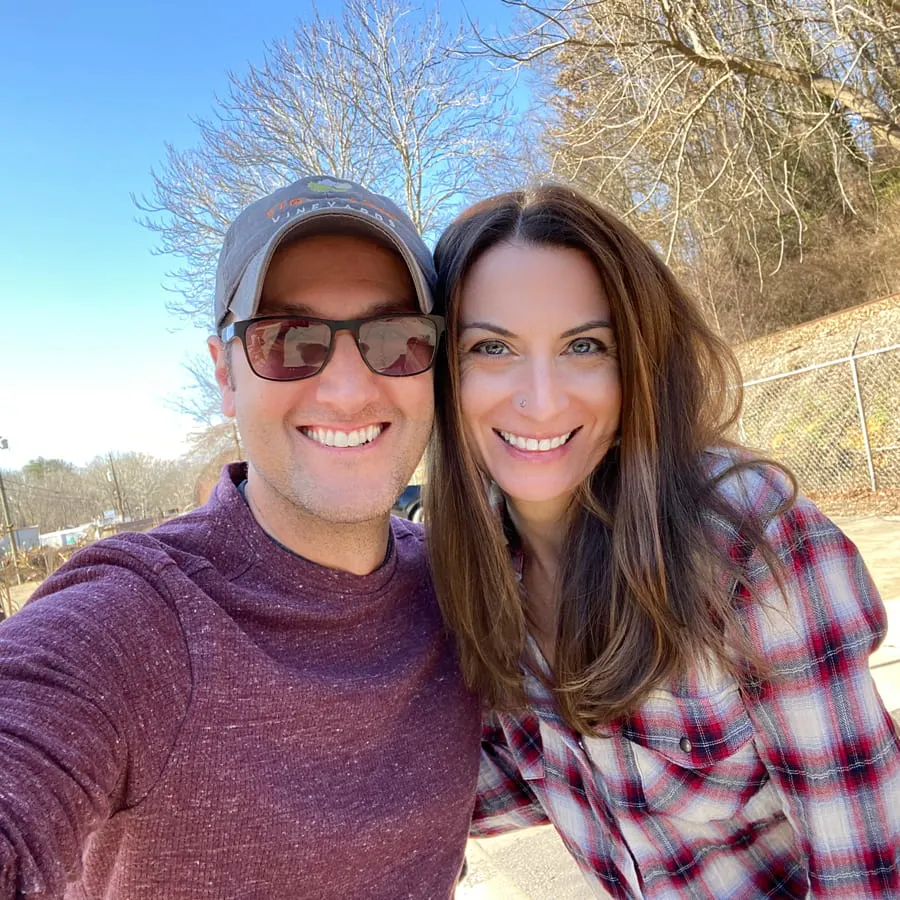 Christine (pronouns: she/her) is the owner and lead writer of Uncorked Asheville. After falling in love with those gorgeous Blue Ridge Mountains, Christine and her husband Tom decided to call Asheville, North Carolina their home. When her pointy Italian nose isn't stuck in a book, Christine is adopting all of the kitties, getting lost in the forest, and drinking an ESB.
Christine has a BA in English and History from Smith College, her MLIS from USF-Tampa, and is a former U.S. Fulbright Scholar - Indonesia. She also owns The Uncorked Librarian LLC with books and movies to inspire travel.