Don't miss Douglas Falls, a hidden gem deep within the Pisgah National Forest. Discover where to find the Douglas Falls Trail, how to hike to the waterfall, and what to expect.
It's no secret that Western North Carolina (WNC) and Asheville are home to the gorgeous Blue Ridge Mountains and Pisgah National Forest. This area is perfect for hikers and waterfall chasers.
So, which waterfalls can you trek while you are in Asheville? Douglas Falls Trail is a pretty waterfall hike that is one hour and fifteen minutes driving distance from downtown Asheville. What makes Douglas Falls extra special is that you can walk under this stunning waterfall.
How do you get to Douglas Falls? There are two very different trails. What should you expect? Honestly, a little confusion with gate closures.
Encounter an unnerving but gorgeously waterfall-filled winding road (FS74), a few possible downed trees along the trail, and either a less than 4-miles or almost 10-mile advanced trek.
Below, we'll share our Douglas Falls hiking tips as Asheville residents. We want you to experience the magic of the falls.
Please remember, too, that we are talking about Douglas Falls, NC. There are other "Douglass" or "Douglas" waterfalls in Michigan and Washington State with slightly different spellings and names.
Are you ready to hike Douglas Falls? Let's get started!
*We updated this post after talking with Forest Services. There is now a permanently closed gate around Laurel Gap Parking (but, sometimes people will illegally open the gate to pass through). You are no longer allowed to drive all the way up to the .5-mile Douglas Falls Trail Parking Lot. You will have to park at Laurel Gap and hike the road to Douglas Falls from there.
Don't miss our Favorite Asheville Waterfall Hikes.
---
This post may contain affiliate links for products and services we recommend. If you make a purchase through these links, at no additional cost to you, we will earn a small commission. Read the full disclosure here.
---
Douglas Falls Trail Stats
Distance From Asheville, North Carolina: 1 hour 15 minutes; 30 miles
Address: Douglas Falls, Barnardsville, NC 28709; park at Laurel Gap Parking
Hike Difficulty: Moderate
Length: From the trailhead off of FS74, Douglas Falls is under 1-mile roundtrip. With the permanent gate closure, though, add in another 1.1-miles roundtrip for a total of 4 miles. If you start at Craggy Gardens, this is a 7+-mile challenging trail for experienced hikers
Duration Of Hike: 2-3 hours
Type Of Hike: Out and back, steep road, orange blazes once on the trail
See our Top Places To Stay in Asheville.

Don't miss out on these Asheville properties on Booking.com, too.
Level Of Difficulty For The Two Douglas Falls Trailheads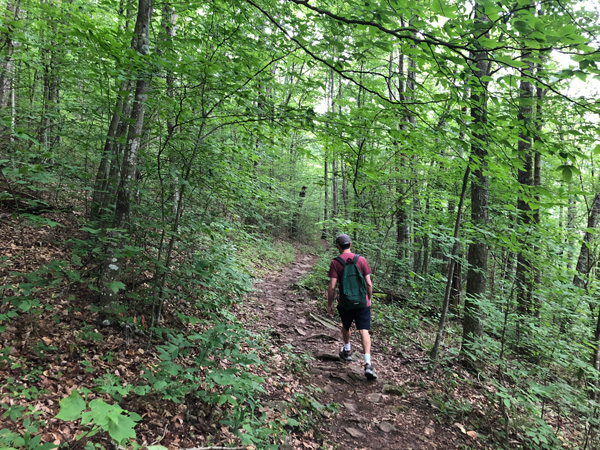 Out of all of the waterfalls near Asheville, why hike the Douglas Falls Trail? First, if you go the shorter route, which is what I recommend and will mostly discuss here, the falls are only about 4-miles roundtrip.
This 4 miles is based on the permanent gate closure. You'll see different information all over various websites and even GAIA.
Technically, the trailhead for Douglas Falls is at the top of the closed road. From the trailhead to Douglas Falls, it's only just under a .5-mile hike each way.
The ground is slippery when wet, and you will have to hike in mud and over small rocks and tree roots. The Douglas Falls hike from FS74 is considered moderate.
If you hike from Craggy Gardens or the Visitor Center, though, that trail is more of a 7+-mile hike recommended for experienced hikers.
Its difficulty level goes up drastically and will take you a large part of the day. We've only attempted a few miles this way — we aren't that cool. You'll do much more climbing on a less visible trail.
Never Miss Another Asheville Update
Are you tired of generic Asheville travel itineraries? Do you want to experience the magic of Asheville like a local?
Grab our free Asheville Favorites checklist today, including restaurants, breweries, and hiking. Plus, get local updates straight to your inbox. Sign up here.
Why Hike Douglas Falls Trail?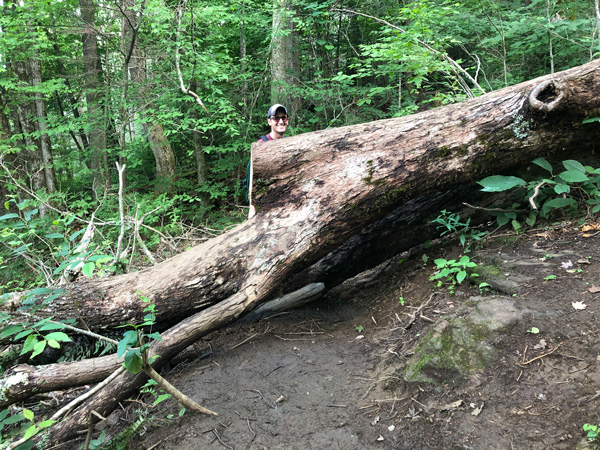 If you choose the shorter hike, you'll hear the birds singing along the way as well as the quickly approaching falls. We haven't spied a black bear or snake on the Douglas Falls Trail yet, but they do exist.
You'll also spot colorful mushrooms, rocks and boulders, and downed trees. While the trees are eventually felled or cleared, don't be discouraged if you have to hop over or walk around one or two.
I promise: the falls are still there. We've seen people turn around thinking the trail is closed.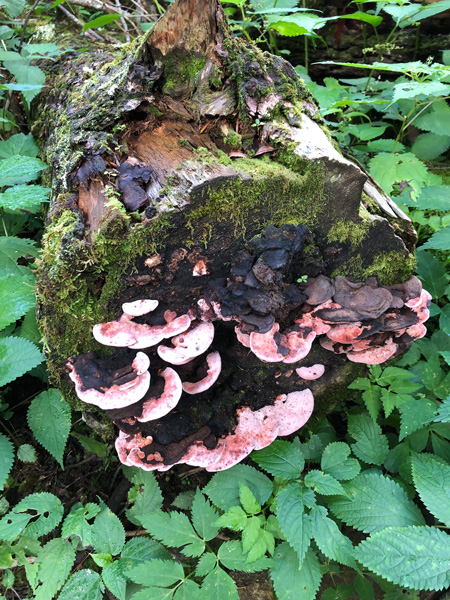 You'll know when you reach the falls as you look up to a 70-foot tall gushing (if it's been raining) waterfall over a huge blackish boulder. Enter with care, but you may hop over the stream and rocks to walk under the falls.
Forewarning: If it hasn't rained recently, I am told the falls are a little…drier… But, it rains a ton in the NC mountains.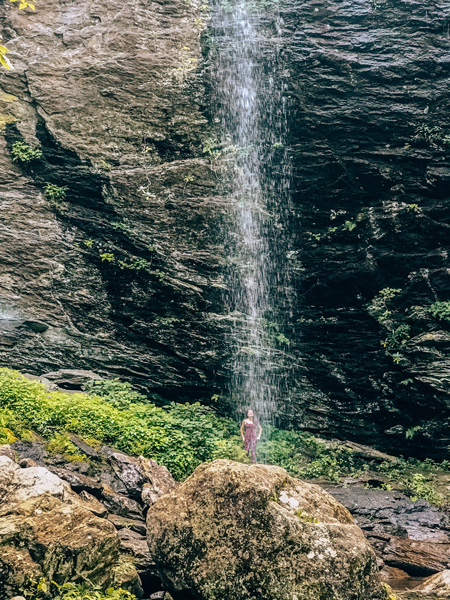 ---
If you love hiking, be sure to check out these Asheville Trails.
---
When Should You Hike Douglas Falls?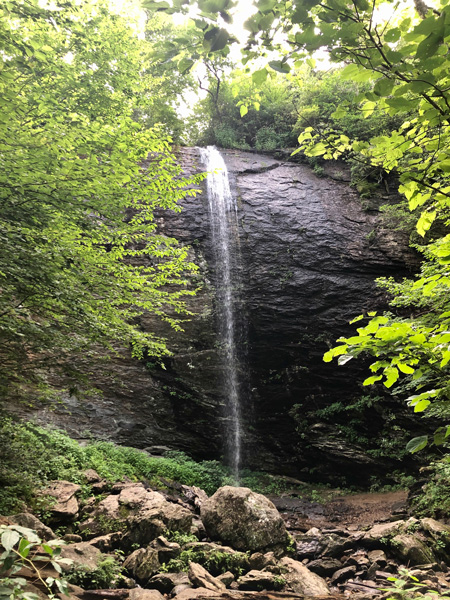 Because these waterfalls are hidden deep within the forest and involve a winding road (or the longer hike from Craggy), the Douglas Falls Trail is less trafficked than the other Asheville waterfalls.
I always consider quieter spaces a huge bonus. You still might want to arrive early on the weekends because the narrow dirt road is a pain to navigate when traffic picks up, especially closer to noon.
Weekdays and early AM are always best, especially if you hit the summer tourist season.
After a lot of rain, you'll see more voluptuous falls — but be extra careful. Everything, including the access road, will be muddy and slippery.
Save This Post
How Do You Get To Douglas Falls?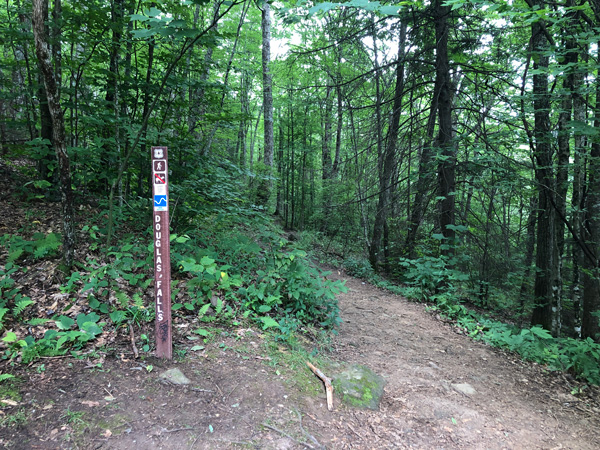 FS74 Route / 1.1-ish Miles From Laurel Gap & .5 At Trailhead Each Way
If you are looking for the shorter hike, you'll want to take 19-23 North to Exit 15 Barnardsville. You will turn right on NC Highway 197 and another right 6-miles later onto Dillingham Road.
Enter a scenic town that is surrounded by blue-ish, gray, and green mountains while passing cows, farmland, churches, and horses. This area reminds me of Connemara in Ireland.
This road ends in the Pisgah National Forest hitting FS74, which is not for the weak. At times, the edge of the cliff is right there.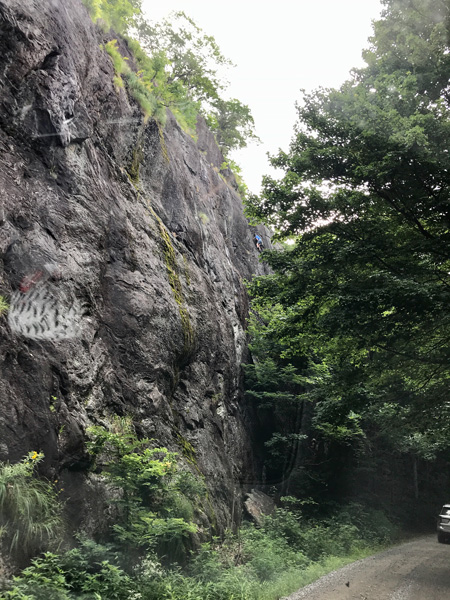 FS74 is an unpaved, winding dirt road up the mountain. If you have an SUV, I recommend taking it. A low-lying car will struggle with the rocks, divots, and hill-climbing but is also doable.
A lower car will also add time to your drive, and you'll most likely pull over to let the bigger guys pass. You might also want to forgo the fancy car–it may get beat to heck by the flying rocks and dust.
Know that passing on FS74 is difficult but possible in many areas. You might have to pull over, stop, or just move forward carefully.
Also, watch for surprise rocks sticking up and giant holes. Cellphone reception disappears for a while so you don't want any accidents.
As mentioned above, we also recently updated this post after talking with Forest Services. There is a permanently closed gate at Laurel Gap — or at least it should be closed.
You can no longer drive up to the .5-mile Douglas Falls Trail parking lot. According to Forest Services, that section of the road is incredibly dangerous for vehicles. You will have to park at Laurel Gap and hike to Douglas Falls from there.
Craggy Gardens Picnic Area or Craggy Gardens Visitor Center / 7 to 10-Mile Hike
You can also pick up the Douglas Falls Trail from the Craggy Gardens Visitor Center or Picnic Area, which is the furthest away.
Craggy Gardens Picnic area is located at mile marker 367.6 on the Blue Ridge Parkway (BRP). The Visitor Center is located at mile marker 364.4.
It's easiest to navigate the BRP with mileposts since GPS is not always 100% accurate.
Don't Miss Walker Falls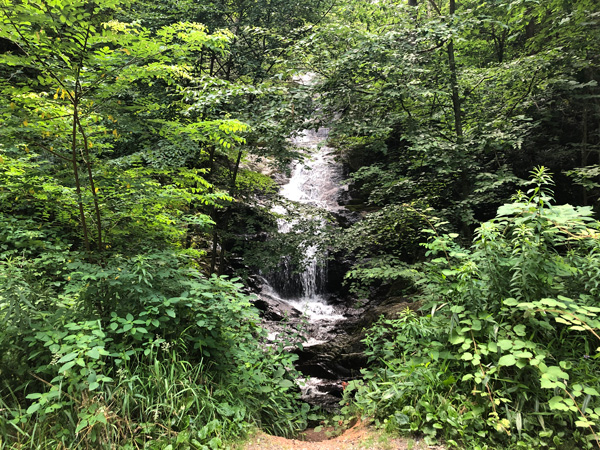 While you are driving to Douglas Falls, don't miss Walker Falls. Walker Falls is 4-miles up (or down) FS74 on your way to the trailhead.
You honestly cannot miss Walker Falls as they will land right in front of you on your way up the mountain. Walker Falls is about 45-feet tall, and there is a pullover spot or two for picture taking.
Where Can You Stay Overnight Near Douglas Falls?
Since the falls are northeast of Asheville but still close, you may want to overnight in Asheville. Of course, I am biased as this is my home. I'm a fan of:
Aloft – Downtown Asheville *They are newly renovated, and we love working with them for both websites.
Hampton Inn And Suites Asheville Biltmore Area *We stayed here before we moved, and although it's across from the Asheville Outlets (get some hiking clothes!), they are super clean and central between DuPont, Biltmore, and some of these waterfall hikes.
The Omni Grove Park Inn *We frequently stop by the Grove Park for sunsets, drinks, and food. You'll catch a killer sunset over the city.
See our Top Places To Stay in Asheville.

Don't miss out on these Asheville properties on Booking.com, too.
Save This Post For Later
Have you been to Douglas Falls? What are your favorite Asheville hikes and waterfalls? Where else do you love to spend time outdoors in NC?
Have you ever hiked the Douglas Falls Trail? What are your favorite waterfall hikes? What do you like to pack for a safe and successful waterfall hunting trip? Do you have any questions? Please let us know in the comments.
If You Love Hiking & Waterfalls, You May Also Enjoy:
Best Waterfall, Sunset, Swimming & Fall Hikes In & Near Asheville
Gorgeous Waterfalls Near Asheville
Favorite Fall Foliage Hikes
50+ Things To Do In Asheville: Food, Hiking, Waterfalls, Breweries, Wineries & Attractions