Don't miss Daniel Ridge Falls in the Pisgah National Forest in Western North Carolina. You can trek the moderate Daniel Ridge Loop Trail or the shorter hike straight to the falls.
Does your favorite station ever play TLC's "Don't go chasing waterfalls…" Well, you are in Transylvania County, land of the waterfalls. We say chase 'em!
As Asheville locals, our free time is spent enjoying the Pisgah National Forest, endless waterfall hikes, and the gorgeous Blue Ridge Mountains. We just love getting outdoors.
If you are looking for a quieter waterfall hike or mountain biking trail, be sure to check out Daniel Ridge Falls in the Pisgah National Forest in Brevard, NC.
Daniel Ridge Falls is a 150-foot waterfall. You can choose the short and easy trek up to the falls or a longer and more moderate loop. A less trafficked area, you'll love the serenity this hiking trail has to offer.
We've hiked around Daniel Ridge Loop and Falls multiple times. Grab our tips, tricks, and where to head afterward. We'll tell you how to get to Daniel Ridge Falls, and what to expect. Let's get started.
Don't miss all of the Best Waterfalls Near Asheville, NC Here.
---
This post may contain affiliate links for products and services I recommend. If you make a purchase through these links, at no additional cost to you, I will earn a small commission. Read the full disclosure here.
---
Daniel Ridge Falls Quick Stats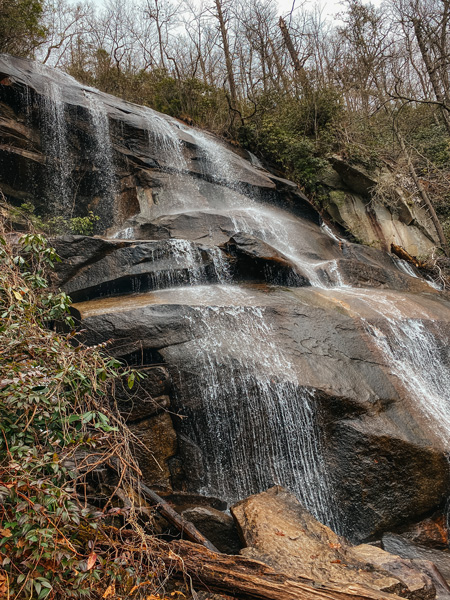 Distance From Asheville, North Carolina: 50 minutes; 37 miles
Address: Daniel Ridge Falls, National Forest Rd, Brevard, NC 28712

Parking: Gravel horseshoe parking lot along a dirt road; no facilities
Hike Difficulty: You can take the moderate trail/loop or the easy hike straight to the falls
Length: Daniel Ridge Loop is about 4 miles long. The trail straight to the falls is about .75 miles each way.
Duration Of Hike: The loop will take you about 2 to 3 hours. The easy trail is about a 45-minute hike.
Type Of Hike: Loop or out and back with red blazes
Daniel Ridge Falls is also called Tom's Spring Branch Falls, Daniel Ridge Falls, and Jackson Falls.
Don't miss these inns, hotels, cottages, and cabins around Brevard, NC. Or, stay in our area in Asheville, NC.
---
Never Miss Another Asheville Update
Are you tired of generic Asheville travel itineraries? Do you want to experience the magic of Asheville like a local?
Grab our free Asheville Favorites checklist today, including restaurants, breweries, and hiking. Plus, get local updates straight to your inbox. Sign up here.
---
Why Hike Daniel Ridge Falls Or Loop Trail?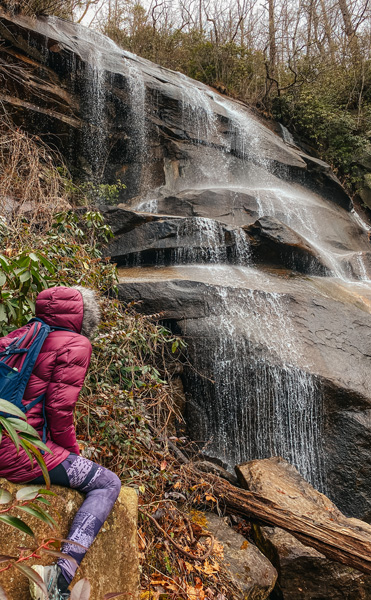 Daniel Ridge Falls is a gorgeous hiking area that remains off of the beaten path from your typical Asheville visitors. A more local trail with a gorgeous 150-foot waterfall, Daniel Ridge offers two very different access points.
If you are in the mood for a moderate and longer hike — or some mountain biking — hop on Daniel Ridge Loop. After you park in the dirt lot, you'll cross a scenic bridge over the Davidson River.
Daniel Ridge Loop follows the river and is filled with cascading water and mini-falls. We love this stunning hike.
At the end of the loop, your reward is Daniel Ridge Falls, also confusingly known as Tom's Spring Branch Falls and Jackson Falls. You can get up close to this beautiful waterfall.
Full disclosure: we have gotten lost on the Daniel Ridge Loop Trail. Although marked and labeled, this can be a tricky trail – leaves may cover markers.
We unknowingly took a side/connector trail that looked like the main trail and was marked with someone else's red tie. Make sure to check your maps more vigilantly than we did ours. Getting lost in the Pisgah National Forest is a tad unnerving.
---
You'll see a few "No Electric Mountain Biking Signs" around Daniel Ridge Loop, but you can mountain bike the loop. Grab the Best Asheville Mountain Biking Trails Here.
---
Daniel Ridge Trail Straight To The Falls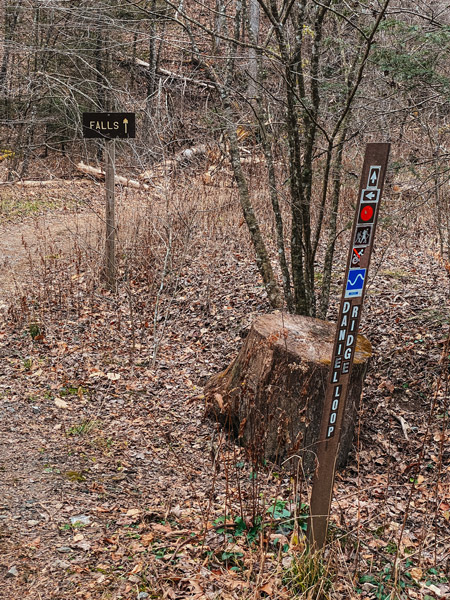 If Daniel Ridge Loop Trail seems a little intimidating or if you are with young family members, you might enjoy the shorter hike straight to the waterfall. A little under 1 mile each way, this easy walk brings you right up to the base of Daniel Ridge Falls.
The trailhead is marked to the right as soon as you cross the bridge over the Davidson River. Of course, you may also pick up the Loop backward from the falls.
---
---
When Is The Best Time To Hike Daniel Ridge Loop & Falls?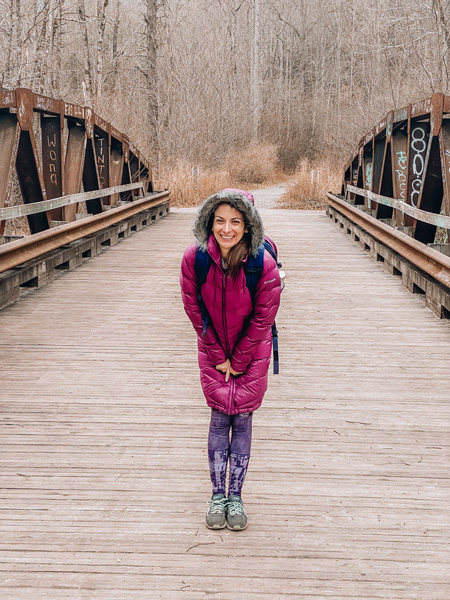 Because most of the Blue Ridge Parkway (BRP) shuts down mid-winter around Asheville, we love hiking Daniel Ridge Falls in the late fall and early winter. The waterfall is even known for freezing.
If you are hiking Daniel Ridge Loop when there are leaves or snow, though, know that you can lose sight of the marked trail. Daniel Ridge has many runoff trails. We won't hike this area without our GAIA app and Garmin.
Daniel Ridge Loop is also a popular local mountain bike area, perfect for when the trails are dry and cool.
Of course, you can hike Daniel Ridge year-round, and unlike many other waterfall hikes, this trail remains much quieter.
Know that the falls will be smaller with less rain.
---
---
How Do You Get To Daniel Ridge Falls Trail From Asheville?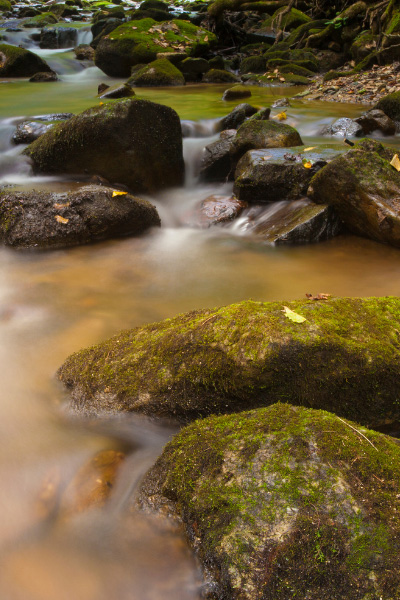 Take I-240 West to I-26 East. Get off at Exit 40. Turn right onto Hwy 280 West toward Brevard. Turn right onto US 276 North Forest Heritage Scenic Byway and then right onto Forest Road 475.

You will pass the Pisgah Center for Wildlife Education; that address is 1401 Fish Hatchery Rd, Pisgah Forest, NC 28768.

Continue onto a dirt/unpaved road past the Cove Creek Campground. The parking area and trailhead for Daniel Ridge Loop are less than a mile away on the right. Look for a tree that forms a dirt horseshoe parking lot.
You can usually spot the lot because many of the cars have bike racks.

Cell phone reception is extremely spotty in this area. We recommend downloading offline maps for both the trails and drive back out.
---
---
Where Can You Head After Hiking Daniel Ridge Falls?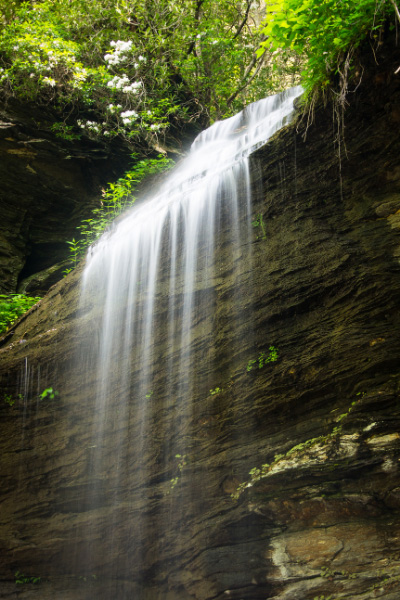 DuPont State Forest Waterfalls
Located about 30 minutes from Daniel Ridge Loop's Trailhead, if you are looking for more waterfalls, DuPont's 3-waterfall hike is for you. Hike Hooker, Triple, and High Falls.

Triple Falls in the movie, The Hunger Games. This is a popular hiking area and great for families. Don't miss our complete DuPont Waterfall Guide.
Hike More Nearby Trails & Waterfalls
As you enter the Pisgah National Forest, instead of turning left for Daniel Ridge Loop, head right for Looking Glass Falls and Moore Cove Falls. Visitors can drive right up to Looking Glass Falls.
Moore Cove Falls is an easy 1.4 mile out and back to gorgeous falls perfect for families. Around this area, also find Sliding Rock and Cove Creek Falls.
Lastly, don't miss Pink Beds Picnic Area and Trail to soak up mother nature and picnic. Or, check out Skinny Dip Falls — a short Blue Ridge Parkway hike and popular WNC swimming hole. Around Skinny Dip, find Mount Pisgah's Gorgeous Views and Fryingpan Mountain, too.
Grab Food & Beer In Brevard Or Mills River
Brevard has a walkable historic downtown and tons of nearby breweries. In fact, Ecusta Brewing Company is on the corner where you turn into the Pisgah National Forest. Snag the complete list of Breweries In Brevard Here.
Mills River is also known for some Fabulous Breweries. Think Bold Rock Cidery, Mills River Brewing, Burning Blush, and Sierra Nevada. Grab a bite to eat, too.
Where To Stay Around Daniel Ridge Falls, Brevard, & Asheville
Don't miss these inns, hotels, cottages, and cabins around Brevard, NC.
Of course, since we are an Asheville travel blog, don't miss our Master List Of Places To Stay In Asheville.
Save This Post For Later
---
---
Have you hiked Daniel Ridge Loop & Falls?
Have you been to Daniel Ridge Falls? Did you hike the loop or take the easier trail? What did you think? What are your favorite Pisgah National Forest hikes? Let us know in the comments
What Should Be Your Next Adventure?
Don't miss these things to do in Asheville, NC
Ultimate Asheville Hiking Guide
Gorgeous Waterfalls To Visit
Top Mountain Biking Trails Near Asheville

Brevard's Hopping Breweries
Mills River Famous Breweries

Where To Stay In Asheville, NC
More Nearby Waterfall Hikes & Rainbows To Chase
Moore Cove Falls
Pink Beds Picnic Area & Hike
Skinny Dip Falls Trail & Swimming Hole
Dupont State Forest: The Hunger Games Waterfalls
Mount Pisgah Trailhead
Fryingpan Mountain Tower Trail
Rainbow Falls (A bit further out)