Craving a more strenuous but scenic hike? Why not trek Trombatore Trail To Blue Ridge Pastures? Located across the street from Bearwallow Mountain, you'll love this 5-mile out and back.
We are all about hiking around Asheville on quiet trails and enjoying a picnic to ourselves. If you are looking for a good workout on a well-labeled hike, I highly recommend Trombatore Trail across from Bearwallow Mountain.
Plus, this trail falls along the Eastern Continental Divide. How cool is that?
With a high elevation gain and 5-miles of roundtrip hiking, Trombatore Trail is more strenuous than its neighboring hikes. However, you don't have to be an experienced hiker to hop on this route.
The Trombatore hike to Blue Ridge Pastures is well-maintained and easy to navigate. While you will have to climb up tiring hills and step over rocks and water, the ground is pretty steady.
So, pack your lunch and hiking gear. We'll tell you more about the Trombatore Trail hike, what to expect, and where to head afterward — all as Asheville, NC locals. Let's get started!
Read more about the Best Hiking Trails Around Asheville, NC.
---
This post may contain affiliate links for products and services I recommend. If you make a purchase through these links, at no additional cost to you, I will earn a small commission. Read the full disclosure here.
---
Quick Trombatore Trail Stats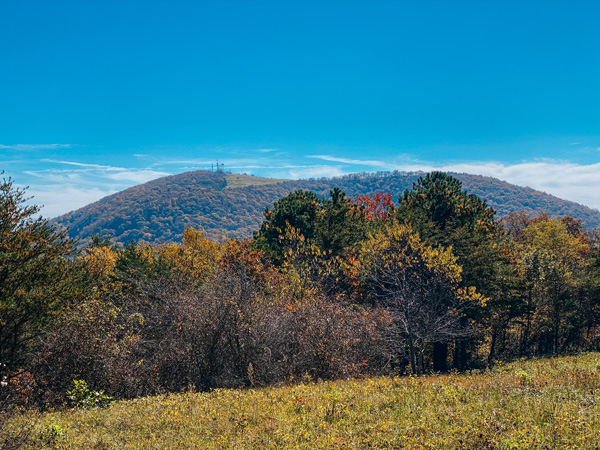 Distance From Asheville, North Carolina: 40-minutes; 22-miles

Address: Trombatore Trailhead Bear Wallow Rd, Fairview, NC 28730

Parking: Around the trailhead on side of the road; please don't block the private gate

Hike Difficulty: Moderate to more difficult — Conserving Carolina marks this trail as 'strenuous'

Length of Trombatore Trail: 5-miles (2.5 each way)

Duration Of Hike: Around 3+ hours

Type Of Hike: Out and back; marked posts; forest stairs
Don't miss these cabins, cottages, and hotels near Trombatore Trail in Chimney Rock. See our personal Asheville hotel recommendations, too.
Save This Post For Later
Why The Trombatore Trail?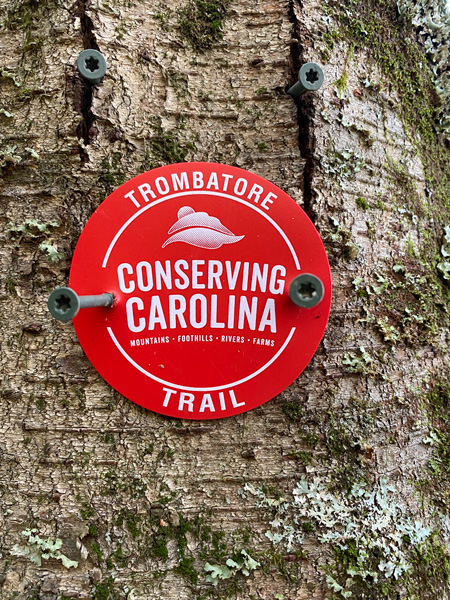 The Trombatore Trail is relatively new as of 2014 and is located in Hickory Gap — a gorgeous mountain area that is less frequented by tourists. Across the street, you'll also find the Bearwallow Mountain Hiking Trail, which is slightly more popular.
Both trails end in large pastures and are fabulous for picnics with a view. Trombatore is the harder and longer trail of the two.
Managed by Conserving Carolina, Trombatore Trail is one of the best-marked, harder trails near Asheville — in our opinion. Along the way, you'll pass streams, baby waterfalls, and hike through the gorgeous North Carolina canopy.
Of course, there are wildflowers, an old buckeye tree, and views of Hickory Nut Gorge. You'll see some homes further up the trail, which is reassuring that civilization is nearby.
At the end of Trombatore Trail, you'll land in a gorgeous meadow and pasture. We didn't see cows but you may encounter a log and firepit, perfect for a break.
You can see Mount Mitchell, Hickory Nut Gorge, and Bearwallow Mountain from Blue Ridge Pastures on a clear day.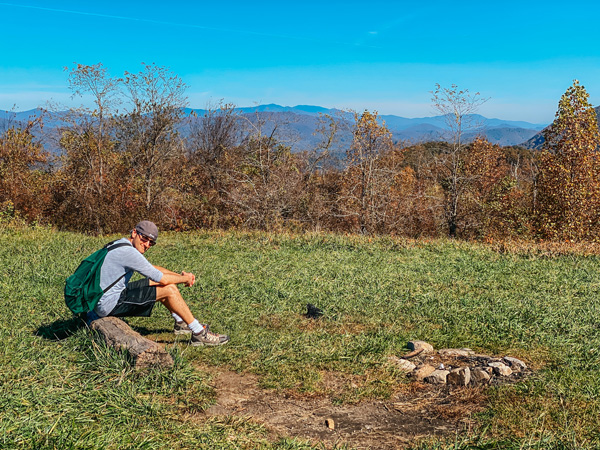 With an elevation gain of about 1,200 feet, you'll definitely feel this hike as you both climb and descend, making the Trombatore Trail a fabulous half-day trip for those wanting a good workout.
You can also add Bearwallow for an additional 2 miles. Just cross the street once you complete Trombatore.
---
Never Miss Another Asheville Update
Are you tired of generic Asheville travel itineraries? Do you want to experience the magic of Asheville like a local?
Grab our free Asheville Favorites checklist today, including restaurants, breweries, and hiking. Plus, get local updates straight to your inbox. Sign up here.
---
When Is The Best Time To Hike Trombatore Trail?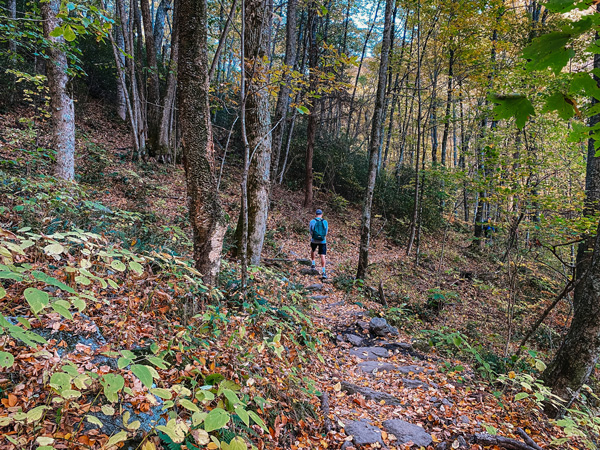 Personally, we loved visiting Trombatore in the fall with the gorgeous leaves. Other fall hiking trails, especially around the Blue Ridge Parkway, tend to get incredibly busy during peak foliage.
As Asheville locals, we avoid waterfalls and popular trails that we know will be slammed in season. Trombatore is more of a hidden secret.
This hike is also perfect year-round, and since it is longer, I suggest giving yourself ample time to hike before sunset. Because the Trombatore hike is less frequented, you can also arrive a little later in the morning and on weekends without having to worry about the crowds.
Parking is still limited — if you go with a group, they recommend carpooling.
Where Is Trombatore Trail?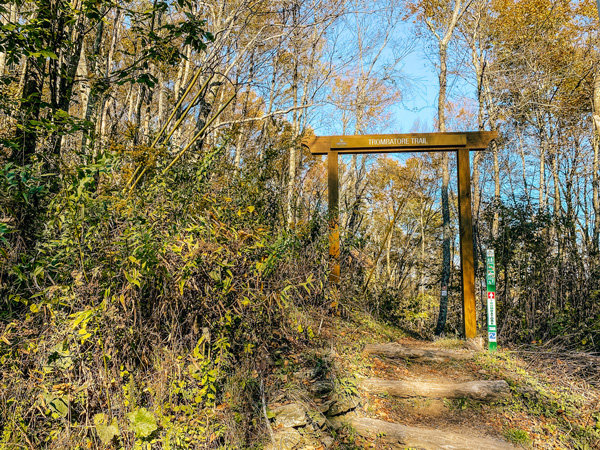 From Asheville take I-240 to US-74 Alt East toward Bat Cave. Stay on US-74 Alt. You'll turn right onto Bearwallow Mountain Road and land on a gravel road, which can be rough on your car.
Passing becomes difficult, and be careful on blind turns.
When you reach the top, you'll see cars pulled off along the road, a metal gate, and marked entrances for Trombatore and Bearwallow. There are no facilities. Both trails have maps and information at the trailhead.
---
---
If You Love Trombatore Trail, Try…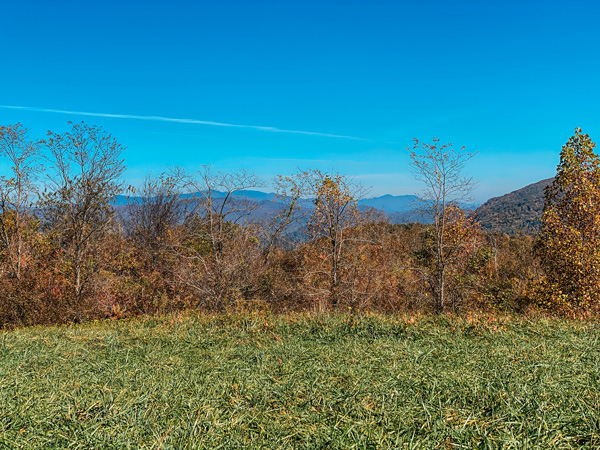 Bearwallow Mountain Trail
Bearwallow Mountain offers two trails: an easy to moderate hike through the forest or a 1-mile path on a gravel road, totaling a little under 2 miles round trip.
You'll end in a huge pasture with cows and gorgeous views of the mountains. People love to picnic or do yoga here. It's a tad smelly, and the cows will both look at and ignore you. Grab our Guide To Bearwallow Mountain.
---
In need of more picnic spots? Don't miss these Asheville Picnic Areas.
---
What Can You Do After Hiking The Trombatore Trail?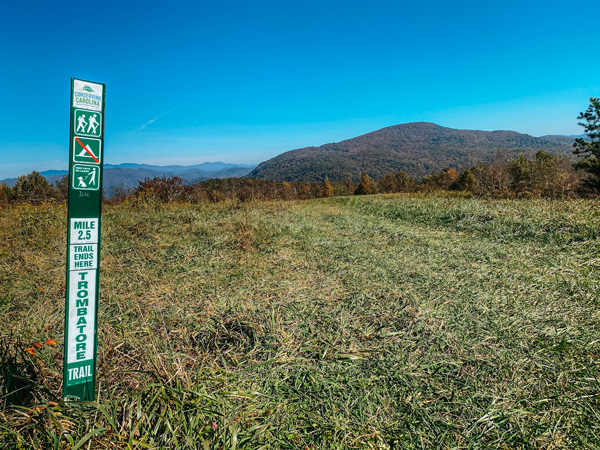 Around 25-minutes away, dip into one of our favorite areas that's like a mini-Asheville: Hendersonville.
Hendersonville is famous for its wineries. We are wine club members at Burntshirt Vineyards. If you are looking for a sleek and new winery, try Marked Tree Vineyard or Stone Ashe Vineyards. St. Paul and Point Lookout are over there, too.
Along with wine, Hendersonville is infamous for its seasonal apple orchards. Open in the fall, find cider, corn mazes, and the best donuts around.
---
---
What Should You Pack For Trombatore Trail?
I always recommend packing survival basics and extra food and water for longer hikes. This is not a comprehensive list but a few items to consider:
Hiking Backpack – I hike with an Eddie Bauer backpack that I love. It's lightweight and breathable. Plus, I carry more stuff when it gets colder. Packing clothing layers is essential for me.
Trekking Poles/Walking Sticks – It never hurts to hike with a little support for those leaves, rocks, and slippery spots.
Stainless Steel Water Bottle – We don't use water bladders. I like my stainless steel water bottle since it holds the temperature, doesn't perspire, and contains no harmful by-products. It never hurts to pack a filter or water cleaning tablets, too, in case you run out.
First Aid Kit – I would either make your own First Aid Kit or buy one — even if it's compact. You just never know if you will trip or cut yourself on a rock. Having a flare, matches, and whistle is always a good idea, too.
Garmin GPS Navigator – We pair this handheld GPS device with a paid subscription to the Gaia app. We download maps before we go and keep eyes on our trail. Many people use AllTrails, too. Anyone can get lost on the North Carolina hiking trails.
Where Can You Stay Overnight Near The Trombatore Trail?
Trombatore Trail is close to Asheville, Hendersonville, and Chimney Rock. Don't miss these cabins, cottages, and hotels near Trombatore Trail in Chimney Rock.
Our Hendersonville Accommodation Rec:
When we first came to Asheville to house hunt, we stayed at the 1898 Waverly Inn Bed and Breakfast. They host a social happy hour with friendly hosts.

You can walk into downtown Hendersonville and grab sushi at Umi — our favorite. Find more Hendersonville hotels and B&Bs here→
If you are looking for Asheville-based hotels:
Aloft – Downtown Asheville – The Aloft is newly renovated and stunning. We work with this hotel for our other website, The Uncorked Librarian, and we've visited numerous times. The views from The Ledge are stunning, and they have a rooftop pool with mountain views.
Hampton Inn And Suites Asheville Biltmore Area – We stayed at this Hampton Inn before we moved to Asheville, NC. It's across from the Asheville Outlets, and they are a great central location between DuPont State Forest and Biltmore as well as downtown Asheville. Grab sandwiches at Apollo Flame Bistro.
If you want to stay in Asheville, check out our master list of accommodations.
Save This Post For Later
Have you hiked the Trombatore Trail? What are your favorite lesser-known hikes around Asheville, NC?
Have you been to Trombatore Trail and enjoyed a picnic? What other quiet trails do you love in Western North Carolina? Do you have any questions? Please let us know in the comments.
Western North Carolina Hiking Trails To Love
40+ Hikes Near Asheville We Love
Fall Foliage Hikes Around Asheville For Leaf Chasers
Best Winter Hikes Near Asheville
Asheville Waterfall Hikes
More Fun Things To Do Around The Area
50+ Best Things To Do In Asheville, NC
Where To Picnic Around AVL
Explore Hendersonville, NC