Are you headed to Sky Top Orchard in Flat Rock, North Carolina? Discover the 8 best things to do at Sky Top apple orchard this fall.
Fall in Asheville is one of our favorite times of the year. Having lived in the land of the oranges for so long, we demand one thing from our Asheville autumn: APPLES!
Show us all things apple. Apple cider, caramel apples, apple cider donuts, hard cider, apple cider slushies, and just crunchy AF apples.
If you are looking for the best North Carolina apple orchards, some of the nicest are in Henderson County.
In fact, the area is known as "Apple Alley," a play on the area's Apple Valley.
Hendersonville and Flat Rock are home to expansive apple farms along with restaurants, historic downtown areas, breweries, and wineries.
So, which apple orchard should you visit first to gorge on cider donuts in this apple country oasis?
If you are looking for mountain views with the best apple cider donuts that we've ever demolished in seconds, head to Sky Top Orchard, NC. Those babies come out of the frier steaming hot.
Sky Top Orchard is only about 45 to 50-minutes away from Asheville in Flat Rock, North Carolina.
Sky Top apple orchard boasts hayrides, apple cannons, a bamboo forest, and a barnyard. Of course, they have U-pick apples.
Keep reading to uncover the best things to do at Sky Top Orchard to welcome the fall season. This includes fun for the entire family and even couples like us.
As Asheville locals, we'll also share where you can grab lunch, our favorite nearby fall hikes, where to stay, and what else is in and around Flat Rock and Hendersonville, NC. Let's get started!
Read more about Hendersonville's famous apple orchards.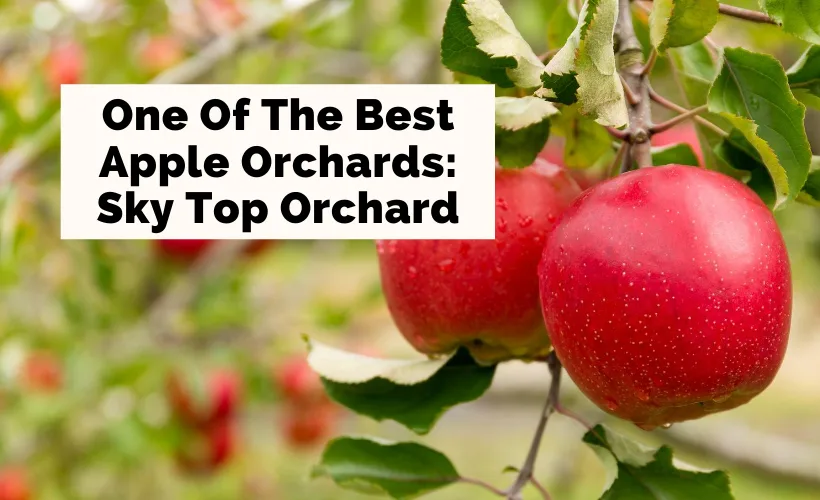 This post may contain affiliate links that earn us a commission at no extra cost to you. If you love these guides, support Uncorked Asheville here.
If you need a place to stay, book a hotel, Bed and Breakfast, cabin, or cottage in Hendersonville here.
Nearby Flat Rock, NC has some great accommodations, too.

Don't miss our Asheville Accommodation Recs, too.
8 Best Things To Do At Sky Top Orchard
1. Devour A Hot Apple Cider Doughnut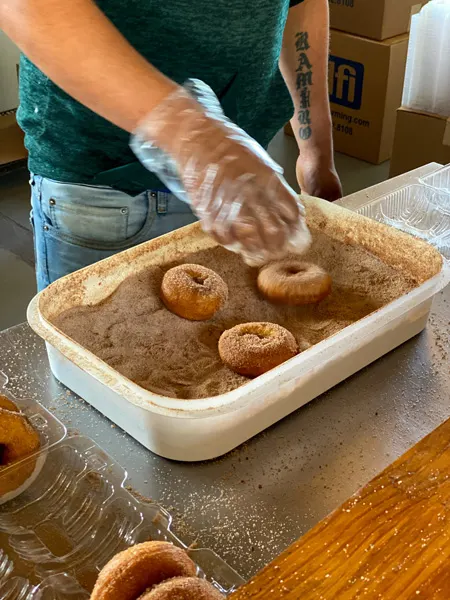 At the entrance to Sky Top Orchard, piping hot apple cider donuts beckon to the hungry (or not hungry) fall traveler.
Watch as donut bakers shake your treats in cinnamon and sugar and serve them steaming hot.
Hypnotic and addicting, you'll watch as crazed apple cider doughnut fanatics immediately find a bench and dig right in.
You will do the same. Nothing beats a warm, fresh donut.
Full disclosure: these puffy little treats of delicate yet gooey amazingness are not allergy-intolerant friendly, by any means. They contain milk, gluten, etc etc.
The line may get long, and occasionally, Sky Top will run out of donuts.
2. Pick Your Own Apples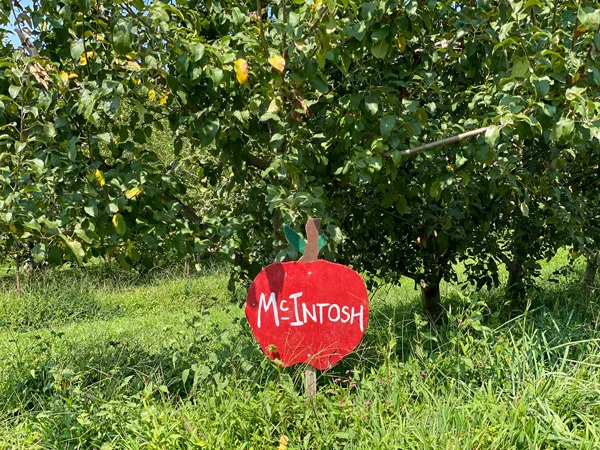 Whether or not you are a local or a tourist, we are pretty sure that you have to pick apples.
U-Pick Season near Asheville and the orchards around Hendersonville tend to close up shop around the end of October. Sometimes, you can find a longer picking season based on the weather.
Apples found at Sky Top Orchard include Macs, Golden Delicious, Red Delicious, Fuji, Rome, and Pink Lady — just to name a few. Nothing beats that panoramic mountain view, either.
We won't lie: you may have to walk pretty far out to get those apples. Wear good shoes.
With the seasonal rain, the orchards turn to slippery muck full of mud. Plus, encounter your usual bees and mushy fallen apples.
You may also buy pre-packaged apples at the store along with pumpkins, jams, and your typical orchard delicacies.
3. Blast Some Apples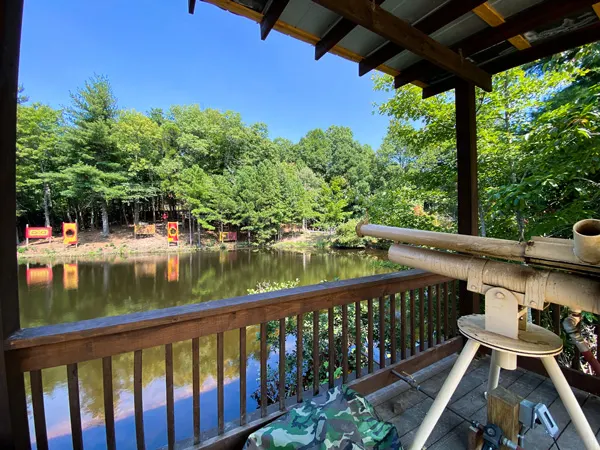 Did you hear a loud "boom" while you were apple picking? That's probably Sky Top's apple blaster. Tom couldn't resist…
For $5 (in 2021), they hand you 8 apples to fire at targets across the pond. Don't worry: it's easy to use/stationary and the goats eat the apple carnage.
4. Shop At The Farm Store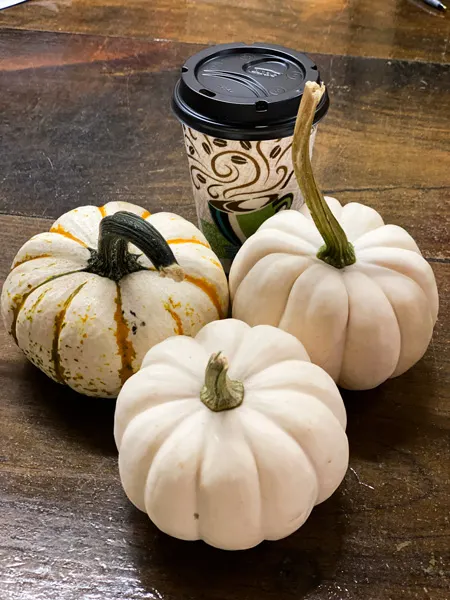 Don't forget that Sky Top Orchard sells fall treats in their farm store. Visitors can purchase cold, hot, or hard cider. They have caramel and candied apples along with jams.
We love Sky Top Orchard's slushies. We usually pick up some baby pumpkins for our fireplace. Nothing makes our heart sing 'fall' more like a little white pumpkin in the palm of our hands.
You can also purchase caramel and candy apple supplies to decorate apples at home.
Never Miss Another Asheville Update
---
Tired of generic Asheville travel itineraries? Experience Asheville like a local with our free Asheville Favorites checklist, including restaurants, breweries, and hiking. Plus, get local updates – including events and hidden gems – straight to your inbox. Sign up here.
5. Meet The Barnyard Animals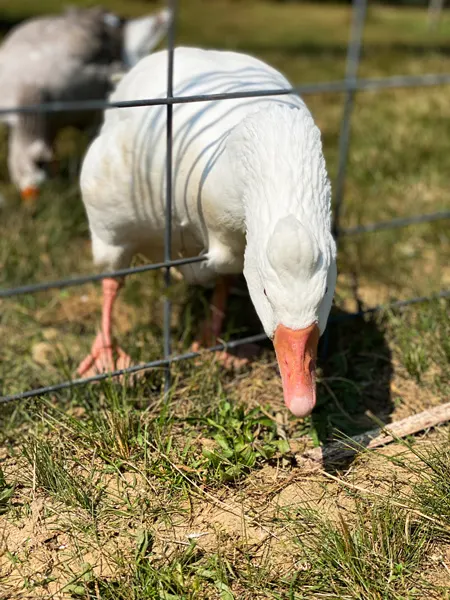 After you fuel up on donuts, take your sugar high over to the various farm animal locations.
Sky Top apple orchard is home to peacocks, sheep, goats, ducks, and chickens. Bring your quarters for the feeders.
Watch out for the bees around the animals.
6. Walk Through A Bamboo Forest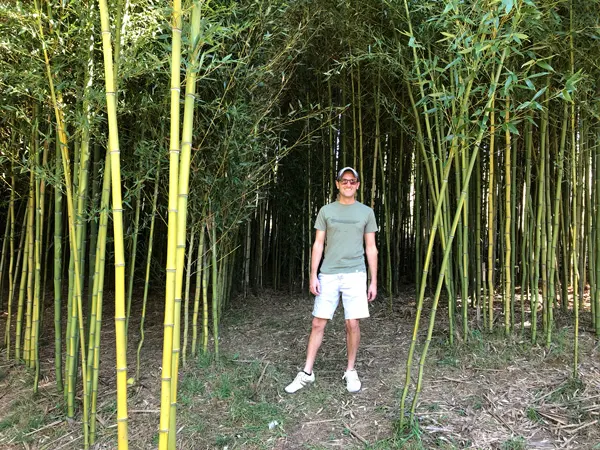 Located on your way to apple picking and the farm animals, discover the weirdest and coolest North Carolina feature: a bamboo forest. Who knew?! Not us.
Yes; there is a bamboo forest in the middle of an NC apple orchard. You'll randomly spy bamboo across WNC, even at Biltmore and in people's yards.
Small but incredibly stunning, take a stroll through the bamboo forest — and no, this is not the same as a corn maze.
Free to enter, gaze up at hollow, green bamboo stalks. Spend about 5-10 minutes walking through to the other side.
7. Slide On The Playground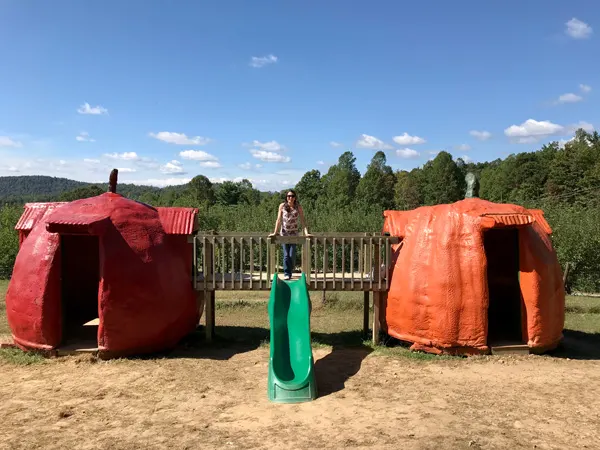 We recently saw a sign at the Biltmore playground that said you had to be 12-years-old or under to play on their wooden castle.
OK, we get it: we don't want creepy adults hanging out with the kids or smashing their noggins on too petite entranceways.
BUT we don't have kids — just cats — and we wanted to slide!
Perfect for the entire family, find wooden houses, giant pumpkin and apple playhouses, and slides. Chill on a picnic table and enjoy the fresh air and mountain views.
Read more about all of the family-friendly activities around Asheville.
8. Take A Tractor Ride Or Hop On The Bee Train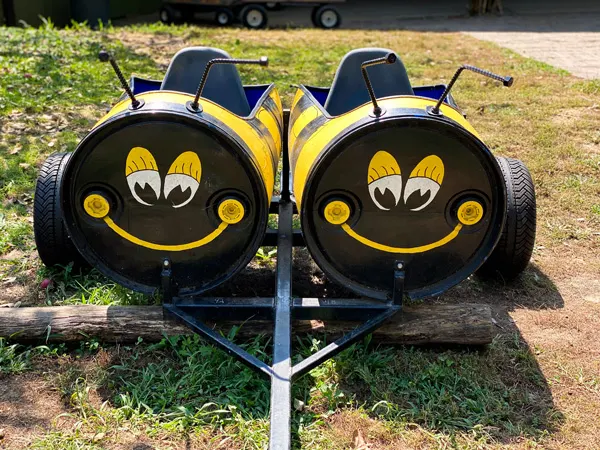 Sky Top Orchard offers tractor and hayrides through the orchard.
They also have a small bee train for children. The bee train is incredibly cute.
All You Need To Know About Visiting Sky Top Orchard
Contact Information
Physical Address (not for your GPS, though):
1193 Pinnacle Mountain Rd
Flat Rock, NC 28790
As Sky Top Orchard notes on their website, you want to use a different GPS address or you'll end up with the cows.
GPS Address:
3403 Greenville Highway
Flat Rock, NC28731

Phone Number: (828) 692-7930
Website: http://www.skytoporchard.com/
Directions To Sky Top
If you are coming from Asheville, you will hop on I-26E. We've taken back road detours to miss traffic along I-26.
Take Exit 54 for Flat Rock, and then get off at Exit 5 where you will take a right. Follow the signs for Sky Top Orchard, which will lead you to Pinnacle Mountain Road. Take a left, and climb that hill.
Parking is free, and when visitors slam the orchard — usually weekends — attendants may help you find a spot in their various lots. Lots will fill up quickly, too.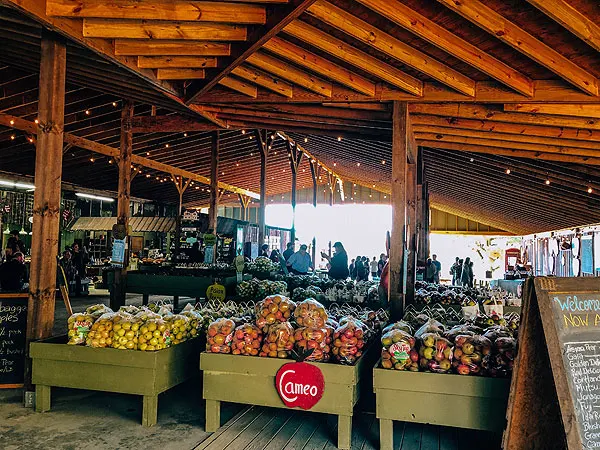 Sky Top Orchard, NC Hours
Sky Top is open from mid-August to around November 28. Open 7 days a week in season, except for Thanksgiving, hours of operation are 9 AM to 6 PM until Daylight Savings ends. After DST, they close at 5 PM.
Please always check the Sky Top Orchard website for updates just in case.
When Is The Best Time To Visit Sky Top Orchard?
Sky Top Orchard, like most places in and around Asheville in the fall, grow terrifyingly busy during the weekends, especially from 10:00 AM to 3:00 PM.
In fact, Sky Top Orchard has been known to hit parking capacity. They advise that if this happens, come back on a less busy day/time.
We always recommend visiting popular fall places such as the apple orchards and waterfall hikes on weekdays right at opening or an hour or two before closing. Earlier is usually always better.
Don't miss our Asheville Fall Color Forecast to catch the most vibrant fall foliage.
Sky Top Apple Orchard Picking Schedule
Sky Top Orchard grows over 22 varieties of apples. U-Pick Season usually starts in September and goes until the end of October. Sometimes the apple picking season will last into early November.
Because some of your favorite and the more well-known apples aren't available all season, we recommend checking the orchard's picking schedule.
Typically McIntosh, Gala, and Ginger Gold apples grow earlier in the season followed by Jonathon, Jonagold, Red & Golden Delicious, and Cortland.
Granny Smith, Fuji, and Pink Ladies are usually available toward the end of the season.
Sky Top Orchard Pricing
Admission and parking are free, even to the bamboo forest. Expect to pay for any goodies that you purchase at the store or if you decide to pick any apples.
Headed to Sky Top Orchard? Save This Post For Later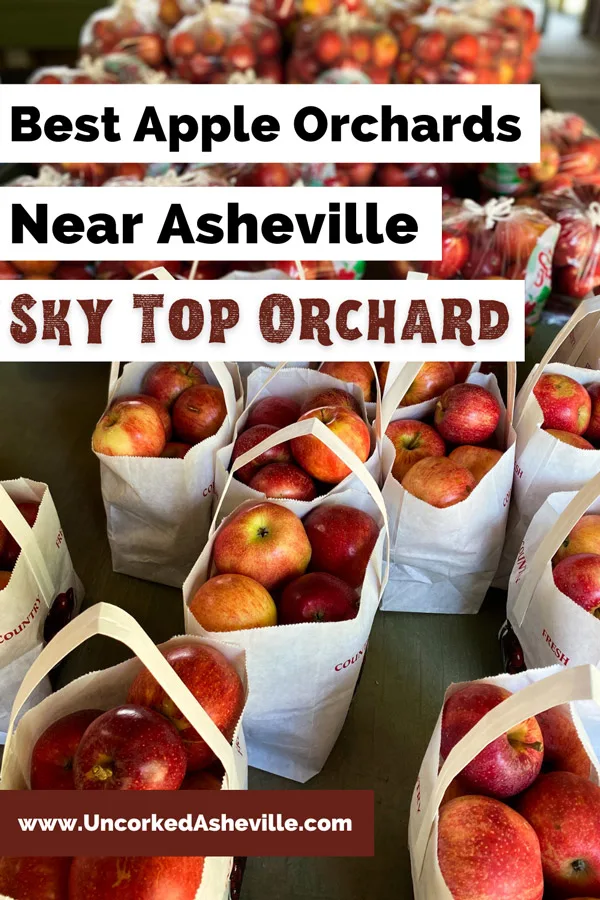 Where To Stay Near Sky Top Orchard, NC
Where To Stay In Hendersonville:
1898 Waverly Inn – This is a quaint historic B&B with a little library and delicious breakfast. Happy hour was our favorite here, and the hosts possess a wealth of knowledge about the area.
The Charleston Inn – Next door to the Waverly Inn, this quaint 16-room property is within walking distance of Downtown Hendersonville. Built in 1880, and formerly known as The Claddagh Inn, this building now sits on the National Register of Historic Places. Children and pets are considered on a case-by-case basis.
Echo Mountain Inn (Laurel Park) – Echo Mountain Inn is a stone 1896 Bed & Breakfast featuring a breakfast buffet, multiple rooms with fireplaces, and a seasonally opened swimming pool.
The Melange Inn – A 1920 historic Hendersonville mansion, enjoy a romantic getaway within walking distance of Downtown HVL. Visitors may also book the entire house, which comfortably sleeps 18 guests.
Search for more hotels, B&Bs, inns, cabins, and cottages in Hendersonville, NC.
If you need a place to stay, book a hotel, Bed and Breakfast, cabin, or cottage in Hendersonville here.
Nearby Flat Rock, NC has some great accommodations, too.

Don't miss our Asheville Accommodation Recs, too.
Things To Do Around Sky Top Orchard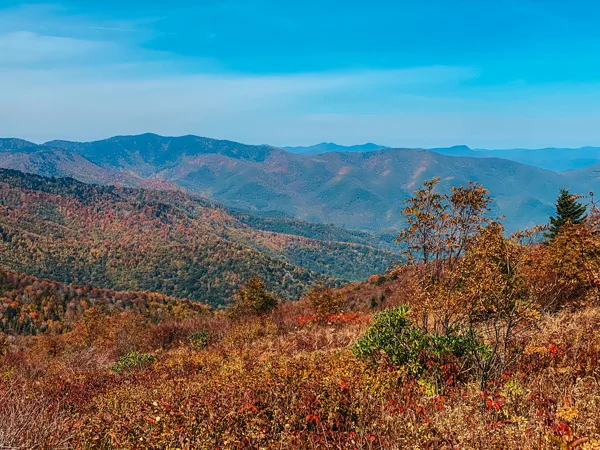 Tour Around Apple Alley
If you love apple orchards and are looking to drink even more cider, get lost in a corn maze, and find the best donuts in North Carolina, make sure to tour the rest of the Hendersonville apple orchards.
Don't miss one of our other favorites, Stepp's Hillcrest, and be sure to check out their sunflowers and corn maze.
You can also visit Mountain Fresh Orchards, Justus Orchard, and Grandad's Apples, just to name a few.
All of the orchards are fairly close together and make for a beautiful fall country drive and Asheville day trip.
Grab Lunch & Beer In Downtown Hendersonville, NC
Hendersonville is about 20-minutes from Sky Top Orchard. Be sure to head this way for lunch after a full orchard morning.
There is so much to do in Hendersonville, including eating.
A few restaurants that we've enjoyed include Umi Sushi and Haus Heidelberg German Restaurant. Grab the full list of the best Hendersonville restaurants here.
Hendersonville also has a quaint downtown perfect for shopping and grabbing drinks or a coffee. Did we mention the hopping Hendersonville breweries?
Similar to Asheville's delicious beer scene, Hendersonville is all about that small-batch, craft beer.
Try Oklawaha Brewing for gluten-reduced beers, D9 for sours, or Guidon for their Southern taproom
Or, Have Lunch In Downtown Flat Rock, NC
Flat Rock is small but has plenty of things to do, including enjoying a picnic at The Park At Flat Rock or visiting the Carl Sandburg home.
For food, locals love Hubba Hubba Steakhouse and Flat Rock Village Bakery. For some of the best Thai food around Asheville, we love Boon Choo.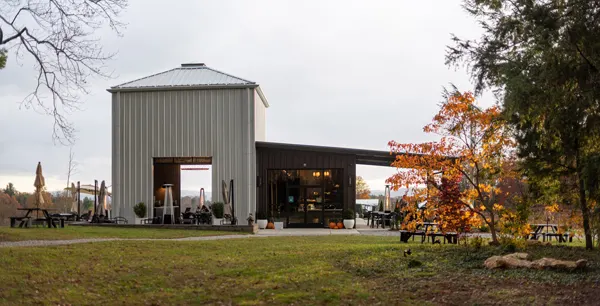 Visit The Gorgeous Wineries
Hendersonville is infamous for its wineries like Stone Ashe Vineyards, Sawyer Springs, and Point Lookout.
Encounter sweeping views while wine tasting with both indoor and outdoor seating.
Of course, Marked Tree Vineyard in Flat Rock is a must, especially during a foggy autumn day. Read more about the wineries around Asheville here.
Take A Beautiful Fall Hike
Hiking in and around Asheville in the fall is a must. If you are looking to hike off all of that sugar, why not head to the Carl Sandburg home, Chimney Rock, or check out one of our favorite fall hikes?
DuPont State Forest's waterfalls are also extremely popular around this time of the year. Of course, the Blue Ridge Parkway near Asheville promises to take away your breath.
Explore Famous Asheville, NC
Grab our Asheville fall bucket list, perfect for leaf chasers. Don't miss a sunset at the Grove Park Inn, and find even more gorgeous waterfall hikes.
Since we are Asheville-based travel writers, don't miss our ultimate guide to discovering Asheville, NC. Think Shakespeare under the stars and a haunted LaZoom bus comedy tour.
Catch an Asheville Tourists baseball game, drink all of the beer, and dine at the stellar Asheville restaurants.
Have You Been To Sky Top Orchard For Apple Picking?
Have you been to Flat Rock or Sky Top Orchard yet? What do you love about Sky Top apple orchard?
More importantly, which of the apple orchards near Asheville, NC do you think has the best doughnuts? Let us know in the comments!
You May Also Enjoy: