Are you headed to Sky Top Orchard in Flat Rock, North Carolina? Discover 5 must fall activities in order to have the best trip to this popular North Carolina apple orchard and destination.
Fall in Asheville is one of my favorite times of the year. Having lived in the land of the oranges for so long, I demanded one thing from my Asheville autumn: APPLES! Show me the apples. Apple cider, apple donuts, hard cider, and just crunchy a*s apples.
If you are looking for North Carolina orchards and apple farms, some of the best are in Henderson County, which is also known as "Apple Alley." Hendersonville and Flat Rock are home to numerous orchards along with restaurants, historic downtown areas, breweries, and wineries.
Yes: I personally think visiting anywhere within Hendersonville, Flat Rock, and Brevard are worth a detour from your Asheville visit.
Along the 40-50-minute drive from Asheville–about 30 miles south of the city–you feel as though you are entering the country. Cows, horses, farms, and Mother Nature. I always love how drastically Asheville differs from its southern neighbors.
Do I have you convinced that you need a city reprieve?
So which orchard should you pillage apples and gorge on cider donuts from first in this country oasis? If you are looking for mountain views with the best apple cider donuts that I've ever demolished in seconds, head to Sky Top Orchard in Flat Rock, NC.
5 Things You Can Do At Sky Top Orchard This Fall:
Play outside on the wooden playground
Eat a steamy donut
Feed the farm animals
Walk the bamboo forest
Pick apples
---
Disclosure: This site may contain affiliate links for products and services I recommend. If you make a purchase through these links, at no additional cost to you, I will earn a small commission. Read my full disclosure for more information.

---
Did You Really Even Visit Sky Top Orchard If You Didn't Partake In These 5 Musts?
What should you do at Sky Top Orchard? EVERYTHING!! But, there are definitely some musts because I'm pretty sure you didn't even go to Sky Top if you didn't do the following things: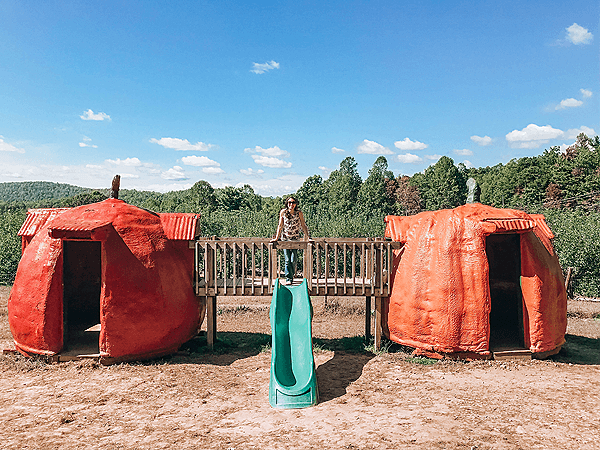 1. Play outside in the playground
I recently saw a sign at the Biltmore playground that said you had to be 12 years old or under to play on their wooden castle. OK, I get it: we don't want creepy adults hanging out with the kids or smashing their noggins on too petite entrance ways.
BUT I don't have kids–just cats–and I wanted to slide! Thank gosh, Sky Top Orchard has a huge outdoor playground and hopefully rules that I didn't miss.
Perfect for the entire family, find wooden houses, giant pumpkin and apple playhouses, and slides. Chill on a picnic table and enjoy the fresh air and mountain views.
2. Fuel up with a steamy donut
At the entrance to Sky Top Orchard, donuts await your anxious and drooling tastebuds. Find all other fall treats, like cold or hard cider and slushies, in their marketplace. I'm pretty sure these infamous apple cider donuts stay outside because the lines get long, and yes, they may run out of the goods.
Watch as donut bakers shake your donut crack in cinnamon and sugar and serve them piping hot. Hypnotic and addicting, you'll watch as crazed donut fanatics immediately find a bench and dig right in–you must do the same. Nothing beats a warm, fresh donut. I ate two before my husband even realized it.
Full disclosure: these puffy little treats of delicate yet gooey amazingness are not allergy-intolerant friendly by any means. My husband, who has Celiac's, watched me inhale a donut with milk–and yes, I am lactose-intolerant. A Lactaid and stomachache are more than worth the price I'll pay. Don't tell my GI doctor, please.
3. Say 'Hi' to the farm animals
We definitely learned a little more about the birds and the bees with a very horny goat…pun intended.
After you fuel up on donuts, take your sugar high over to the various farm animal locations to see peacocks, sheep, goats, ducks, and chickens. Bring your quarters for the feeders.
This year, Sky Top Orchard added a bee train for the kids, but we did not see it running while we visited. I don't think my Italian butt would have fit in a bee barrel anyway…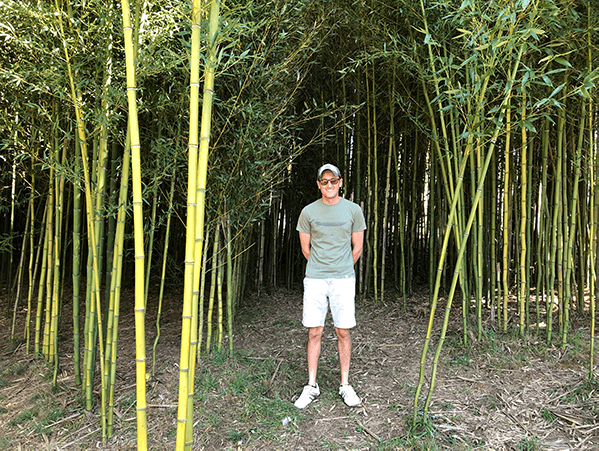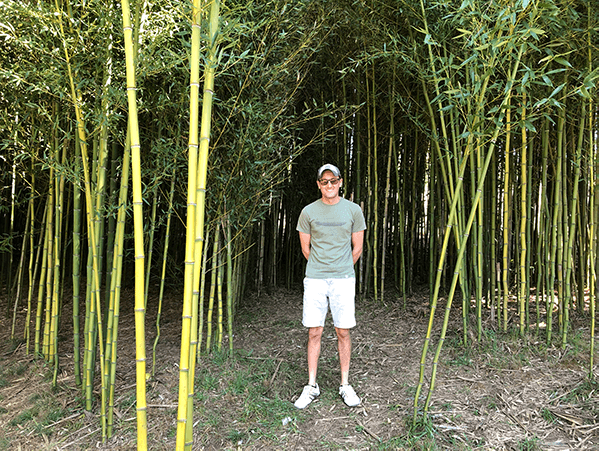 4. Stroll through the bamboo forest
Located on your way to apple picking and the farm animals, discover the weirdest and coolest North Carolina feature: a bamboo forest. Who knew?! Not me.
As an English major, I won't go all agricultural-scientific on you, but YES, there is a bamboo forest in the middle of an apple orchard in NC.
Small but incredibly stunning, talk a stroll through the bamboo forest–and no, it's not the same as a corn maze. Free to enter, gaze up at hollow, green bamboo stalks and spend about 10-minutes walking through to the other side.
---
---
5. Pick your own apples
Whether or not you are a local or a tourist, I am pretty sure that you have to pick apples. U-Pick Season near Asheville and the orchards around Hendersonville tend to close up shop around the end of October–but sometimes you can find a longer picking season based on the weather.
Apples found at Sky Top Orchard include: Golden Delicious, Red Delicious, Fuji, Rome, and Pink Lady, just to name a few. Nothing beats that panoramic mountain view, either.
I won't lie: you may have to walk pretty far out to get those apples. Wear good shoes because with the fall rain, the orchards turn to slippery mud. Plus, there are your usual bees and mushed fallen apples.
You can also buy pre-packaged apples at the store along with pumpkins, jams, and your typical orchard delicacies.
---
---
P.S. You can also book Asheville tours here.
Sky Top Orchard Location, Hours, And Directions
Address
Physical Address:
1193 Pinnacle Mountain Rd
Flat Rock, NC 28790
But, as Sky Top Orchard notes on their website, you want to use a different GPS address or you'll end up with the cows.
GPS Address:
3403 Greenville Highway
Flat Rock, NC28731
Directions
If you are coming from Asheville, you will most likely hop on I-26E. We've taken back road detours to miss traffic. And yes, 1-26 is a total BEAR lately. With construction and fall tourist season, expect unforeseen delays and traffic at all times of the day.
Take Exit 54 for Flat Rock, and then get off at Exit 5 where you will take a right. Follow the signs for Sky Top Orchard, which will lead you to Pinnacle Mountain Road. Take a left, and climb that bad boy.
Parking is free, and when visitors slam the orchard–usually weekends–attendants will help you find a spot in their various lots.
Hours
Sky Top is open mid-August to December. Open 7 days a week, except for Thanksgiving, hours of operation are 9 AM to 6 PM until Daylight Savings ends. After the clock change, Sky Top Orchard closes a little earlier at 5 PM.
Please check their U-Pick Schedule since apples are finicky with the weather.
Pricing
Admission and parking are free, even to the bamboo forest. Expect to pay for any goodies that you purchase at the store or if you decide to pick any apples.
As of 2019, we paid a flat fee of $20 for one full basket of apples.
Contact
Please always double-check this information on the Sky Top Orchard website, as it is subject to change.
You can reach Sky Top at (828) 692-7930.
---
---
Picking Apples At Sky Top Orchard Will Famish You…Check out these Restaurants Afterwards
Where To Eat In Downtown Hendersonville
Hendersonville is about 20-minutes from Sky Top Orchard in Flat Rock. We tend to head this way for lunch after a full orchard morning. A few restaurants we've enjoyed in Hendersonville include:
Where To Eat In Downtown Flat Rock
Downtown Flat Rock is about 10-minutes away from Sky Top Orchard. We have yet to fully explore Flat Rock and its restaurants; a few places that come highly recommended include:
Pin The Perfect Plan Of Attack For Sky Top Orchard