For nature lovers, head to Pink Beds Trail in the Pisgah Forest in WNC. Trek the easy but lengthy Pink Beds Loop and end with a rewarding picnic.
Conveniently located off of the Blue Ridge Parkway, enjoy one of the flattest hiking trails near Asheville, NC.
Hike a gorgeous 5.5-mile loop filled with summertime flowers and butterflies.
Plus, find yourself in a mountain bog, one of Southern Appalachian's claims to fame. Bogs are pretty rare in the U.S.
Even more special, Pink Beds Loop and picnic area are located in the Cradle of Forestry.
If you've read The Last Castle by Denise Kiernan, George W. Vanderbilt funded this forestry initiative, helping create the first school for forestry in the United States.
So, have we convinced you to hike Pink Beds Loop? As Asheville locals, we'll share all that you need to know about Pink Beds Trail in the Pisgah Forest.
Plus, we'll help you explore even more stunning hikes and waterfalls around Pink Beds Trail Loop, including those in the Pisgah National Forest and along the Blue Ridge Parkway.
See where to grab a beer afterward, too. Let's get started!
Don't miss our Master Guide To Asheville Hiking.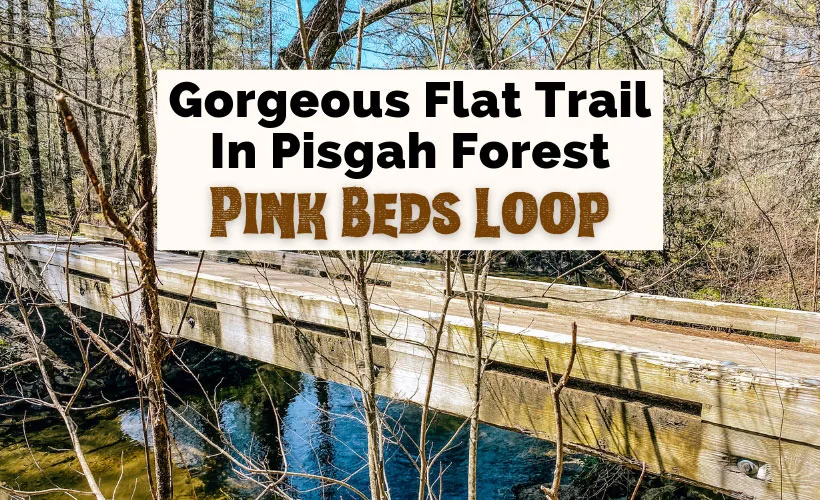 This post may contain affiliate links that earn us a commission at no extra cost to you. If you love these guides, support Uncorked Asheville here.
Pink Beds Trail Quick Stats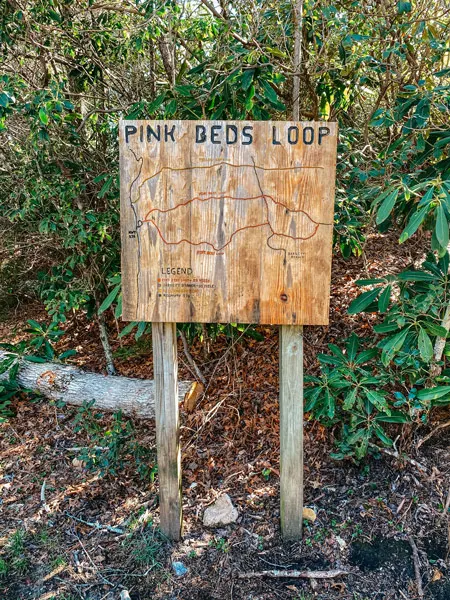 Distance From Asheville, North Carolina: 1 hour; 35 miles
Address: Pink Beds Picnic Area, Pisgah Forest, NC 28801

Parking: Same parking lot for trail and picnic area; paved lot
Hike Difficulty: Easy but lengthy
Length: Pink Beds Loop is about 5.5-miles from the parking lot (5.3-miles from the actual loop); you can also hop on the Barrett Branch Connector Trail to cut across and shorten the loop.
Duration Of Hike: The loop will take you about 2.5 to 3 hours
Type Of Hike: Loop with orange/red-ish blazes on posts and trees; there are bridges and boardwalks
Don't miss these inns, hotels, cottages, and cabins around Brevard, NC. Or, stay in our area in Asheville, NC.
Never Miss Another Asheville Update
---
Tired of generic Asheville travel itineraries? Experience Asheville like a local with our free Asheville Favorites checklist, including restaurants, breweries, and hiking. Plus, get local updates – including events and hidden gems – straight to your inbox. Sign up here.
Why Hike Pink Beds Trail In The Pisgah National Forest?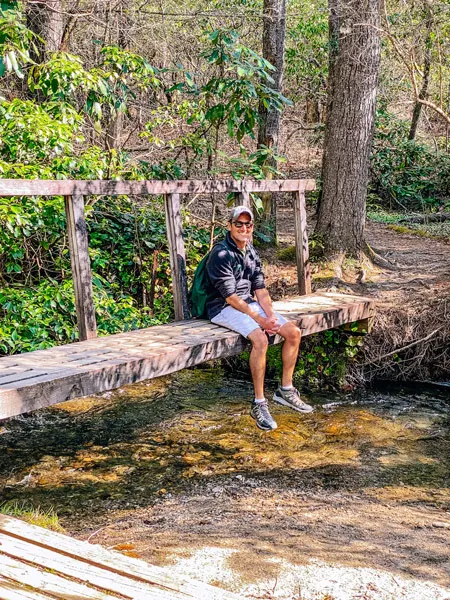 If you are looking for a long but easy hike in the Pisgah Forest and the Blue Ridge Mountains, Pink Beds Loop is for you.
It's rare to find a fairly flat hike that's also covered by the forest canopy around Asheville, NC. Located in the Cradle of Forestry – think George Vanderbilt – this hike is perfect for nature seekers.
In the summer, the trail lights up with vibrant flowers, and you'll see hummingbirds, butterflies, and a variety of the critters and birds that inhabit Western North Carolina.
You'll love the scenic bridges, boardwalk, and endless spots to picnic along the trail.
Or, wait until you finish the Pink Beds Loop and picnic in their designated picnic area. Find picnic tables and facilities.
Read more about the best picnic spots near AVL.
When Is The Best Time To Hike Pink Beds Loop?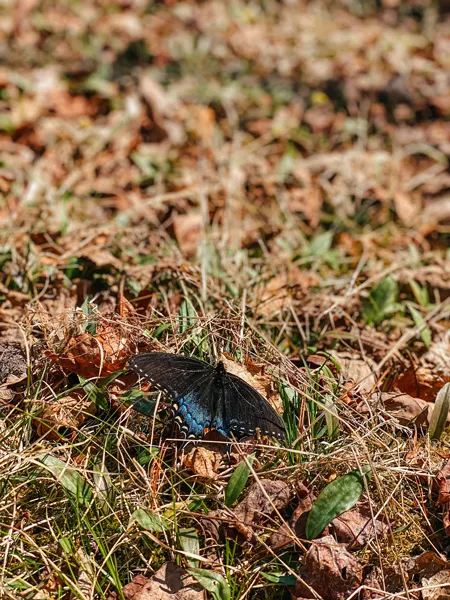 Pink Beds Trail is perfect in June for its gorgeously blooming mountain laurel and rhododendron. Much of the trail is covered by trees, too, shading hikers from the summer sun.
We also enjoy Pink Beds Loop in the spring for the colorful butterflies. Grab a picnic table to soak up the sun. The trail will become mucky after rain.
How Do You Get To Pink Beds Trail From Asheville?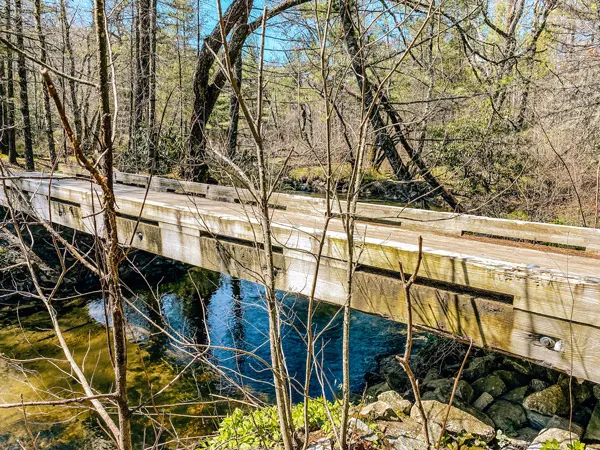 From downtown Asheville, hop on I-240 West to I-26 East. Take Exit 40, and turn right onto Hwy 280. Turn right onto US 276. The trailhead parking lot will be on the right.
Or, take a more scenic drive down the Blue Ridge Parkway (when it is open): From downtown Asheville, hop on I-240 West to I-26 East. Take Exit 33 for NC-191 toward Blue Ridge Parkway.
Turn left onto NC-191 South/Brevard Rd, turn right for the BRP, and take another right onto the BRP past The NC Arboretum.
You'll turn left onto US-276 South. Drive until you see the park entrance/picnic area sign on your left.
Where Can You Head After Hiking Pink Beds Loop? What Else Is Nearby?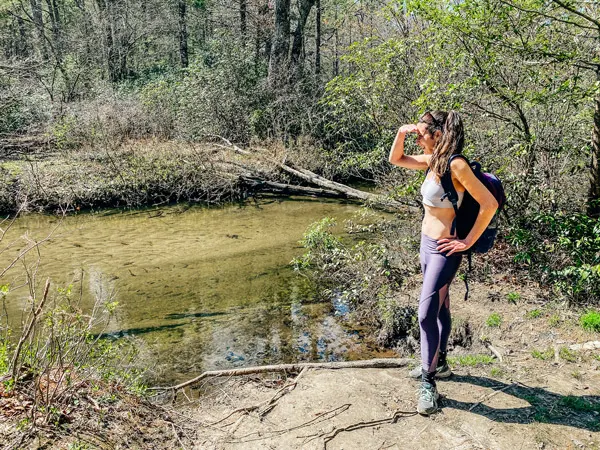 DuPont State Forest
Located near Brevard, DuPont State Forest is a must. You could spend a full day at DuPont or just a few hours.
Trek their 3-waterfall hike to Hooker, Triple, and High Falls.
Triple Falls in the movie, The Hunger Games. You could also trek to Bridal Veil Falls, which is a The Last Of The Mohicans filming location.
DuPont is a popular hiking area and great for families. Read our complete DuPont State Forest Guide.
If you love hiking and nature, explore more waterfalls near Asheville.
More Hikes & Falls In The Pisgah National Forest
The Pisgah National Forest is a gorgeous place to hike, picnic, and chase waterfalls. Around Pink Beds Picnic Area and Trail find Sliding Rock, Daniel Ridge Falls, and Cove Creek Falls.
You can also drive right up to Looking Glass Falls or hike Moore Cove Falls.
Blue Ridge Parkway Hikes & Waterfalls
If you wanted to head back to the BRP, you could also check out Fryingpan Mountain Tower, Mount Pisgah, or Skinny Dip Falls.
Please just remember that parts of the BRP close in late fall/winter due to weather conditions.
Uncover the best BRP hikes.
Downtown Brevard
Brevard has a walkable historic downtown and tons of cafes, restaurants, and breweries. Snag our complete list of Brevard Breweries.
Mills River
Mills River is also known for a Fabulous And Famous Cidery & Multiple Breweries.
Think Bold Rock Cidery, Mills River Brewing, Burning Blush, and Sierra Nevada. Grab a bite to eat, too, at one of their delicious food trucks or on-site restaurants.
Where To Stay Around Daniel Ridge Falls, Brevard, & Asheville
Don't miss these inns, hotels, cottages, and cabins around Brevard, NC.
Of course, since we are an Asheville travel blog, don't miss our Master List Of Places To Stay In Asheville.
Save This Post For Later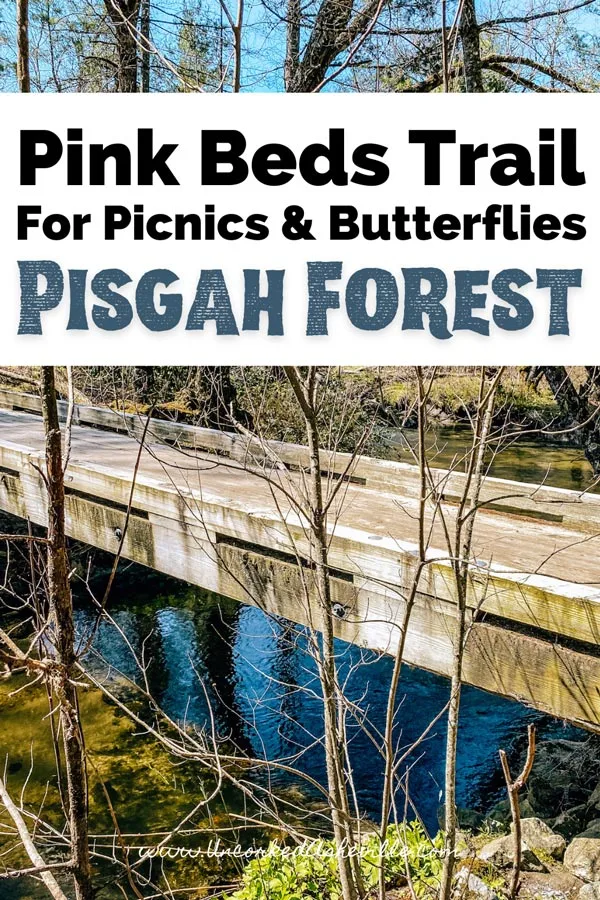 Have you hiked Pink Beds Trail?
Have you been to the Pink Beds Picnic Area? Did you hike the loop or take the connector? What did you think? What are your favorite Pisgah National Forest hikes? Where did you head afterward? Let us know in the comments.
What Should Be Your Next Adventure?
Do All The Things In Asheville, NC
Fun Asheville Day Trips
All Waterfalls
Trail Guides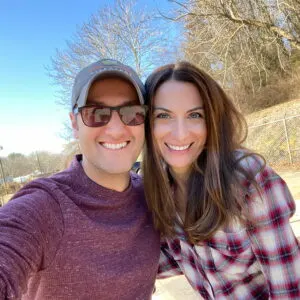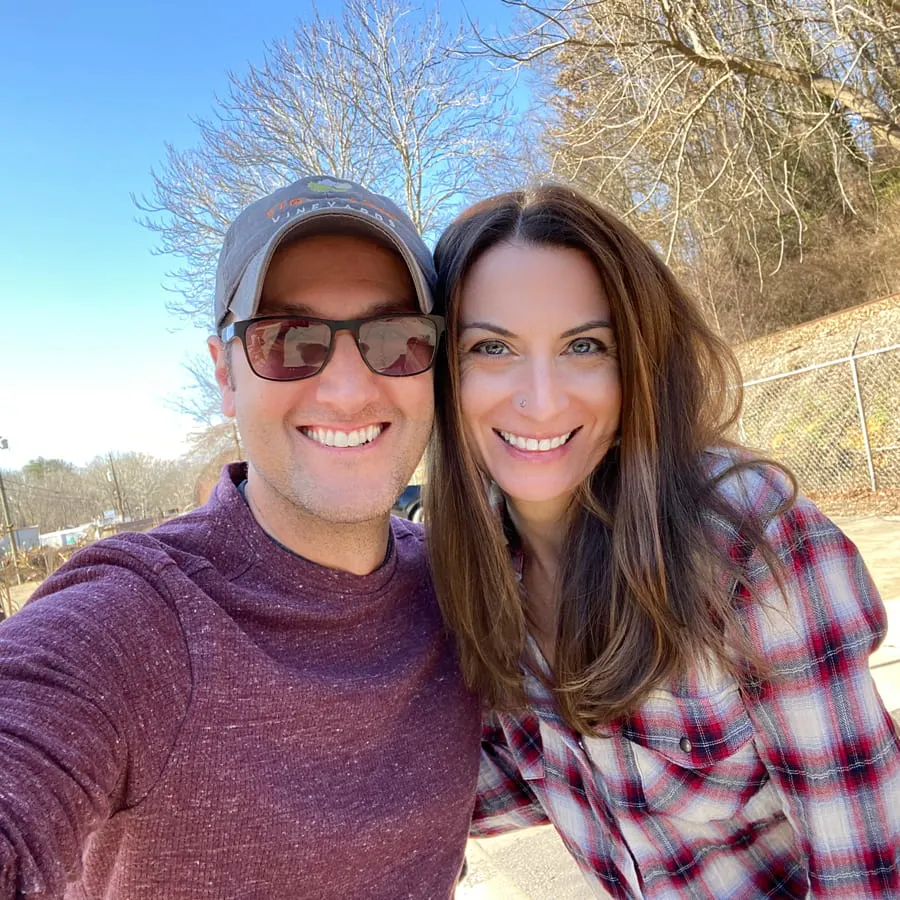 Christine (pronouns: she/her) is the owner and lead writer of Uncorked Asheville. After falling in love with those gorgeous Blue Ridge Mountains, Christine and her husband Tom decided to call Asheville, North Carolina their home. When her pointy Italian nose isn't stuck in a book, Christine is adopting all of the kitties, getting lost in the forest, and drinking an ESB.
Christine has a BA in English and History from Smith College, her MLIS from USF-Tampa, and is a former U.S. Fulbright Scholar - Indonesia. She also owns The Uncorked Librarian LLC with books and movies to inspire travel.