Hoping to see some elk and wildflowers? Stroll the easy Oconaluftee River Trail in Great Smoky Mountains National Park.
Where should you start in the Smokies? I always feel like a good answer is at the beginning.
We are not Smoky Mountains pros yet, but #goals as AVL residents. If you want to dive into Great Smoky Mountains National Park from Asheville, start with Mingo Falls and the Oconaluftee Visitor Center and Trail.
Technically, Mingo Falls is right outside of the entrance, but you cannot miss this beauty as part of your Cherokee, NC experience.
Then, head toward the educational Oconaluftee Visitor Center to refresh, grab information, and say hi to some…elk! Immediately behind the Oconaluftee Visitor Center, walk or bike the mostly flat Oconaluftee River Trail, which is technically in Charleston, NC.
In the spring, nothing beats those mountain wildflowers next to the Oconaluftee River.
So, are you ready to enjoy an easy nature walk? Keep reading to discover all that you need to know about the Oconaluftee River Trail.
Plus, we'll help you explore even more of Cherokee, Maggie Valley, and the Great Smoky Mountains. Let's get started!
Read more about Western North Carolina's Gorgeous Hiking Trails Near Asheville.
---
This post may contain affiliate links for products and services we recommend. If you make a purchase through these links, at no additional cost to you, we will earn a small commission. Read the full disclosure here.
---
Oconaluftee River Trail Quick Stats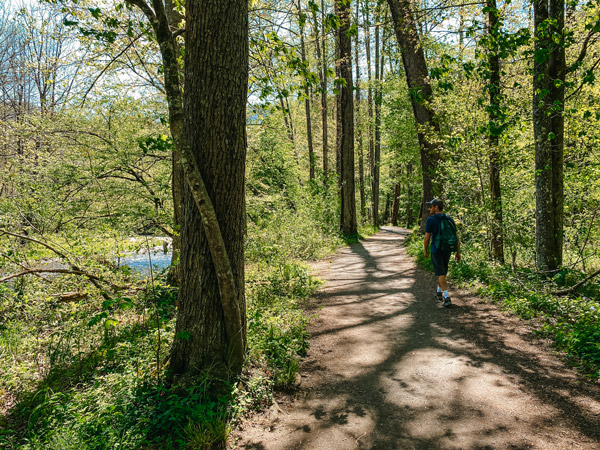 Distance From Asheville, North Carolina: Slightly under 1.5 hours; 57 miles
Address: Oconaluftee Visitor Center 1194 Newfound Gap Rd, Cherokee, NC 28719

Parking: Paved parking lot and facilities
Hike Difficulty: Easy
Length: 3 miles
Duration Of Hike: One hour
Type Of Hike: Mostly flat out and back; pet, bike, and kid friendly
Don't miss these inns, hotels, cottages, and cabins around Cherokee. Or, stay in our area in Asheville, NC.
Never Miss Another Asheville Update
---
Are you tired of generic Asheville travel itineraries? Do you want to experience the magic of Asheville like a local?
Grab our free Asheville Favorites checklist today, including restaurants, breweries, and hiking. Plus, get local updates straight to your inbox. Sign up here.
---
Why Hike The Oconaluftee River Trail?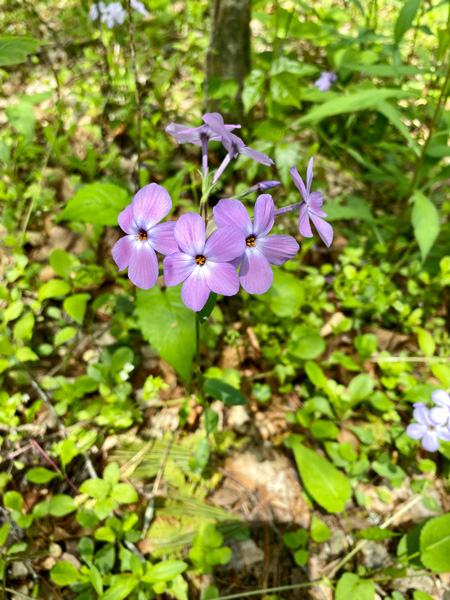 The Oconaluftee River Trail is one of two trails in the Smoky Mountains where visitors can walk their dogs on a leash and/or ride bikes. The Gatlinburg Trail in TN is the second.
This is a great trail for families with young children. A flat and easy 3-mile out and back, walk along the scenic Oconaluftee River.
Along the trail, view Cherokee exhibits about artwork, traditions, and spiritual beliefs.
The trail consists of hard-packed dirt. April into early May is one of the best times to see over 40 species of wildflowers.
We are not flower experts, but we saw violets, crested dwarf iris, and wild geraniums. You can also see trillium, purple phacelia, and phlox — to name a few. Think purple.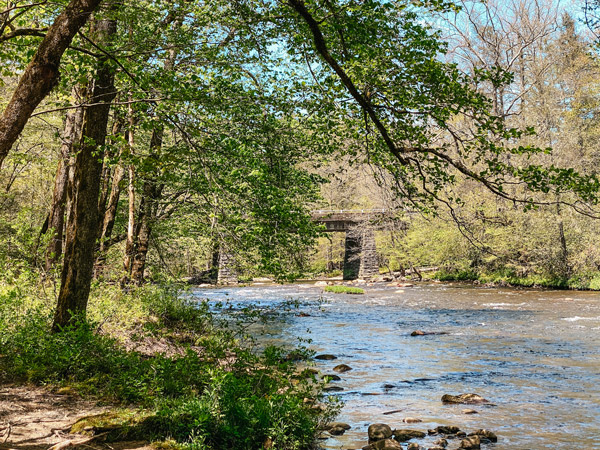 You'll find geese chilling out in the river and sometimes even elk. In fact, the elk may suddenly walk out in front of you. Just stay back and leave them be — it's the law*.
We also enjoy the Oconaluftee River Trail because you'll pass the open-air Mountain Farm Museum. Freely explore a collection of log buildings dating back to the late 1800s and early 1900s.
You'll see the Davis House, which is constructed from American Chestnut wood. Get a feel for how Smoky Mountain farmers lived back in the day.
*Please remember that it is illegal to come within 50 yards of the wildlife, feed the wildlife, or take and pick rocks or plants. I suggest reading the NPS's Laws & Policies before heading into the Smokies.
---
You may also want to check out nearby Mingo Falls.
---
When Is The Best Time To Hike The Oconaluftee River Trail?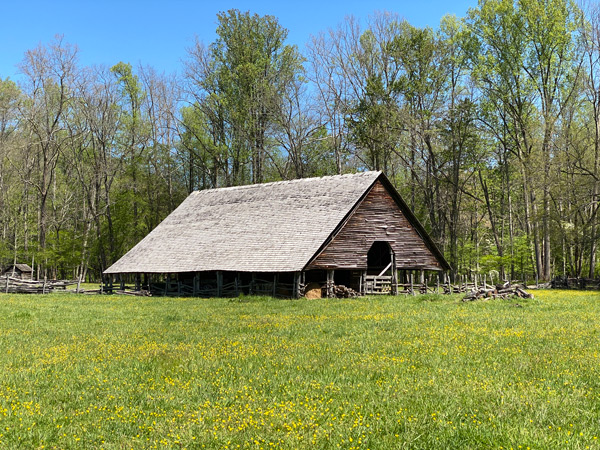 If you want to catch both the spring blooms and elk, head to the Oconaluftee River Trail and Visitor Center in the spring.
Plus, the Smokies will grow busier deeper into the spring and summer. We always recommend arriving as early as possible to beat the crowds.
Don't forget that if you are accessing certain parts of this area in the winter via the Blue Ridge Parkway, most sections of the BRP close for weather. Double-check both the BRP and Smokies for road and gate closures.
How Do You Get To The Oconaluftee Visitor Center From Asheville?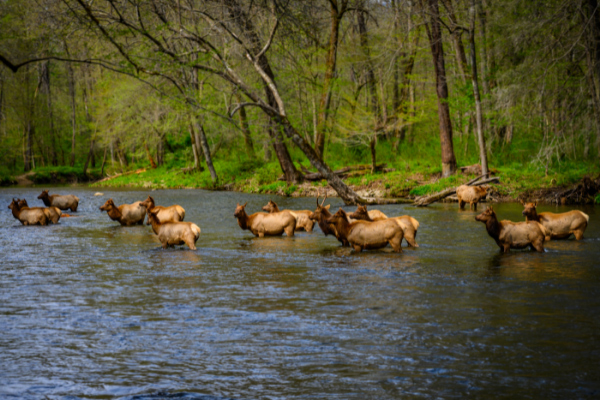 There are three ways from Asheville to access the Great Smoky Mountains National Park entrance in Cherokee, NC.
Typically the shortest from AVL, take I-240 West to I-26 East. Take exit 31B for I-40 West. Then, take exit 27 toward US-74 West. Get off at exit 103 toward Maggie Valley/Cherokee for US-19 South.
You could then either take the Blue Ridge Parkway to US-441 North, follow the BRP straight to the park, or use the Great Smoky Mountains Expressway from US-74 West (US-441 North) to the Oconaluftee Visitor Center.
We usually follow our GPS for the quickest route. Of course, the BRP — when open — is the longest but most scenic.
What Can You Do After The Oconaluftee River Trail Hike?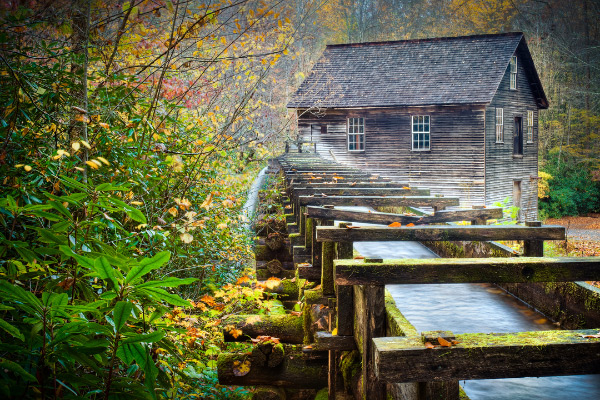 Immerse Yourself In History At The Oconaluftee Visitor Center
Since you are parking at the main entrance to Great Smoky Mountains National Park, don't miss the Oconaluftee Visitor Center. Here, you'll find restrooms, maps, and even a few Park Rangers to answer your questions.
Drop into the local gift shop if you forgot snacks, want to stock up on more water, or if you want to grab local literature and souvenirs.
That big field to the right? That's where you'll see those famous elk at certain hours of the day.
At the Visitor Center, you can tour the free Mountain Farm Museum and Mingus Mill. Don't miss the log farmhouse, barn, and apple house.
This area is perfect for younger children. See how families lived and worked in the Appalachian Mountains years ago.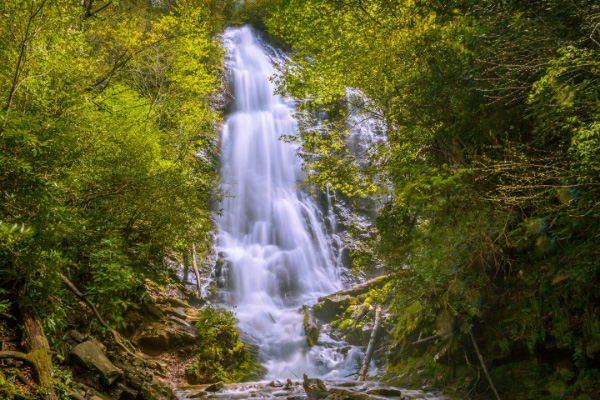 Hike 160 Steps To Mingo Falls
Just a little further down the road, don't miss one of the tallest waterfalls in Southern Appalachia. At 120-feet, Mingo Falls is sure to take away your breath.
Although the hike is under half a mile total, it's labeled as moderate. Navigate stairs, a steeper incline, and rocks and roots. Grab our Full Guide To Beautiful Mingo Falls.
Explore The Smokies, Cherokee, & Maggie Valley
Of course, the Smoky Mountains are filled with endless areas for camping, hiking, waterfall chasing, and elk and firefly spying.
You can grab this free downloadable travel guide from Visit Smokies. The National Park Service website will also help you plan your visit.
Cherokee, NC is home to the Qualla Boundary — 57,000 acres of land kept in trust by the federal government and owned by the Eastern Band of Cherokee Indians.
In Cherokee, you can tour the Museum of the Cherokee Indian, shop for pottery and souvenirs, or gamble at Harrah's Cherokee Hotel and Casino.
On your way back to Asheville, don't miss Soco Falls and Bearwaters Brewing Company – Creek Side in Maggie Valley.
Don't miss our list of top Asheville museums and historic sites.
Where To Stay Around Mingo Falls, Cherokee, & Asheville
Be sure to check out these inns, hotels, cottages, and cabins around Cherokee.
Of course, since we are an Asheville travel blog, don't miss our Master List Of Places To Stay In Asheville.
Save This Post For Later
Have you walked the Oconaluftee River Trail?
Have you been to Cherokee, Great Smoky Mountains National Park, or Mingo Falls? Did you walk along the river on the Oconaluftee River Trail? Did you see any elk? What did you think? Let us know in the comments.
Looking For More Adventures?
Top Things To Do During Your Asheville Vacation
Ultimate Guide To Asheville's Walking & Hiking Trails
Waterfalls To See Near Asheville, NC
Best Blue Ridge Parkway Hikes In North Carolina
Nearby Hikes & Waterfalls