NC Arboretum: 7 Soul Inspiring Things To Do
Don't miss The NC Arboretum in Asheville, North Carolina. Discover beautiful gardens and trails. Plus, The North Carolina Arboretum has Winter Lights, classes, and spots for picnicking.
We love living in Asheville for both the city as well as the outdoor activities. The beautiful mountains and nature sing to us. We witness vibrant flower blooms and mouth-dropping sunsets.
As locals, we own annual passes to both Biltmore Estate and The North Carolina Arboretum. We love Mother Nature (OK, and wine).
If you are looking for flowers and gardens, these attractions are your must-stops in Asheville.
Know that if you hear people saying The NC Arboretum, Asheville Arboretum, NC Arboretum, or The North Carolina Arboretum, these are all the same place.
However, the Botanical Gardens at Asheville are a completely different set of gardens and trails in North Asheville at UNC – Asheville.
When we say The NC Arboretum, we are talking about the stretch of 434-acres that is part of the Pisgah National Forest.
So, what is arboretum all about? Should you visit these stunning grounds while spending time in Asheville?
Who will enjoy The North Carolina Arboretum? What can you see and do? And, if you are a local, how can you continually enjoy this Asheville arboretum?
We'll share all of our favorites as NC Arboretum members. Let's get started!
Explore even more parks and gardens around Asheville.
This post may contain affiliate links that earn us a commission at no extra cost to you. If you love these guides, support Uncorked Asheville here.
See our Top Places To Stay in Asheville.

Don't miss out on these Asheville properties on Booking.com, too.
Who Will Enjoy The NC Arboretum?
The North Carolina Arboretum is truly perfect for everyone, especially if you love to get outside. North Carolina summers, especially in the mountains, are rarely scorching.
The Arboretum has both indoor and outdoor spaces as well as a plethora of shaded areas.
The grounds are wheelchair accessible (you can download a map on their website here). Service animals are allowed.
Families, couples, groups, and individuals will love all that The North Carolina Arboretum has to offer. Youth can find camps and school programs as well as appreciate some of the fun exhibits.
If you are visiting Asheville with the entire family, littles may enjoy geocaching or exploring the Nature Discovery Room.
Children can also join the arboretum's initiative, ecoEXPLORE, to discover and document plants and animals around the arboretum for badges.
Adults may take classes, and couples can enjoy a romantic picnic. Everyone can bike, hike, and admire the gardens and trails.
While specific hikes are more moderate than others, you'll also find some of the most chill and easy trails to navigate – although we tend to wander on different paths by accident.
Visiting The NC Arboretum? Save This Post For Later
How Much Time Can You Spend At The NC Arboretum?
As locals, we love returning to this Asheville Arboretum again and again. The exhibits change frequently, and we crave the stunning, low-key trails, especially in the warmer months or when we are short on time.
Plus, The NC Arboretum trails don't seem to get as wildly busy as the Blue Ridge Parkway hikes.
You can easily fill an entire day at the Arboretum. Below, you'll find all of the wonderful things that you can do. Plus, you may want to pack a lunch for a picnic or stop by the Bistro.
However, if you are short on time or visiting Asheville for just a bit, I'd budget at the very least 45 minutes to one hour just to see the gardens and walk around.
If you are planning on walking the trails, we usually stay for at least a few hours.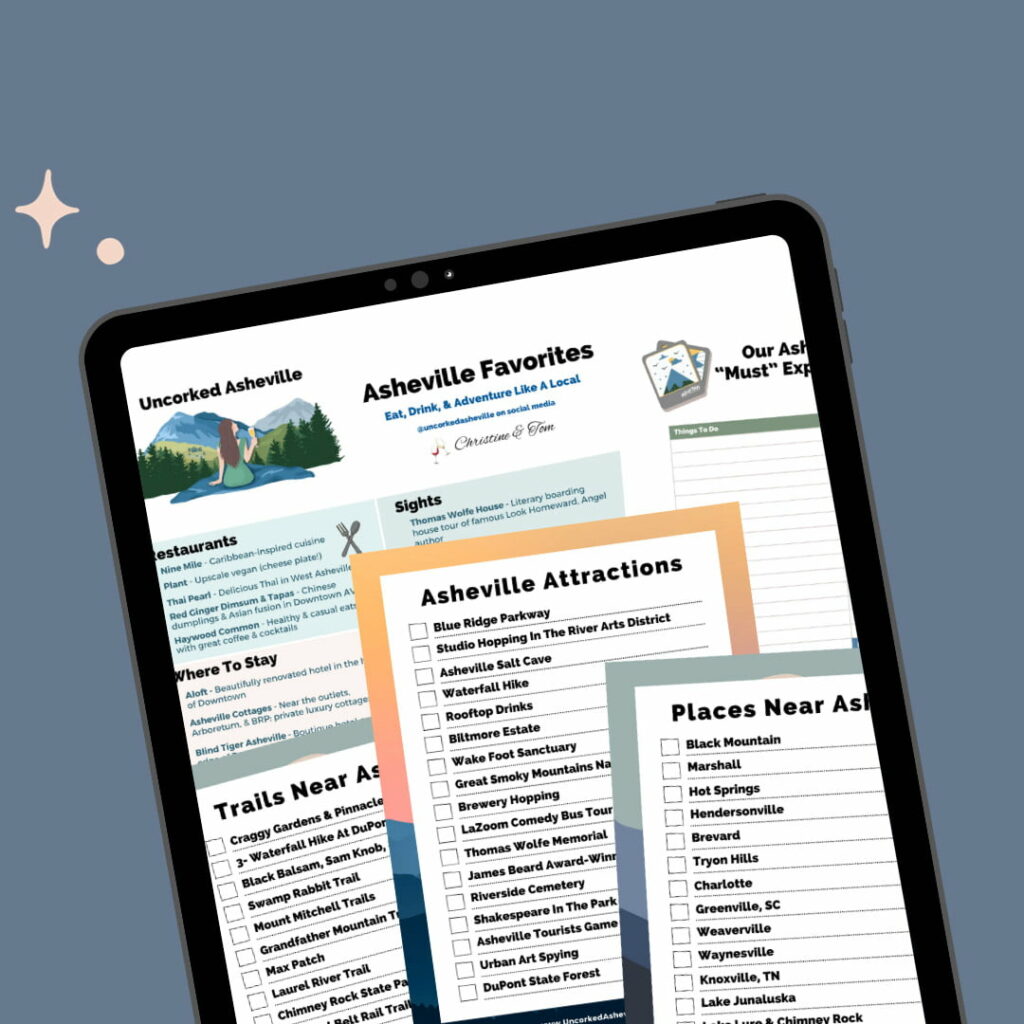 Never Miss Another Asheville Update
Experience Asheville like a local with our free attractions, dining, hiking, and day tripping guides. Get events, updates, and more straight to your inbox from Christine.
7 Serenity-Inducing Things You Can Do At The North Carolina Arboretum
1. Walk The Beautiful Gardens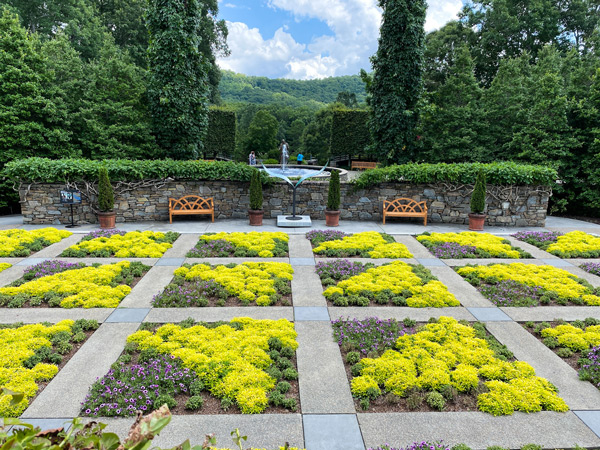 Did you know that The North Carolina Arboretum has over 65 acres of cultivated gardens? Before you go, you can print out a map of the grounds that includes all of the gardens and trails.
We did not even know that quilt gardens existed until we visited the Arboretum.
Located at the heart of their main gardens, climb the stairs to look over the beautiful quilt garden, which lives up to its namesake.
Around this area, visitors can read about a variety of plants and wildlife ranging from wildflowers, herbs, and cacti. Don't forget to say hi to the butterflies, dragonflies, bees, and other critters living among the flora and fauna.
If you crave spaces like this, read more about Asheville's numerous peaceful parks and gardens.
2. Admire The Bonsai Trees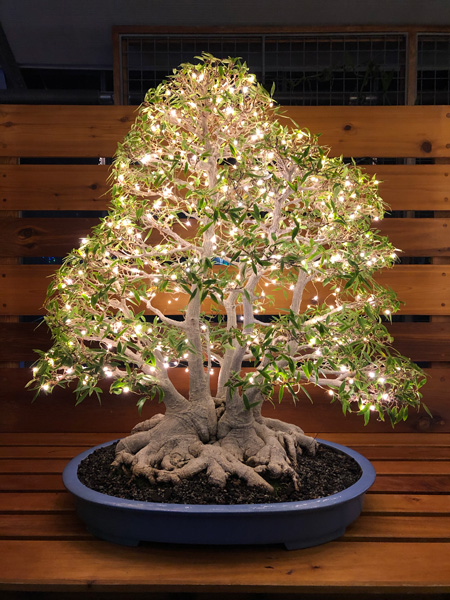 If you are fascinated by bonsai trees, you'll love The NC Arboretum's Bonsai Exhibition Garden. With over 100 bonsai, you can see American, European, and Asian-originated bonsai with an Appalachian touch
3. Hike Or Bike One Of The Numerous NC Arboretum Trails
Hiking
Nothing beats hiking in Asheville. The NC Arboretum has 10+ miles of hiking trails that also connect to the Blue Ridge Parkway, Pisgah, and Lake Powhatan.
We frequent the Bent Creek Trail. Uncover 1.3 miles of pathways along gorgeous streams with benches and spots for relaxing. The trail is more of an easy walk and dips into the trees.
We also like following Bent Creek until it intersects with the Carolina Mountain Trail. This hiking path forms a loop around the Arboretum, which is slightly more moderate and adds an extra 1.2 miles to your trip.
For extremely casual walkers, you might also enjoy the .75 Natural Garden Trail, which is both easy and scenic.
All of the Arboretum's trails are perfect for Asheville winter hiking, especially when the BRP shuts down.
Biking
The North Carolina Arboretum has gravel roads and recreational loops perfect for mountain bikers.
The longest biking trail suited for families is Bent Creek Road at 1.3 miles. Slightly harder try Running Cedar Road at .5 miles.
None of the NC Arboretum biking trails are very long, and of course, you can see all of them on the Arboretum map. There are different parking lots to pick up some of them.
Explore even more great biking trails in Asheville.
4. Picnic Or Relax On A Hidden Bench With A Book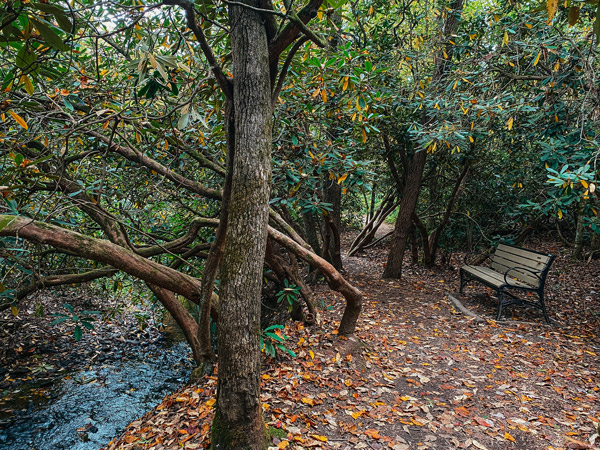 With its grassy and shaded areas, The NC Arboretum is the perfect place for a picnic. Picnics and outside food and drinks are allowed unless otherwise specified (some special events don't allow them).
You also don't have to walk very far onto the property to find a picnic spot. If you want more privacy, walk a few minutes longer onto one of the nature trails.
You'll find benches, rocks, and patches of grass along the Bent Creek Trail.
Just don't forget to properly dispose of your trash to help protect the wildlife.
5. Learn More About Nature, Gardening, Constellations & Wildlife
If you love learning more about the Great Outdoors, discover courses, certificates, lectures, and professional development classes at the Asheville Arboretum. In fact, the Arboretum offers over 300+ classes a year.
You'll find anything and everything, including how to create a garden at home or care for your bonsai. Learn more about seasonal plants or how to locate a constellation in the night sky.
Journal out in nature or be able to name all of the birds you see on a hike.
6. Enjoy A Special Exhibit Or Event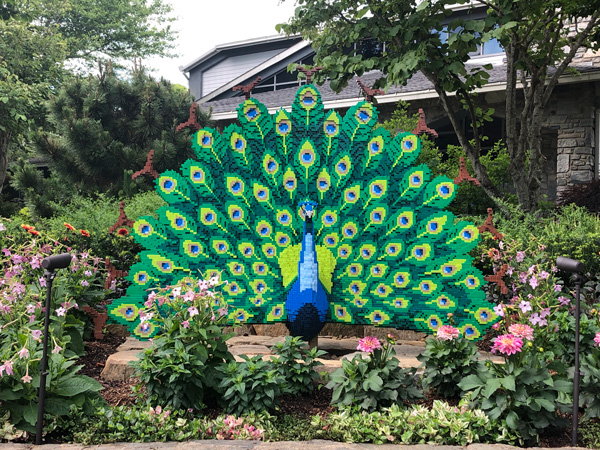 Just like a museum, the NC Arboretum hosts special exhibits. For example, this summer and fall 2020, LEGO Exhibits, including flowers, insects, and wildlife, greet the unsuspecting visitor.
The Arboretum also hosts Expos, music, and performances. At night, they have special events, too, including ArborEvenings. After hours, enjoy Mother Nature with music, treats, and lights.
7. Make S'Mores & Drink Hot Chocolate At Winter Lights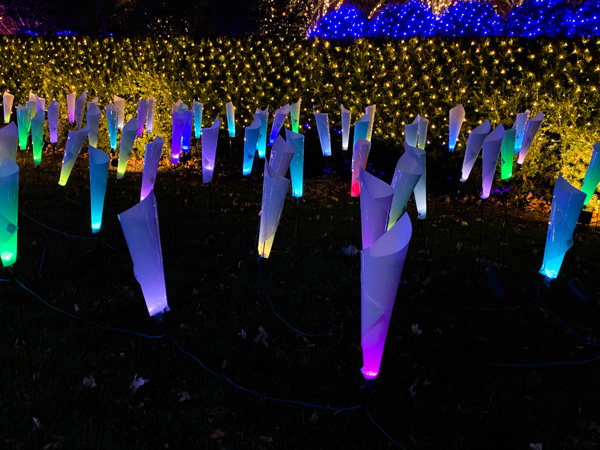 One of our favorite winter events in Asheville, don't miss The North Carolina Arboretum's Winter Lights.
With half a million holiday lights, everyone will love walking through rainbow tunnels and watching the tree lights dance to music. This is the perfect Asheville event for the entire family too.
Enjoy s'mores, booze, and peppermint hot chocolate along with a huge lighted tree in front of the Quilt Garden. Throughout the gardens, discover animal-shaped lights, chandeliers, and shadow boxes.
There are firepits — when the weather cooperates — and shop at the pop-up Christmas store.
Arboretum members will have to purchase a discounted ticket for Winter Lights.
Read more about all of Asheville's festive Christmas celebrations, and see where else you can find Christmas lights near Asheville.
Other Outdoor Attractions Near The NC Arboretum
The North Carolina Arboretum is incredibly close to the Blue Ridge Parkway (literary 30 seconds away), and of course, the heart of downtown Asheville is about 15 minutes' driving distance.
If you are looking at more outdoor activities to loop around to try:
Looking Glass Falls
You could head to Looking Glass Falls and drive right up to falls before or after your NC Arboretum visit.
The Falls are only about 35-minutes away and will take you through a beautiful part of the Pisgah National Forest in Brevard. This is also a great stop for a quick hike or picnic.
Nearby Looking Glass Falls, don't miss Moore Cove Falls and Daniel Ridge Falls.
Biltmore Estate
While you can easily spend an entire day at Biltmore, if you are looking to break up your day into two parts, you could also head to Biltmore in the AM and the Arboretum in the afternoon.
Biltmore is a must at least once for Asheville visitors. If you love gardens and trails, Biltmore has them along with a self-guided house tour (1.5 hours), cafes and restaurants, and the winery.
You can read more about all of the great things to do at Biltmore here. Biltmore also has fabulous kid-friendly activities.
Head over to Biltmore's website for ticket information.
Asheville Outlets
If shopping is your jam, the Asheville Outlets are only 6-minutes away from The NC Arboretum.
This shopping center stays pretty chill and is perfect for picking up some of your favorite brands with huge discounts. We get a lot of our hiking gear here.
Right next door is Papas and Beer, with delicious Mexican cuisine. Across the street, find Apollo Flame — two of our favorite Asheville lunch spots.
Honestly, we can never drive by Papas and Beer without stopping to grab a massive burrito and fajita dishes that last us for days. Plus, their margaritas are delicious.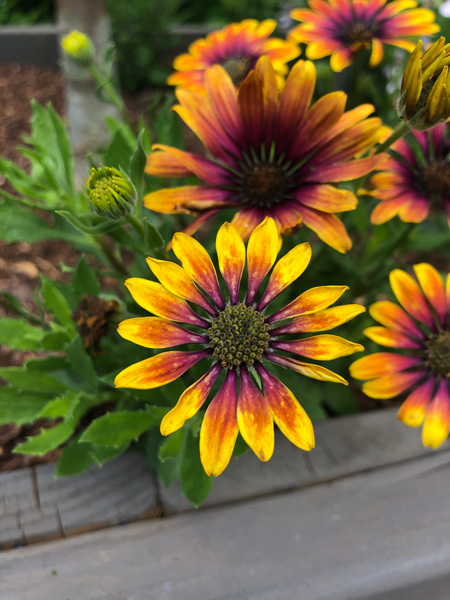 NC Arboretum Contact Info
The North Carolina Arboretum
100 Frederick Law Olmsted Way
Asheville, NC 28806
Phone: 828-665-2492
Website: https://www.ncarboretum.org/

Located in southwest Asheville right off of the Blue Ridge Parkway, The NC Arboretum is a part of the Pisgah National Forest.
Hours, Directions & Pricing
NC Arboretum Hours
Please check The NC Arboretum for the most updated hours, especially during this global pandemic.
As of July 2020, the NC Arboretum property is open from 8 a.m. to 7 p.m. Facility access hours are 9 a.m. to 5 p.m.
Directions
The NC Arboretum recommends plugging in '20 Frederick Law Olmsted Way Asheville, NC 28806′ for your GPS system. We've never had trouble getting there, but you want to follow Brevard Road/Highway 191 to arrive at the entrance.
Pricing
Do you have to pay to get into the Arboretum? Yes, but you only have to pay a parking fee unless you are a member; there are no other admission charges on the grounds besides for special events.
They also have a bistro and shops where you can purchase food, drinks, and souvenirs.
Always check for updates, but currently, parking fees at the Arboretum are the following:
Members: Free
Personal/Standard Vehicle: $16.00
Motorhomes/Larger Vehicle: $50.00
Receive 50% off parking on the first Tuesday of the month.
Active/retired veterans receive free parking on Memorial Day and Veteran's Day
If you are a Buncombe County resident, check your local library for a ZOOM Pass.
There are AAA discounts.
Membership
The North Carolina Arboretum is a 501(c)(3) non-profit organization and offers great prices to become an annual member. We've been members since moving to Asheville.
While there are numerous tiers of membership, the two most common and basic options are:
Individual: $50
Household: $70
With membership, receive discounts off of special events like Winter Lights, free parking, admission into other participating gardens and the zoo, and Bistro and shop discounts.
We also enjoy unlimited access to the Arboretum's hiking trails and gardens. We frequently bring a book and picnic here in the spring and summer.
Lodging In And Around The North Carolina Arboretum, Asheville
Asheville, NC Hotels
Hotels and B&Bs tend to book up fast in Asheville, especially in the fall, spring, and around holidays. Make dinner reservations wherever you can, too. A few hotels to consider that either we, our friends, or others highly recommend include:
Downtown Asheville
The Foundry Hotel
AC Hotel By Marriott Downtown Asheville
Hotel Indigo
Aloft – Downtown Asheville *One of our top picks; they renovated in 2020
Near The Asheville Outlets/Biltmore
Hampton Inn And Suites Asheville Biltmore Area *Our second favorite pick. We stayed here before we moved.
DoubleTree By Hilton Biltmore/Asheville
Grand Bohemian Hotel Asheville

North Asheville/Montford
The Omni Grove Park Inn *We frequently stop by the Grove Park Inn for sunsets, drinks, and food.
1900 Inn On Montford
Don't miss our Top Asheville Hotel, Resort & B&B Picks Here.
Let Us Know If You Go To The Arboretum In Asheville
We'd love to hear from you. If you head over to The NC Arboretum, please let us know what you think. What did you love and not so much enjoy? What did you do before or after your visit?
More places to enjoy similar to The NC Arboretum:
Biltmore Blooms
Winter Lights
Botanical Gardens At Asheville
Beaver Lake Trail & Bird Sanctuary
Picnic Areas
Romantic Places
Lakes
AVL Guide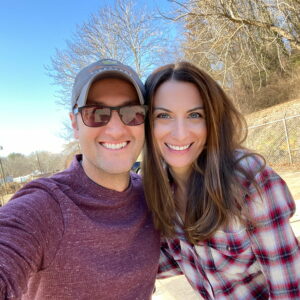 Christine (pronouns: she/her) is the owner and lead writer of Uncorked Asheville. After falling in love with those gorgeous Blue Ridge Mountains, Christine and her husband Tom decided to call Asheville, North Carolina home. When her pointy Italian nose isn't stuck in a book, Christine is adopting all of the kitties, getting lost in the forest, and drinking an ESB. She has a BA in English and History from Smith College, her MLIS from USF-Tampa, and is a former U.S. Fulbright Scholar - Indonesia. Christine also owns The Uncorked Librarian LLC with books and movies to inspire travel.