The Laurel River Trail is a largely flat, scenic, and pet and family-friendly hike near Asheville and Hot Springs, NC.
As Asheville locals, we love hitting the trails, and just like the beer, there certainly is no shortage of great hiking spots around the city, especially with the Blue Ridge Mountains and Pisgah National Forest right there.
It's also no secret that the trails along the Blue Ridge Parkway (BRP) are tourist hotspots, and rightfully so, as "America's favorite drive," filled with scenic overlooks, waterfalls, and breathtaking fall foliage hikes.
While we love the BRP, we are also a bit biased toward the Pisgah National Forest around the quieter Hot Springs and Marshall area.
Here, find Appalachian Trail access at places like Lover's Leap and Max Patch along with some of our favorite and less-frequented WNC mountain towns for food and beer.
The Laurel River Trail near Hot Springs, NC is one of these great hikes – and also where the locals go to picnic, walk their dogs, and hang out on the rocks.
Below, uncover our firsthand experience hiking around Big Laurel Creek and this peaceful trail.
See what to expect, when to go, and what to do nearby – from Asheville locals. Let's get started!
Read more about all of our top hikes around Asheville.
This post may contain affiliate links that earn us a commission at no extra cost to you. If you love these guides, support Uncorked Asheville here.
All You Need To Know About Hiking The Laurel River Trail
Laurel River Trail, NC Quick Stats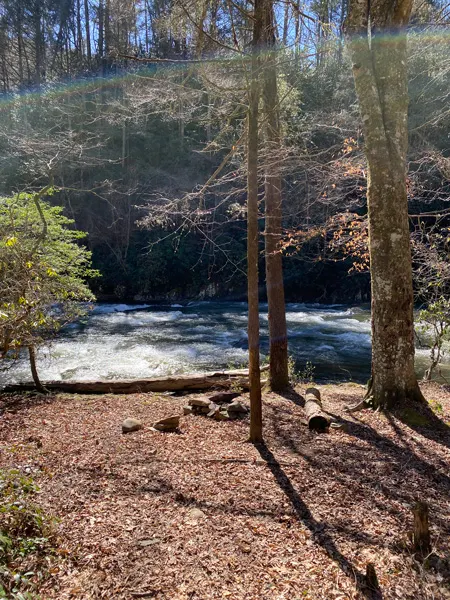 Distance From Asheville, North Carolina: 40 minutes; 30 miles
Address: Currently labeled as "Laurel Creek Trail" on Google Maps (it's technically, "Laurel River Trail;" not to be confused with the Laurel Creek Trail in TN). Make sure the trail is between Marshall and Hot Springs, NC.
Hike Difficulty: Easy; perfect for families and pets
Length: About 3.6 miles each way; because this is an out-and-back trail, hike as far as you like
Duration Of Hike: 2.5 to 3.5 hours+
Type Of Hike: Out and back; a few yellow blazes; gravel and packed dirt with tree roots and rocks; wet, slippery, and muddy, at times
Where To Stay Nearby: Marshall, Hot Springs, or Asheville
Why Hike This Trail? What Can You Expect?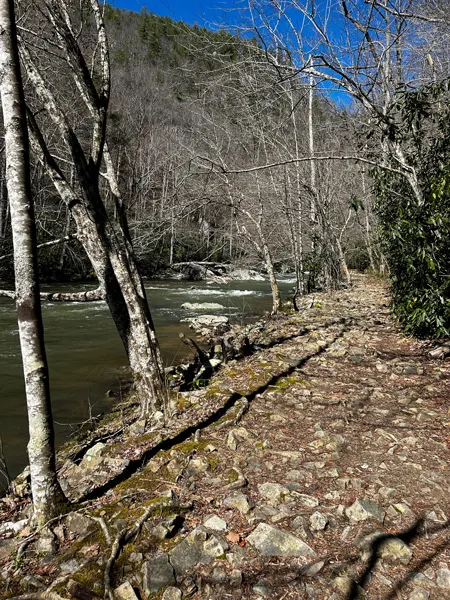 We are all about those Asheville day trips, and Big Laurel Creek is a gorgeous and popular area in Western North Carolina known for its Class III/IV rapids.
Even while hiking, you will see people whitewater rafting with the nearby adventure companies – many of whom are learning this daring skill. We've been tempted…
The Laurel River Trail follows along Big Laurel Creek to one of NC's abandoned towns, Runion, a former logging area.
The trail used to be a railroad bed, carrying logs to Runion's sawmill.
Today, crumpled foundations and those creepy North Carolina chimneys remain along with an active train track at the end.
Beginning along private property, hikers must stay on the gravel path for the first mile. A plethora of "private property" signs will ensure this; please always respect them.
This flat and easy portion of the trail is perfect for families with young children and is quite scenic with small rapids, falls, and the perfect lighting around the river bend.
As always, exert extreme caution with animals and children around the quickly moving rapids, though. Some of these currents are strong.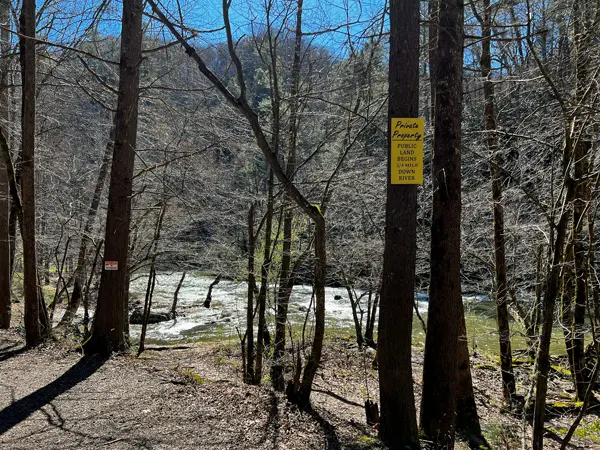 After the first mile, enter the Pisgah National Forest, and pull over wherever you like, including small shore areas and large boulders to sit on.
In the summer months, visitors swim in calmer areas and picnic along the rocks. Wildflowers will pop up in the warmer months, too.
You'll see the very occasional yellow trail blaze on trees, and the trail will transition from gravel to mostly packed dirt, rocks, tree roots, and muck.
Sometimes, downed trees and rocks fall over the trail, and there is a section or two of jagged rocks and streams to navigate over.
Overall, the trail is well-maintained, flat, and utterly peaceful. We'd feel safe solo hiking here. Just know that there are no facilities.
Since the trail isn't on the BRP, which closes for icy weather, Laurel River makes for a great winter hike near AVL.
If you are hiking with the family, discover even more family-friendly things to do around Asheville.
How Do You Get To The Laurel River Trail Near Hot Springs, NC?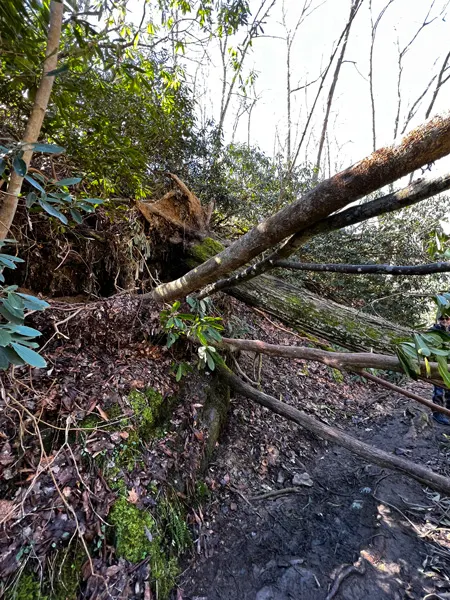 As mentioned above, we couldn't find "Laurel River Trail" on Google maps (this may change), but if you type in "Laurel Creek Trail (NC)," GPS should take you to the correct lot.
Coming from Downtown/North Asheville, take US 25N/Merrimon Ave. to US-19 BUS S/US-25 N toward Weaverville.
Turn left at the light and then a quick right to merge onto the highway, I-26 W/US-25 N/US-70 W toward Weaverville.
Take exit 19A to merge onto US-25 N/US-70 W toward Marshall, NC.
You'll follow this winding road for about 21 miles until you see a gravel parking lot on the left. If you were to continue on, you'd head into Hot Springs, NC.
As a popular local trail, on weekends especially, the medium-sized lot may fill up – even in the cooler months. You might consider getting here early.
The Laurel River Trailhead will be on your left after pulling into/facing the lot.
While the trailhead is not clearly labeled, you will see a wide gravel pathway with a tree marked with "Private property" signs.
Stay on that path for 1 mile until the land becomes public.
Never Miss Another Asheville Update
---
Tired of generic Asheville travel itineraries? Experience Asheville like a local with our free Asheville Favorites checklist, including restaurants, breweries, and hiking. Plus, get local updates – including events and hidden gems – straight to your inbox. Sign up here.
What Can You Do Nearby?
Visit Hot Springs or Marshall, NC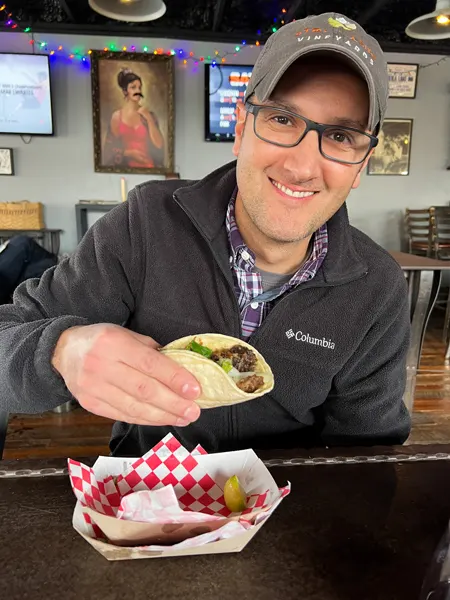 We don't know about you, but after a great hike, we are all about grabbing a bite to eat and a local craft brew.
Hot Springs (10 minutes from the trail) and Marshall (18+ minutes away) are two terrific small mountain towns filled with local shopping, cafes, and restaurants.
Hot Springs is, of course, most well-known for its actual hot springs, which you can enjoy at the Hot Springs Resort & Spa. This is also a popular camping area.
We recommend getting a bite to eat at Iron Horse Station Restaurant and Tavern or The Grey Eagle Taqueria at Big Pillow Brewing.
Walk the small town, and enjoy a coffee and art shop, the local library, and a specialty store/cafe.
Equally charming and small, spy historic buildings and homes in Marshall, dropping into Mad Co. for a beer and pizza.
Marshall is full of quirky restaurants and cafes. Walk across the bridge to the island and check out artist studios.
Lastly, if you are headed back to Asheville, consider dropping into Weaverville.
Weaverville's attractions include Lake Louise – a gorgeous lake near AVL – a dog park bar (WagBar), delicious restaurants like Stoney Knob Cafe, and local craft breweries.
Hike The Appalachian Trail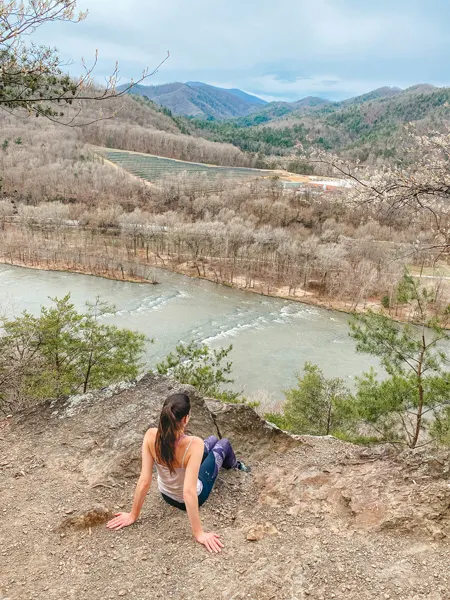 Just past the Big Laurel Creek area into Hot Springs, explore Lover's Leap Trail. This moderate loop – just under 2 miles – intersects with the Appalachian Trail (AT).
Take a series of sharp switchbacks to climb to the top for gorgeous views before heading back down; you'll feel like a billy goat.
Or, quite a bit further (about 50 minutes away), head to Max Patch, a gorgeous mountain bald that also intersects with the AT.
Choose between a 1.5-mile or 2.4-mile loop.
Drop Into One Of The Adventure Companies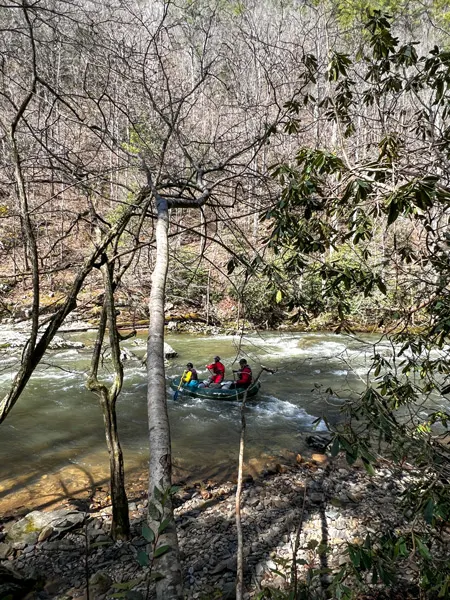 Between Marshall and Hot Springs find a plethora of outdoor adventure companies for river tubing, whitewater rafting, kayaking, and ziplining.
A few highly recommended ones include French Broad Adventures, Nantahala Outdoor Center – French Broad Outpost, Hot Springs Rafting Company, and Blue Heron Whitewater.
You'll pass many of these on your way to the trail.
Where To Stay Nearby: Marshall, Hot Springs, or Asheville
Save This Hike For Later: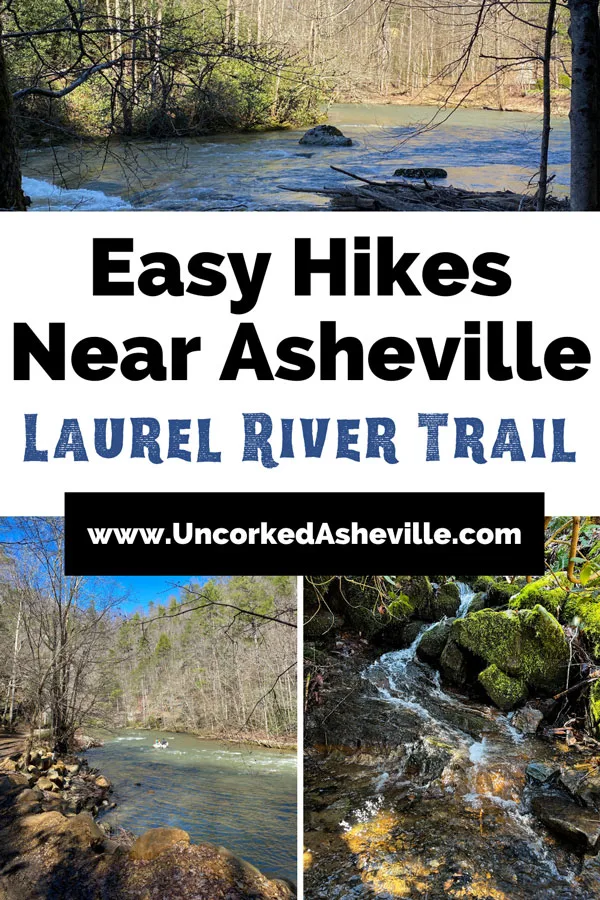 Have you hiked the Laurel River Trail, NC?
What are your favorite trails around Asheville and Western North Carolina?
Have you hiked or even rafted around Big Laurel Creek? Let us know in the comments!
You May Also Enjoy:
Great AVL Waterfall Hikes
WNC Mountain Bike Trails
Parks & Gardens
Fall Foliage Hikes
Pink Beds Loop (Similar BRP hike)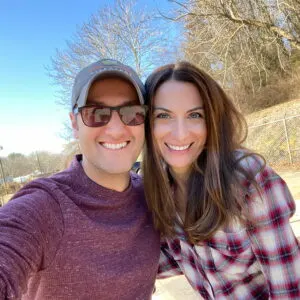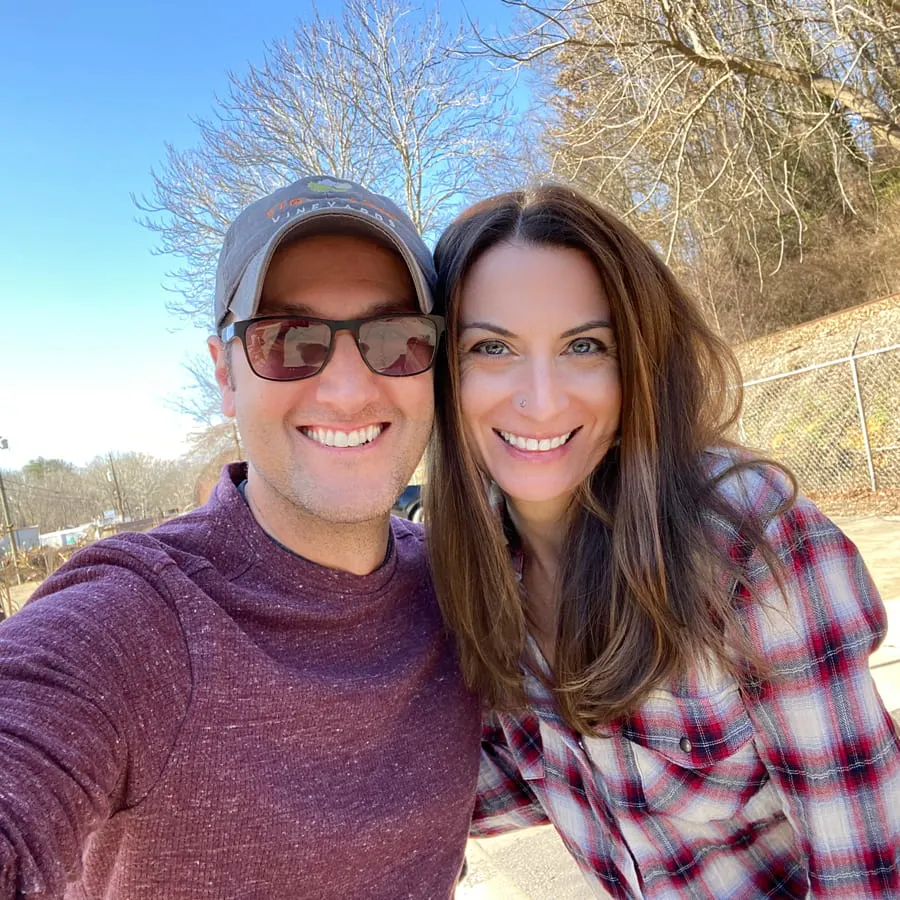 Christine (pronouns: she/her) is the owner and lead writer of Uncorked Asheville. After falling in love with those gorgeous Blue Ridge Mountains, Christine and her husband Tom decided to call Asheville, North Carolina their home. When her pointy Italian nose isn't stuck in a book, Christine is adopting all of the kitties, getting lost in the forest, and drinking an ESB.
Christine has a BA in English and History from Smith College, her MLIS from USF-Tampa, and is a former U.S. Fulbright Scholar - Indonesia. She also owns The Uncorked Librarian LLC with books and movies to inspire travel.