For a more intense and quieter hike off of the Blue Ridge Parkway, head to the Little Butt and Big Trails. You'll pass Point Misery and soon be rewarded with stellar mountain views.
While many Asheville visitors prefer easy to moderate hikes, we receive a lot of questions about longer and more difficult hikes, too, especially in the 5-mile range.
The Little Butt and Big Butt Trails are perfect if you want a solid half-day, less trafficked hike.
The trek is strenuous but mostly well-labeled and maintained.
The Little Butt hike is known for its gorgeous scenic views of the Black Mountains and Mount Mitchell.
It's also the perfect rock overlook for a picnic. And, let's face it; you will need to refuel on this hike.
So, are you ready to enjoy a tough hiking trail along the Blue Ridge Parkway?
Keep reading to discover all that you need to know about the Little Butt and Big Butt Trails.
Plus, we'll help you explore even more of the Blue Ridge Parkway north of Asheville. Let's get started!
Read more about the Best Hikes Near Asheville, NC.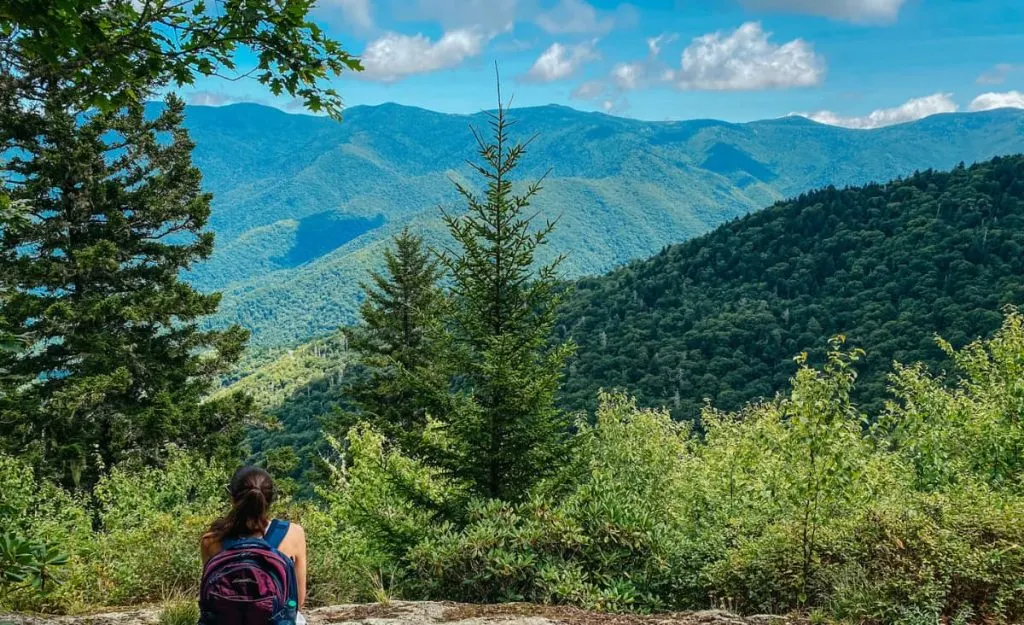 This post may contain affiliate links that earn us a commission at no extra cost to you. If you love these guides, support Uncorked Asheville here.
Little Butt & Big Butt Trail Stats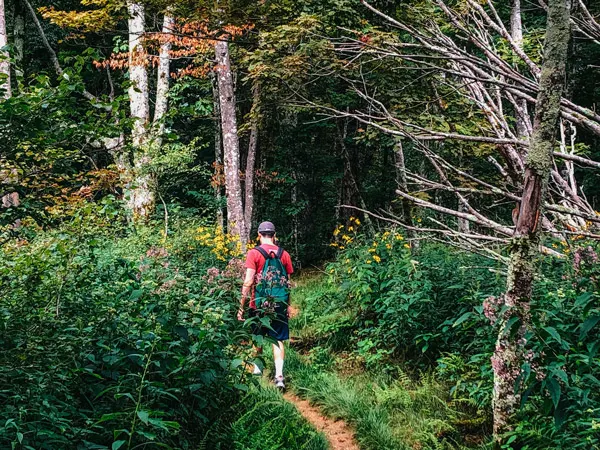 Distance From Asheville, North Carolina: 45-50 minutes; 23 miles
Address: Walker Knob Overlook at 59700 Blue Ridge Pkwy, Black Mountain, NC 28711 & MP 359-ish
Hike Difficulty: Difficult
Length: The Little Butt Trail is about 5 miles roundtrip, Big Butt Trail is 6 miles roundtrip, and if you continue on to NC-197, that is 12 miles roundtrip
Duration Of Hike: Four to five hours for Little & Big Butt Trails
Type Of Hike: Out and back, forest stairs, narrow trail paths, tall grass, white markers on the trees
Don't miss these inns, hotels, cottages, and cabins around Asheville. Also, be sure to check out our Asheville recommendations.
Never Miss Another Asheville Update
---
Tired of generic Asheville travel itineraries? Experience Asheville like a local with our free Asheville Favorites checklist, including restaurants, breweries, and hiking. Plus, get local updates – including events and hidden gems – straight to your inbox. Sign up here.
Why Hike Little Butt & Big Butt Trail?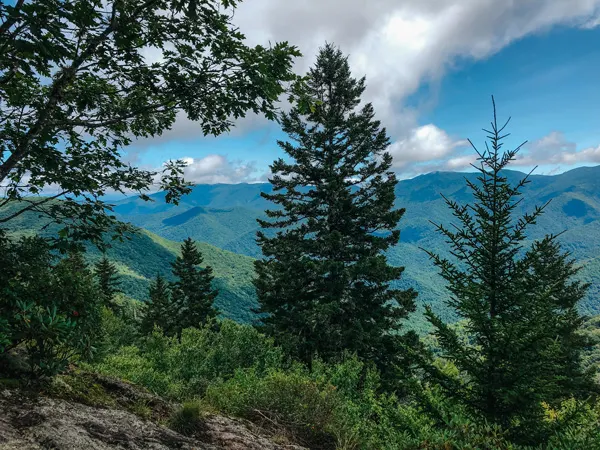 Personally, we love Blue Ridge Parkway hikes, but sometimes, they get slammed with locals and visitors.
If you are looking for a difficult hike with fewer people, Little and Big Butt Trails are for you.
Most people research this BRP hike as "Big Butt Trail," but the eye candy is along the Little Butt hike. Like many of the hikers here, we've only continued on just past Little Butt.
We quickly turned around before the official Big Butt marker, which is only .5 miles further. With no view and overgrown grass, for us, Big Butt has a reputation for being unremarkable.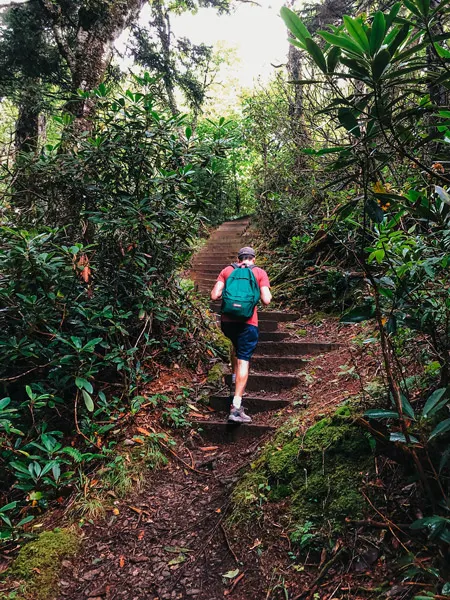 Along the way to Little Butt's overlook, catch late spring and early summer blooms and butterflies. Sometimes, the trail grass isn't trimmed; be prepared for itchy legs and pack bug spray.
At the trailhead, you will start with a descent into the Pisgah National Forest, and later an ascent into the Black Mountains.
Little Butt and Big Butt Trail has a 1300-foot elevation gain.
When we looked at our hiking app about 1.5 miles into the trek and saw "Point Misery," we may have given a nervous chuckle.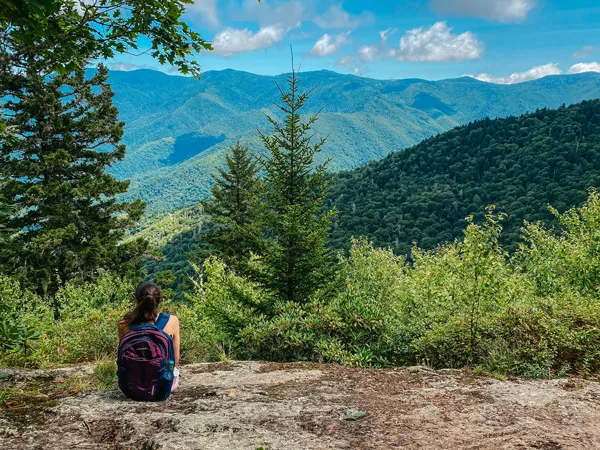 At 5715 ft, you'll just feel the unmarked 'Point Misery'…
Throughout the hike, I may have also exclaimed quite a few times that I really don't like forest stairs. My butt, she is littler after this one.
Around 4.5 miles, you'll approach unmarked but easy-to-spot Little Butt's end. Two pathways lead into this cliff overlook.
We pack food and stop here for a picnic. You will need to take your trash with you.
In front of you, find views of Cane River Valley, Clingmans Peak, Black Mountains, and Mount Mitchell.
Don't skip this post for even more Picnic Spots.
When Is The Best Time To Hike Little Butt & Big Butt?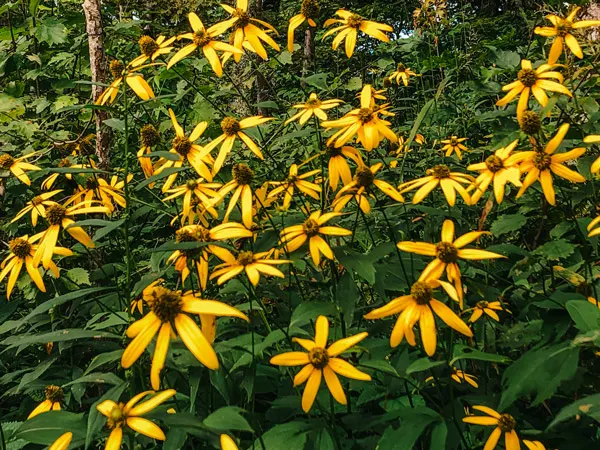 Because this is a strenuous hike, we prefer to hike Little Butt in the spring when it is cooler out. Plus, you'll spy colorful blooms and butterflies.
With that said, this elevated area of the BRP is cooler and shaded, making it a bearable summer hike, too.
This section of the Blue Ridge Parkway will close in the late fall and throughout the winter due to weather.
We always recommend checking the National Park Service's website for all Blue Ridge Parkway updates and closures.
How Do You Get To The Little Butt & Big Butt Trails?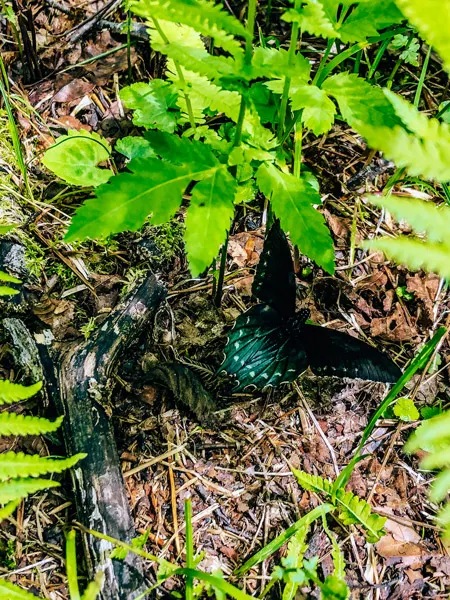 Head north down the Blue Ridge Parkway from Asheville. You'll pass Craggy Gardens, Craggy Gardens Visitor Center, Craggy Pinnacle, and Glassmine Falls Overlook.
Soon after, around MP 359, you'll see a paved horseshoe lot on your left.
Parking is extremely limited. Once you park, look for the Big Butt Trailhead sign, which is to the left of the Mountains-To-Sea Trail.
What Else Can You Do Around This Area?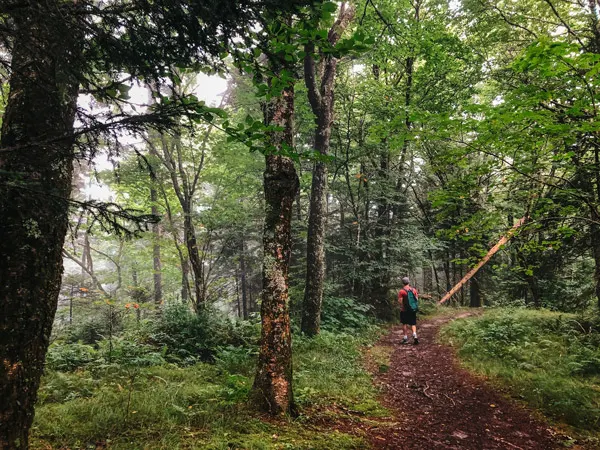 Mount Mitchell
About 7 minutes further down the Blue Ridge Parkway, head to Mount Mitchell State Park – a popular day trip from Asheville.
Here, encounter Mount Mitchell's summit, which is the highest point east of the Mississippi at 6,684 feet.
Craggy Pinnacle
Located at MP 364.1, hike about 1.4 miles round trip on this out-and-back trail to a gorgeous overlook at Craggy Pinnacle. On a clear day, at the top, you'll see the Asheville Watershed, Craggy Gardens, and Mount Mitchell. Don't miss our complete guide to hiking the Craggy Pinnacle Trail.
Craggy Gardens
At Milepost 364.4 or 367, you can park and hike Craggy Gardens. Known for its stellar picnic area, gorgeous blooms, and incredible views, the Craggy Gardens hike is about 2 miles roundtrip as an out-and-back trail. Both areas have nice restrooms.
Where To Stay Around Asheville
Don't miss these inns, hotels, cottages, and cabins around Asheville. Also, be sure to check out our Asheville recommendations.
Save This Post For Later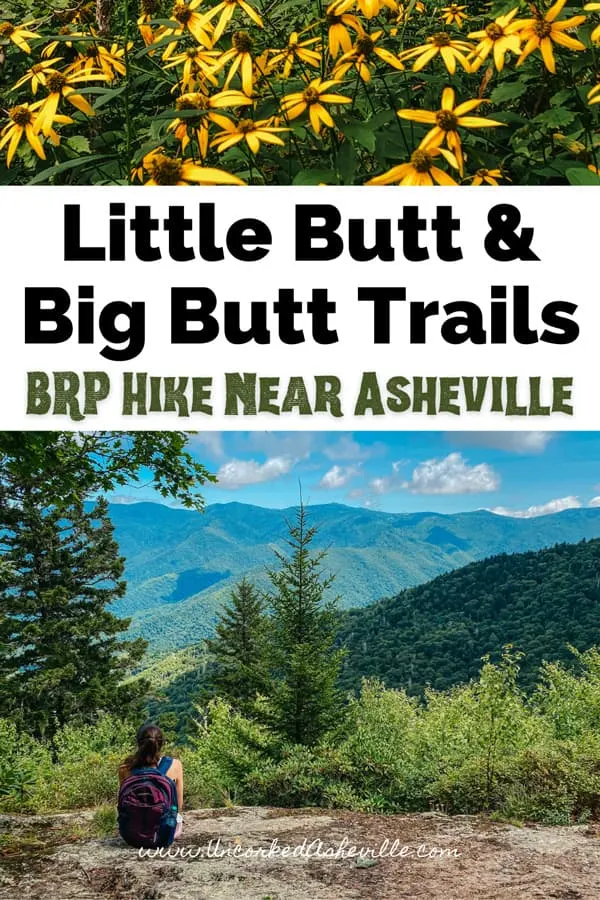 Have you hiked Little Butt & Big Butt Trail?
Have you attempted Little Butt and/or Big Butt? Did Point Misery feel like actual misery to you? How about those steps? What are your favorite Blue Ridge Parkway hikes? Please let us know in the comments.
Looking For More Outdoor Adventures?
Top Things To Do While In Asheville
Asheville Hiking Trails We Recommend
Gorgeous Waterfalls To See Near Asheville, NC
Best Picnic Areas Around AVL
More Nearby BRP Hikes
Best BRP Trails In NC
Breathtaking Craggy Pinnacle
Picnic At Craggy Gardens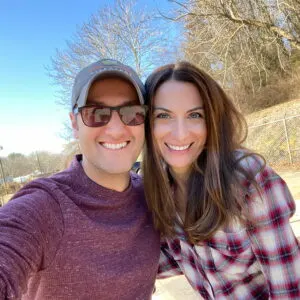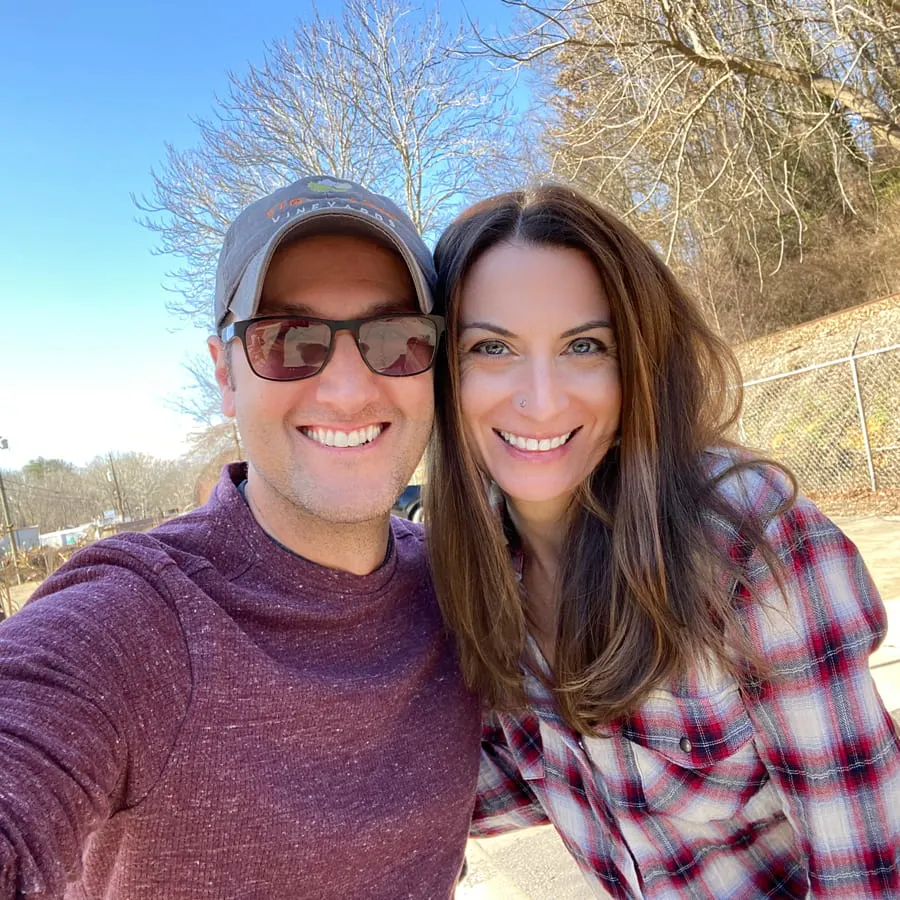 Christine (pronouns: she/her) is the owner and lead writer of Uncorked Asheville. After falling in love with those gorgeous Blue Ridge Mountains, Christine and her husband Tom decided to call Asheville, North Carolina their home. When her pointy Italian nose isn't stuck in a book, Christine is adopting all of the kitties, getting lost in the forest, and drinking an ESB.
Christine has a BA in English and History from Smith College, her MLIS from USF-Tampa, and is a former U.S. Fulbright Scholar - Indonesia. She also owns The Uncorked Librarian LLC with books and movies to inspire travel.