For hikes near Asheville, head to Bearwallow Mountain Trail. This 2-mile out and back is perfect for a gorgeous picnic with the moody cows.
Besides drinking beer, hiking around Asheville, NC is one of our favorite activities. Asheville and Western North Carolina (WNC) are filled with waterfalls, hiking trails, pastures, and beautiful wildlife and wildflowers.
If you are looking for a short and easy hike near Asheville perfect for families and picnicking, we love Bearwallow Mountain Trail. This 2-mile roundtrip hike offers two routes varying in difficulty. You can also use both trails to form a loop.
Unlike other hikes, Bearwallow Mountain offers grazing cows with attitudes. Encounter panoramic views and uncover the perfect spot for sunsets and picnics.
As Asheville locals, we'll share our tips and tricks for the Bearwallow Mountain Trail as well as provide fun ideas for what to explore and do once you complete your hike. Let's get started!
Don't miss our master list of Top Asheville Hiking Trails.
---
This post may contain affiliate links for products and services I recommend. If you make a purchase through these links, at no additional cost to you, I will earn a small commission. Read the full disclosure here.
---
Quick Bearwallow Mountain Trail Stats
Distance From Asheville, North Carolina: 40 minutes; 22 miles

Address: Bearwallow Mountain Trail: 4854 Bearwallow Mountain Rd, Hendersonville, NC 28792

Parking: Around the trailhead on side of the road; please don't block the private gate

Hike Difficulty: Easy (gravel access road trail) to moderate (trail to meadow)

Length of Bearwallow Mountain Trail: 2 miles round trip (the access road is slightly shorter than the forest trail)

Duration Of Hike: Around 1-hour total

Type Of Hike: Out and back or loop if you use both trails; gravel access road or easily moderate hiking trail available; you can also add Trombatore Trail — a strenuous hike — for a total of 7 miles.
Don't miss these cabins, cottages, and hotels near Bearwallow Mountain in Chimney Rock. See our personal Asheville hotel recommendations, too.
Save This Post For Later
Why Bearwallow Mountain Trail?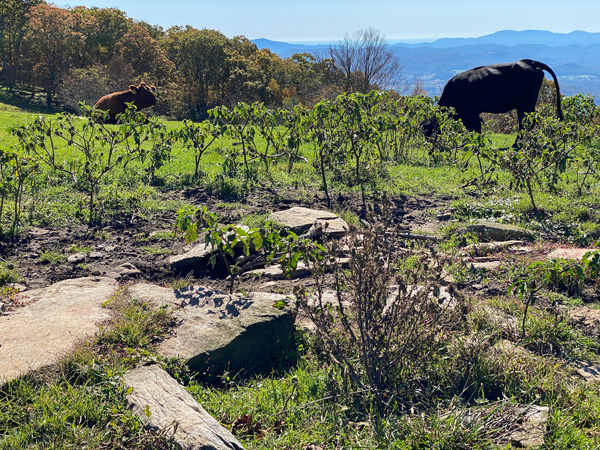 Personally, we love Conserving Carolina's trails. A few include Bearwallow Mountain, Wildcat Rock, and Trombatore Trail to Blue Ridge Pastures.
They are well-maintained and well-marked. All are scenic and offer maps and informational boards at the trailheads.
Bearwallow Mountain is especially known for its hiking trails to a sprawling meadow with wide-open mountain views. Keep in mind, Bearwallow Mountain's peak is 4,232-feet.
On a clear day, you can spy Mt. Mitchell, the Black Mountains, Mt. Pisgah, the Great Smoky Mountains, and sneak a peek into Hickory Nut Gorge. Views go as far out as South Carolina.
Like the Trombatore Trail, Bearwallow Mountain is aligned with the Eastern Continental Divide.
This hike is both family and animal-friendly. If you take the gravel access road up to the meadow, you don't have to be fully decked out in hiking gear.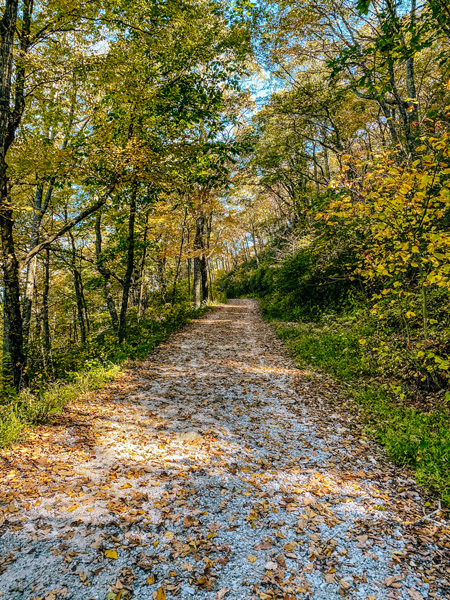 The hike up to the pasture is scenic with wildflowers, babbling streams, and trees. At the top, if you are lucky, you'll catch grazing cows that will give you some shady side-eye while you picnic. This is a working farm.
Many people hike here for yoga, sunsets, kite flying — please beware of the power lines — and stargazing. Bring a blanket and pack a picnic, and also be prepared to take your trash with you.
There are no facilities. Also, expect cow perfume and, well, quite a few cow pies. Unlike Fryingpan Mountain Tower, the fire tower you see here is off-limits.
If you are feeling adventurous, don't forget you can hike both Trombatore Trail and Bearwallow Mountain Trail in the same day for a total of 7-miles round trip. The trailheads are across the street from each other.
---
Never Miss Another Asheville Update
Are you tired of generic Asheville travel itineraries? Do you want to experience the magic of Asheville like a local?
Grab our free Asheville Favorites checklist today, including restaurants, breweries, and hiking. Plus, get local updates straight to your inbox. Sign up here.
---
When Is The Best Time To Hike Bearwallow Mountain Trail?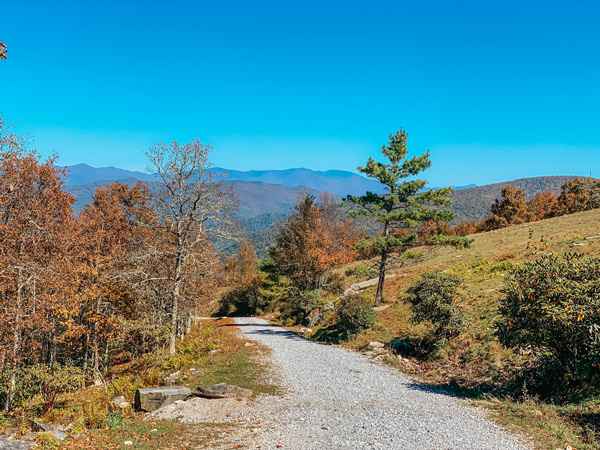 Like the Trombatore Trail, we enjoy Bearwallow Mountain in the fall and winter (grab our winter hikes list here).
Other fall hiking trails, especially around the Blue Ridge Parkway and Mount Pisgah/Graveyard Fields area, tend to get incredibly busy during peak foliage.
This hike is also perfect year-round, and it's also great to catch a sunset; just don't forget to bring a headlamp or flashlights.
Because the Bearwallow Mountain hike is less frequented, you can also arrive a little later in the morning and on weekends without having to worry about the crowds. Parking is still limited — if you go as a group, they suggest carpooling.
---
---
Where Is Bearwallow Mountain Trail?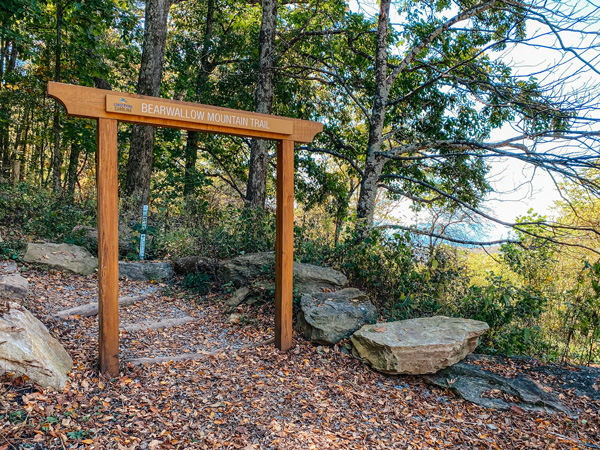 From Asheville take I-240 to US-74 Alt East toward Bat Cave. Stay on US-74 Alt. You'll turn right onto Bearwallow Mountain Road and land on a gravel road, which can be rough on your car.
Passing becomes difficult, and be careful on turns.
When you reach the top, you'll see cars pulled off along the road, a metal gate, and marked entrances for Trombatore and Bearwallow.
---
If you want to head into Asheville afterward, don't miss our Guide To Asheville.
---
If You Love Bearwallow Mountain Trail, Try…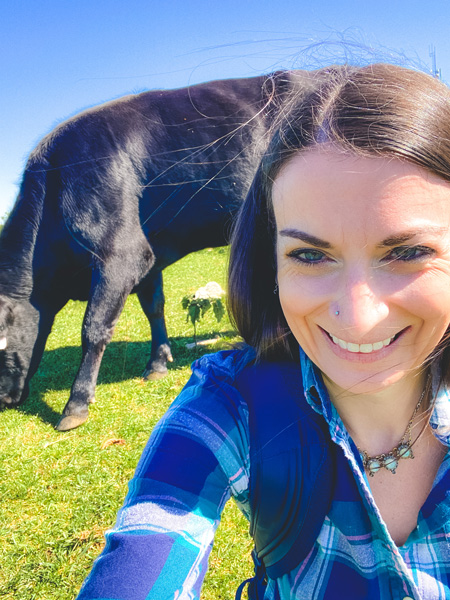 Trombatore Trail To Blue Ridge Pastures
Trombatore Trail is a strenuous to moderately difficult 5-mile out and back for slightly more experienced hikers. We personally think it's a tad more on the moderate side.
Trombatore's 1,200-feet elevation gain and length really gets you. I highly recommend packing extra water and food.
Well-labeled, you'll pass streams, wildflowers, and an old buckeye tree. At the top, you can picnic in Blue Ridge Pastures with views of Bearwallow Mountain, Hickory Nut Gorge, and Mount Mitchell. Grab our Complete Guide To Hiking Trombatore.
What Can You Do After Hiking Bearwallow Mountain Trail?
Shop & Dine In Downtown Hendersonville
We love exploring downtown Hendersonville. Find a chocolate factory, beer, vintage shops, cafes, and restaurants. To eat, we like Postero — southern American cuisine — and sushi from Umi, which is always packed.
Visit The Wineries Around Asheville
Hendersonville and its surrounding areas have a ton of wineries. For newer wineries, we love Marked Tree Vineyard and Stone Ashe Vineyards. Off the beaten path, wine taste at Sawyer Springs Vineyard. Or, visit popular and beautiful Burntshirt. Check out the Full Winery List Here.
If It's The Fall, Visit The Apple Orchards
If the Hendersonville apple orchards are open for the season, grab a cinnamon cider donut, pick some apples, or get lost in a bamboo forest along 'Apple Alley.' A few fall apple orchards to check out include Sky Top Orchard, Grandad's Apples, and Stepp's Hillcrest Orchard.
Spend The Rest Of The Day Exploring Asheville
Since Bearwallow Mountain Trail is such a short hike, why not grab food or beer in Asheville? Plus, Asheville is full of literary tourism, shops, bars, and Biltmore. Read our complete list of 50 things to do in Asheville here→
Where Can You Stay Overnight Near Bearwallow Mountain Trail?
Bearwallow Mountain Trail is close to Asheville and downtown Hendersonville.
Our Hendersonville Accommodation Rec:
1898 Waverly Inn Bed and Breakfast – We love this cute B&B. They host a social happy hour with friendly hosts. You can walk into downtown Hendersonville.
If you are looking for Asheville-based hotels:
Aloft – Downtown Asheville – The Aloft is newly renovated and hipster. The views from The Ledge are stunning, and they have a rooftop pool with mountain views.
Hampton Inn And Suites Asheville Biltmore Area – We stayed at this Hampton Inn before we moved to Asheville, NC. It's across from the Asheville Outlets, and they are a great central location between all of the hiking trails, Blue Ridge Parkway, Biltmore, and Asheville.
Don't miss these cabins, cottages, and hotels near Bearwallow Mountain in Chimney Rock. See our personal Asheville hotel recommendations, too.
Save This Post For Later
Have you hiked Bearwallow Mountain? What are your favorite hiking trails around Asheville, NC for picnics?
Have you been to Bearwallow Mountain Trail and enjoyed a picnic with the cows? What other hiking trails do you enjoy throughout Western North Carolina? Do you have any questions? Please let us know in the comments.
Western North Carolina Hiking Posts You May Also Enjoy:
40+ Best Asheville Hiking Trails
Fall Hiking Trails You Don't Want To Miss
Top Winter Hikes & Waterfalls Near AVL
Favorite Waterfalls Near Asheville, NC
Stunning Places To Picnic In WNC
Trails Nearby:
More Hikes With Views
Craggy Gardens Picnic Area & Trails
Craggy Pinnacle
Fryingpan Mountain along the BRP
Lover's Leap Trail With Part Of The AT
Max Patch Summit Along AT
Mount Pisgah's Views
Little Butt's Hiking Overlook