Don't miss stunning 360-degree views along the Blue Ridge Parkway's Mount Pisgah Trail. Encounter gorgeous blooms and catch an introduction to Western North Carolina's mountain ranges with this Mt. Pisgah hike.
If you are looking for hiking trails near Asheville, North Carolina with a stellar panorama of the mountains, you'll love the Mt. Pisgah Trail and hike.
On a clear day, you can see pretty much every magnificent mountain and attraction. Think Cold Mountain, Fryingpan Mountain, Mount Mitchell, Craggy Gardens, Black Balsam, and Looking Glass Rock.
The best part of the Mt. Pisgah hike, though, is its 360-degree perspective from the observation deck at the summit.
Plus, the Mount Pisgah Trail is filled with gorgeous purple and white wildflowers and vibrant green moss and ferns. You can hike this moderately difficult trail in under 1.5-hours.
So, when is the best time to enjoy the Mount Pisgah hike? What should you expect? What other must-see trails and waterfalls are nearby the Mount Pisgah area?
As Asheville locals and avid (but civilian) hikers, we'll give you all of the details to enjoy the Mount Pisgah Trail. Let's get started!
Read more about Asheville's Top Hiking Trails By Level Of Difficulty.
---
This post may contain affiliate links for products and services I recommend. If you make a purchase through these links, at no additional cost to you, I will earn a small commission. Read the full disclosure here.
---
Quick Mount Pisgah Trail Info
Distance From Asheville, North Carolina: 40-minutes along the Blue Ridge Parkway toward Mount Pisgah; About 24-miles from downtown Asheville

Address: Milepost 407.6 along the BRP; Mount Pisgah Trail, North Carolina 28716

Parking: Marked parking lot

Hike Difficulty: Moderate

Length of Mount Pisgah Trail: 2.4ish-miles (we clock our trails but they are never the same)

Duration Of Hike: 1.5-hours, more or less — some estimate 1-2 hours

Type Of Hike: Out and back; No blazes; forest stairs
Don't miss these cottages, inns, cabins, and hotels around Pisgah Forest. See where to stay in Asheville, too.
---
---
Why The Mount Pisgah Hike?
The Mount Pisgah Trail is about 40 minutes from downtown Asheville and is the perfect hike if you are looking for a moderate workout with incredible 360-degree views.
Depending on your hiking skills and pace, the Mt. Pisgah hike takes about 1.5 to 2-hours, although I am sure people have completed the Mount Pisgah Trail in less. We aren't that cool.
Along the Mt. Pisgah Trail, you'll climb forest stairs, catch gorgeous views in all directions, hear playful birds, and spy colorful wildflowers, green moss, and ferns. Depending on the rain levels, you might see little streams.
As you approach the Mount Pisgah summit at about 5,721-feet, it gets a little rough, but trust me, it's worth it. You'll hike an elevation gain of about 750-feet.
At the top of the Mount Pisgah Trail, you can stand on the observation platform to see Fryingpan Mountain, Cold Mountain, Looking Glass Rock, Shining Rock Wilderness, and the Pisgah Inn and Campgrounds.
Oh, and you cannot miss the not-so-nature-esque TV transmission tower right behind you. If there is lightning, I'm assuming this will get hit before me.
---
Never Miss Another Asheville Update
Are you tired of generic Asheville travel itineraries? Do you want to experience the magic of Asheville like a local?
Grab our free Asheville Favorites checklist today, including restaurants, breweries, and hiking. Plus, get local updates straight to your inbox. Sign up here.
---
When Is The Best Time To Hike The Mt. Pisgah Trail?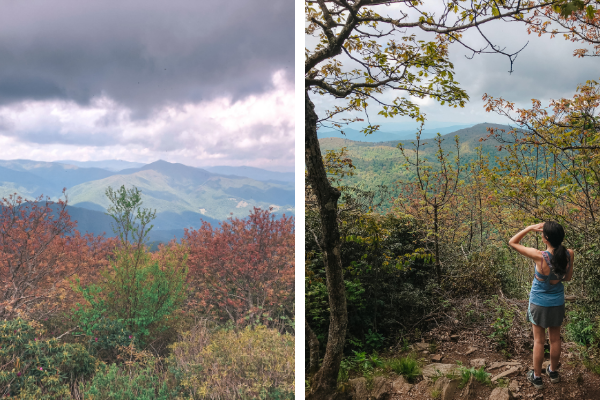 Hiking the Mount Pisgah Trail in the fall is pretty much a must. In fact, this area is full of fall foliage hikes for leaf chasers.
The spring and summer are also pleasant because of the rhododendron, mountain laurels, and wildflowers. You might even work up a sweat climbing the Mount Pisgah summit.
Don't forget that we are in the mountains; fog and rain roll in and out pretty quickly. It might be sunny on your way down the BRP, but the temperatures may drop suddenly.
Ominous clouds once followed us up, and we found ourselves laughing in a downpour while Asheville was warm and sunny. Dress in layers, and know that the rocks are slippery when it rains. I'm told noon rain showers are fairly normal, which is also when we got soaked.
The winter gets a little trickier for the Mount Pisgah hike. Expect gate closures due to inclement weather. We always check with the National Park Service (NPS) before heading out on the Blue Ridge Parkway in the late fall and winter.
Find updated NPS closures here; look under 'Weather,' specifically to see if the BRP gates are closed.
As with all BRP hiking, we recommend arriving early. Weekdays are much quieter. The end of September into early November is an extremely busy season around Asheville, North Carolina. Even parking becomes a project.
---
Mount Pisgah has a picnic area across from the trailhead. See Where Else You Can Picnic here.
---
Where Is The Mount Pisgah Trail?
From Asheville, you'll head south down the Blue Ridge Parkway. The Mt. Pisgah hike is at Milepost 407.6. You'll see a marked sign for parking, and there is a paved lot. The trail is also marked with a sign.
There are picnic areas and restrooms nearby along with the Pisgah Inn, Country Store, restaurant, and campgrounds.
---
---
If You Love The Mt. Pisgah Hike, Try…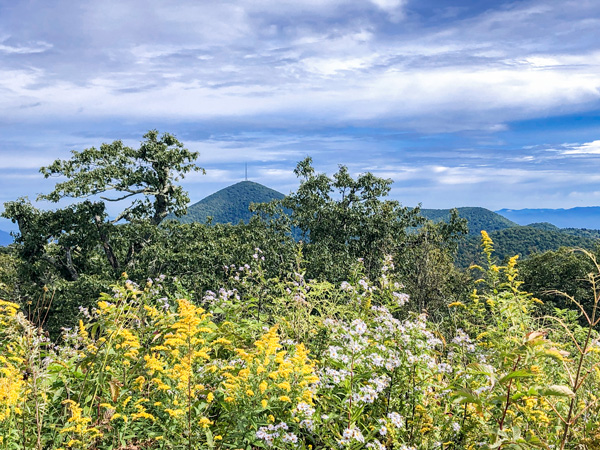 The southern parts of the Blue Ridge Parkway past Asheville are filled with hikes of varying lengths and difficulty levels. Hikers will encounter waterfalls, swimming holes, and even more stunning panoramas.
We frequently hike this area as Asheville, NC locals. A few nearby Blue Ridge Parkway hikes that you don't want miss include:
Fryingpan Lookout Tower & Trail
A few minute's drive past the Mount Pisgah Trail entrance and lot, Fryingpan offers an easy to moderate 1.5-mile out and back hike down a gravel road.
Along the way, pass gold and white wildflowers until you reach the end of the trail marked by a 5-story, 70-foot former fire tower.
If you are feeling brave, climb the rickety tower for stunning 365-degree views of Mount Pisgah, Cold Mountain, and Looking Glass Rock. Read more about Fryingpan Lookout Tower→
More Mount Pisgah Hiking Trails
A few more Mt. Pisgah hiking trails that we haven't yet tried include Buck Spring Trail, Laurel Mountain Trail, Pilot Rock Trail, and Shut-In Trail.
Skinny Dip Falls
Also along the Blue Ridge Parkway, about 8.5-miles from the Mount Pisgah hike, you'll find an easy mile out and back to Skinny Dip Falls.
Perfect for families, pass the "Dragon Tree" along parts of the Mountains-to-Sea Trail to a series of gentle falls.
Visitors love to take a dip in the chilly water. Park at the Looking Glass Overlook and cross the BRP. Read more about Skinny Dip Falls→
Graveyard Fields
Graveyard Fields Hike, Loop, and Waterfalls are 10-miles south of the Mt. Pisgah Trail. A popular BRP hike due to High and Low Falls, you can choose from a variety of trail lengths and difficulties. There are basic restroom facilities here.
Black Balsam Knob Hike
Thirteen miles past the Mount Pisgah Trail, everyone loves to head to Black Balsam. Known for its almost 365-degree views, head up part of the Art Loeb Trail to Black Balsam Knob. This is a 1.5-mile easy to moderate hike.
The NC Arboretum
If you are looking for nature walks and picturesque gardens, head back 15-miles toward Asheville and The NC Arboretum. Here, find a variety of short and easy trails or enjoy the gardens, bonsai trees, and special exhibits.
We are annual passholders at The North Carolina Arboretum. Read more about The NC Arboretum→
Where Can You Stay Near The Mount Pisgah Trail?
Aloft – Downtown Asheville – Do you prefer to stay in downtown Asheville, NC? The Aloft hotel is newly renovated as of 2020 with vibrant local murals, updated rooms, and hipster public areas.
Pisgah Inn & Campground – We have not stayed at the Pisgah Inn, but I did want to mention it since the Mount Pisgah hike and summit is right here. Mount Pisgah has a General Store, restaurant, and campgrounds.

Hampton Inn And Suites Asheville Biltmore Area – Although this hotel is on a busy road across from the Asheville Outlets, it's one of our favorites before moving to Asheville. Clean and in the middle of everything, you can access downtown, Biltmore, and the Blue Ridge Parkway fairly quickly.
Don't miss these cottages, inns, cabins, and hotels around Pisgah Forest. See where to stay in Asheville, too.
Save This Post For Later
Have you hiked the Mt. Pisgah Trail? What are your favorite Asheville hikes along the BRP and Mount Pisgah area?
Have you been to Mount Pisgah and climbed to the summit? When is your favorite time to visit North Carolina, Asheville, and the BRP?

Do you have any questions? Please let us know in the comments.
Western North Carolina Hiking Posts You May Also Enjoy:
40+ Favorite Hikes Near Asheville As Locals
Fall Foliage Hikes Around Asheville You Don't Want To Miss
Asheville Hikes For Waterfall Chasers
Sensational Picnic Spots Near Asheville
Head Out For These BRP Hikes Around AVL
Individual Trails & Waterfalls Nearby:
Magical Skinny Dip Falls (Swimming Hole)
Fryingpan Mountain Lookout Tower & Trail
Pink Beds Picnic Area & Trail
Moore Cove Falls
Daniel Ridge Falls
More Hikes With Views
Craggy Gardens
Craggy Pinnacle
Little Butt Trail
Bearwallow Mountain
Trombatore Trail
Lover's Leap
And Don't Miss…
Our Ultimate List Of Asheville Activities & Attractions
Where To Stay In Asheville, NC