Head to Fryingpan Mountain Lookout Tower for gorgeous 360-degree views of the mountains. Discover where to pick up the Fryingpan Mountain Trail along the Blue Ridge Parkway.
If you are craving hikes near Asheville, North Carolina that will help you overcome your fear of heights, head over to Fryingpan Mountain.
Although a short and easy walk up a gravel road, Fryingpan Lookout Tower awaits you.
Why is this area so special?
Well, you can climb the 70-foot Fryingpan Mountain Tower to catch the best views of the Blue Ridge Parkway, Mount Pisgah, Cold Mountain, and Looking Glass Rock – just to name a few BRP icons.
Plus, Fryingpan Mountain Trail is filled with gorgeous purple and yellow wildflowers. You can hike it in under an hour.
Even from the ground, the views at Fryingpan Mountain are sure to take away your breath.
So, when should you visit Fryingpan Lookout Tower? What should you expect?
We'll cover the basics as Asheville locals who hike across Western North Carolina almost every week. Let's get started!
Don't miss our Master Guide To Asheville Hiking Trails.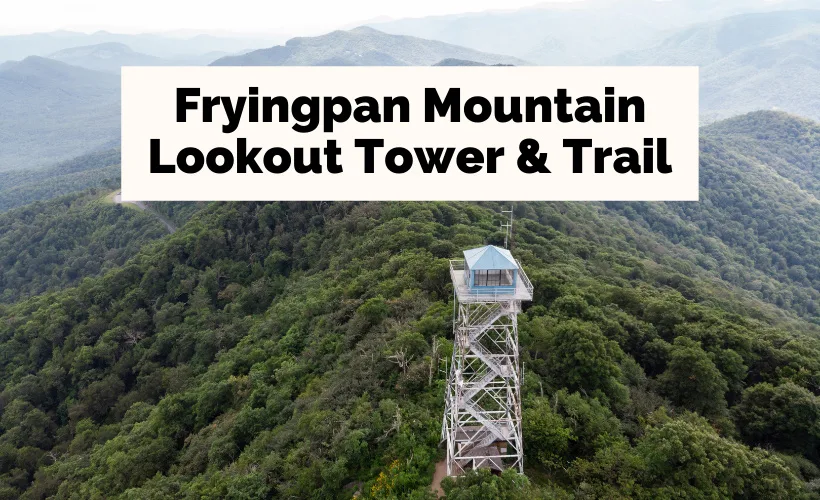 This post may contain affiliate links that earn us a commission at no extra cost to you. If you love these guides, support Uncorked Asheville here.
Quick Fryingpan Lookout Tower & Trail Information
Distance From Asheville, North Carolina: 45-minutes along the Blue Ridge Parkway toward Mount Pisgah

Address: You can plug "Fryingpan Mountain Lookout Tower" into your GPS to get started (full details below): Fryingpan Mountain Lookout Tower, Canton, NC 28716

Parking: Gravel lot – just don't block the gate

Hike Difficulty: Easy to moderate

Length of Fryingpan Mountain Trail: 1.6-miles

Duration Of Hike: 1-hour or less

Type Of Hike: Out and Back; No blazes or trail markings; Restricted areas
See our Top Places To Stay in Asheville.

Don't miss out on these Asheville properties on Booking.com, too.
Hike Fryingpan Mountain Lookout Tower Later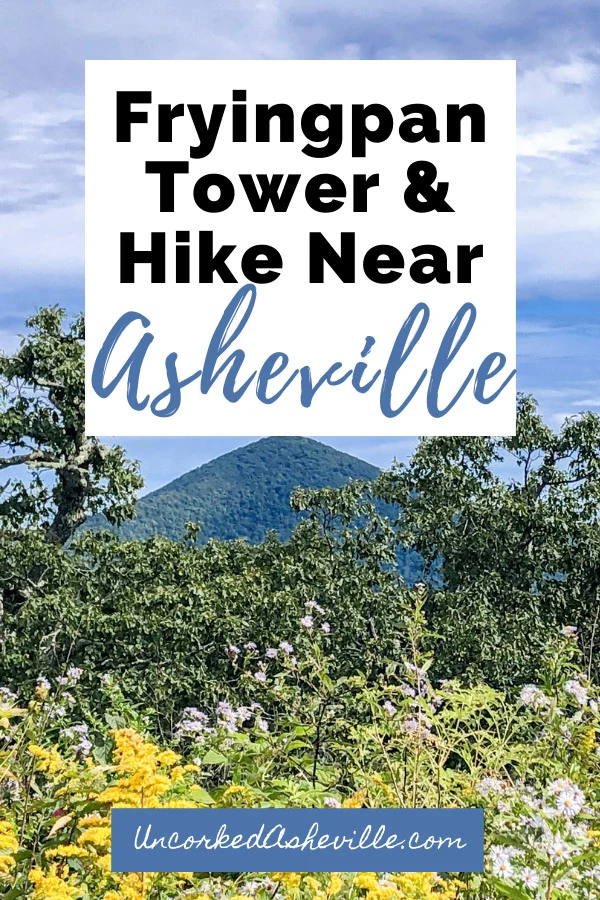 Why Hike Fryingpan Mountain Trail?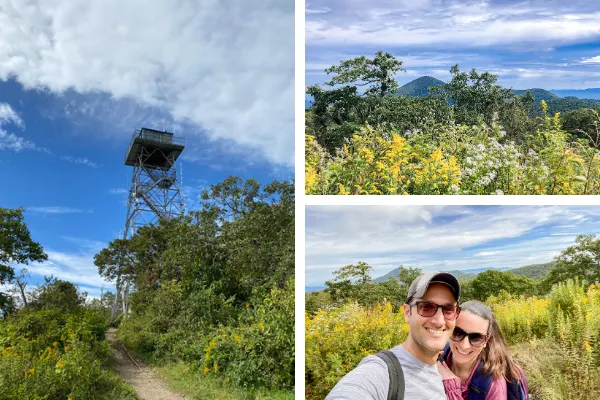 Fryingpan Mountain Tower and Trail is about 45-minutes from downtown Asheville and is an easy one-hour hike or less. The unmarked trailhead starts at the closed gate for FS450.
Along the Fryingpan Mountain Trail, you'll pass running streams of water, gorgeous wildflowers, and glowing blue and green mountain views closer to the top.
Although just a gravel road filled with some pretty ugly power lines and towers (truth bomb!), you won't want to miss the weather station and Fryingpan Lookout Tower at the very end.
The steel tower was once used as a lookout for fires until the 1990s.
Terrifying if heights are not your jam, the 5-story, 70-foot tower is open for climbing with platforms to spy 360-degree views of the surrounding mountain area.
Look for Mount Pisgah, Looking Glass Rock, Cold Mountain, the BRP, and Shining Rock Wilderness.
The very top platform and former living quarters are closed — although we did watch hikers open the broken latch and sneak up (don't do this)…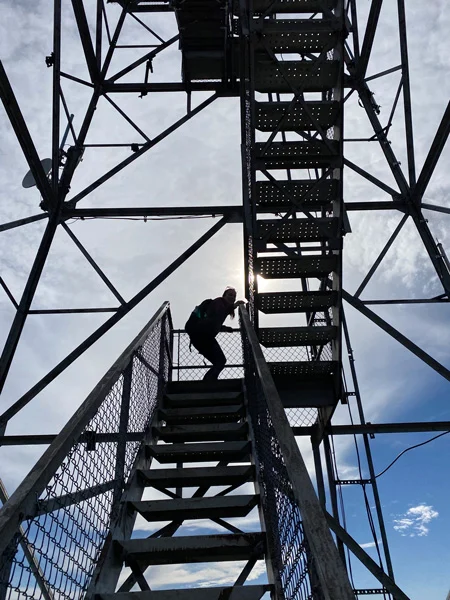 And lastly, don't say I didn't warn you, but even though Fryingpan Lookout Tower is stable and sturdy, the stairs will creak and buckle a bit. Safe enough but terrifying.
I also wouldn't be caught dead up here on a windy day, and yes, you can see through the stairs. Were we wrecks? You bet!! Please climb the tower with care.
Never Miss Another Asheville Update
---
Tired of generic Asheville travel itineraries? Experience Asheville like a local with our free Asheville Favorites checklist, including restaurants, breweries, and hiking. Plus, get local updates – including events and hidden gems – straight to your inbox. Sign up here.
When Should You Visit Fryingpan Mountain?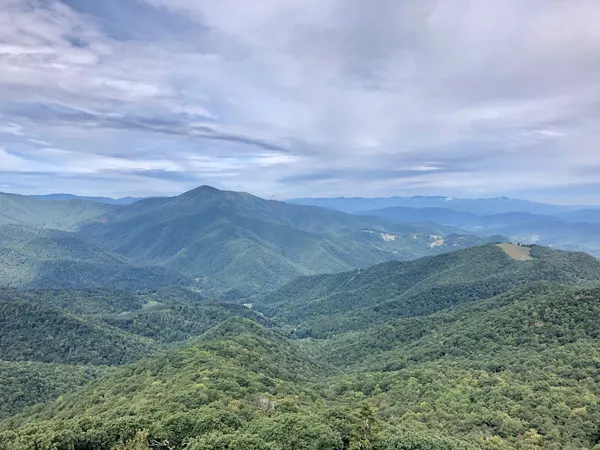 Frying Mountain glows in the spring and summer with wildflower blooms and rainbows in the clouds.
Of course, don't miss this part of the Blue Ridge Parkway in the fall, either. The foliage here is spectacular.
Please keep in mind that the Mount Pisgah area of the Blue Ridge Parkway will see gate closures due to inclement weather in the winter.
Check with the National Park Service (NPS) before heading out on the Blue Ridge Parkway.
Find updated NPS closures here and look under 'Weather,' specifically to see if the BRP gates are closed.
As with all Asheville hiking, we always recommend that you get there early, and weekdays are quieter. Of course, sunset would be gorgeous here. Fall is the busiest season.
How Do You Get To Fryingpan Lookout Tower?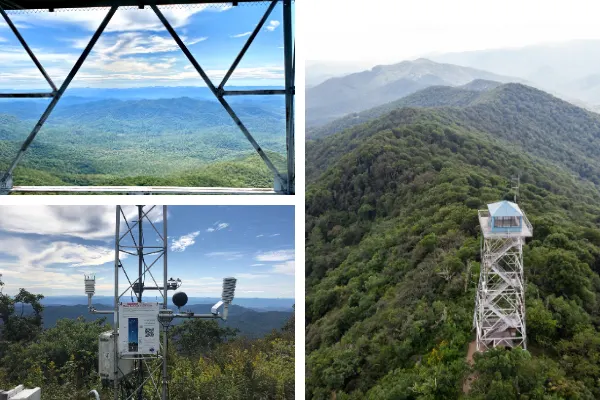 From Asheville, you'll head south down the Blue Ridge Parkway.
Once you pass the Pisgah Inn Campground and Funnel Overlook on your left — you cannot miss them — you'll look for the gravel road and lot on your right, which is also marked by a gate.
This is around Milepost 410 and Forest Service Road 450 (also marked by a small sign).
You can park anywhere in this lot — just don't block the gate. Also, don't be like us and know that the gravel road is your trail.
There is a grassy trail on your right from the parking lot that will take you to the Mount Pisgah Camping Grounds and not the tower.
More Hikes & Waterfalls Around Fryingpan Lookout Tower
This section of the Blue Ridge Parkway is filled with stunning hikes of various lengths and difficulty levels. You'll even catch a waterfall or two.
Since the Fryingpan Mountain Trail is so short, these are a few more hikes that you can visit on the same day:
Mount Pisgah
You will pass Mount Pisgah on your way to Fryingpan Mountain Trail & Tower. If you love those 360-degree views, Mount Pisgah is perfect.
Explore the 5,721-feet summit and famous observation platform — where you can see Fryingpan Mountain and Looking Glass Rock.
A moderate hike, Mount Pisgah is known for its summer rhododendron and mountain laurels as well as vibrant fall foliage. Read more about the Mount Pisgah Trail→
Skinny Dip Falls
Located on the BRP about 7-miles from Fryingpan Mountain Tower, don't miss Skinny Dip Falls & Hike. This is one of the most popular hikes near Asheville, NC for swimming. The trail is easy for families and is just under a mile round trip.
Wear a swimsuit, kiss the Dragon Tree's snout, and find your own private rock for a picnic. People spread out along the falls, and there are plenty of wading pools for younger children. There are no lifeguards at Skinny Dip. Read more about the Skinny Dip Falls hike→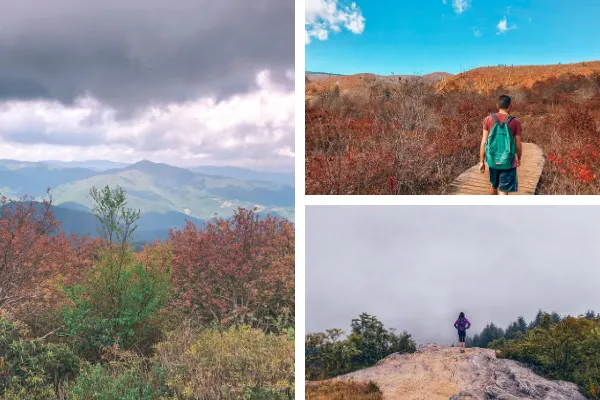 Graveyard Fields
Graveyard Fields Hike and Waterfalls are 8-miles south of Fryingpan Lookout Tower. One of our favorite fall foliage hikes near Asheville, you can catch 2 waterfalls here, Low and High Falls. There are easy to moderate hikes of varying lengths perfect for all types of hikers.
Black Balsam & Sam Knob Hike
Eleven miles south of Fryingpan Mountain Tower, Black Balsam is another extremely popular Blue Ridge Parkway hike. Known for its almost 360-degree views, head up part of the Art Loeb Trail or Sam Knob to Black Balsam Knob.
This is about a 1.5-mile easy to moderate hike. If the fog doesn't thwart your view, you'll be in for a treat.
Pink Beds Loop
Close to the Fryingpan Mountain area of the BRP — located in the Cradle of Forestry — nature lovers will covet Pink Beds Loop and Picnic Area. This is an easy and mostly flat 5.5-mile loop with a connector for a shorter hike. Read more about Pink Beds here→
Brevard's Breweries
Only about 30-minutes away, head to Brevard for a delicious brew. Asheville isn't the only area with famous craft beer. Grab our Brevard Brewery List here→
Read more about all of the best day trips around Asheville.
Save This Post About Fryingpan Mountain Lookout Tower For Later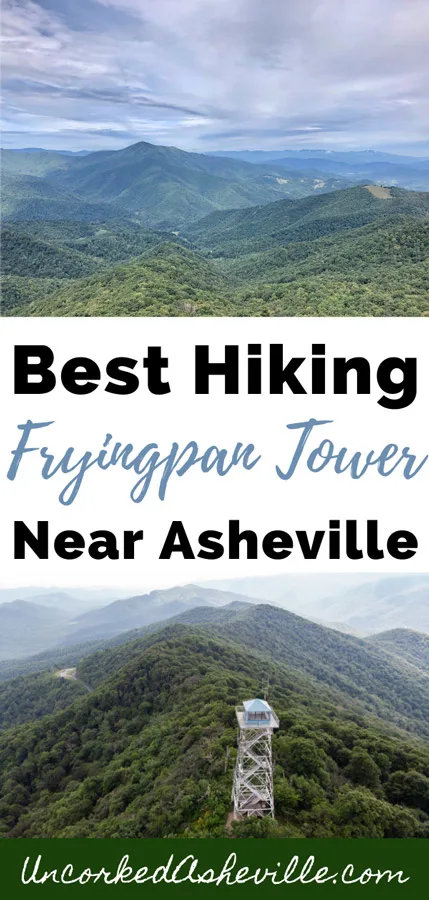 Where Can You Stay Near The Fryingpan Lookout Tower & Trail?
Aloft – Downtown Asheville – If you are looking for downtown AVL hotels, the Aloft is newly renovated as of 2020 with gorgeous murals, rooms, and public areas. Plus, you'll be in the heart of Asheville, North Carolina.
Pisgah Inn & Campground – We have not stayed at the Pisgah Inn, but I did want to mention it since you will literally pass the grounds on your way to the Fryingpan Mountain Trail. For many, the Inn is a fall tradition.

Hampton Inn And Suites Asheville Biltmore Area – I'm not going to lie: although this hotel is on a busy road across from the Asheville Outlets, it's one of our favorites before moving to Asheville. Clean and in the middle of everything, you can access downtown, Biltmore, and the Blue Ridge Parkway pretty quickly.
See our Top Places To Stay in Asheville.

Don't miss out on these Asheville properties on Booking.com, too.
Have you been to Fryingpan Mountain? What are your favorite Asheville hikes along the Blue Ridge Parkway and Mount Pisgah area?
Have you ever hiked Fryingpan Mountain Trail? Would you climb the scary steps up Fryingpan Lookout Tower?
Do you have any questions? Please let us know in the comments.
Hiking Posts You May Also Enjoy:
30+ Favorite Hikes Near Asheville As Locals
Asheville Hikes For Waterfall Chasers
Fall Foliage Hikes Around Asheville You Don't Want To Miss
Best WNC Blue Ridge Parkway Hikes
Unique Trails & Waterfalls Around Fryingpan:
Swim at Skinny Dip Falls
Panorama Views Along The Mount Pisgah Hike
Pink Beds Loop & Picnic Area
Hikes Near Asheville With Even More Views
Hiking Craggy Pinnacle
Craggy Gardens Hike & Visitor Center
Lover's Leap In Hot Springs, NC
Bearwallow Mountain & Its Cows
Harder Trombatore Trail
Little & Big Butt Hike
Max Patch Summit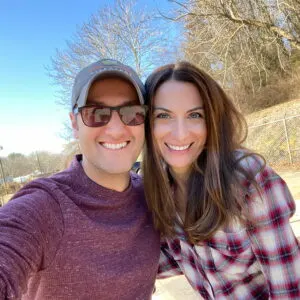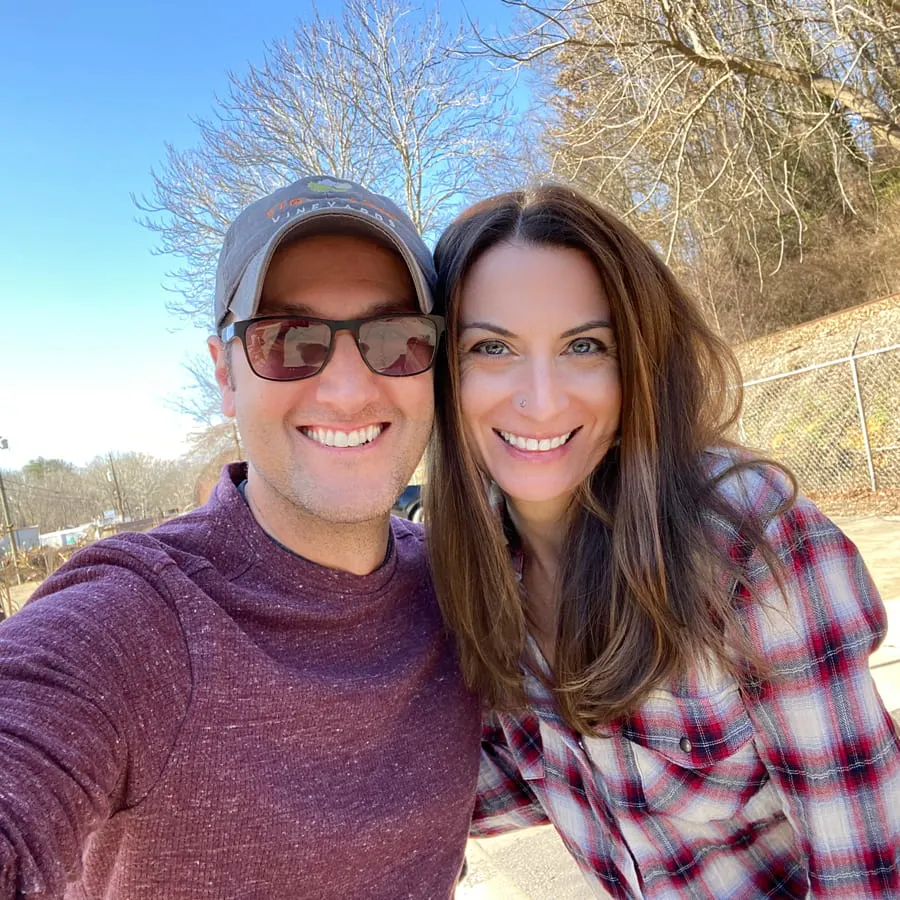 Christine (pronouns: she/her) is the owner and lead writer of Uncorked Asheville. After falling in love with those gorgeous Blue Ridge Mountains, Christine and her husband Tom decided to call Asheville, North Carolina their home. When her pointy Italian nose isn't stuck in a book, Christine is adopting all of the kitties, getting lost in the forest, and drinking an ESB.
Christine has a BA in English and History from Smith College, her MLIS from USF-Tampa, and is a former U.S. Fulbright Scholar - Indonesia. She also owns The Uncorked Librarian LLC with books and movies to inspire travel.