Craggy Pinnacle Trail Along The BRP For Spectacular Views
For a beautiful short hike near Asheville, NC head to Craggy Pinnacle. The Craggy Pinnacle Trail is a 1.4-mile out and back with stunning 360-degree views.
We love living in Asheville, especially with parts of the Blue Ridge Parkway (BRP) pretty much in our backyard. The BRP is filled with hiking, blooms, overlooks, and cascading waterfalls.
Craggy is one of our favorite stops along the Blue Ridge Parkway north of Asheville. Only about 35 minutes from the city, you can hike Craggy Pinnacle Trail or picnic at and hike Craggy Gardens.
There's a convenient Visitor Center in the middle of the Craggy area with facilities, and nothing beats the endless mountain views. This is the epitome of Western North Carolina.
Craggy Pinnacle is especially breathtaking because of its 360-degree pinnacle at around 5,890 feet. No matter the season, you'll catch some sort of blooming vibrance: flowers or fall leaves.
The Craggy Pinnacle hike is short and moderate but not too hard. Plus, you can use the rest of the day to explore nearby Mount Mitchell, Little Butt Trail, Craggy Gardens, or even downtown Asheville.
Keep reading to get the best tips and tricks for the Craggy Pinnacle hike and trail from Asheville locals. We'll tell you when to go, what to expect, and where to head next. Let's get started!
Love a hike with amazing views? Don't miss our Master Asheville Hiking Trails Guide.
---
This post may contain affiliate links that earn us a commission at no extra cost to you. If you love these guides, support Uncorked Asheville here.
---
Craggy Pinnacle Trail Stats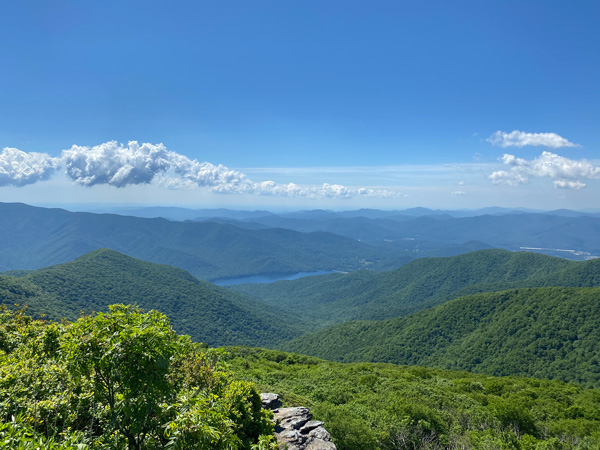 Distance From Asheville, North Carolina: 37 minutes; 18 miles
Address: Craggy Pinnacle, 3641 Blue Ridge Pkwy, Barnardsville, NC 28709
Hike Difficulty: Short but moderate
Length: 1.4 miles
Duration Of Hike: Under 1 hour
Type Of Hike: Out and back; only trailhead markers
Don't miss these cottages, B&Bs, hotels, cabins, and inns around Asheville, NC. Grab our Asheville recommendations, too.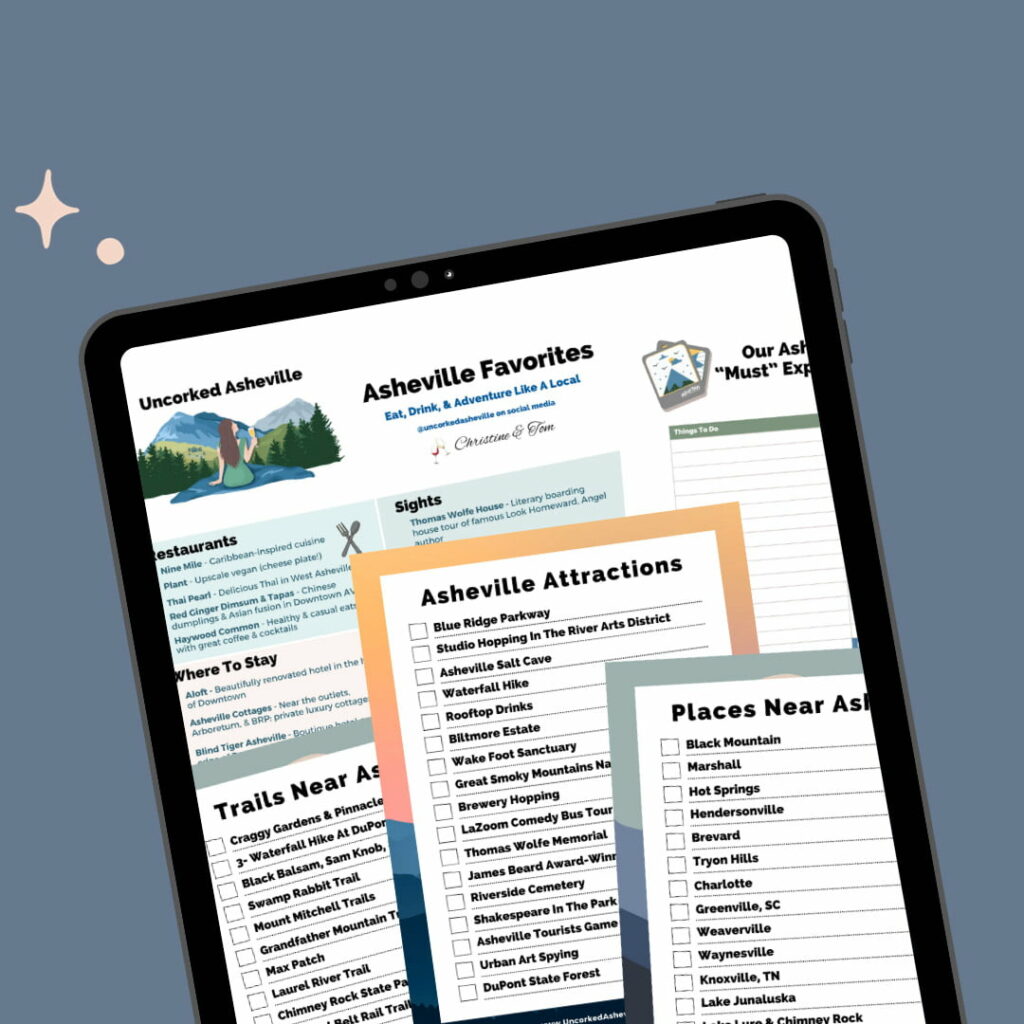 Never Miss Another Asheville Update
Experience Asheville like a local with our free attractions, dining, hiking, and day tripping guides. Get events, updates, and more straight to your inbox from Christine.
Why The Craggy Pinnacle Hike?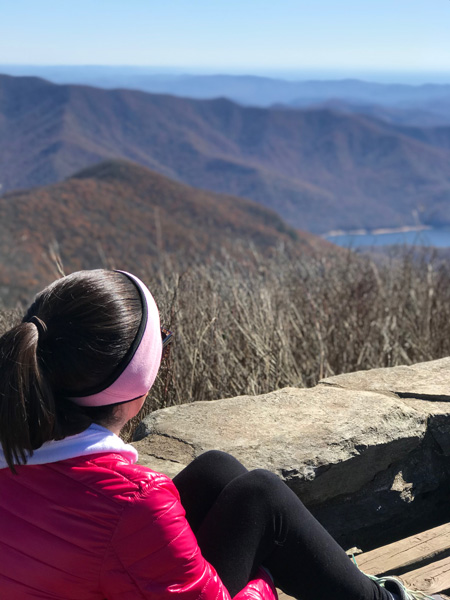 Craggy Gardens and Craggy Pinnacle are two of our favorite spots along the Blue Ridge Parkway. If you are an Asheville traveler, they are especially convenient since both are so close to the city.
Craggy Pinnacle is a gorgeous part of the BRP with spring mountain laurels, summer Catawba rhododendrons, and fall foliage. Hikers covet the Craggy Pinnacle Trail for the short hike, incredible beauty, and endless views.
At the pinnacle, you can see Mount Mitchell, Craggy Gardens, and the Asheville Watershed. The parking lot is 5,640 feet high with an additional 250-foot incline, providing trekkers with breathtaking 360-degree mountain views.
Locals and tourists alike come here for sunsets and a breath of fresh air. The Craggy Pinnacle hike is a moderate incline up rocks. However, the hike is short and under an hour. We've seen many older tourists use hiking sticks here.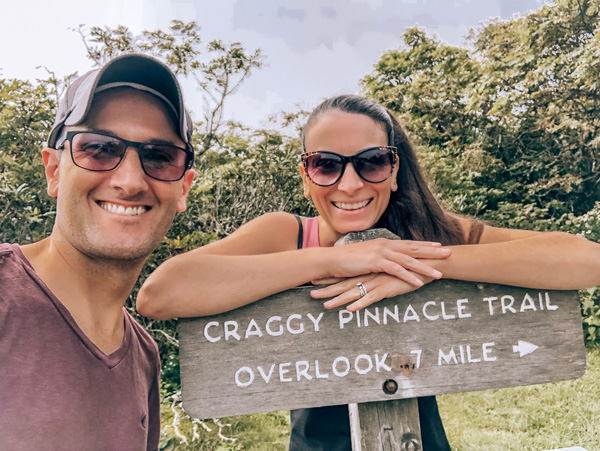 Hike .7 miles each way on this out and back, and know that the Craggy Pinnacle Trail grows a little muddy after rain. In the early winter — before the BRP closes — ice will also make the trail slippery.
Foggy days are frequent, giving Craggy Pinnacle a romantic (or creepy) vibe. If there is fog, you might not have any views from the scenic overlooks. Obscured views can be disappointing if this is your first and only visit.
Afterward, Craggy Gardens and Mount Mitchell are nearby and equally worthy stops along your Blue Ridge Parkway tour. For something harder, try the Little Butt hike.
When Is The Best Time To Hike Craggy Pinnacle?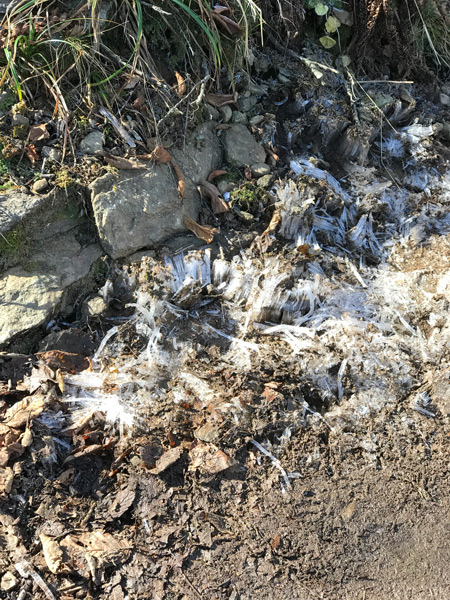 We love hiking Craggy Pinnacle all year round until the Blue Ridge Parkway closes. This portion of the Blue Ridge Parkway typically closes in the late fall and throughout the winter due to weather.
We always recommend checking the National Park Service's website for all Blue Ridge Parkway updates and closures.
In the springtime, you'll catch beautiful wildflowers like mountain laurels. In the summer — usually mid-June — the rhododendrons peak. You cannot beat a crisp and clear fall day and hike with the vibrant Asheville foliage.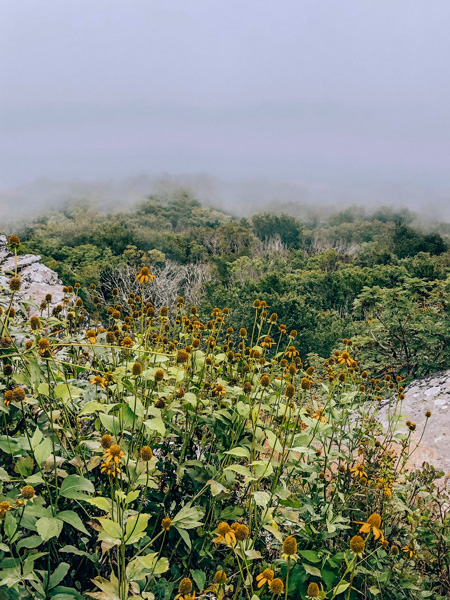 Just be wary of fog. Since this area of the BRP has a high elevation, fog and clouds roll in and out, obscuring views and even road visibility.
If Asheville looks dark and foggy, it's safe to assume that Craggy is fogged in, too. On the flip side, Asheville may be warm and sunny, but the Craggy area will be all clouds.
Keep in mind, the temperatures are cooler up here, as well. We suggest hiking in layers.
How Do You Get To The Craggy Pinnacle Trailhead?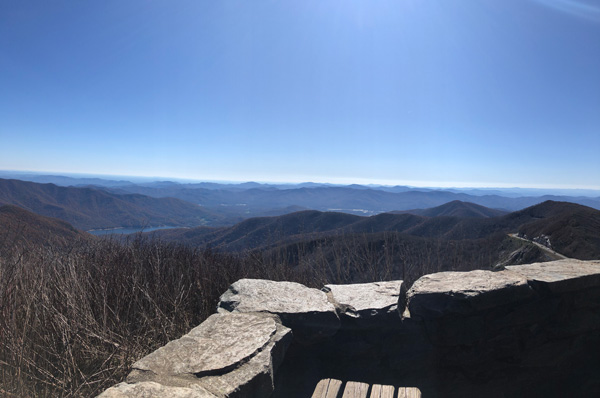 Head north down the Blue Ridge Parkway from Asheville, NC. You'll pass Craggy Gardens Picnic Area and Craggy Gardens Visitor Center. Craggy Pinnacle is only about 1 minute past the Visitor Center on your left.
You'll find an upper and lower, one-way paved parking lot. The Craggy Pinnacle Trail starts at the top of the upper lot. Just follow the stairs. There is also a trailhead sign, but the trail itself is not marked throughout the hike.
What Else Can You Do Around Craggy Pinnacle?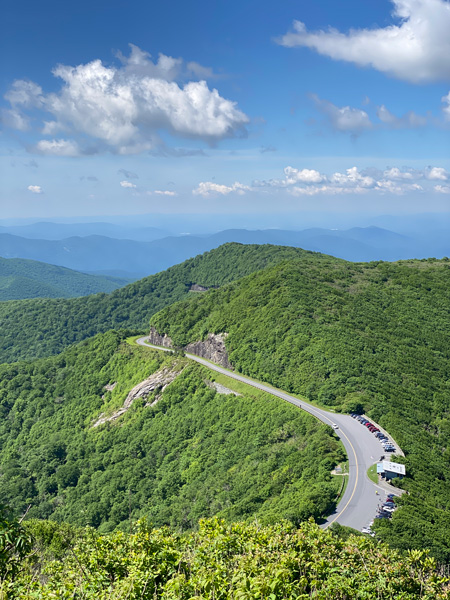 Craggy Gardens
At Milepost 364.4 (Craggy Gardens Visitor Center) or 367, you can park and hike Craggy Gardens. With a picnic area and facilities at both milepost lots, encounter wildflowers and incredible views.
The entire Craggy Gardens hike is about 2 miles roundtrip as an out-and-back trail. To us, Craggy Gardens is one of the prettiest hikes off of the BRP.
Little Butt & Big Butt Trails
If you are looking for more strenuous Blue Ridge Parkway hikes, located near MP 359 just past the Craggy area, hike 5-miles roundtrip to Little Butt, a small rock overhang with stellar views.
You can add an extra mile to the trip by continuing on to Big Butt. Don't miss our complete guide to Little Butt here.
Mount Mitchell State Park
At MP 355 — less than 9 miles or 15 minutes from Craggy Pinnacle — climb the highest peak east of the Mississippi River. Mount Mitchell's summit has an elevation clocking in at 6684 feet.
Don't miss your favorite mountains from afar. It is free to enter Mount Mitchell, and there are various hiking trails around the summit trailhead.
Downtown Asheville
Of course, you are extremely close to downtown Asheville. Grab a bite to eat and local craft beer to refuel after your gorgeous day along the Blue Ridge Parkway. Uncover all that you can do in and around Asheville.
More Hikes With Views Around Asheville
If you love hikes with incredible views, you may also enjoy Bearwallow, Lover's Leap in Hot Springs, famous Mount Pisgah, Fryingpan Mountain Tower, and Max Patch summit along the AT.
Where To Stay Around Asheville
Don't miss these inns, hotels, cottages, and cabins around Asheville. Also, be sure to check out our Asheville recommendations.
Save This Post For Later
Have you hiked the Craggy Pinnacle Trail?
Have you been to Craggy Pinnacle or Craggy Gardens? What did you think? Did you catch the blooms? What are your favorite Blue Ridge Parkway hikes? Please let us know in the comments.
Looking For More Outdoor Adventures?
Best Things To Do In Asheville
Asheville Hiking Trails To Love
Asheville's Nearby Waterfall Hikes
Best Picnic Areas Around AVL
Favorite Day Trips From Asheville
Nearby BRP Trails
Blue Ridge Parkway Trails To Love In NC
Little Butt & Big Butt Past Craggy Pinnacle
Craggy Gardens Picnic Area, Visitor Center, And Hike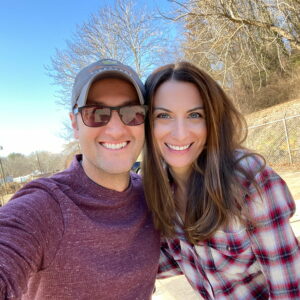 Christine (pronouns: she/her) is the owner and lead writer of Uncorked Asheville. After falling in love with those gorgeous Blue Ridge Mountains, Christine and her husband Tom decided to call Asheville, North Carolina home. When her pointy Italian nose isn't stuck in a book, Christine is adopting all of the kitties, getting lost in the forest, and drinking an ESB. She has a BA in English and History from Smith College, her MLIS from USF-Tampa, and is a former U.S. Fulbright Scholar - Indonesia. Christine also owns The Uncorked Librarian LLC with books and movies to inspire travel.