Get outside with the best Blue Ridge Parkway hikes in North Carolina. We'll share our top favorite Blue Ridge Parkway trails near Asheville for fall leaves, picnics, blooms, and views.
The Blue Ridge Parkway (BRP) is a 469-mile, non-stop, scenic and recreational road managed by the National Park Service (NPS). Known as 'America's Favorite Scenic Drive,' the BRP is free to access.
This two-lane parkway runs from Virginia's Shenandoah National Park to Great Smoky Mountains National Park in North Carolina. The BRP is filled with scenic overlooks and cascading waterfalls.
There are endless Blue Ridge Parkway hikes in North Carolina, and many are especially close for Asheville visitors. And let's face it, Blue Ridge Mountain hikes are life and fill up your…wine glass or beer mug.
For us, nothing compares to those vibrant fall foliage hikes along the Blue Ridge Parkway. In the spring and summer, find swimming holes and blooms. Most of the BRP in NC will close for the winter.
So, pack a picnic along with your hiking gear, and uncover the best Blue Ridge Parkway hikes in and near Asheville, NC.
Please remember that 'best' is subjective; we are just sharing the NC portions of the BRP that we love as Asheville locals.
We'll tell you when to go and what to expect. Let's get started!
Don't miss all of the Gorgeous Hiking Trails Around Asheville.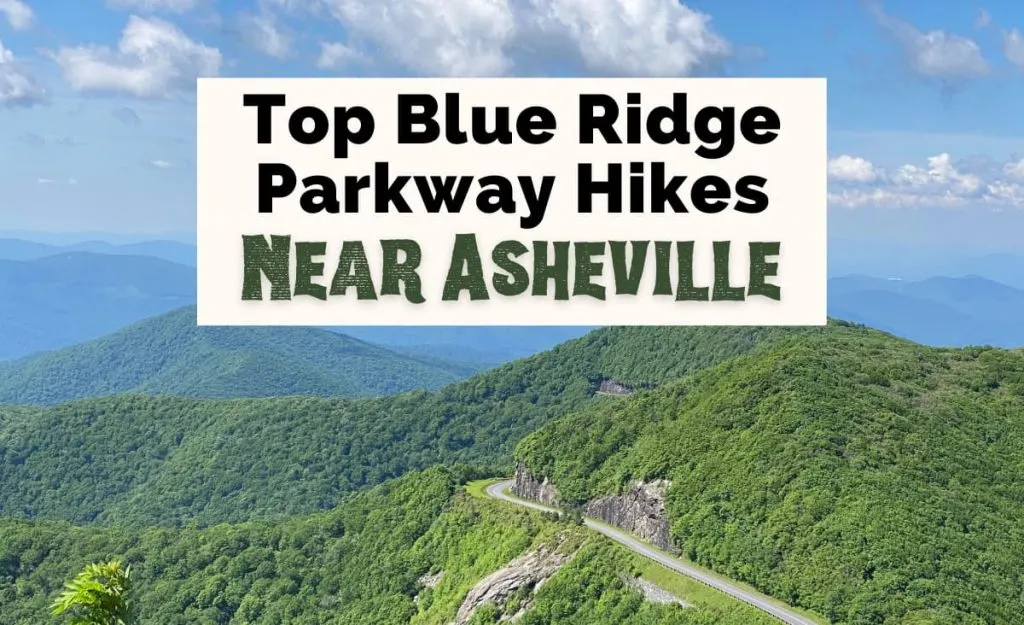 This post may contain affiliate links that earn us a commission at no extra cost to you. If you love these guides, support Uncorked Asheville here.
See our Top Places To Stay in Asheville.

Don't miss out on these Asheville properties on Booking.com, too.
Best Blue Ridge Parkway Hikes In NC (Close To Asheville)
1. Black Balsam via Art Loeb or Sam Knob
Near MP 420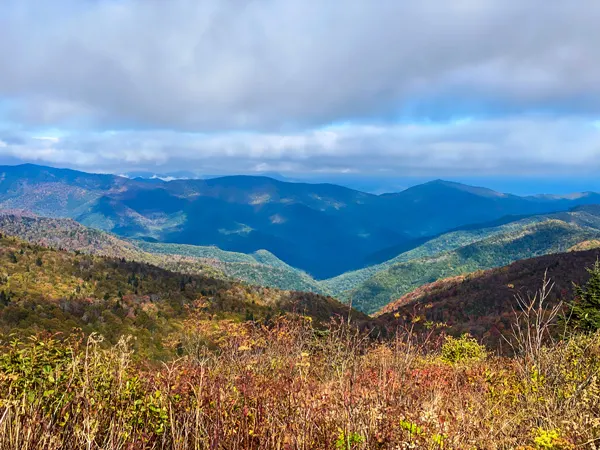 One of the prettiest NC Blue Ridge Parkway hikes in autumn, Black Balsam won't disappoint. This popular hike has two routes that we love and frequent: Art Loeb and Sam Knob.
Both BRP hikes have 360-degree views on a clear day. You may also jump from one trail to the other to catch each 'knob."
Beware of the fog — misty clouds will obscure everything. In the summer, you'll spy blueberries and wildflowers.
For fall foliage, Black Balsam and Graveyard fields are usually the first to peak around Western North Carolina.
If you stay mostly along the Art Loeb Trail, the trail is about 2 miles. You can hike Black Balsam as an out and back or loop depending on the trails you use.
Black Balsam via the Art Loeb Trail is considered a moderate to easy BRP hike. One of our contributors, Tori of Explore with Tori, recommends Black Balsam as a fantastic family-friendly trail.
You may also wish to continue your hike to Tennent Mountain. People have gotten lost the further they venture along the Art Loeb Trail, though.
We always hike with pre-downloaded GAIA maps and our Garmin. Cellular signals will come in and out.
Since Black Balsam is an extremely popular Blue Ridge Parkway hiking trail, we suggest going on a weekday and early in the AM.
Never Miss Another Asheville Update
---
Tired of generic Asheville travel itineraries? Experience Asheville like a local with our free Asheville Favorites checklist, including restaurants, breweries, and hiking. Plus, get local updates – including events and hidden gems – straight to your inbox. Sign up here.
2. Graveyard Fields Loop
Near MP 418.8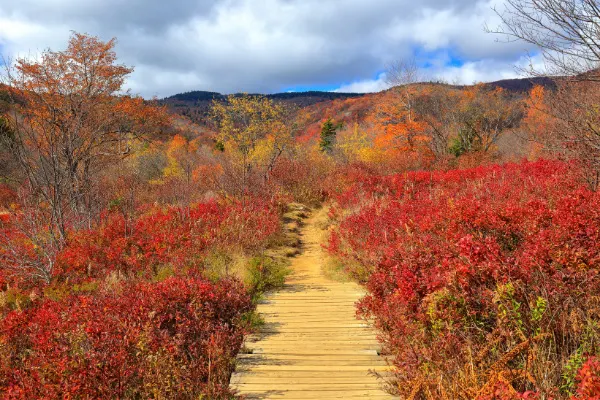 Another one of the most popular fall hikes near Asheville along the Blue Ridge Parkway, don't miss Graveyard fields.
Insider tip: there are very basic restrooms, and the parking lot is pretty small and tight. Get here early and weekdays are best.
Why Graveyard Fields? There are two waterfalls, Upper and Lower (Second) Falls.
Lower Falls is only .4 miles from the trailhead when you turn right after the footbridge.
You can then loop back to pick up the full Graveyard Loop Trail, which is about 2.9 miles, round trip. Follow signs for Graveyard Loop/Upper Falls. We have gotten a little lost around here.
You will also pass Graveyard Ridge Trail before entering the shorter loop. We hiked a small portion of Graveyard Ridge for fun. Good maps are a must here.
3. Skinny Dip Falls*
MP 417 Looking Glass Rock Overlook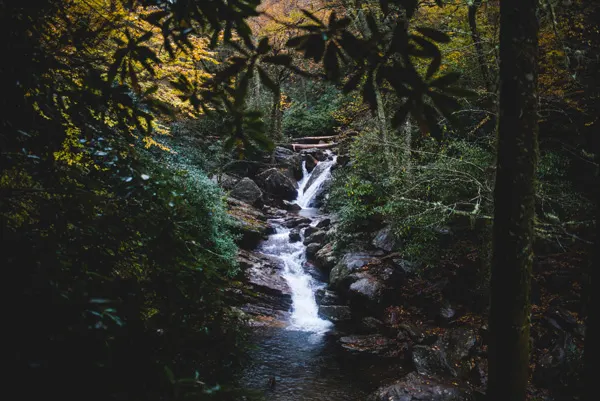 *In 2021, flooding damaged Skinny Dip Falls, and they no longer resemble the above picture.*
One of the best Blue Ridge Parkway hikes for a tropical oasis and swimming hole, head to Skinny Dip Falls. Kiss the dragon tree on its snout on your way into the forest.
Park at Looking Glass Rock Overlook, and carefully cross the Blue Ridge Parkway. The Skinny Dip Trail is a little under 1 mile total as an out and back, and this BRP hike is extremely accessible for families.
Hikers spread out around the falls. There are plenty of wading pools for younger children but no lifeguards on duty.
The rocks are slippery, and the water is chilly. Please exert caution and read up on waterfall safety.
Skinny Dip Falls is most popular on a summer weekend. Graveyard Fields is only about 3 miles away.
4. Fryingpan Mountain Lookout Tower
Around MP 409.6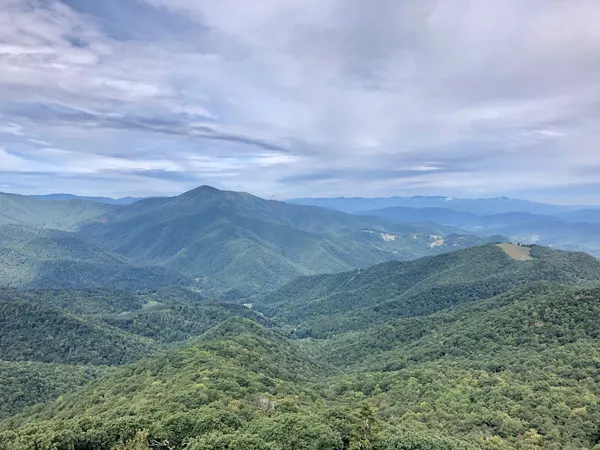 What's the most terrifying hike on the Blue Ridge Parkway in North Carolina? If you are afraid of heights, we'd say Fryingpan Mountain Lookout Tower.
Why would anyone submit themselves to a rickety fire tower with see-through stairs? The 360-degree views are well worth a stomach drop or two.
The Fryingpan Mountain Trail is an easy to moderate 1.6-mile hike along the BRP immediately past Mount Pisgah. The hike itself is an underwhelming gravel road, but the views are everything.
Please don't block the gate when you park in the small gravel lot and pay close attention to all trespassing signs.
5. Mount Pisgah
Around MP 407-408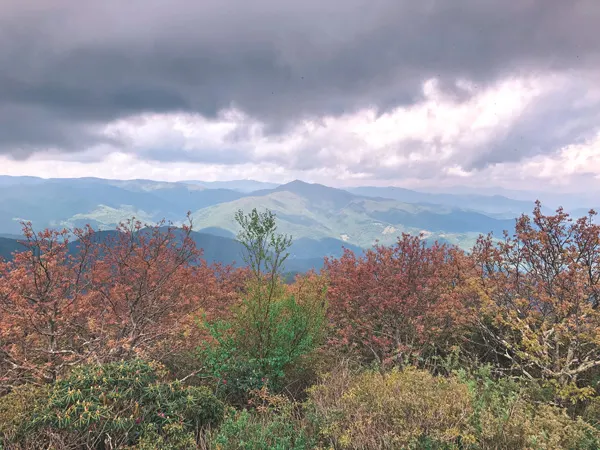 For one of the more challenging NC Blue Ridge Parkway trails, head to the ever-popular Mount Pisgah.
Like its Fryingpan Mountain neighbor, encounter 360-degree views. There is also a picnic area across the street.
Mount Pisgah is one of the most recognizable mountain peaks around Asheville. You can see Mount Pisgah from the Grove Park Inn, downtown AVL, and Biltmore Estate.
The Mount Pisgah Trail is a moderate 2.6-mile out and back. With a 750-foot elevation gain, the top peaks out at a 5,721-foot summit at the observation deck.
6. North Carolina Arboretum & Bent Creek Experimental Forest
Off Of MP 393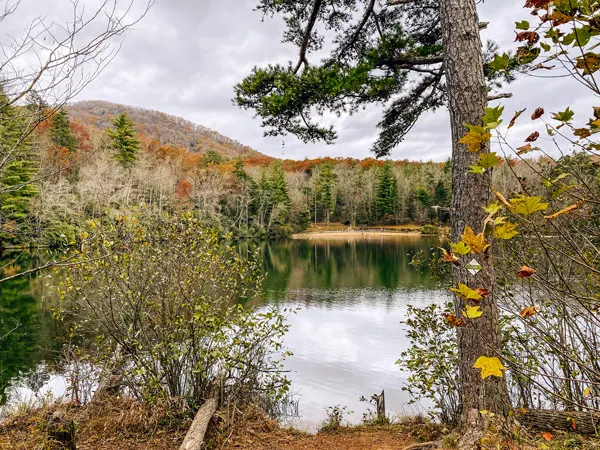 If you park around the Bent Creek Experimental Forest, it is free to hike and bike the trails. The Hard Times Trail is one of the most frequented trails here. Lake Powhatan is here as well.
Or, you could pay for a one-day ticket or annual pass to access even more hiking trails, the Hard Times Trail, and the vibrant gardens at The North Carolina Arboretum.
The NC Arboretum is technically located immediately off of the Blue Ridge Parkway in Asheville around MP 393.
The Arboretum is most enjoyable in the spring, and its fall trails are usually less crowded than the ones directly on the BRP.
The North Carolina Arboretum also boasts of Winter Lights along with its temporary and seasonal garden displays and exhibits.
With hikes of varying lengths and difficulties along with full facilities, The NC Arboretum is perfect for families, too.
7. Craggy Gardens
Around MP 364.4-367.6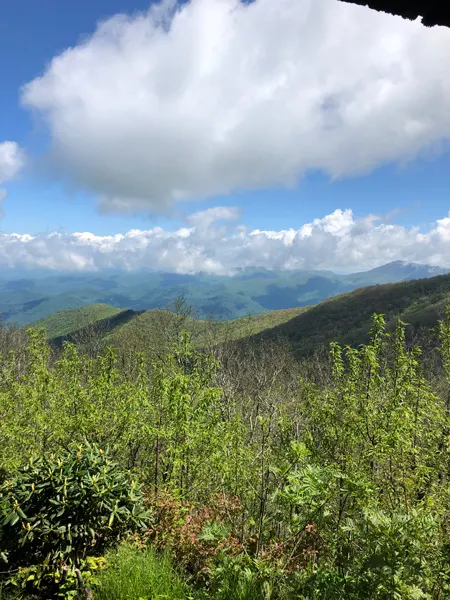 One of the closest Blue Ridge Parkway hikes near Asheville, Craggy Gardens has two easy access points: Craggy Gardens Visitor Center (MP 364.4) and Craggy Gardens Picnic Area (MP 367.6).
Both have restrooms.
Craggy Gardens is one of our favorite picnic areas around AVL and is especially known for its summer rhododendron.
Hike to Craggy Flats or the gazebo for astounding Blue Ridge Mountain views.
The main and moderately easy trail is just under 2 miles if you go from one end of Craggy to the other. Many hikers just stop at the top, though. Sunsets are also popular here.
8. Craggy Pinnacle
Around MP 364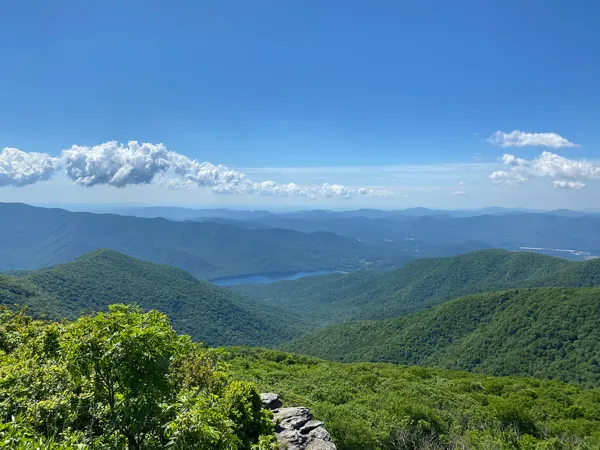 The Craggies are some of our favorite Blue Ridge Parkway hikes in NC. If you have time, also head to Craggy Pinnacle after Craggy Gardens, just past the visitor center.
At Craggy Pinnacle, spy 360-degree NC Blue Ridge Parkway views and more of those gorgeous spring and summer blooms.
A short but moderate hike with an incline, you can see the Asheville Watershed, Craggy Gardens, and Mount Mitchell.
The Craggy Pinnacle hike is about 1.4 miles as an out and back, and the trail is slippery after rain.
Please adhere to all signs at the top, and stay in designated areas to protect the wildlife and plants.
9. Little Butt & Big Butt Trails
About MP 358.9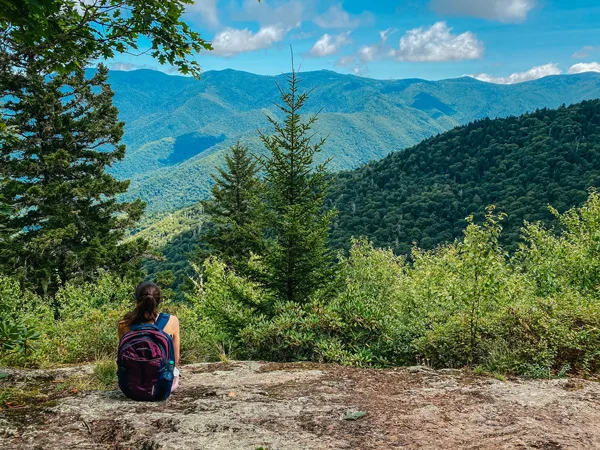 A lesser-known and tougher Blue Ridge Parkway trail, find absolute quiet on a moderately hard 5-mile out and back.
Heck, with an area called "Point Misery," you know that you'll accomplish one stellar workout.
Little Butt Trail is full of forest stairs – my worst enemy – and sometimes tall grass. Unlabeled, you'll know that you've reached Little Butt's overlook when you see a quiet rock with stunning views.
You can continue past Little Butt for .5-miles to Big Butt, but the rest of the hike is relatively underwhelming.
Parking is limited at Little Butt, and you'll recognize this BRP trailhead by a small horseshoe-shaped lot. You can also pick up the Mountains-To-Sea Trail to the right of Little Butt.
10. Mount Mitchell
Around MP 355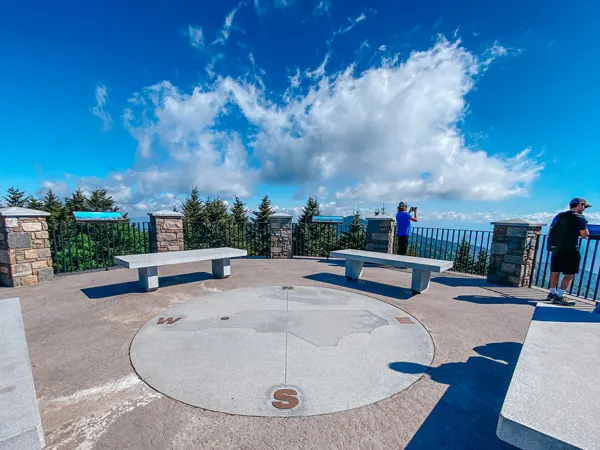 Climb the highest peak east of the Mississippi River – 6,684 feet – at Mount Mitchell.
One of the most popular day trips from Asheville and NC Blue Ridge Parkway hikes, find numerous hiking trails and picnic spots.
If you just want to see the main attraction, the Summit Tower Trailhead is an easy and paved trail that's only 280 yards long from the upper parking lot.
The Summit Trail also provides access to Old Mitchell Trail and the Balsam Nature Trail.
At the summit, find a giant compass and informational boards naming the mountain ranges.
If you only walk the Summit Tower Trailhead and are looking for more nearby Blue Ridge Parkway trails, consider the Craggies or Little Butt.
Mount Mitchell is located in Burnsville, a fabulous town near Asheville to explore.
11. Crabtree Falls
Around MP 339.5 & close to Little Switzerland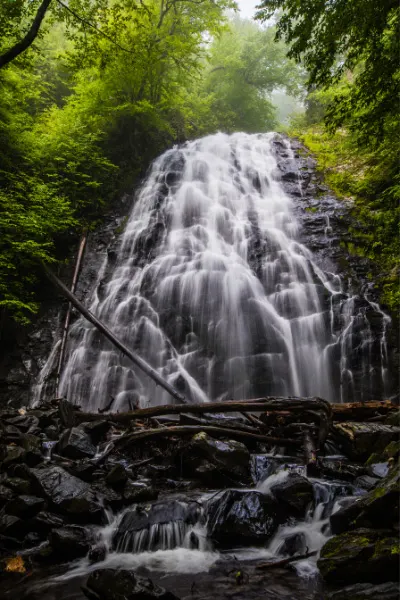 For one of the prettiest Asheville waterfall hikes on the Blue Ridge Parkway, head toward Little Switzerland.
Crabtree Falls is a moderately easy 2-mile out and back. Or, choose the slightly harder 2.5-mile loop.
This BRP trail ends at gorgeous 70-foot falls. The trail may be slippery, and many times, we hear hikers a little stressed out about the level of difficulty here.
The trail is easy-ish but also slightly long and rocky. You may have to cross running and errant streams.
Solid hiking shoes and ample water help. Afterward, head to the small mountain town of Little Switzerland.
12. Linville Falls & Gorge
MP 316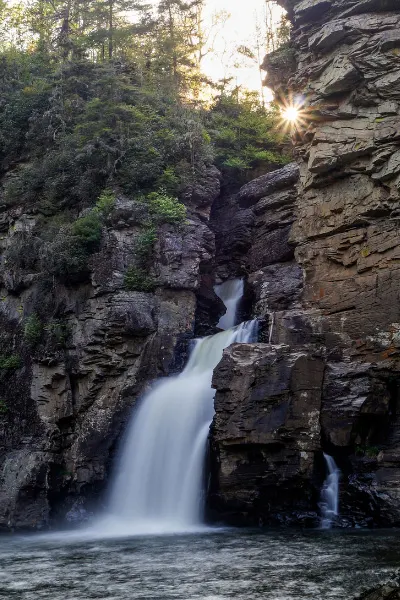 As Asheville locals, we don't usually access Linville Falls from the Blue Ridge Parkway. We take 1-40 East and US-221 North because it's shorter.
However, hikers and travelers that want the longer and more scenic drive may jump on the Blue Ridge Parkway in NC. For us, the BRP tacks on an additional 40 minutes.
Linville Falls is one of the most photographed waterfalls in WNC. You'll find a Visitor Center and restrooms.
Choose from a variety of trails ranging in length and difficulty. To the left of the Visitor Center, don't miss the lesser-known trailheads that take you around the falls and to the base.
The falls are about 90-feet high, and there are 5 viewpoints that total a 4-mile hike. Popular Linville Falls hikes include Erwins View Trail and Linville Gorge.
You may want to visit Linville Falls and Grandfather Mountain together. We'd personally start our morning at Grandfather Mountain first to beat the crowds.
If you don't want an intense day of hiking, sneak a peek at Linville Falls from one of the easier vantage points. Afterward, if you love wine, don't miss Linville Falls Winery to end your day.
13. Grandfather Mountain
MP 305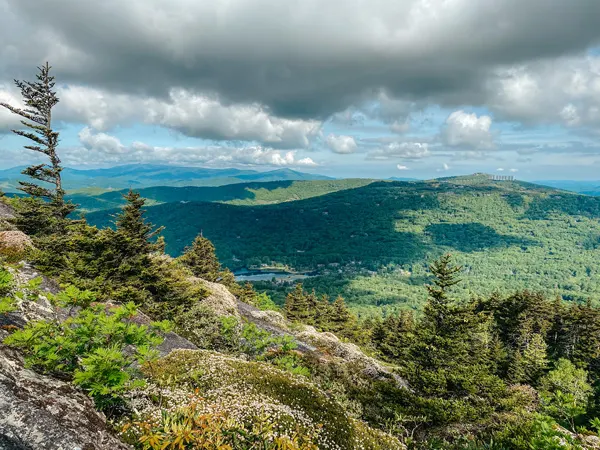 Grandfather Mountain is truly an attraction. For NC Blue Ridge Parkway hikes, either drive up to most of the scenic locations or pick a hiking trail.
Along with the popular Mile High Swinging Bridge, Grandfather Mountain is home to animal habitats, a cafe, and backcountry and in-park hiking trails.
On your way back through the exit, don't miss Forrest Gump Curve – one of NC's most famous filming locations.
Hikers can access two off-mountain trailheads from the Blue Ridge Parkway – or U.S. 221 in winter – without paying admittance into the mountain.
You can book your Grandfather Mountain visit here.
Save These Blue Ridge Parkway Hikes In North Carolina For Later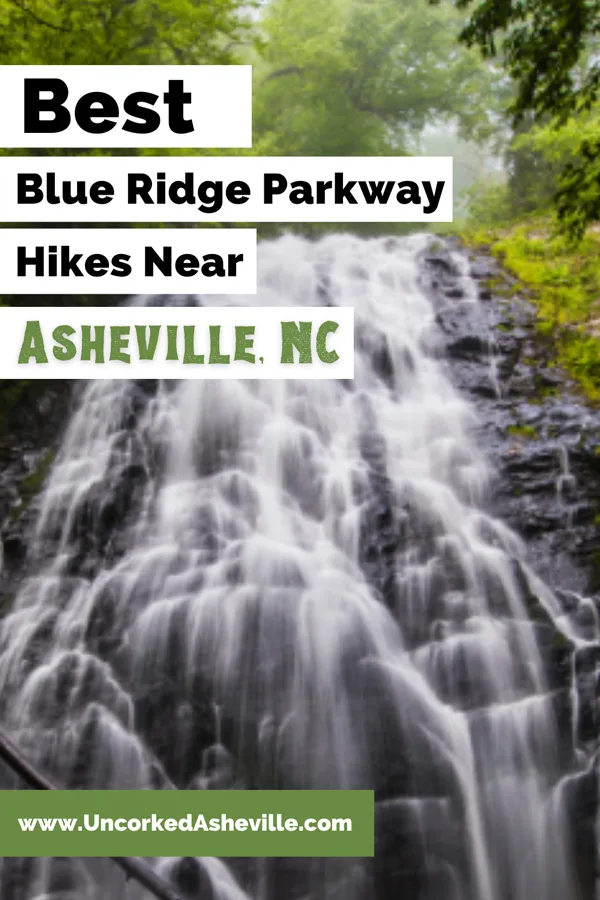 A Few Things To Keep In Mind Before Hiking The Blue Ridge Parkway
Cellular is iffy along the Blue Ridge Parkway. You can navigate the road via milepost makers and with pre-downloaded offline maps.
Dense fog rolls in and out, covering up beautiful views and your line of sight. Exert caution. While it may be sunny and gorgeous in Asheville, the Blue Ridge Mountains may be cloudy and angsty.
Follow all posted speed limit signs, and please never stop dead in the middle of the BRP just to take a picture (yes…that happens).
Use designated pullover spots and overlook parking lots. They are plentiful.
Temperatures may be 10 to 20 degrees cooler here. Pack layers and be prepared for random rain showers in the summer.
Before you head out across the Blue Ridge Parkway, please check for road and gate closures on the NPS site.
Most of the BRP will close in the winter for the weather. Sometimes, sections of the BRP are closed for maintenance.
Please keep your eyes peeled for wildlife crossing the parkway, including black bears, and exert caution around bicyclists.
The best times to travel along the BRP are in the spring and summer to catch the blooms and in the fall for the foliage.
The NC Blue Ridge Parkway grows extremely busy during peak fall foliage season. Arrive at your destination early and be patient.
A few Blue Ridge Parkway websites to best help you plan your trip:

Blue Ridge Parkway
U.S. National Park Service
You may also enjoy our guides to the Oconaluftee River Trail & Mingo Falls, which are right off of the Blue Ridge Parkway in Great Smoky Mountains National Park.
Where Can You Stay Around The NC Portion Of The Blue Ridge Parkway?
Don't miss our Asheville hotel recommendations.
Check out these inns, cottages, cabins, and hotels around the Blue Ridge Mountains.
What are your favorite Blue Ridge Parkway hikes in NC?
What are the best Blue Ridge Parkway hikes around Asheville that you love? What hikes on the Blue Ridge Parkway are on your bucket list? Please let us know in the comments.
More Trip Planning Tips For Navigating The Blue Ridge Parkway In NC:
Gorgeous Picnics Around AVL
Fall Foliage Hikes You Cannot Miss
Asheville's Top Hiking Trails
Day Trips Around Asheville
Asheville Travel Guide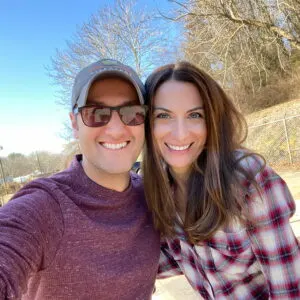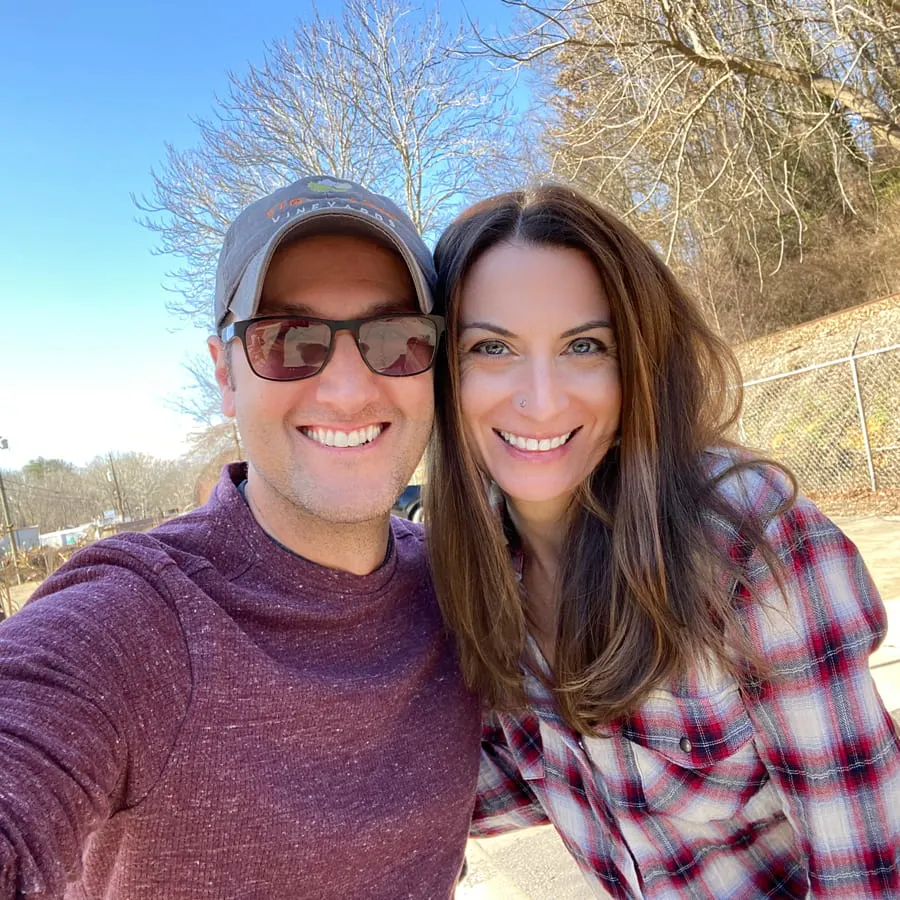 Christine (pronouns: she/her) is the owner and lead writer of Uncorked Asheville. After falling in love with those gorgeous Blue Ridge Mountains, Christine and her husband Tom decided to call Asheville, North Carolina their home. When her pointy Italian nose isn't stuck in a book, Christine is adopting all of the kitties, getting lost in the forest, and drinking an ESB.
Christine has a BA in English and History from Smith College, her MLIS from USF-Tampa, and is a former U.S. Fulbright Scholar - Indonesia. She also owns The Uncorked Librarian LLC with books and movies to inspire travel.