See what is new in Asheville in 2022, including new restaurants, breweries, hotels, bars, attractions, tours, and more.
Living in such an eclectic and growing city like Asheville, we see changes – good and bad – to the city every year.
These changes include new restaurants, bars, food trucks, expansions, spas, hotels, trails, and more. Liquor laws might change, places close, and businesses add a unique new twist.
As Asheville residents and travel writers, we try to stay on top of it all.
We are on many marketing teams, small businesses, freelancers, community members, and non-profits' mailing lists. Individual business owners message us directly too.
Needless to say, every day, our inbox is flooded with press releases, news, and invitations to tour new spaces. We just love it!
We also follow Asheville's top news sources like AVLtoday, Mountain Xpress, and AsheVegas.
Below, we've rounded up our emails and experiences from this year thus far.
Find new restaurants in Asheville in 2022 like La Bodega by Curate, ELDR, Gemelli, and Pop Bubble Tea.
Then, explore some exciting new breweries in Asheville in 2022 including 7 Clans and Ginger's Revenge's new South Slope location.
We'll take you around Western North Carolina – to cities and towns like Black Mountain, Weaverville, Mills River, and Hendersonville. Did someone say "Bob Ross bar?!"
Many of these places we have visited, we want to check out, or we have been told are coming soon. Please know that some of the upcoming plans are subject to change. Sh*t happens.
Lastly, we won't mention everything that's new in Asheville in 2022 – just the highlights. However, sign up for our newsletter where we share even more insider information.
Let's get started, and if you are a business wanting to let us know what is new with you, please email Christine at hello [at] uncorkedasheville [dot] com.
Stay up-to-date on all of Asheville's latest events and festivals.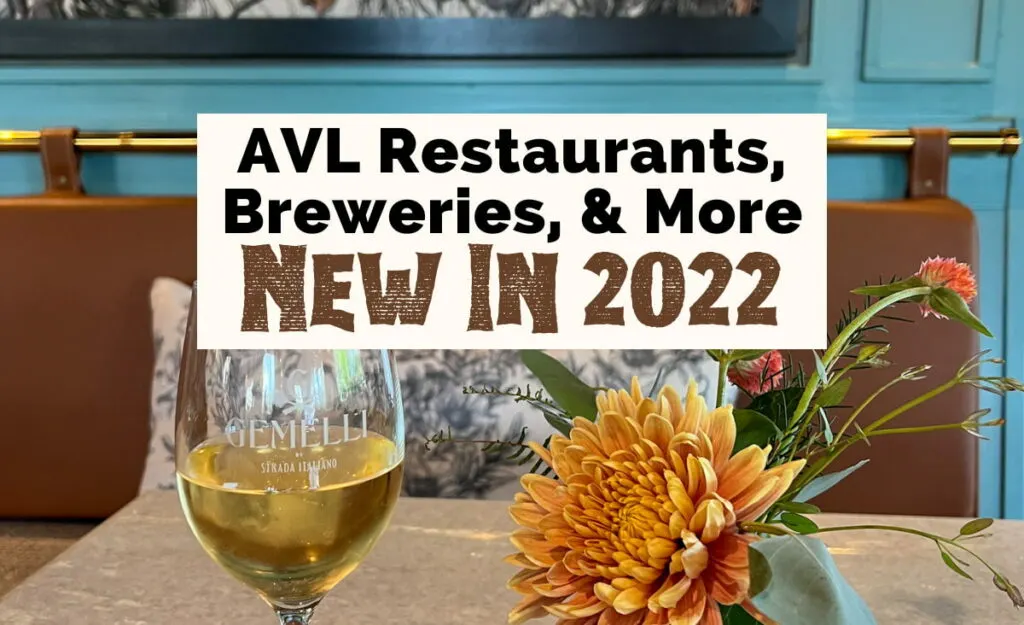 This post may contain affiliate links that earn us a commission at no extra cost to you. If you love these guides, support Uncorked Asheville here.
What's New In Asheville In 2022
Best New Restaurants In Asheville In 2022
Gemelli Restaurant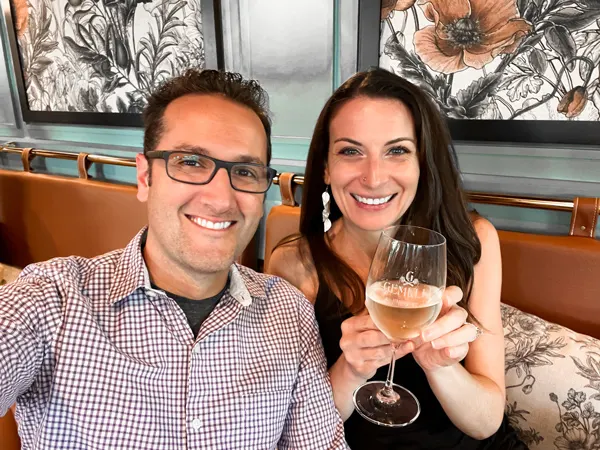 From Chef Anthony Cerrato of Social Lounge – our favorite AVL brunch spot – and Strada comes a brand-new, all-day Italian eatery with gluten-sensitive, vegan, and vegetarian options.
Think breakfast, pasta, Sicilian pizza, anti-pasta, charcuterie, pastries, coffee, and cocktails. There is a lounge area, counter service, and full service.
Gemelli Restaurant has delicious Italian wines and beers, and it's right next to Earth Fare around the I-240 bridge.
We were so honored to attend a sneak peek family, friends, and media dinner here.
Gemelli Restaurant | 70 Westgate Pkwy, Asheville, NC 28806
Little Chango
Are you craving arepas? Coxe Ave has just the new 2022 Downtown Asheville restaurant for you, Little Chango.
Nestled along the road with Chemist, Funkatorium, Antidote, and Bear's find a casual Hispanic restaurant offering up Latin-inspired dishes.
Enjoy arepas filled with chicken salad, flank steak, black beans, and pork shoulder. For sides, think tostones, yucca fries, and fried plantains.
Don't forget that flan or tres leches for dessert. Head over to Little Chango's website for online ordering too.
Little Chango | 134 Coxe Ave, Asheville, NC 28801
ELDR Restaurant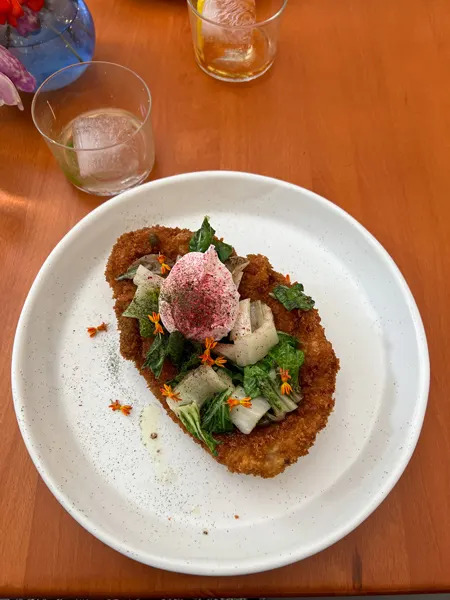 One of our favorite new restaurants in Asheville in 2022, ELDR in Grovewood Village sits directly across from The Omni Grove Park Inn (in North Asheville).
Managed by the owners of (former) Over Easy Cafe and Pulp & Sprout, enjoy breakfast, weekend brunch, lunch, and dinner.
Annihilate one of the most delicious burgers in the city along with eggs, pancakes, sandwiches, and meat and seafood dishes.
Find craft cocktails, a huge wine selection, and gourmet coffee. Sit indoors, at the bar, or on the outside patio. Make advanced reservations, if you can.
Explore even more of North Asheville's terrific restaurants.
ELDR Restaurant | 111 Grovewood Rd, Asheville, NC 28804
Huli Sue's BBQ & Grill
One of the most talked about new restaurants in Asheville in 2022 (well, technically the end of 2021 but we are counting it), Huli Sue's BBQ serves Texas-style BBQ with fish dishes and big Hawaiian flavors.
Located in Downtown Asheville in the historic Grove Arcade, choose from starters like spicy chicken wings, crispy calamari, deep-fried Brussels sprouts, and garlic shrimp.
Then, enjoy your favorite dishes like fish and chips, poke bowls, fish tacos, Cuban sandwiches, and smash house burgers.
Of course, select from BBQ classics like pulled pork, brisket, and baby back ribs. Asheville is pretty well-known for its stellar BBQ joints.
Hui Sue's BBQ & Grill | 1 Page Ave Suite 150, Asheville, NC 28801
Mehfil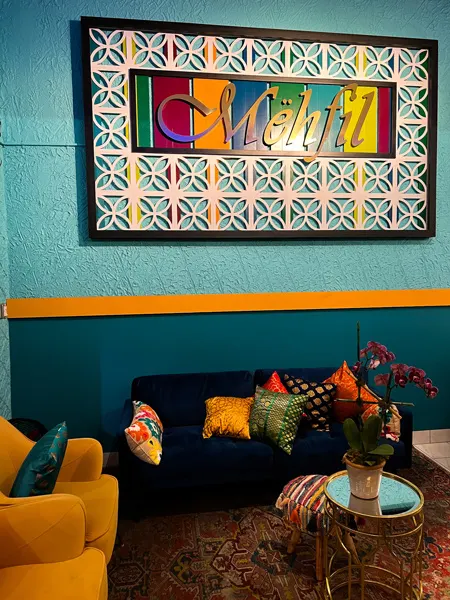 Looking for more Indian food in Asheville? You already know we enjoy India Garden, Chai Pani, and Mela. For lovers of Andaaz, we have another spot for you.
One of the best new restaurants in Asheville in 2022 for spicy food lovers, head to Downtown AVL's Biltmore Ave. for Mehfil – situated in the old Hana Sushi building.
Gluten-free eaters will smile at the large (and natural) GF selection. Along with your favorite Indian dishes, select from spicy cocktails and desserts in a vibrantly decorated space.
The service is excellent, and they will try to cater to your spice – or lack thereof – needs. We snuck in without reservations, but we suggest making them – if you can.
Next door, Mehfil also just opened Dilbar, which is serving up Indian street snacks in a trendy space.
Read more about all of the mouthwatering Asian food across Asheville.
Mehfil | 5 Biltmore Ave Suite B, Asheville, NC 28801
The Trashy Vegan (Brick & Mortar)
Many of the new restaurants in Asheville in 2022 are perfect for food intolerances, preferences, and allergies.
We say this as a lactose-intolerant and Celiac and Ulcerative Colitis household.
Up until 2022, The Trashy Vegan had a food truck that you could catch at festivals, breweries, and more. In 2022, they moved into a brick-and-mortar building in the West Asheville neighborhood.
Like Plant and Laughing Seed, The Trashy Vegan is one of the best spots for vegetarian and vegan diners. This is a 100% vegan and peanut-free kitchen.
The Trashy Vegan serves up vegan burgers, cheesesteaks, and loaded fries. Enjoy gluten-free desserts and sides too.
The owners also opened Dough House, gluten-free and vegan donuts in Black Mountain. More to come on this gem below.
Read more about the best restaurants in West Asheville.
The Trashy Vegan | 697 Haywood Rd, Asheville, NC 28806
La Bodega By Curate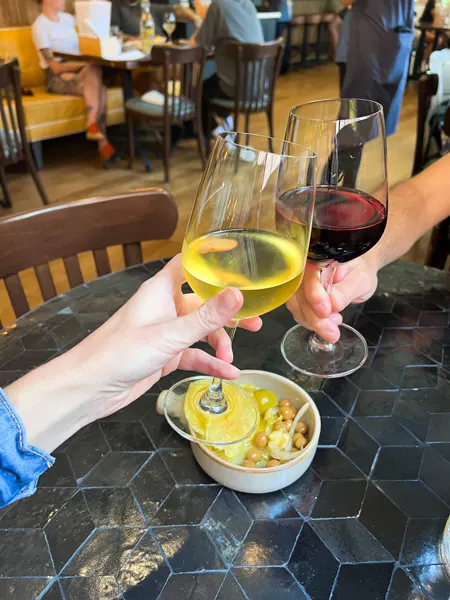 Félix Meana and Chef Katie Button of James Beard award-winning Cúrate opened La Bodega by Cúrate.
This is a new 2022 Spanish wine and tapas bar located on S. Lexington Ave. in Downtown Asheville.
Open all day, La Bodega features an impressive wine list, breakfast omelets, the most impressive charcuterie in AVL, sandwiches, soups, salads, and Spanish-inspired desserts.
La Bodega also boasts a downstairs market filled with meats, olives, cheeses, and wine for the road.
They recently started taking reservations, and there are gluten-free options.
This gorgeous space is one of the best new restaurants in Asheville in 2022. You won't be disappointed.
Read more about Downtown Asheville's delicious restaurants.
La Bodega by Cúrate | 32 S Lexington Ave, Asheville, NC 28801
Guajiro Cuban Comfort Food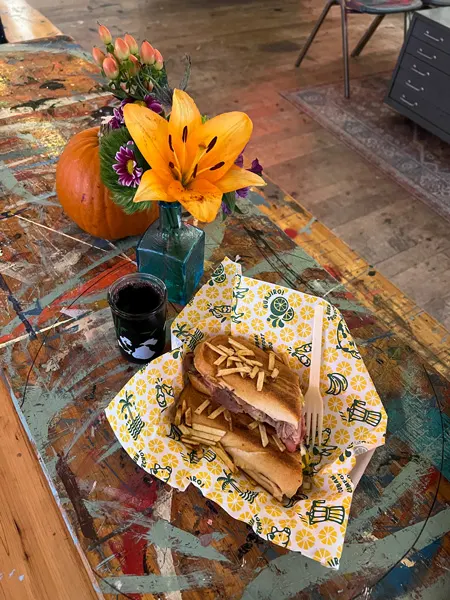 One of the River Arts District's newest restaurants, Guajiro Cuban Comfort Food promises affordable Cuban cuisine.
Located in Cotton Mill Studios, food trucks in AVL don't get any better than this.
Opened in the fall of 2022, enjoy a menu filled with Cuban breakfast items, including eggs, ham, and cheese.
For lunch, they serve soups, sandwiches, and larger entrees and platters like Cuban steak and pork chunks. Grab dessert with your Cuban coffee.
While here, explore even more of Asheville's most vibrant neighborhood. RAD is one of our favorites.
Shop for outdoor gear at Second Gear, dip into local artist Andy Herod's art bar, Great Wild Nowhere, or take the RAD Riverwalk all the way to Foundation Studios.
Plus, the RAD restaurants are close to Biltmore Estate, if you plan on touring America's largest home.
Guajiro Cuban Comfort Food | 122 Riverside Drive Asheville, NC 28801
Neng Jr.'s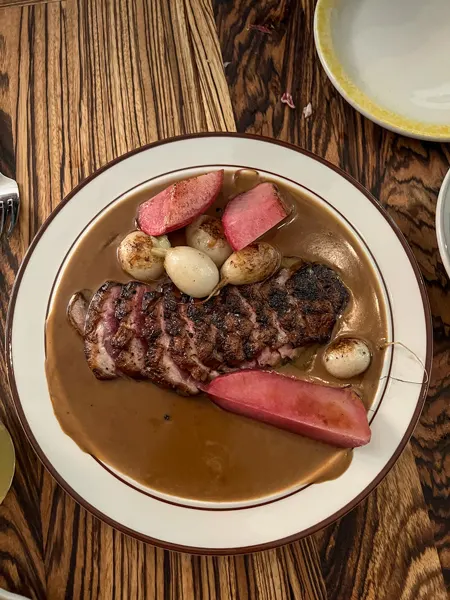 A new, not-to-miss Filipinx restaurant in West Asheville, Neng Jr.'s is just getting started, opening only a few nights a week with about 6 tables/bar area seating.
We also think Neng Jr.'s is the perfect romantic setting for foodies.
Their food is a combination of Filipinx flavors with those famous Southern North Carolina favorites. It's hard not to order at least half the menu.
Like Benne on Eagle, Neng Jr.'s menu starts with smaller sharables and works its way up to large plates, which are also perfect for sharing with friends and family.
The wait staff will fully describe the menu to you.
Neng Jr.'s menu changes frequently, and we love their vegetables covered in a peanut butter coconut sauce, duck sitting in a mouthwatering gravy cooked to perfection, and smoky BBQ mushrooms.
Did we mention the salty oysters paired with a quail egg, ice cream covered in olive oil and cheddar cheese, or seasonal fruits matched with tangy dip?
We've also spied delicious plates of Dungeness crab, ginger and garlic chicken breasts, and scallops with peaches.
Of course, find spicy cocktails full of unique flavors and a stellar and eclectic wine list.
Much of Neng Jr.'s menu is naturally gluten-free, and it features loads of veggies for vegan and vegetarian diners.
With such limited seating make reservations.
This is a restaurant you won't soon forget; just know that it's a tad pricer than some with $15 (small) to $50 dishes. This treat is worth it!
The new 2022 restaurants in Asheville are stellar.
Explore more romantic things to do across AVL.
Neng Jr.'s | 701 Haywood Rd Ste 102, Asheville, NC 28806 (Entrance in the back alley)
Pop Bubble Tea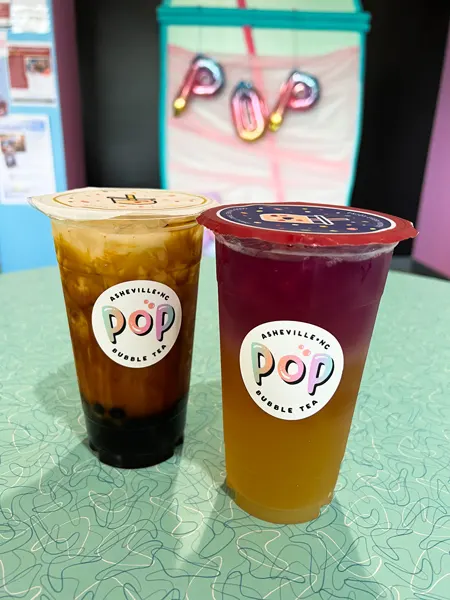 Are you looking for a drinkable dessert in North Asheville? This is one of the sweetest new restaurants in Asheville in 2022.
Pop Bubble tea is all about one of our favorite beverages, boba! Get ready to drink a unicorn.
Bubble tea – also known as pearl milk tea or boba – is a Taiwanese tea drink mixed with fruit or milk and tapioca balls.
Build your own or choose from one of their many classic flavors. Pop Bubble Tea labels its menu for caffeine, gluten, and dairy. They even have an oat milk option.
Discover more dairy-free options in Asheville.
Pop Bubble Tea | 640 Merrimon Ave, Asheville, NC 28804
Moo Cookie Company
Recently opened at the end of summer/early fall 2022, Moo Cookie Company opened shop in West Asheville.
Here, find delicious cookies like chocolate peanut butter, oatmeal raisin cream pie, toasted marshmallow, chocolate chip, and more.
They just started rolling out vegan cookies too. The minimum order is 6.
Moo Cookie Company | 792 Haywood Rd, Asheville, NC 28806
Garage BBQ Food Truck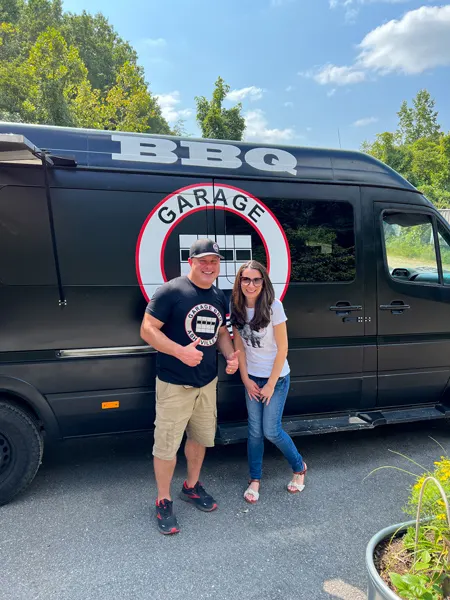 We cannot leave out Asheville's happening food truck scene. New in Asheville in 2022, Garage BBQ Food Truck entered the scene.
The owner, Jonathan, invited us out to try his sauces and enjoy a meal on the house.
We devoured the apple butter, pumpkin spice, Gloppy Tom, and Vinny's sauces – and his BBQ sauces rotate across locations and seasons.
Enjoy BBQ favorites including pulled pork and chicken with these homemade sauces, cole slaw, and chips. All of the BBQ is gluten-free too – minus the bread for sliders.
We suggest following Garage BBQ's FB page to see where they are headed next. And, thank you to our dedicated readers who told Jonathan to contact us.
You know we love the AVL foodie scene.
Garage BBQ Food Truck | Rotating Food Truck
Taco Boy
Do you miss Zia Taqueria? We sure do!
In its place, Taco Boy, a Charleston restaurant and taqueria is heading to West AVL (end of 2022) and Biltmore Park (spring 2023).
Expect Mexican-inspired eats like fajitas, Mexican street corn, tacos, rice and beans, and quesadillas.
Taco Boy promises Latin-infused cocktails and weekend brunch too with vegan, veggie, and gf options.
Taco Boy | 521 Haywood Rd, Asheville, NC 28806
Village Pub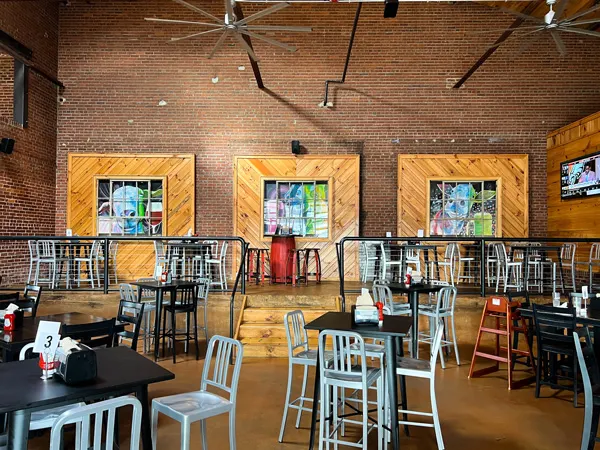 New to Asheville in 2022 (November), Biltmore Village got a new restaurant!
Across the street from Edna Rhyne – one of AVL's famous distilleries – and French Broad River Brewing, enter one beautiful new space.
Indoor and outdoor seating, two bars, two floors, and gender-neutral bathrooms greet tavern and pub lovers. Meet up with friends or catch a game.
Their menu features hot dogs, pizza, burgers, fries, nachos, and wings with gluten-free-friendly and vegan items labeled.
Of course, also enjoy pub grub favorites like fried pickles, mozzarella sticks, Philly cheesesteaks, and fish and chips.
To drink, tour your way through the city's local breweries along with wine, cocktails, and hemp bevies.
Village Pub has its own parking lot and is one of those more secret new restaurants in Asheville in 2022.
Uncover even more great bars across Asheville.
Village Pub | 100 Fairview Rd, Asheville, NC 28803
Tall John's
Like Zia's, do you find yourself sorely missing Chiesa in Asheville's historic Montford neighborhood? This was our go-to restaurant for celebrations.
Predicted for October 2022, Tall John's is moving into the once-former church and Chiesa.
Chef Trevor Payne and General Manager Jasper Adams both grew up in AVL – and they live in Montford now.
The menu promises European-American classics with meat and seafood dishes, and they are hoping to add Sunday brunch, daytime coffee, and a bottleshop soon after.
Tall John's is one of our most-anticipated new restaurants in Asheville in 2022.
Tall John's | 152 Montford Ave, Asheville, NC 28801
Never Miss Another Asheville Update
---
Tired of generic Asheville travel itineraries? Experience Asheville like a local with our free Asheville Favorites checklist, including restaurants, breweries, and hiking. Plus, get local updates – including events and hidden gems – straight to your inbox. Sign up here.
New Breweries In Asheville In 2022
Ginger's Revenge – South Slope Location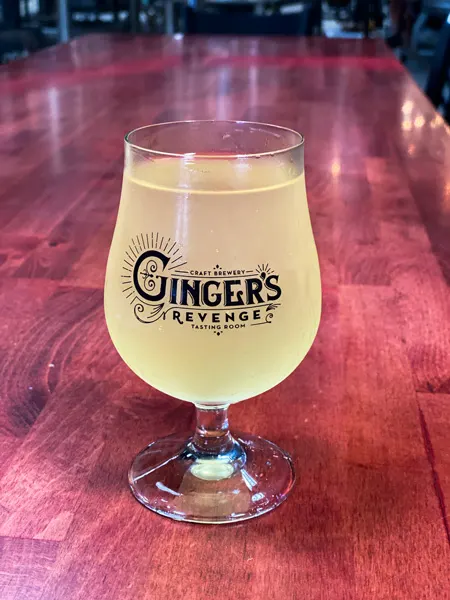 You might recognize Ginger's Revenge's Riverside Drive location from that vibrant ginger mural…
For new taprooms and breweries in Asheville in 2022, Ginger's Revenge opened a South Slope Lounge featuring 17 taps.
Find all things ginger beer along with ginger beer cocktails, traditional beer, and non-alcoholic drinks.
Ginger's Revenge | 32 Banks Avenue Asheville, NC 28801
Outsider Brewing Company
Situated close to Zillicoah, Riverside Rhapsody, and Ginger's Revenge on Riverside Drive, Outsider Brewing Company is one of the newest breweries in Asheville in 2022.
It's a brewhouse and taproom – just look for the green and pink swirl on the front of the building.
Outsider Brewing Company is a kid and pet-friendly brewery – as long as your dog is on a leash. You might also catch a rotating food truck.
Outsider Brewing Company | 939 Riverside Dr, Asheville, NC 28804
7 Clans Brewing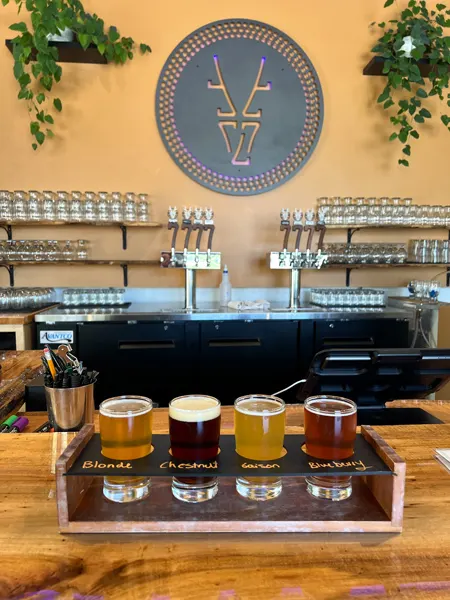 7 Clans Brewing is one of the most exciting new breweries in Asheville in 2022.
This is an Indigenous and women's-majority-owned craft brewery located on Sweeten Creek Road near Hillman Beer and behind Biltmore Village.
Their name derives from the 7 Clans of the Cherokee, and the taproom is gorgeous. Enjoy indoor and outdoor seating. Plus, they have their own parking lot.
7 Clans Brewing's core beers include a Blonde Ale, Chestnut Brown, and IPA. They have sours, Saisons, and milk stouts too.
All of their beers are gluten-reduced – but always double-check – which was great for our Celiac household (although your situation may be different/ask your doctor).
7 Clans Brewing | 66 Sweeten Creek Rd, Asheville, NC 28803
Of course, don't miss touring all of Asheville's incredible craft beer scene.
2022 New Asheville Businesses & Attractions
Recline & Unwind Social Spa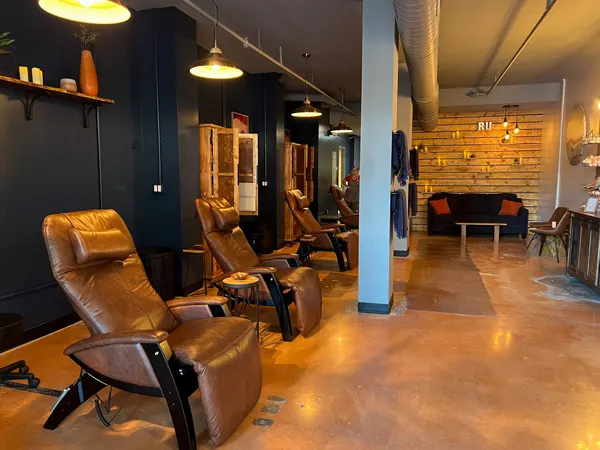 New in Asheville in 2022, head to Pack Square for spa services with a social awareness twist.
This is an open-concept spa with mix-and-match services at affordable prices. Did we mention that there are bevies?
Recline & Unwind Social Spa | 20 S Pack Square, Asheville, NC 28801
Marquee Asheville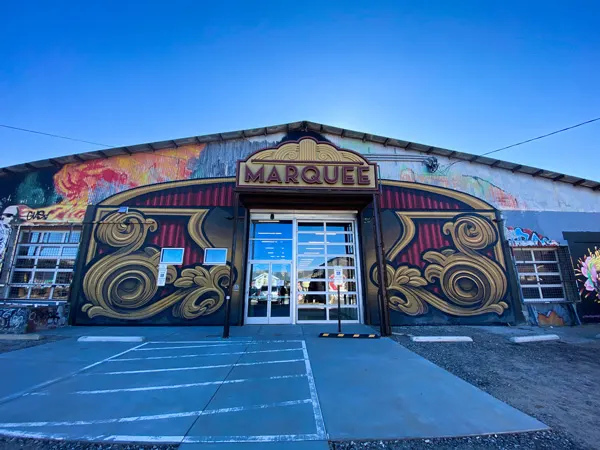 New in Asheville in 2022, we just love Marquee.
This is a European-style home decor market selling gorgeous local artwork, pottery, jewelry, goods, blown glass, lighting, and more.
Every time we walk into the expansive space, we find something new. Shop on all budgets, finding great deals on art as well as extremely expensive pieces.
Plus, Marquee features a fantastic bar, Saint Brighid's, serving up local meads, ciders, beer, and wine. We dare you to leave empty-handed.
Marquee Asheville | 36 Foundy St, Asheville, NC 28801
RAD Riverwalk Renovations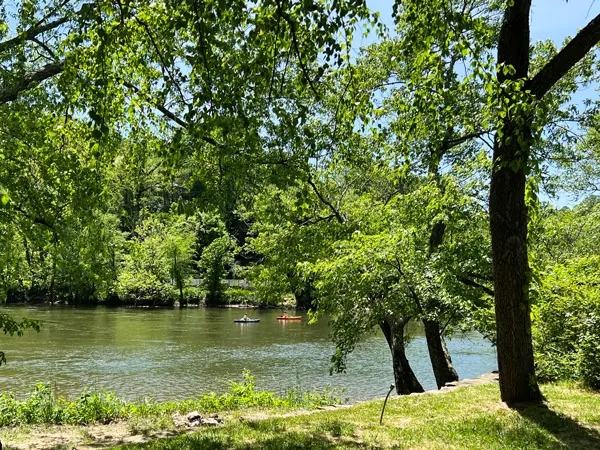 The River Arts District Riverwalk has been under construction for years. However, we noticed the biggest changes this 2022.
A fantastic area for bikers, rollerbladers, skaters, and walkers, enjoy a paved trail along the French Broad River with ample parking along Riverside Drive.
This includes a 10-foot wide, 2-mile greenway where the city has added picnic areas, picnic tables, and swinging benches.
The Riverwalk also takes travelers past RAD's galleries, breweries, the Marquee, pleb, and artist studios.
We just love walking here on a warm summer evening, spying wildlife and AVL's urban art scene.
Read more about Asheville's parks and garden spaces.
New Hotels In Asheville In 2022
Wrong Way River Lodge & Cabins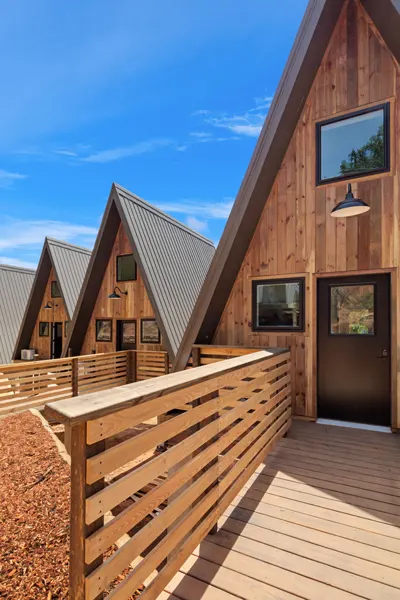 Are you looking for new hotels in Asheville in 2022? Well, we have a unique option for you…
And, did West Asheville get a cult? Nope!
Those 16 new A-frames are an unconventional urban campground sitting in front of the Carrier and French Broad Park connector.
They each have their own private bathrooms, HVAC, and WiFi. There's also a communal River Lodge with a canteen, lounge, and outdoor spaces to hang out.
Wrong Way River Lodge & Cabins | 191 Amboy Rd, Asheville, NC 28806
The Restoration Hotel
For upcoming new hotels in Asheville in 2022 (predicted for November), The Restoration Hotel sounds fantastic.
In a press release, it was noted that this new hotel will have 60 rooms, a full-service restaurant and bar, a rooftop bar, an artisanal coffee shop, and a speakeasy-style lounge with bowling lanes and a live music stage.
Explore even more great places to stay in AVL.
The Restoration Hotel | 68 Patton Ave, Asheville, NC 28801
New Bars, Wineries, and Restaurants Near Asheville In 2022
Hoppy Trees Beer & Spritz Bar (Weaverville)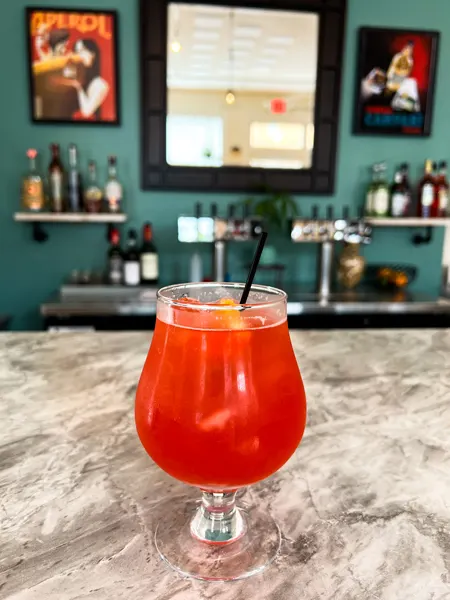 You know that we love Weaverville, especially since it's only a 15-minute drive from Asheville. And even better, in 2022, a Bob Ross-themed bar opened on Florida Ave next to Eluvium Brewing.
Head here for that classic Aperol Spritz while Bob Ross re-runs lull you into sheer serenity.
Also, enjoy local craft beer, cocktails, and snacks. This is a family-friendly bar.
While here, enjoy some of Weaverville's delicious restaurants like Glass Onion and Stoney Knob Cafe.
Hoppy Trees | 7 Florida Ave, Weaverville, NC 28787
The Bell Tower Rooftop Bar (Black Mountain)
Everyone loves a good rooftop bar.
New in 2022 in Black Mountain, head to the rooftop during the evening at Open Oven Cafe. Enjoy drinks and food. We need to drop in ASAP.
Open Oven Brunch and Bakery | 102 Church St, Black Mountain, NC 28711
Dough House (Black Mountain)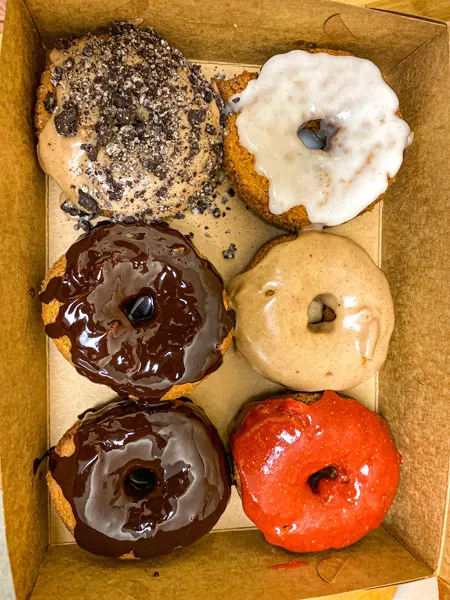 Did someone say made-to-order vegan donuts and coffee?
The Trashy Vegan had a big year, and along with their brick-and-mortar location, they opened Dough House in Black Mountain this 2022.
You know we love Black Mountain – a 25-minute, short day trip from AVL – and we headed here pretty much opening month.
Find a variety of donut flavors with delicious toppings. Think vanilla, chocolate, and strawberry glazed donuts.
Find rotating flavors like coconut bacon, vanilla and espresso, and strawberry and matcha.
Donuts can be made gluten-free at no additional charge. While here, taste-test your way around Black Mountain's delicious restaurants.
Dough House | 601 W State St Suite 3, Black Mountain, NC 28711
Souther Williams Vineyard (Fletcher)
Are you looking for new wineries in Asheville in 2022? Head toward the suburbs!
Located in Fletcher, Souther Williams is an outdoor oasis. Enjoy a covered tasting bar and covered and uncovered seating across a 35-acre, family-owned farm.
Make a reservation for a guided tasting, drop in for a glass or flight, or take a sip and hike tour. This is a dog-friendly, 21+ winery.
Be sure to visit more wineries around Hendersonville, including Stone Ashe Vineyards, which is just down the road.
Souther Williams Vineyard | 655 Hoopers Creek Rd, Fletcher, NC 28732
Appalachian Mountain Brewing (Mills River)
Appalachian Mountain Brewery in Boone is opening a Mills River taproom and restaurant. 32 beers on tap? Sounds amazing to us.
Appalachian Mountain Brewery | Coming soon
More Changes To AVL in 2022
New Liquor Laws Across NC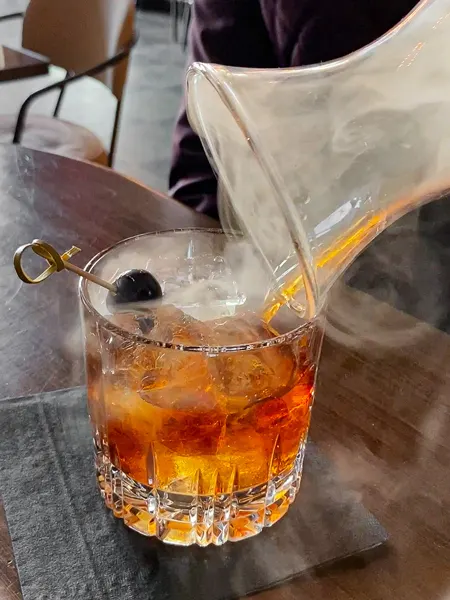 We always appreciate it when those interesting liquor laws change across the state. Remember when you couldn't bring your partner or friend their drink along with yours?
Until 2022, NC had a law where private bars that didn't serve food, had no kitchen, and served liquor had to charge a membership fee. In NC & across Asheville in 2022, that law is gone.
We've read that some bars will keep the membership fee but others will not.
Bottle Riot Adds Liquors & Cocktails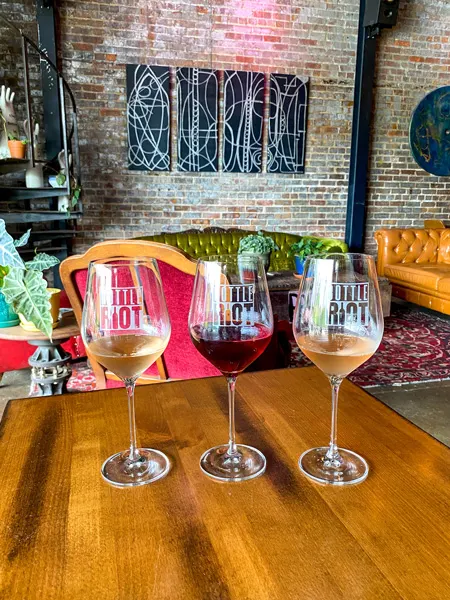 One of our favorite wine bars got an upgrade!
In 2022 in Asheville, Bottle Riot added international liquors, delicious brews, and craft cocktails to their menu.
Of course, still find those baller bottles, wine glasses the size of your face, and an ever-changing, delicious, and classy list of highly curated wines.
Order charcuterie, listen to music, and meet up with friends in this colorful RAD space.
Bottle Riot | 37 Paynes Way #009, Asheville, NC 28801
Brunch All Week At Corner Kitchen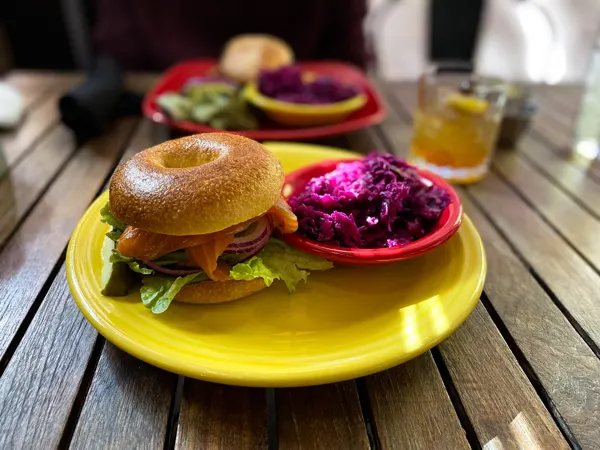 Corner Kitchen added breakfast and brunch service every day from 9 AM to 2 PM.
Enjoy lox, sandwiches, eggs, and Southern bowls. Of course, there are cocktails too.
This once historic home was part of George Washington Vanderbilt's property, and most notably, Frederic Law Olmstead designed the area that is today Biltmore Village.
Make advanced reservations, and park along the side streets.
This is a great stop before or after your Biltmore Estate tour and is a pet and kid-friendly restaurant.
Asheville in 2022 is all about brunch, and we are here for it.
Corner Kitchen | 3 Boston Way, Asheville, NC 28803
Devil's Foot Beverage Company: The Mule Taproom
Devil's Foot, a farm-to-craft beverage maker, is launching a new taproom in Asheville in 2022 – slated for early October.
The Mule will feature their craft sodas, local craft beer, cocktails, and mocktails.
Devil's Foot: The Mule | 131 Sweeten Creek Rd, Asheville, NC 28803
Grail Moviehouse Expansion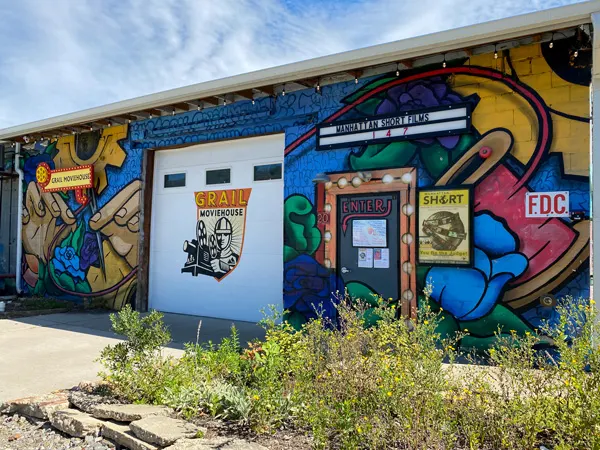 This 2022 in Asheville, RAD saw some great changes.
You might have noticed that Grail Moviehouse in RAD is temporarily closed for construction (check their website for their re-opening).
They are adding 2 new screens and increasing their capacity.
This is a great spot to catch an indie film, film festivals, and shorts. We just love them!
Find more great things to do in Asheville.
Grail Moviehouse | 17 Foundy St, Asheville, NC 28801
Nine Mile Released Signature Salad Dressings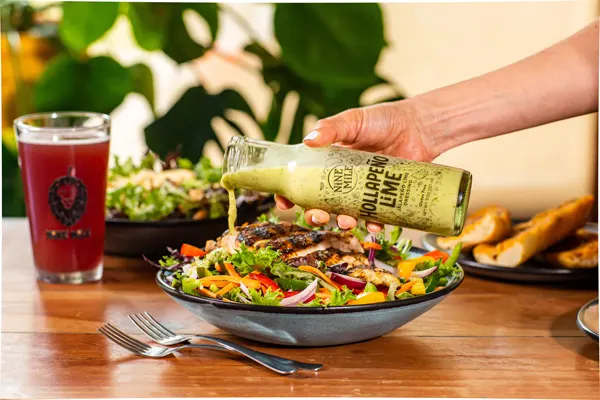 Nine Mile is one of those unforgettable Asheville restaurants that you just have to eat at.
New in 2022 in Asheville, Nine Mile is selling its signature dressings. Enjoy Seasame Garlic Tahini (vegan and gluten-free) and Jalapeno Lime Cilantro.
The dressings will be available at all 3 of their locations.
Nine Mile | 233 Montford Ave, Asheville, NC 28804; 751 Haywood Rd, Asheville, NC 28806; Biltmore Town Park Square, Town Square Blvd, Asheville, NC 28803
Cultivate Climbing (Formerly Climbmax) Under New Management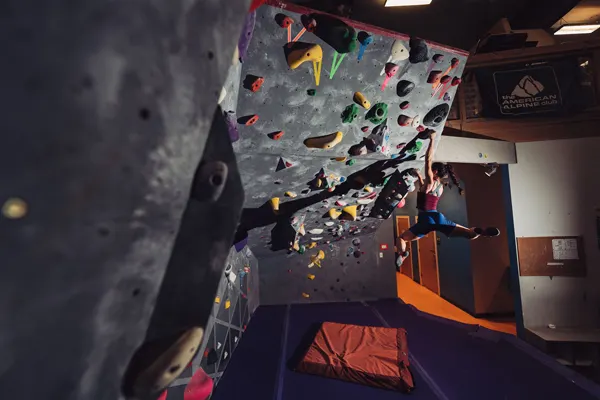 AVL's original rock climbing gym is under new management. This September 2022, they had a celebratory re-opening at their River location.
Cultivate Climbing's goal is to build a community of climbers around climbing, including teaching you how to climb and hosting special climbing events.
Cultivate Climbing | River Location: 173 Amboy Road, Asheville NC 28806 and Downtown: 43 Wall Street
Asheville NC 28801
2022 Closings In & Near Asheville
Zia Taqueria
After 10 years, one of our favorite taco places, Zia Taqueria, closed. They made the best margarita.
As mentioned above, Taco Boy is moving into this West Asheville space.
Triskelion Brewing (Hendersonville)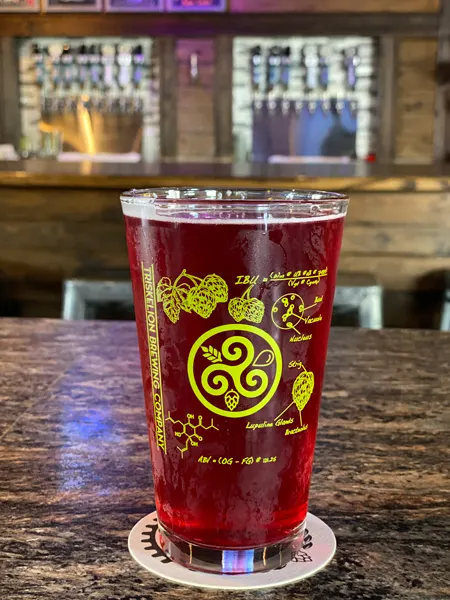 Located in Hendersonville, we were sad to see Triskelion go. Their beer was delicious, and they were located in a great area around this historic 7th Ave district.
However, you can still enjoy Hendersonville breweries like D9, Oklawaha, and Guidon.
Nani's Piri Piri Chicken Closed
A Chai Pani venture, these guys opened in 2020 in the Grove Arcade and closed. Today, it's a pop-up spice shop.
Captain's Bookshelf Closed Permanently (Including Online)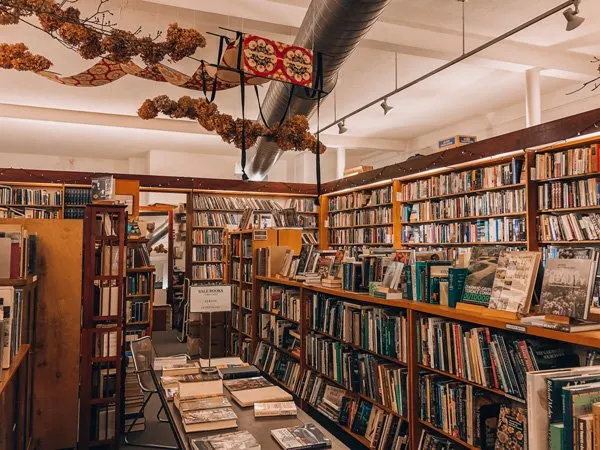 This Page Ave. bookstore closed its brick-and-mortar shop during the pandemic but continued to sell books online.
However, Mountain Xpress reported that with the death of co-owner, Chan Gordon, the business is closing for good. We will miss them.
Visit Asheville's other great bookshops.
Looking Ahead To 2023
Great Smoky Mountains National Park To Charge For Parking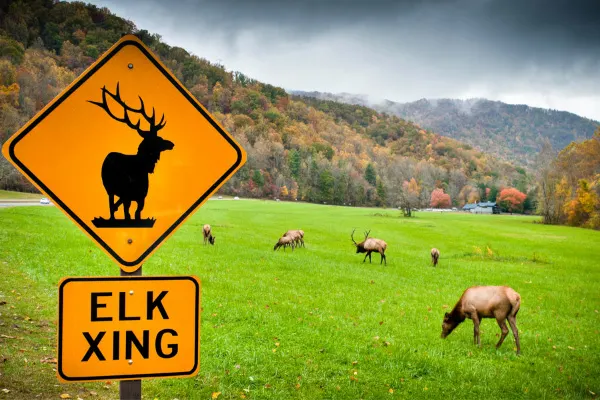 Effective in 2023, the NPS recently announced that visitors will have to pay for parking in Great Smoky Mountain National Park with daily tags starting at $5.
Asheville Charcuterie To Go Brick & Mortar (March 2023)
Asheville Charcuterie has held pop-ups and workshops all over Asheville in 2022. In 2023, they are hoping to reside in a brick-and-mortar shop.
Cheshire Books & Cat Cafe (Summer 2023)
Cheshire Books & Cat Cafe are hoping to open in the summer of 2023. This will be a bookshop and cat cafe where you might even be able to adopt the kitties.
Firestorm will also be moving into a new space.
Save Your Favorite New Places In Asheville For Later: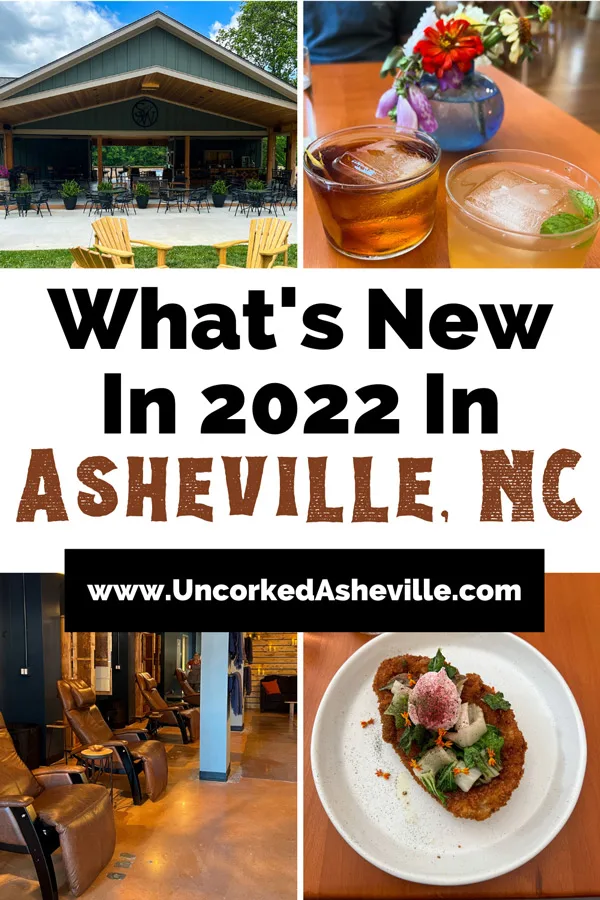 Where To Stay In Asheville
Explore the best places to stay in Asheville. A few of our top suggestions:
Aloft – Downtown Asheville – Centrally located and recently renovated, enjoy a rooftop pool, a gorgeous bar, and trendy rooms.

The Omni Grove Park Inn – Treat yourself to a luxury resort in North Asheville, complete with breathtaking sunsets, terrace bars and dining, and loads of Asheville history.

Hampton Inn And Suites Asheville Biltmore Area – A budget-friendly but renovated hotel on busier Brevard Road that's perfect if you wish to stay between Biltmore Estate, Downtown Asheville, and the Blue Ridge Parkway.

Asheville Cottages – Gorgeous 1 to 3-bedroom cottages with a private deck, housing a grill and hot tub. Find luxurious heated-floor bathrooms with rain showers, a well-stocked kitchen, and the cleanest rooms in town.

Foundry Hotel – An oasis in Downtown Asheville, Foundry Hotel is a nod to AVL's industrial history. Find famous restaurant Benne on Eagle while sleeping ensconced in charm and elegance.

Country Inn & Suites by Radisson, Asheville Westgate, NC – Located off of the highway as you enter AVL, find a sleek and clean hotel at a great price.

Black Walnut B&B Inn – Designed by Biltmore's supervising architect, Richard Sharp-Smith, this 1899 inn is close to Downtown AVL and serves afternoon tea. Two rooms are pet-friendly.
Don't miss out on these Asheville properties on Booking.com, too.
What are your favorite new additions to Asheville in 2022?
2022 brought travel back into our lives (starting with Croatia and Bosnia & Herzegovina), more house renovations (bleh), and fabulous new additions to Asheville and surrounding Western North Carolina cities and towns.
Out of all of the great new things happening in Asheville in 2022, we most loved the openings of La Bodega, ELDR, Pop Bubble Tea, Marquee, and Dough Place.
We cannot wait to try all of the new breweries in Asheville in 2022 too – we are still making our rounds.
What new 2022 Asheville restaurant have you most enjoyed? Are there any more that you are looking forward to?
And, what new businesses, breweries, and local products are you loving? Let us know in the comments.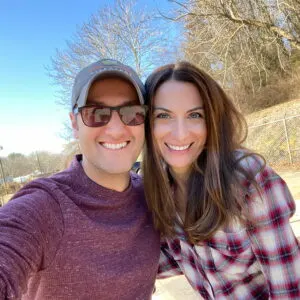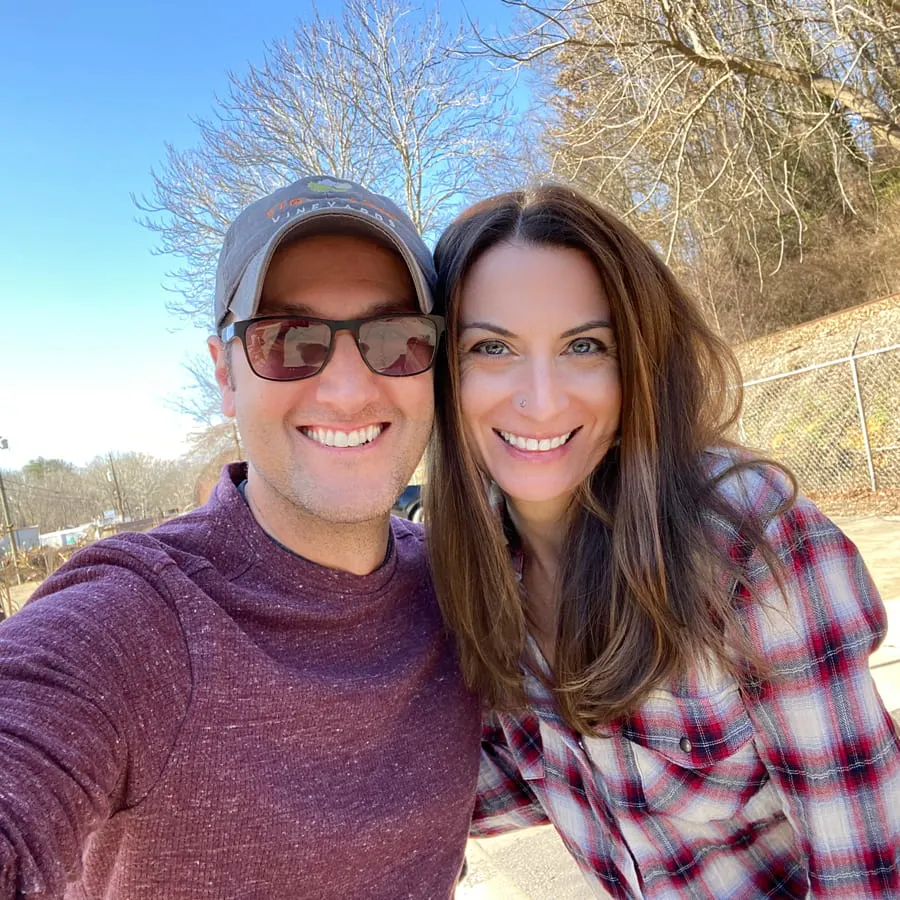 Christine (pronouns: she/her) is the owner and lead writer of Uncorked Asheville. After falling in love with those gorgeous Blue Ridge Mountains, Christine and her husband Tom decided to call Asheville, North Carolina their home. When her pointy Italian nose isn't stuck in a book, Christine is adopting all of the kitties, getting lost in the forest, and drinking an ESB.
Christine has a BA in English and History from Smith College, her MLIS from USF-Tampa, and is a former U.S. Fulbright Scholar - Indonesia. She also owns The Uncorked Librarian LLC with books and movies to inspire travel.