Stunning Max Patch Hike & Trail Along The AT
Explore part of the Appalachian Trail and encounter incredible mountain views along the Max Patch hike near Hot Springs, NC.
We always thought that Black Balsam, Bearwallow Mountain, and Craggy Gardens had the prettiest views – and they still do.
However, Max Patch gives them all a run for their money.
Known as a "bald" – because they cleared trees on the hilltop for the cows in the 1800s – Max Patch Trail is the perfect hike if you want to attempt part of the Appalachian Trail.
Plus, uncover 360-degree views of Mount Mitchell and the Great Smoky Mountains. Pack a picnic for Max Patch Loop Trail's outer areas (just remember to take your trash with you).
The road up to the Max Patch hike gets a little bumpy, though, and there are certain times when you wouldn't want to approach this trek.
So, keep reading to discover all that you need to know about Max Patch, North Carolina. Let's get started!
Explore all of Asheville's closest hiking trails.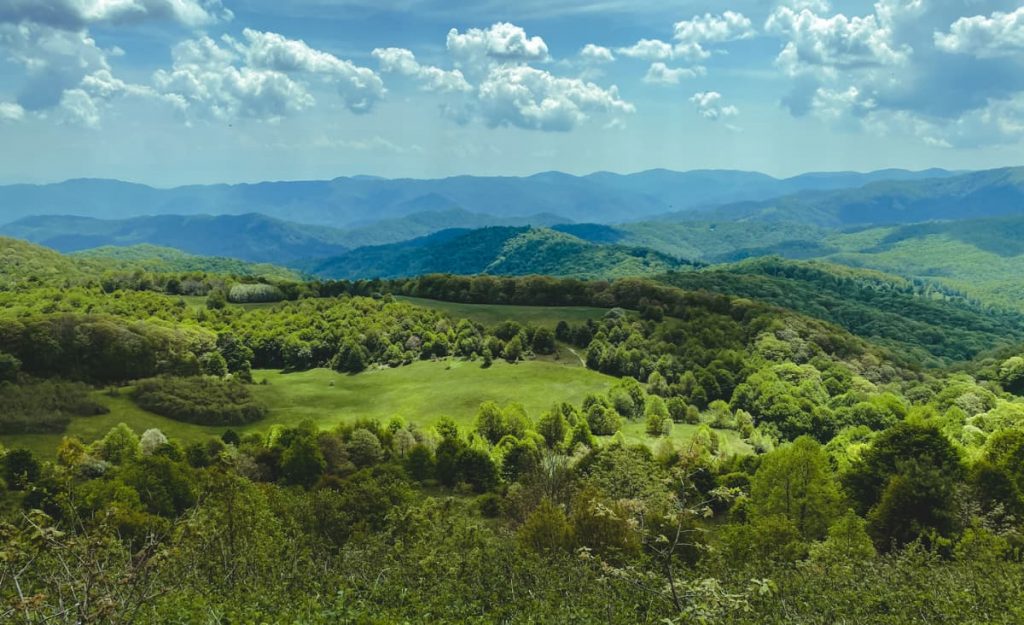 This post may contain affiliate links that earn us a commission at no extra cost to you. If you love these guides, support Uncorked Asheville here.
All You Need To Know About Max Patch
Quick Max Patch Trail Stats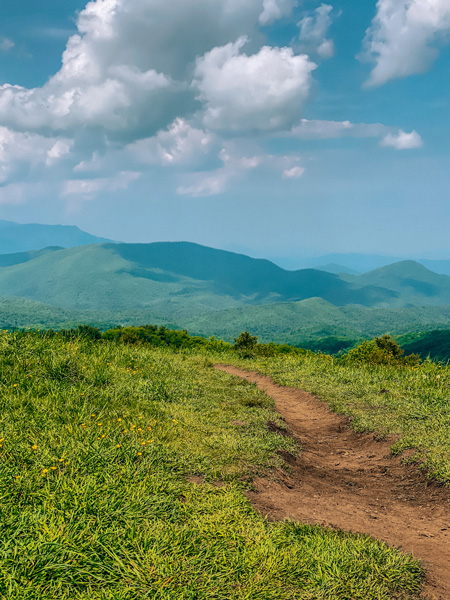 Distance From Asheville, North Carolina: 1 hour and 25 minutes; 42 to 50 miles, depending on your route
Address: We used Max Patch Loop Trail Head; State Rte 1182, Del Rio, TN 37727
Hike Difficulty: Easy to lightly moderate
Length: 1.5 miles for the shorter loop including the Appalachian Trail; 2.4 miles on the longer loop
Duration Of Hike: Under 1 hour
Type Of Hike: Loop, forest stairs, Max Patch Loop Trail blue blazes & white Appalachian Trail blazes
Don't miss these cottages, B&Bs, hotels, cabins, and inns around Hot Springs, NC. Grab our Asheville recommendations, too.
Why Hike Max Patch, NC?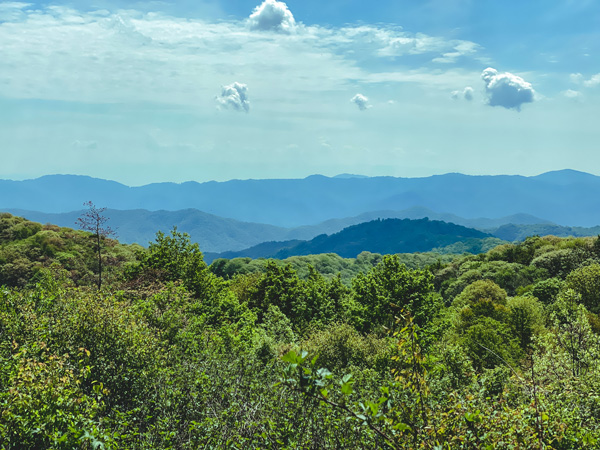 On a gorgeous day, the Max Patch hike is guaranteed to take away your breath.
This hike is perfect for families, older trekkers, and less-experienced hikers.
Extremely easy and well-labeled, minus a small incline and some forest steps along one trail, the summit will reward you.
Here, people stare endlessly at the gorgeous mountain landscape, throw frisbees, and read books.
Max Patch is also one of the best picnic spots around Asheville, but remember to take your trash with you to protect wildlife and mother nature.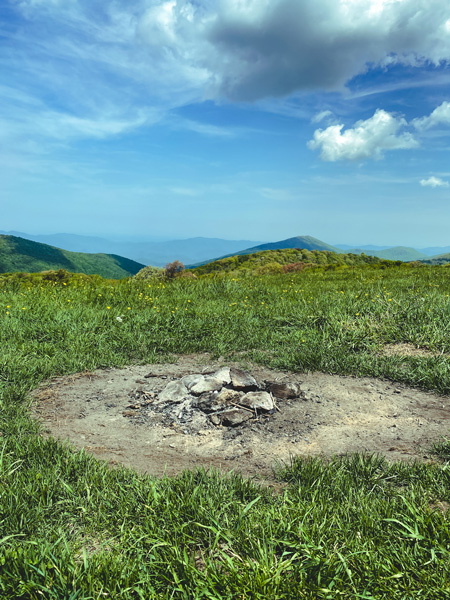 Birds will sneak in a "hello," and in the late spring, catch butterflies and blooms. Watch out for snakes, though.
As the signs warn you, please always stay on designated trails and sanctioned areas to keep the area and its inhabitants safe. There are no facilities.
What To Expect For Your Hike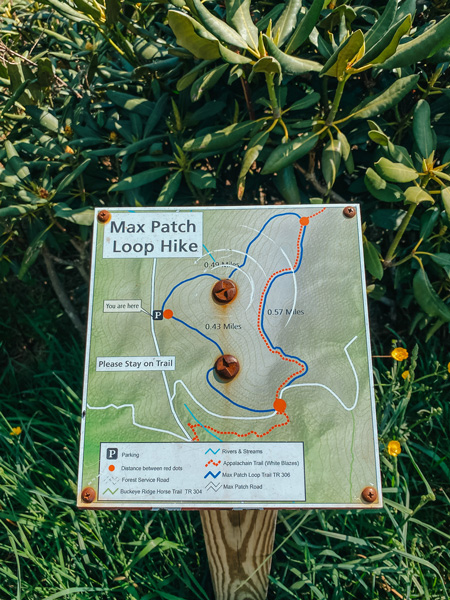 From the parking lot, turn left or right to pick up the Max Patch Trail. Signs will guide you. Do not cut straight up to the summit on the marked closed trail.
If you start to the right of the trailhead and informational boards, continue .43 miles on the blue-blazed loop hike until it intersects with the Appalachian Trail.
Here, you'll see signs that lead up to the summit via the Appalachian Trail.
If you take the AT to the summit, it's 0.57 miles to the top and then 0.49 miles back down the other side of the blue-blazed Loop trail to the parking lot.
If you skip jumping on the Appalachian Trail to the summit, hike about 2.4 miles on the longer trail.
When Is The Best Time To Hike Here?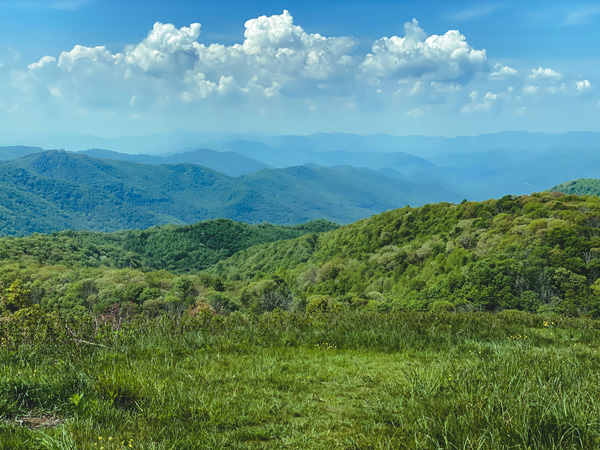 We've seen a ton of articles suggesting Max Patch as a winter hike. Our friends will agree: that's only fine if there is snow or ice on the ground.
However, the dirt and gravel road to get up to the trails is no joke. In the winter, access will be hard without 4WD – and that seems a bit dangerous.
We also wouldn't want to drive on those roads after a heavy downpour.
Keep an eye on the weather. Once you reach Max Patch's bald, you are out in the open.
We've watched dark clouds move over us. You don't want to be unsafely exposed to lightning and the elements.
So, when should you attempt the Max Patch hike? Spring, summer, and fall would be lovely on clear and sunny days.
How Do You Get To Max Patch From Asheville?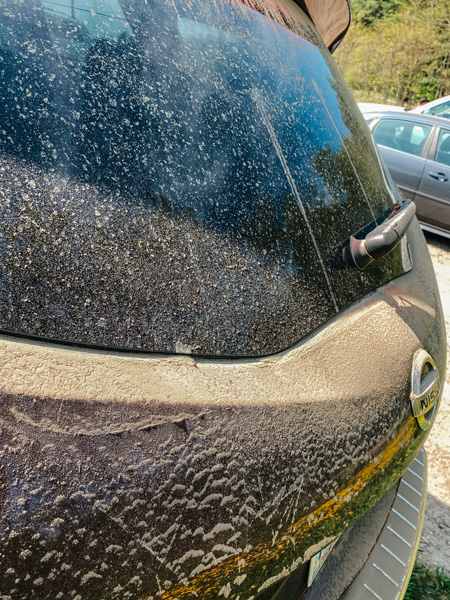 There are multiple ways to get here. We highly recommend taking a screenshot of your GPS maps and directions. We download offline maps, too.
Like many parts of the Pisgah National Forest and BRP, cellular reception will come and go.
From Asheville, we suggest going through Leicester versus I-40 just to spend less time on the dirt road. You'll follow US-25 N/US-70 West toward Marshall into Hot Springs.

Take Highway 209 for Meadow Fork Road/State Road 1175. Turn left on Little Creek Road/SR-1181 and right on Max Patch Road/State Road 1182 until you come to a parking lot.
If you go I-40W, get off at Exit 7. Turn right onto Cold Springs Road. Head along the gravel road to Max Patch Road/SR-1182.
This road is rough; we drove my Nissan Murano. Turn left toward the parking area, which will eventually come up on your right.
If You Like The Max Patch Hike Try…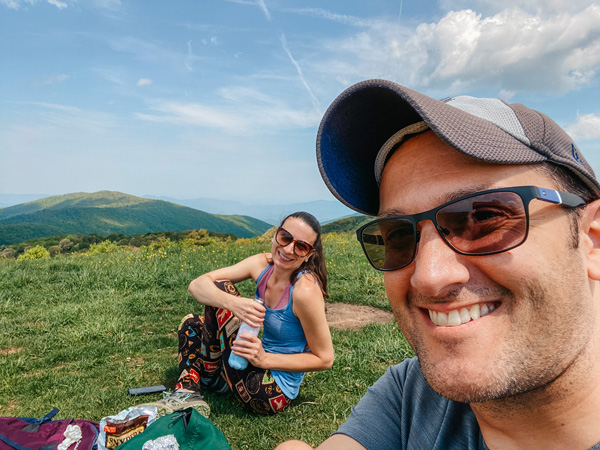 Bearwallow Mountain or Trombatore To Blue Ridge Pastures
Bearwallow Mountain has similar views, except at Bearwallow, you might catch a moody cow. The views aren't quite 360 degrees either with the trees.
Bearwallow is an easy 2-mile round-trip hike.
Across the street from Bearwallow, you could also trek the much more difficult Trombatore Trail, which is 5 miles as an out and back.
This hike ends in a pasture perfect for picnics with views similar to Bearwallow.
Craggy Gardens
One of the most visited and easier Blue Ridge Parkway hiking trails, Craggy Gardens is 20 miles away from Downtown Asheville with a variety of hiking, picnicking, and accessibility options.
The main trail is just a little under 2 miles roundtrip with a gazebo and beautiful fields. Find wildflowers and breathtaking mountain views.
Craggy Pinnacle is right next door too and features 360-degree views of the Blue Ridge Mountains.
Black Balsam
One of the most popular fall hikes along the BRP, access Black Balsam via the Art Loeb or Sam Knob trails. If you stay on the Art Loeb Trail, this hike is about 2 miles.
Picnic around the trails, and the views will blow you away.
What Else Can You Do Around This Area?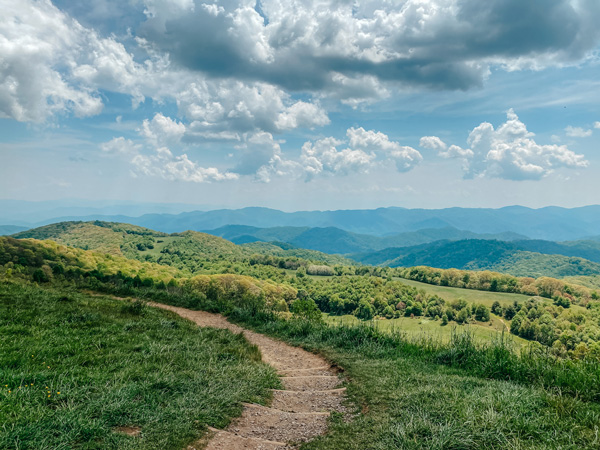 Visit Hot Springs, NC
Hot Springs is a friendly mountain town perfect for Appalachian Trail hikers and thru-travelers.
It also makes for a fantastic day trip from Asheville.
Find a brewery, public library with Wi-Fi, gourmet grocery and supply store, cafes, and restaurants.
Of course, many visit the hot springs, too, at Hot Springs Resort & Spa. Soak in one of those hot mineral water-filled tubs.
Read more in our guide to visiting Hot Springs.
Hike Lover's Leap or The Laurel River Trail
Sit with the birds on Lover's Leap Trail.
Like Max Patch, pick up part of the Appalachian Trail, this time along the French Broad River.
This more difficult 1.8-mile hike is full of switchbacks and will give you some terrifyingly stellar views.
Or, for an easier and more family-friendly hike, try parts of the Laurel River Trail. This 6-ish mile round trip out-and-back trail is mostly flat and follows along Big Laurel Creek.
Where To Stay Around Hot Springs
Don't miss these cottages, B&Bs, hotels, cabins, and inns around Hot Springs, NC. Grab our Asheville recommendations, too.
Save This Hike For Later:
Have you hiked the Max Patch Trail?
What did you think of the views? How about that drive up the dirt road? Let us know in the comments.
Before you go, read more about the current restrictions on camping.
How Much More Fun Can You Have?
Waterfall Hiking Trails To Love
Best Things To Do In And Around Asheville
Mountain Biking Trails
More Hikes With Views
Fryingpan Mountain Lookout Tower & Hike
Popular Mount Pisgah
Little Butt On The BRP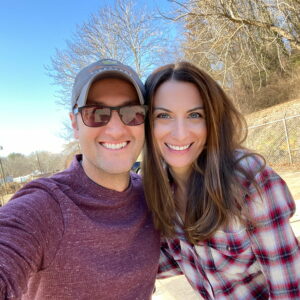 Christine (pronouns: she/her) is the owner and lead writer of Uncorked Asheville. After falling in love with those gorgeous Blue Ridge Mountains, Christine and her husband Tom decided to call Asheville, North Carolina home. When her pointy Italian nose isn't stuck in a book, Christine is adopting all of the kitties, getting lost in the forest, and drinking an ESB. She has a BA in English and History from Smith College, her MLIS from USF-Tampa, and is a former U.S. Fulbright Scholar - Indonesia. Christine also owns The Uncorked Librarian LLC with books and movies to inspire travel.