12 Interesting Great Smoky Mountains Facts
Learn more about one of the most popular national parks in the United States with these Great Smoky Mountains facts.
Chances are if you are visiting Asheville, North Carolina, Great Smoky Mountains National Park is on your radar to visit, especially as one of the most visited parks in America.
While planning your waterfall chasing, elk and black bear spying, and hiking adventures, why not brush up on your history too with some of our favorite Great Smoky Mountains National Park facts?
For instance, do you know how the Smokies got their name or how old they are? Who created the park, and who is responsible for protecting and maintaining it?
What are the Great Smoky Mountains known for, and why are they so popular?
Keep reading to uncover some of the best facts about the Great Smoky Mountains. Let's get started!
Explore all of our growing Smoky Mountains guides.
This post may contain affiliate links that earn us a commission at no extra cost to you. If you love these guides, support Uncorked Asheville here.
12 Must-Know Great Smoky Mountains Facts
1. The Great Smoky Mountains are extremely old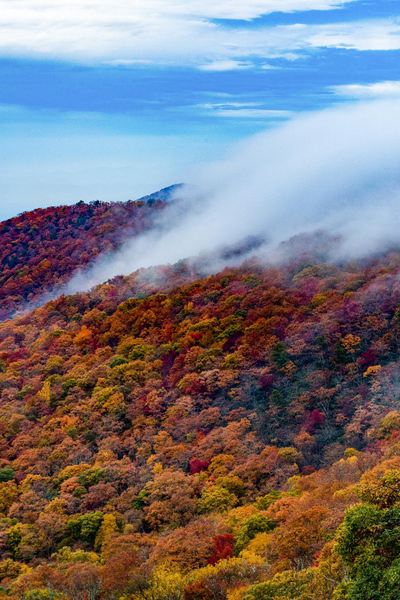 Most mountains are very old. It may seem obvious, but it's easy to forget that the peaks we love to scale and trek across were here way before us.
One of the most exciting Great Smoky Mountains facts (especially for geologists) is that the Smoky Mountains have actually been here longer than most other mountain ranges.
In fact, the mountains found in this range are some of the oldest mountains in the entire world.
Scientists believe that the Great Smoky Mountains are somewhere between 200 and 300 million years old.
That means that dinosaurs could have been roaming across the very trails that we can hike along today.
Some of the rocks found here are actually even older than the mountains.
One of the geekiest facts about the Smoky Mountains is that there are Precambrian gneiss and schist rocks here that were formed over a billion years ago.
Read more about all of Asheville's top hiking trails.
2. Why are they called the Great Smoky Mountains?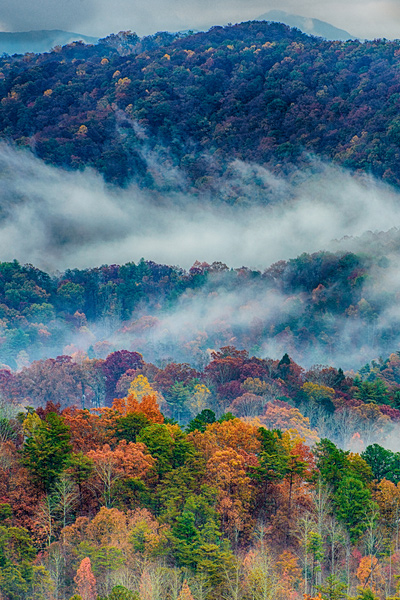 It's one of the first questions from local North Carolina kids when they start learning Great Smoky Mountains National Park facts: why are they called that? Are they really smokey?
The short answer is, yes! These majestic mountains got their name from the large pools of mist that frequently form over them and move over the peaks and trees.
From a distance, this naturally occurring fog looks like a series of large plumes of smoke drifting around the range.
But the "smoke" is actually caused by vapor emitted from the surrounding vegetation, which is one of the cooler plant-based facts about the Smoky Mountains.
The smoke often appears blue because the molecules in the vapor catch and reflect the blue color of the sky.
This blue cloud phenomenon has been happening for so long, even the indigenous Cherokee inhabitants had a name for it.
The Cherokee word for the Smoky Mountains is Shaconage (pronounced Sha-Koh-Nah-Hey), meaning "the land of blue smoke."
3. Creating the Great Smoky Mountains National Park was not a man's idea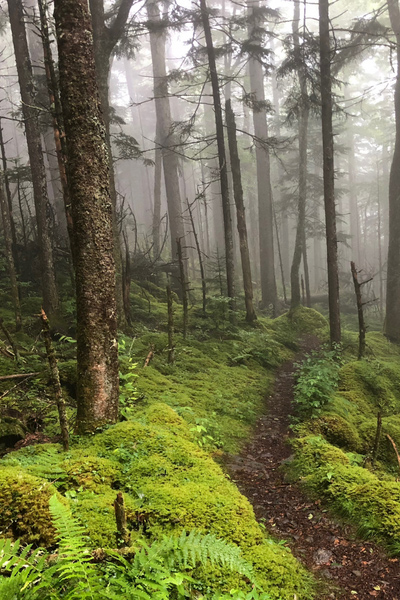 One of the most essential Great Smoky Mountains facts: how did it become a national park?
The history of the Smoky Mountains as a national park dates back to the early 20th century. But contrary to a lot of decision-making back then, the main idea did not come from a man.
Ann and Willis Davis were Knox County, TN residents who enjoyed exploring the outdoors and visiting the already existing national parks across America.
While making their way back home from a trip to some of the Western national parks in the summer of 1923, Anne posed the idea of making the Smokies into a national park.
This set in motion the events that led the government of the day to create the Great Smoky Mountains National Park.
For any nature lovers looking for female role models, this is one of the best Great Smoky Mountains National Park facts.
Thanks to her efforts, the park was chartered by Congress in 1934 and officially dedicated by then-President Franklin D. Roosevelt in 1940.
Ann Davis would also go on to become the first female from Knox County to serve in the Tennessee State House of Representatives.
4. The Great Smoky Mountains are incredibly popular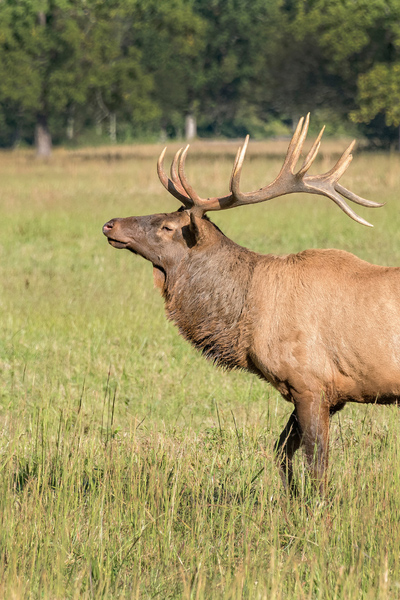 You can tell a lot about a place by how many people want to be there. And in the case of Great Smoky Mountains National Park, the people have definitely spoken.
One of the most prestigious Great Smoky Mountains facts is that it is the most visited national park in the United States.
On average, the Smokies bring in around 8-10 million visitors per year, all looking to hike through the trees, bike along the trails, see the historical sites, and take in all the untouched nature.
But that's just an average; sometimes this park gets even busier. For example, there were over 14 million visitors in 2021 alone.
All told, since its grand opening back in 1940, the Great Smoky Mountains National Park has had over half a billion visitors during its lifetime!
5. There are hundreds of miles of hiking trails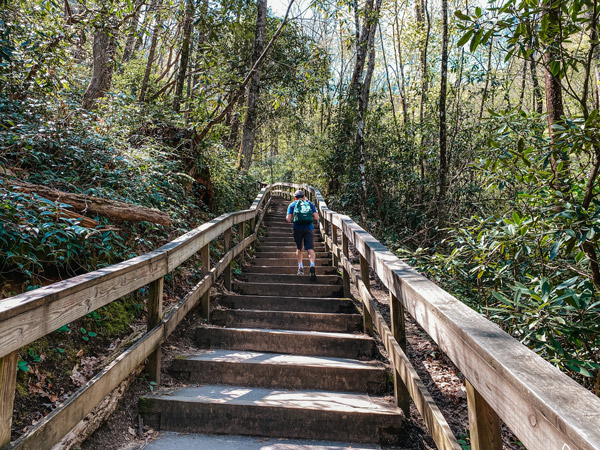 One of the main reasons anyone heads to a national park is to hike.
Getting up early, putting on some sturdy yet comfortable shoes, and setting off into the great outdoors… it's one of the most popular pastimes.
Fortunately, for hiking fans, one of the main Great Smoky Mountains facts is that it contains over 850 miles of hiking trails.
That's enough trails to walk the entire length of Asheville over 35 times.
These winding footpaths are split up into 150 individual trails of varying difficulty and elevation. In fact, part of the Appalachian Trail runs through the Great Smoky Mountains for about 70 miles.
If you fancy a challenge, you might want to try and join the 900 Miler Club; it's an elite and exclusive group of people who have walked and recorded every single trail available in the Smokies.
Do you think you have what it takes to conquer the hiking trails of the Great Smoky Mountains?
P.S. If you are entering the park in North Carolina, start at Mingo Falls.
6. There are more miles of streams than there are hiking trails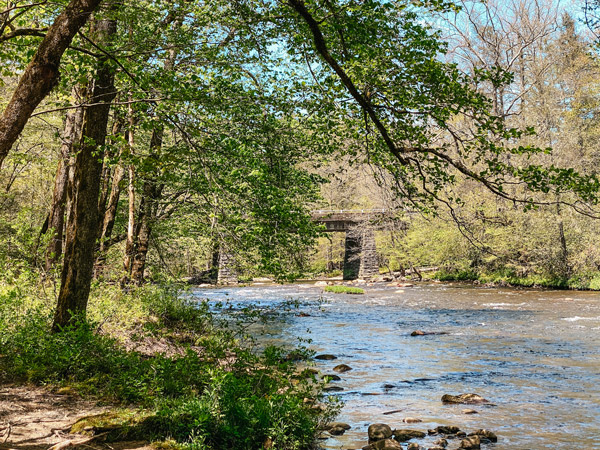 The Smoky Mountains are incredibly diverse when it comes to terrain.
From wide open valleys to tall peaks, forests, lakes, and waterfalls, you can lose yourself in the wonders of nature for days here.
Part of what helps this huge amount of greenery to flourish are the streams, carrying water all throughout the region.
All told, there are 2,900 miles of streams in the Great Smoky Mountains – almost four times as many as miles of hiking trails.
What makes this one of the more interesting Great Smoky Mountains facts is that every single one of these streams is perfect for fishing.
If you don't want to be on your feet all day and would rather sit and relax by the water, there are miles and miles of places for you to do so in the Smokies.
Discover even more of our favorite picnic spots around Asheville.
7. It's the salamander capital of the world
Yes, you heard that right! You might not think that the Smoky Mountains were the best place to go for scientific amphibian study, but you'd be wrong.
One of the main draws of the Smokies is its biodiversity, both in terms of plant life and animal life, and one of the most diverse groups they're home to includes salamanders.
Some Great Smoky Mountains National Park facts about these colorful critters:
There are over 30 different species of salamander living and thriving in the Great Smoky Mountains.
This includes 24 species of lungless salamanders, which are salamanders who – you guessed it – don't have lungs.
Instead, they "breathe" through their skin, and through the tissue lining their mouths.
8. There are plenty of peaks to explore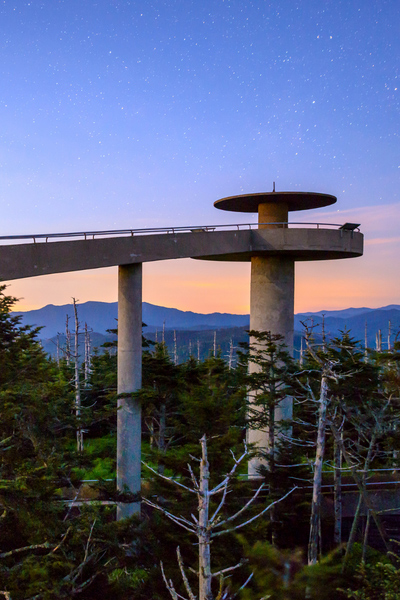 As you would expect, there are plenty of opportunities to climb mountains in the Great Smoky Mountains.
Across its 522,000 acres, reaching from North Carolina to Tennessee, the Smokies have areas of ground at elevations ranging from 840 feet in Abrams Creek up to 6,000 feet and beyond.
The highest point in the park is the summit of Clingmans Dome, which reaches a height of 6,643 feet.
For climbing fans, this spectacular viewpoint is the subject of some exciting Great Smoky Mountains facts.
Clingmans Dome has the distinction of holding two significant records: it's both the highest point on the Appalachian Trail and the highest point in the State of Tennessee.
On a clear day, you can see for miles from the 360° viewing tower at the peak of Clingmans Dome.
9. You can see history still standing all over the park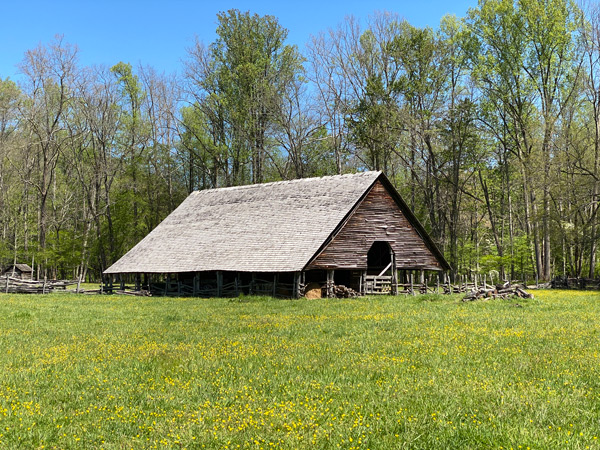 Even though the vast majority of the Great Smoky Mountains National Park is untouched wilderness, there are some man-made structures scattered across the land.
What makes them significant is that over 90 of these constructions are preserved historic buildings, many of which have their own unique story.
Quite a few of these buildings are cabins, built by early White settlers and landowners, along with various barns, corncribs, chapels, and chicken coups.
The oldest historic structure is the John Oliver Cabin, located in Cades Cove, which is still standing despite being over 200 years old.
One of the best Smoky Mountains facts for photographers is that there are some very aesthetically pleasing historic buildings to see.
The John Cable Gristmill and the seemingly gravity-defying Tipton Barn (both also at Cades Cove) make for some great old-timey pictures.
Or, check out Mingus Mill and the Mountain Farm Museum at the Oconaluftee Visitor Center to glimpse rural Appalachia life.
10. You have a chance to see some black bears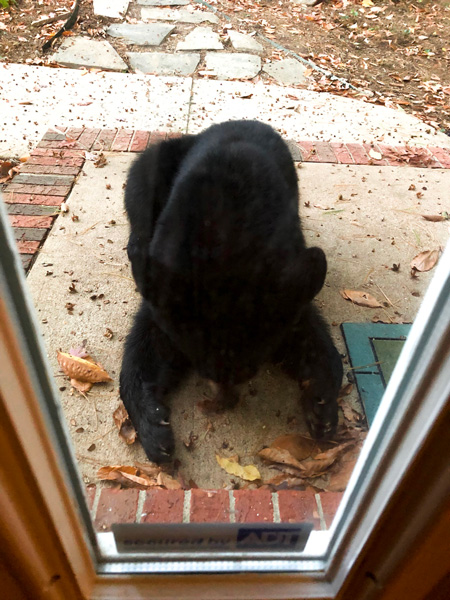 Part of the Great Smoky Mountains National Park's diversity is the inclusion of a significant population of black bears.
These beautiful creatures love to roam the woodlands here, and the Smokies are now home to approximately 1,500 black bears – around 2 bears per square mile on average.
That means these mountains have the densest black bear population east of the Mississippi River.
They inhabit all different elevations of the park, meaning you could sight one at almost any point during your hike through the Smokies.
Don't let that put you off, though; while they can appear to be fearsome (the average male black bear in the Smokies weighs in at around 250 lbs), they tend to be non-gregarious in nature.
These black bears will probably only come near humans to access a known food source – they're more territorial in nature, so if you stay away from them, they'll stay away from you.
In fact, it's important (and a legal requirement) to not get within 150 feet of the bears, in order to prevent them from being disturbed. So please remain at a respectful distance.
You might also appreciate these black bear facts to learn more about them before you go – like how fast they run and what they like to eat.
Or, grab some souvenirs with our top gifts for bear lovers.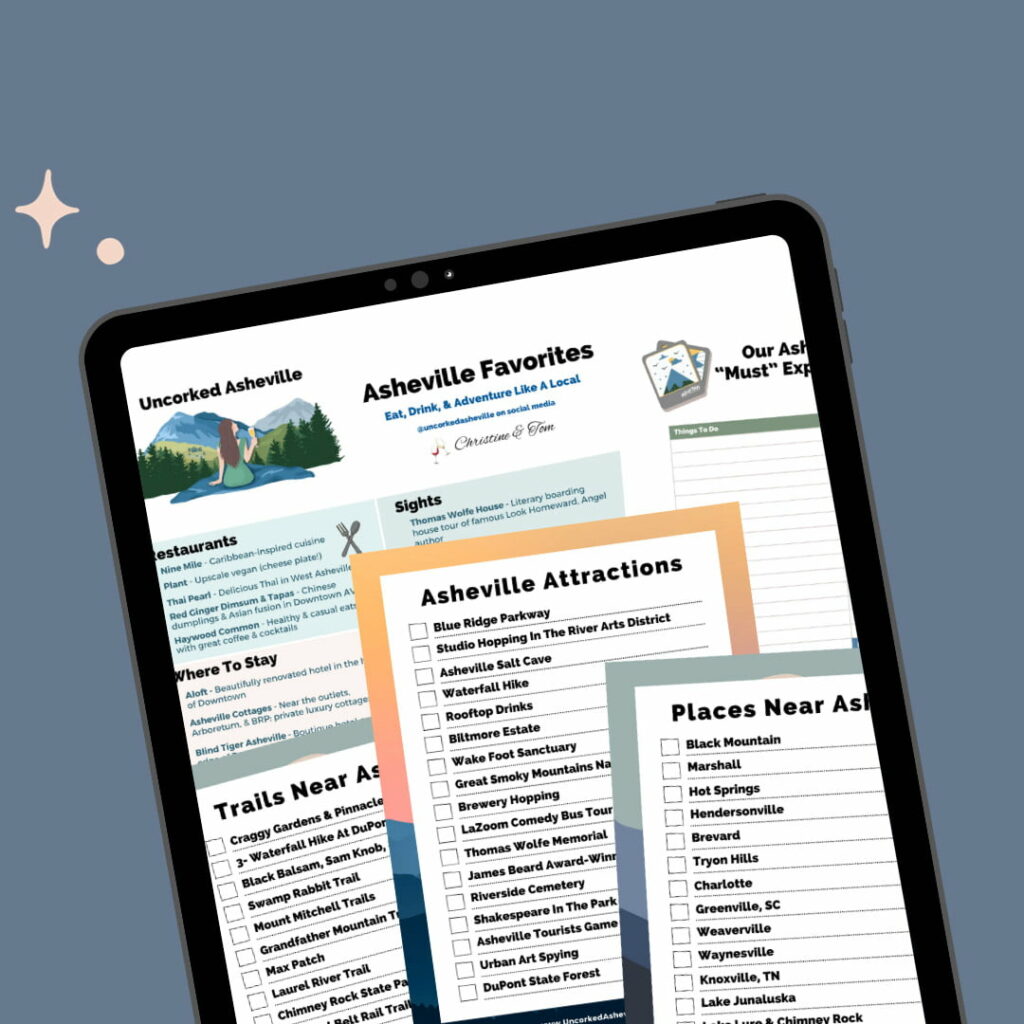 Never Miss Another Asheville Update
Experience Asheville like a local with our free attractions, dining, hiking, and day tripping guides. Get events, updates, and more straight to your inbox from Christine.
11. The Great Smoky Mountains National Park was made possible by a hefty private donation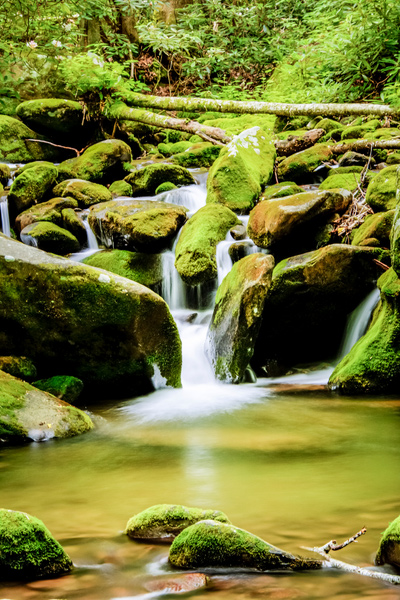 In the early 1920s, the land that would become the Great Smoky Mountains National Park was being gradually destroyed by various logging companies.
In order to preserve the area's natural beauty, and keep it from becoming a barren wasteland, the National Park Service was keen to get the park up and running.
But to do that they needed funding because they didn't have enough money to create a national park on their own.
Enter John D. Rockefeller Jr, who stepped in and contributed a donation of $5 million (to add to the government's $2 million) in order to buy up the land and ensure its preservation.
To put that in context, here are some financial facts about the Great Smoky Mountains:
$5 million in 1928 was the equivalent of almost $86 million today – a staggering amount of money that Rockefeller could just give away.
Understandably, there is a memorial to Rockefeller in the park at Newfound Gap, to whom President Roosevelt dedicated the park in 1940.
12. There's just a small parking fee to enter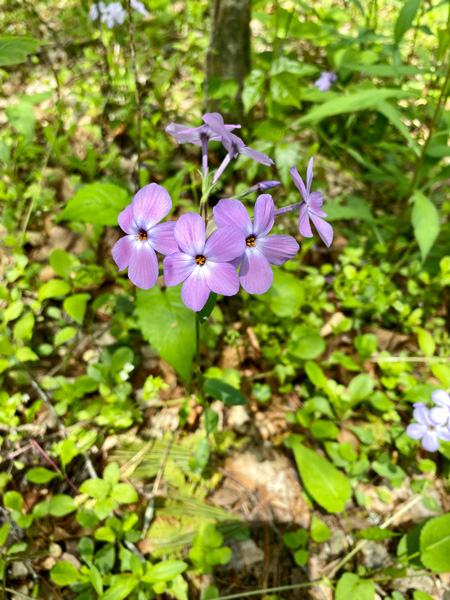 In order for everyone to be able to enjoy this beautiful, diverse, and expansive natural landscape, there is just a small parking fee to enjoy the Smokies (official as of March 2023) – everything else is free.
You can just pull on your hiking boots, grab your fishing rod, and head out on your bicycle.
The largely free access is due in part because the federal government was involved in the purchase of the land; part of the condition of taking ownership was that no toll or license fee would be introduced.
However, with such a large influx of visitors over the years, the park recently needs to collect a parking fee to help maintain its beauty, sustain high-trafficked trails, add more rangers, and ensure the safety of its wildlife.
As such, the Smokies are largely available to everyone, which is undoubtedly one of the best Great Smoky Mountains facts.
Learn all that you need to know about your Great Smoky Mountain visit on the National Park Service website here.
Find daily, weekly, and annual parking pass options.
Save These Great Smoky Mountains National Park Facts For Later:
Where To Stay Around The Smoky Mountains In NC:
Harrah's Cherokee Casino Resort (Cherokee) – Why not stay minutes from the casino at this glitzy 4-star hotel? Enjoy an on-site restaurant, bar, and indoor and outdoor (seasonal) swimming pool. Park on-site for free and know that it's pet-friendly.
Chestnut Tree Inn (Cherokee) – This 3-star inn sits 4 miles away from Great Smoky Mountains National Park and 1.5 miles from the casino. This is a kid-friendly accommodation (no pets, though).
McKinley Edwards Inn (Bryson City) – This conveniently located guesthouse comes highly rated by visitors and is just a 15-minute walk to Great Smoky Mountains Railroad.
Nantahala Village (Bryson City) – With an on-site pool, bar, restaurant, and fitness center, enjoy this historic resort property that's just 10 minutes from Downtown Bryson City.
Or, check out more places to stay in our Asheville home.
What Smoky Mountains facts do you know?
What facts about the Great Smoky Mountains do you know and appreciate the most? Let us know in the comments.
While driving around the Smoky Mountains, if you have time, be sure to check out North Carolina's Maggie Valley, Waynesville, Asheville, Lake Junaluska, Black Mountain, and Weaverville.
And, if you enjoy these Smoky Mountains facts, peruse these great facts about Biltmore Estate.
Get Outdoors With These Posts: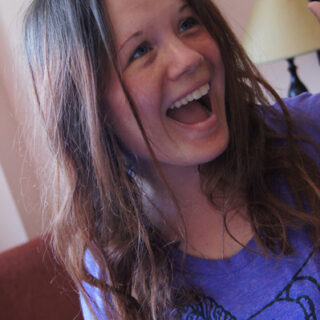 Dagney (pronouns: any) is a neurodivergent writer and book nerd who is drawn to all things weird and macabre. She also loves anything to do with fast cars, unhinged anti-heroes, and salt. When she isn't working or reading, you're likely to find her eating Indian food, playing board games, or hiding out somewhere dark and quiet, stuck down an internet rabbit hole. The easiest way to win her over is through cats and camels.