Asheville's Biltmore Blooms: 10 Great Things To Know
Discover all that you need to know about Biltmore Blooms at Biltmore Estate in Asheville, NC – from locals and annual passholders.
If you are headed to Asheville in the spring and especially Biltmore in April, be sure to check out the blooms.
April to May is by far the best time to catch the Biltmore tulips and daffodils as well as gorgeous, mild weather, perfect for hiking, strolling the gardens, and touring the home.
Not to mention that any time from March through October is a great way to see a variety of Biltmore flowers, shrubs, plants, and flowering trees across the property.
In fact, we are annual passholders for this reason: one of our absolute favorite things to do is hike the Lagoon and Deer Park Trails to the gardens.
…OK, along with eating charcuterie and drinking wine at the Wine Bar and having lunch at Cedric's Tavern.
Below, discover everything you need to know about the breathtaking Biltmore Estate flowers from a tipsy travel writer and her pilot husband – who visit the estate pretty much every month as AVL locals and Biltmore annual passholders.
We'll tell you what to expect, when to go, what to pack and wear, what else to see on the Estate, and where to go around Asheville afterward. Let's get started!
Find all of our Biltmore Guides in one place.
This post may contain affiliate links that earn us a commission at no extra cost to you. If you love these guides, support Uncorked Asheville here.
10 Best Things To Know About Biltmore Blooms
What is the history of Biltmore Estate and its gardens?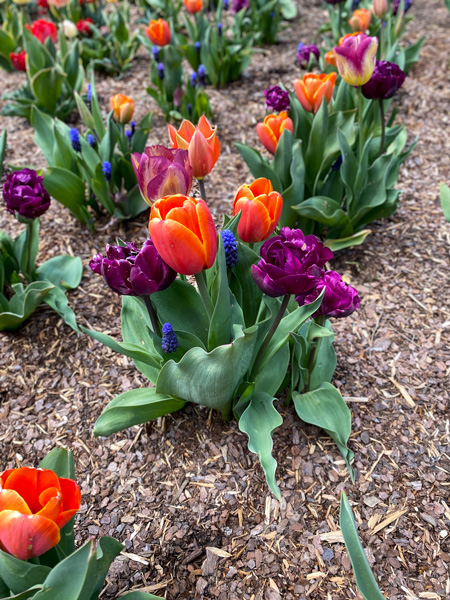 Biltmore Estate is one of Asheville's biggest attractions – literally and figuratively – as America's largest home, constructed in the late 1800s.
The former residence of George and Edith Vanderbilt, the once 125,000-acre property now spans about 8,000 acres, including the home, gardens, trails, winery, farmland, and more.
The iconic French Broad River runs through parts of the property.
Most notably, leading landscape architect, Fredrick Law Olmstead designed those gorgeous outdoor spaces in collaboration with head architect Richard Morris Hunt.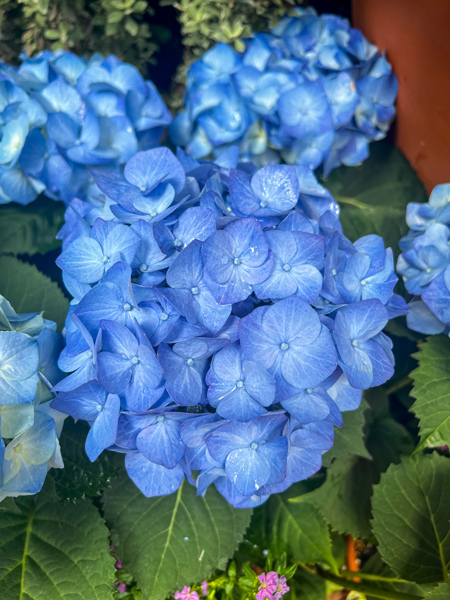 Olmstead is best known for helping design New York City's Central Park, and Hunt modeled Biltmore's architecture after the French Renaissance châteaux.
Because of this iconic team, some of the prettiest gardens in Asheville can be found at Biltmore Estate, including the Shrub, Walled, Italian, Azalea, and Rose Gardens, home to the famous Biltmore Blooms.
Read more great Biltmore Estate facts before you go.
What are the Biltmore Estate Blooms?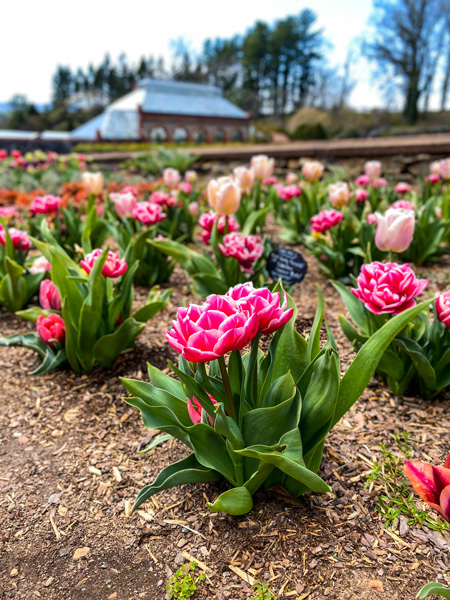 Each year, from about April all the way through August to even mid-October, visitors may catch the various stages of the Biltmore flowers across Biltmore's six formal and informal gardens.
Not to mention that Biltmore has a gorgeous conservatory filled with a variety of plants and flowers – and sometimes a toy train or Biltmore House model display.
These seasonal blooms brighten the estate and attract visitors from all over the world along with locals – like us.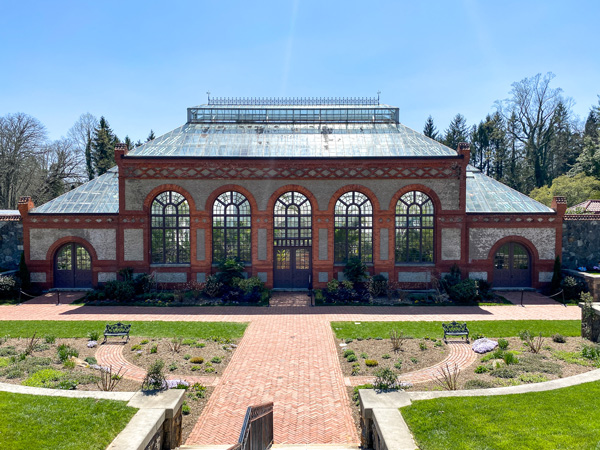 After that gray (but cozy) Asheville winter, nothing beats seeing the vibrant Biltmore tulips patterned across the Walled Garden by skilled gardeners and horticulturists.
Each season – spring through early fall – comes with its own set of beautiful flowers, and as annual passholders, we visit throughout the year to witness them.
It's one of the ways we know that spring has arrived in Asheville – along with all of those budding pink and white trees that destroy our allergies.
When is the best time to visit the Biltmore Blooms?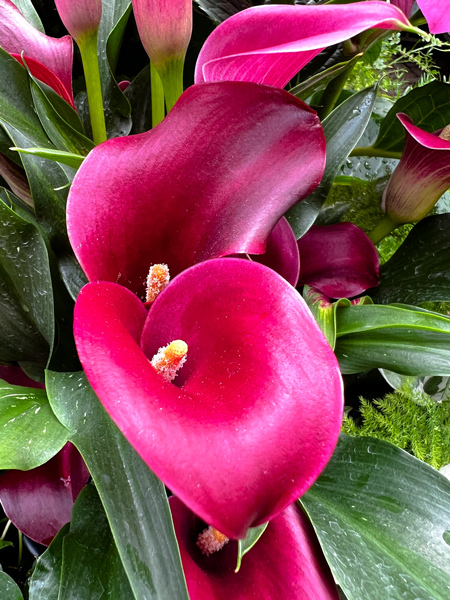 Living in Asheville, we've learned that the weather in the Blue Ridge Mountains can be a tad unpredictable.
One year, spring will start early, and the next, we get a few random – flower-destroying – cold fronts. The fall is the same way with those cold and warm spells.
Typically, Biltmore Blooms begin in April – but sometimes, we see tulips as early as March. And while they may come out in March, you'll catch some April planting (or re-planting).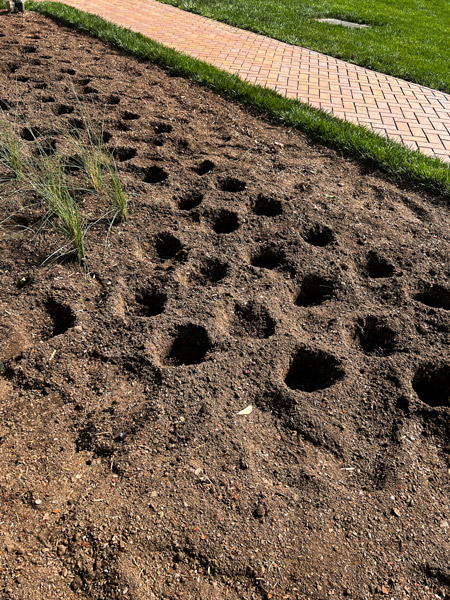 Biltmore Estate runs a comprehensive and "official" Biltmore Bloom Report, which is much like the fall color forecast you see for the stunning Western North Carolina foliage.
As Asheville locals, we try to visit the blooms as soon as we hear they are out to beat the crowds.
Biltmore is usually quieter on weekdays – except for spring break. Go early to avoid the strong sun, heat, and crowds.
But, if you are planning an Asheville weekend getaway far out in advance and don't want to chance missing the blooms, consider going in mid to late April.
What types of flowers are in bloom in the spring at Biltmore Estate?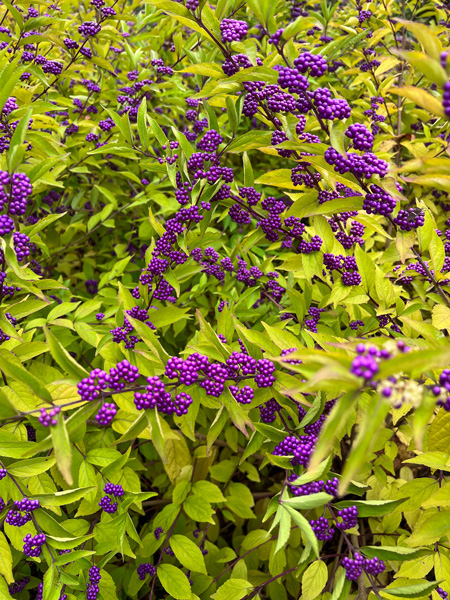 For March blooms at Biltmore, spy witch hazels, daffodils, snowdrops, and hyacinths. In Biltmore Conservatory, orchids are usually at peak bloom too.
Biltmore in April typically promises the best tulips and daffodils – with the largest collection of tulips around the Estate's entrance, Antler Hill Village, and in the Walled Garden.
In the Azalea Garden, the azaleas start to bloom, and you'll also catch flowering dogwoods across Biltmore and Asheville.
In May, Western North Carolina – and some of the top Asheville hiking trails – see plenty of mountain laurels and Catawba hybrid rhododendrons, which are no strangers to Biltmore Estate.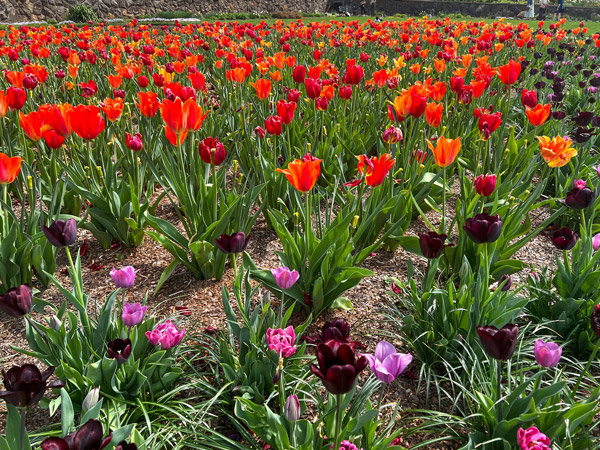 May also tends to be one of the best times to visit the Rose Garden, and the Walled Garden promises peonies and irises.
June and July are when Biltmore's tropical plants and flowers can leave the greenhouse for the gardens/property and is a great time to see hydrangeas.
In August, enjoy summer annuals in full bloom as well as water lilies in the Italian Garden.
Then, find the final flowers before winter through October, depending on the weather.
How much does it cost to see the blooms? Are there any discounts available for Biltmore Blooms tickets?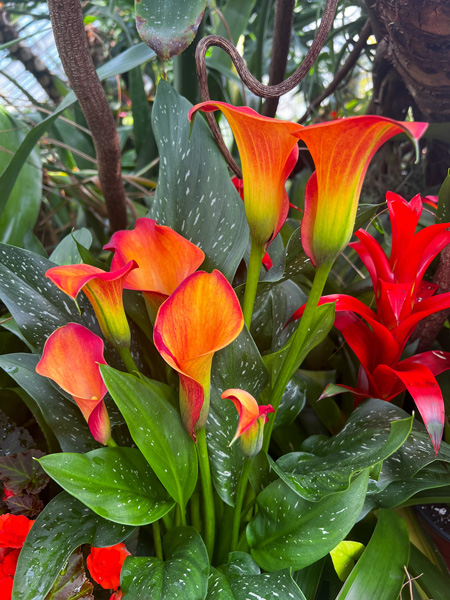 In order to see those gorgeous Biltmore Estate flowers, you either have to have a daytime ticket for the house, a gardens & grounds ticket (no house entry), annual passes, or be staying overnight on a Biltmore property.
Tickets vary in price depending on what type you choose but start around $65 to $79+ for adults when purchased online.
Youth aged 10 to 16 receive a discount, and kids under 9 get in free (but please always double-check this on Biltmore's website).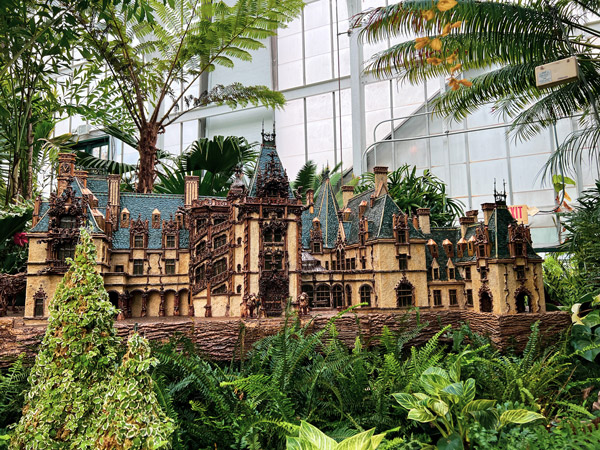 However, if you just want to see the blooms, the "Gardens & Grounds" ticket is perfect for the cheapest entry as a one-time visitor, especially if you only have 36 hours to spare in AVL.
We are annual passholders – and have been since moving here; it's worth it – and Biltmore usually offers promotions throughout the year.
Just keep in mind that while Biltmore offers plenty of guided tours, the gardens are a self-guided walking experience.
Are there any restrictions on what visitors can do or bring to Biltmore Estate?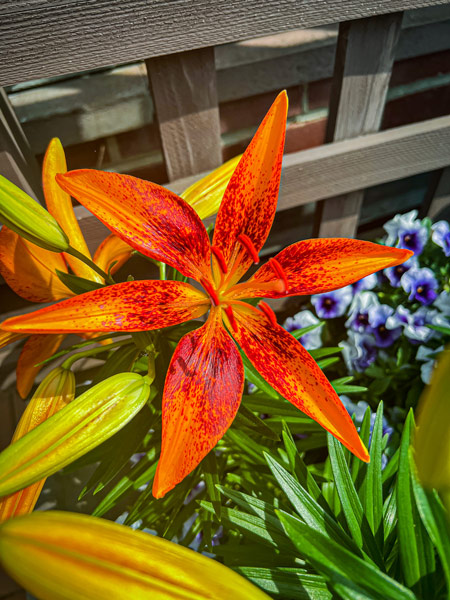 Biltmore has a variety of simple restrictions for visitors on its website. A few that we find most helpful include:
If you are touring Biltmore House, food and drink are not allowed inside, except for clear plastic water bottles. Personal bags cannot be larger than 19″ x 14″ x 9.″
Only service animals are allowed in the home, and of course, there are no weapons allowed.
Non-service animals are permitted outside of the Estate's buildings – you'll see locals walking their dogs along Biltmore's hiking trails.
Of course, we always suggest checking Biltmore Estate's website policies or calling ahead to confirm any specific restrictions or requirements before your visit.
What is the weather like in spring at Biltmore Estate and in Asheville?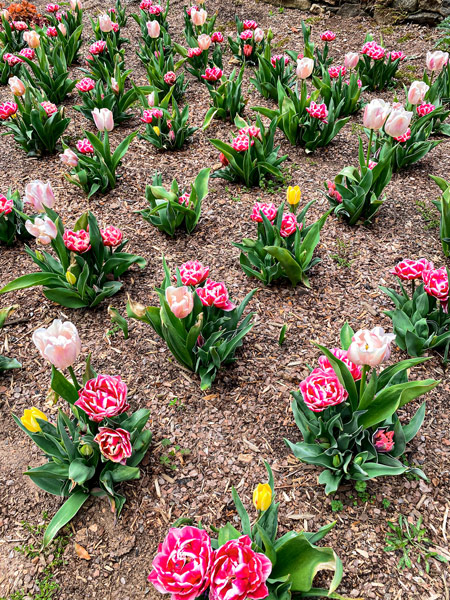 In the spring, Asheville tends to see mild and pleasant weather with temperatures gradually warming up after the colder winter months.
March can be a bit rainy with the average temperature ranging from the 60s in the day and dropping to the mid-30s by evening.
Of course, we'll get that randomly beautiful and early 70-degree day too.
Asheville and Biltmore in April and May are utterly gorgeous – and the best time for those blooms.
April tends to be less rainy with daytime highs in the upper 60s to mid-70s (we have hit the 80s) and lows in the 40s.
In May, daytime temperatures sit in the upper 70s to mid-80s and evening lows average in the 50s. There are fewer chances for rain.
What should visitors wear to Biltmore?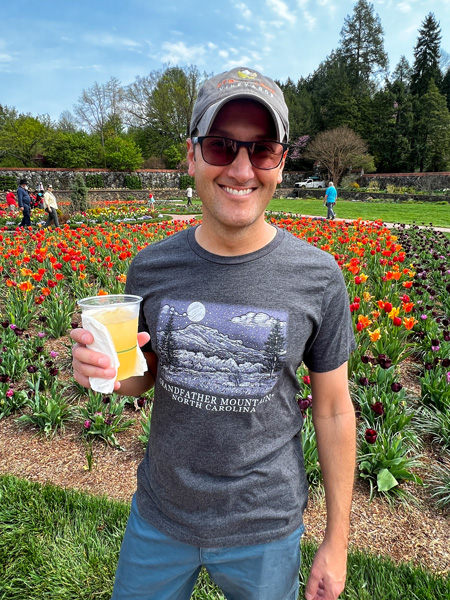 Besides some of Biltmore's fine dining restaurants, there is no strict dress code across the estate besides dressing respectfully (wearing a shirt, shoes, etc.).
Visitors come to Biltmore for a variety of reasons: if you are enjoying dinner at the Inn, a sports jacket and cocktail dress might be more appropriate.
For a house tour, dressing casually and comfortably as you would when touring a historic landmark makes more sense.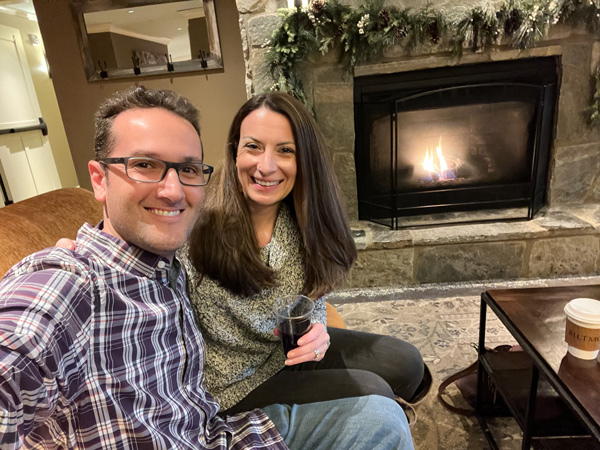 We mostly visit the estate to hike Biltmore's scenic trails; you can expect to find us in activewear, including hiking shoes or sneakers and comfortable outdoor/workout clothing.
For those gorgeous spring Biltmore tulips and summer roses, a hat, sunscreen, and breathable clothing are always a good idea.
And, go prepared for that angsty Blue Ridge Mountain weather. Sometimes you need layers, an umbrella or raincoat, and a light jacket or fleece.
What else can I do at Biltmore Estate?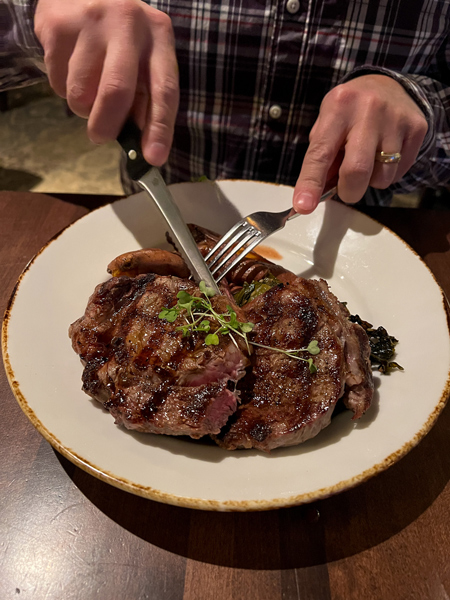 Biltmore Estate is full of things to do, including hiking, biking, dining, touring the home, wine tasting, and shopping.
It is incredibly easy to spend an entire day here, and yes, Biltmore has kid-friendly activities too.
For families, play on the wooden playground, rent bikes from the Bike Barn, visit the farm animals, treat everyone to ice cream, and watch live demonstrations in Antler Hill Village.
Adults can enjoy wine tasting at Biltmore Winery or grab a glass at Biltmore's Wine Bar with a charcuterie board.
Antler Hill Village and Biltmore House have shops for Biltmore souvenirs as well as Asheville and mountain-related trinkets, clothing, and more.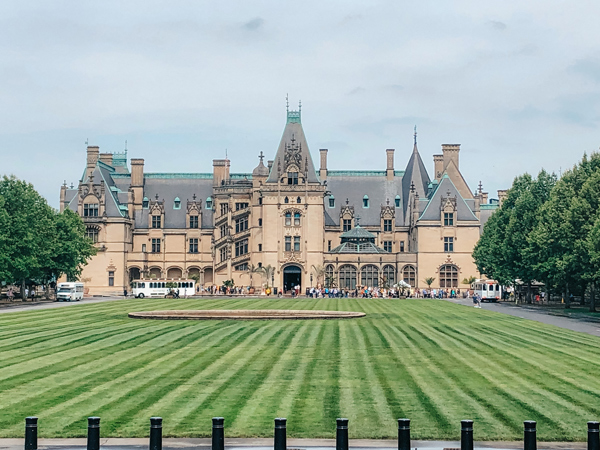 For Biltmore dining, eat lunch in the Vanderbilts' former horse stables at Stable Cafe, pay homage to their beloved Saint Bernard at Cedric's Tavern, or enjoy pub grub at Village Social.
If it's Christmastime in Asheville, be sure to catch Biltmore's Candlelight Christmas Evenings, which is sure to put you in the holiday spirit.
Imagine blazing fireplaces and Martha Stewart-worthy decor with Christmas trees in every room.
Our favorite thing to do at Biltmore includes a hike along the Lagoon and Deer Park Trails, up to the side of the home, and straight to the gardens to see the Biltmore Blooms.
Also, especially around spring at Biltmore, look out for special exhibits and Mother's Day brunch.
What else is there to do nearby Biltmore Estate?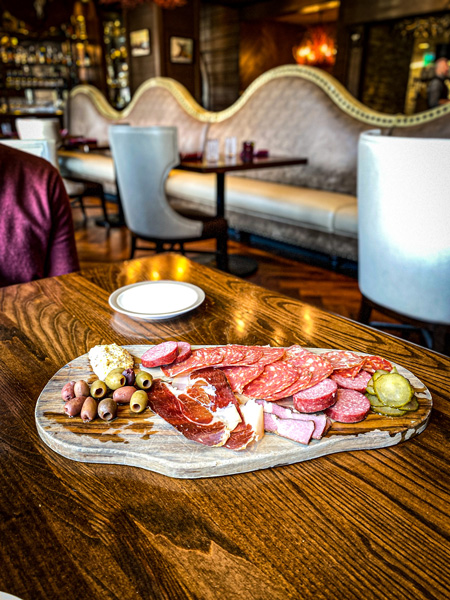 Our list of Asheville things to do is pretty much endless.
Immediately outside the gates of Biltmore Estate, Biltmore Village is full of delicious restaurants, shopping, and local craft breweries.
We especially enjoy 7 Clans as a newer brewery or Hillman for both food and beer.
Grab a coffee at Well-Bred Bakery or even brunch at Corner Kitchen before seeing the Biltmore flowers.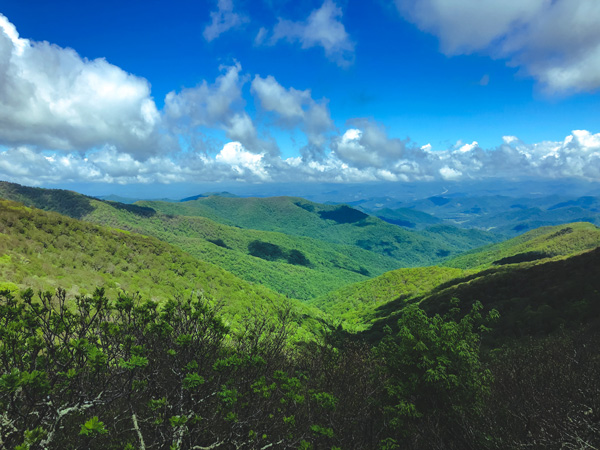 If you are traveling with children, head to the nearby WNC Nature Center to spy black bears, red pandas, otters, and wolves.
Hop on the Blue Ridge Parkway for a scenic hike to chase waterfalls and watch the sunset.
Or, head to Downtown Asheville, which is home to murals, rooftop bars, the Pinball Museum, sprawling bookstores, and the Thomas Wolfe Memorial.
We also love Asheville's River Arts District, which is full of urban street art, the RAD Riverwalk for a stroll along the French Broad River, and artists' studios.
Read more about visiting each of Asheville's unique neighborhoods.
Biltmore Estate Contact Information
Address: 1 Lodge St, Asheville, NC 28803
Website: https://www.biltmore.com/
Phone Number: 800 – 411 – 3812
Biltmore Estate Accommodations
Village Hotel – This property is centrally located with moderate prices and spa access. We stayed here and loved it. This is the hotel you see next to Biltmore Winery and Antler Hill Village. The Village Hotel has a pool and houses Village Social, a delicious breakfast, lunch, and dinner restaurant perfect for the entire family. Plus, enjoy The Kitchen Cafe for lighter fare and specialty lattes.
The Inn On Biltmore Estate – The Inn On Biltmore Estate is a gorgeous luxury hotel. The Inn has the most conveniences including those requested mountain views. Each suite is named after one of George Vanderbilt's friends or relatives. Next to the lobby, enjoy the Library Lounge with a huge wine selection, cocktails, desserts, and sharable bites.
Save Our Biltmore Flowers Guide For Later:
Where To Stay Around Biltmore Village
Grand Bohemian Hotel Asheville – Located just a minute from Biltmore Estate's gates, this is a beautiful luxury hotel modeled off of a 19th-century hunting lodge. Home to the Red Stag Grill – a sleek and unique restaurant – fall in love with the blazing fireplaces, chandeliers, and endless modern amenities.
The Residences at Biltmore Asheville – Less than half a mile from Biltmore, enjoy these luxury condos complete with a full-sized kitchen, gas fireplaces, and an outdoor seating area. Find an on-site restaurant, Azalea Bar & Kitchen.
Courtyard Asheville Biltmore Village – Our friends have stayed at this newer 3-star, budget-friendly Biltmore Village hotel with free parking and bike rentals. It's in a great location, has an on-site restaurant, The Bistro, and boasts a pool.
Read more about where to stay in Asheville.
Have you visited Biltmore in April – and beyond – to see the flowers?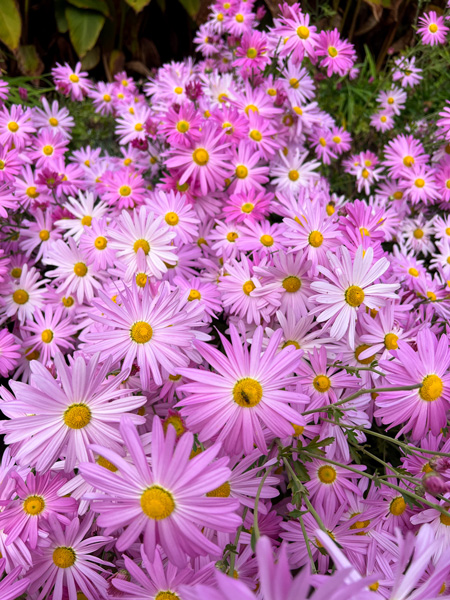 You know that spring has arrived in Asheville when the Biltmore flowers are out in all of their pollen-inducing glory – and as locals, we just have to see them every year.
When is your favorite time to visit Biltmore Estate?
We personally love Biltmore in spring for the flowers and winter for the holiday decorations. Spring is also the best time to enjoy those hiking trails.
And, have you seen the Biltmore Blooms or are you planning to? What are your favorite flowers, shrubs, and gardens? Let us know in the comments.
P.S. If you enjoy gardens and flowers, you might also want to check out the Botanical Gardens at Asheville (free) as well as The North Carolina Arboretum (parking fee or annual membership).
You May Also Enjoy:
Asheville's Nearby Lakes
Best Restaurants Near Biltmore
Asheville By Season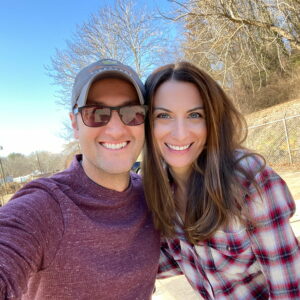 Christine (pronouns: she/her) is the owner and lead writer of Uncorked Asheville. After falling in love with those gorgeous Blue Ridge Mountains, Christine and her husband Tom decided to call Asheville, North Carolina home. When her pointy Italian nose isn't stuck in a book, Christine is adopting all of the kitties, getting lost in the forest, and drinking an ESB. She has a BA in English and History from Smith College, her MLIS from USF-Tampa, and is a former U.S. Fulbright Scholar - Indonesia. Christine also owns The Uncorked Librarian LLC with books and movies to inspire travel.